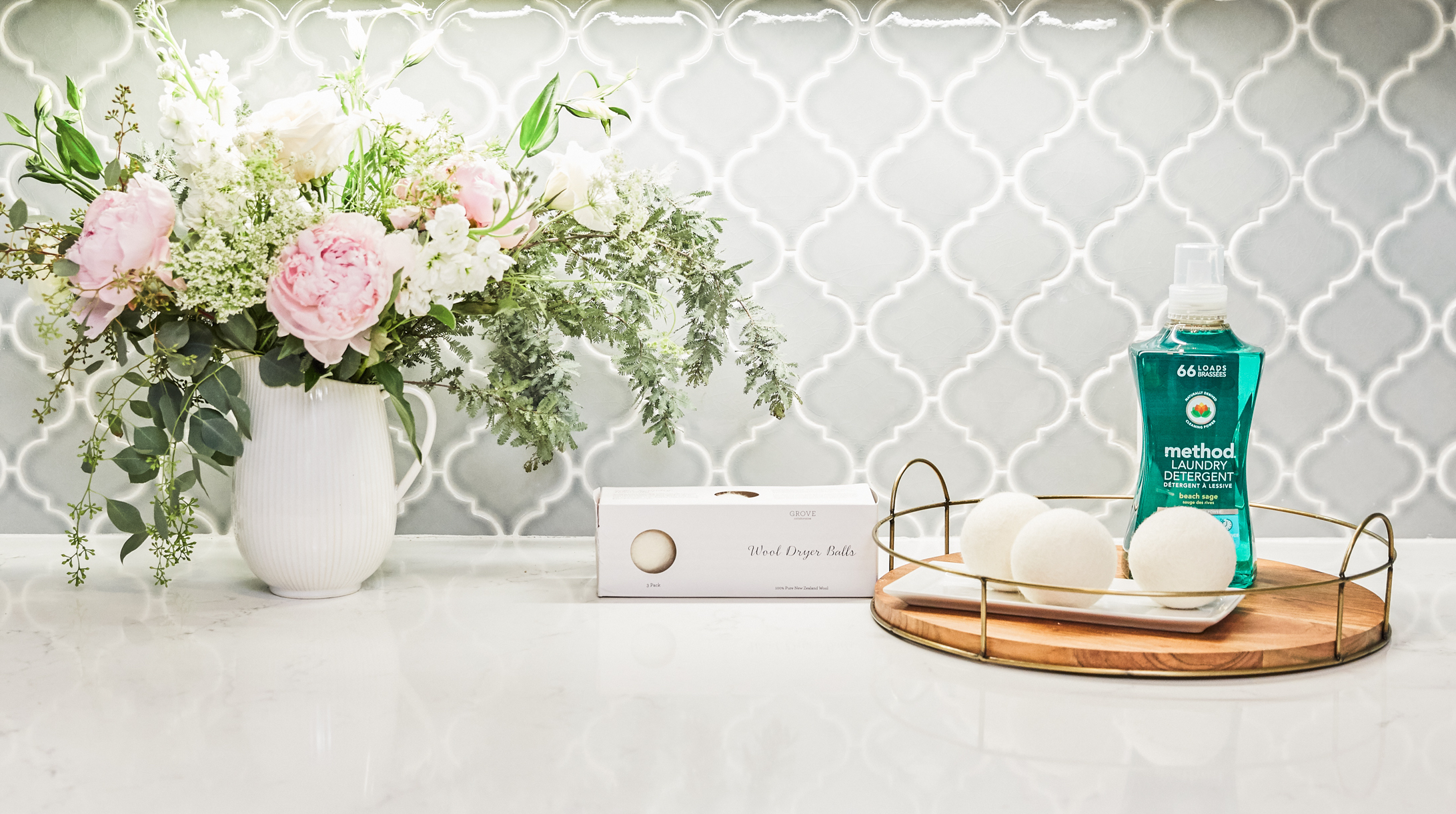 Dear Diary,
At long last! My super exciting laundry room makeover with Grove Collaborative and Method Home is ready to share! The family that won our glamorous makeover is Ta'Shiba and Dave Brannon, along with their five EXTREMELY CUTE CHILD MODEL children. They live in San Antonio, Texas, where I'd never been before and which was much more hip and cool than I expected. I'm going to fully break down the makeover, but first, check out the cute video we made of it below:
The laundry room in question is a small, windowless space next to their kitchen. It doubles as a pantry for food storage so not only did it need to be functional as a laundry space, it also needed to be a place to store food (enough food for five kids and two fully grown human beings, btw). The room was neither functional nor aesthetically pleasing before. Basically, T'ashiba and Dave had stacked their washer and dryer in the hopes that it would open the space more, but all that did was make a huge tower next to a vacant space. This left no room for folding laundry or placing a laundry basket.
My goal with the space was to create a pretty, soothing room where Ta'Shiba, Dave, and their kids could do laundry in peace. Sidenote: Those kids have a ton of energy and are so funny and fun. I don't know how their parents keep up because they are constantly running around that house. A trip to the kids' bedrooms shows you why their parents might have neglected their laundry room – the kids are definitely the priority and their bedroom is thoughtfully set up with toys and play spaces. I was happy to get to do something for these parents who seemed to be prioritizing their kids while ignoring their own needs a bit.
The kids/child movie stars are: Dave, Addison, Dawson, Dylan, and Dean. Honestly they all had such charisma, they reminded me of my niece who always steals the show. Like always ready for action and fun and so capable of coming up with the funniest one-liners.
The three main things I learned about laundry room design from doing this makeover (my first stand alone laundry room makeover) can be easily summarized:
In a small space that lacks personality, go bold with wall color. This not only gives a dark space some vibrance, it also brings in much needed personality.
Maximize wall storage to get things off the floor and out of the way.
Adding counter space (where laundry can be folded) is crucial to the room's functionality.
I took inspiration from my friends at The Home Edit when I created the plan for food storage. I wanted pretty open shelving (we sourced this walnut wood at a local wood lot). But I also wanted everything to have a place. Since this is already a pantry, I didn't want to put closed shelving in here (seemed weird to open a door to go into another room and have to open more doors). So I chose attractive storage containers for all their cereal and snack items, which I imagine have to be constantly replenished with five growing kids who are basically doing jumping jacks and cartwheels 24/7.
One of my favorite things in the room, both for its cute color and its practicality, is the sage colored step stool. The kids are super helpful and sweet and I wanted them to be able to access not only the snacks in the shelving but also the counter for laundry. The flooring got updated to a wood-look linoleum flooring. The reason I chose this was to add a durable surface to an area that would likely be getting a lot of drips and water on it. I love the warmth and texture it added and it honestly looked like the real thing in the space. Ideally, I would have done a tile or wood floor in here, but because the adjacent kitchen and rooms were all linoleum and we couldn't fit reflooring the entire home into the budget, this linoleum was a happy compromise.
I have these wool dryer balls and I love them. You can win these (along with a year's supply of laundry products) by entering our fun sweepstakes (see more info below).
Another item in the room I love is the washable rug. I've been looking all over for washable rugs for my parents' kitchen, so I was happy to find this one. You can tell the kids love it. Which probably means they'll love wandering in here after football practice to get dirt all over it. Which is why it's so great you can just plop it into the washing machine.
Honestly, I think the kids were as excited about this makeover as Ta'Shiba and Dave were. Just seeing how much fun it is to re-imagine a space in your house. They loved having a house full of strangers just coming over to give them something new and exciting. And working with such a sweet family was so rewarding. T'ashiba is a homebody, you kinda have to be when you have that many kids. But she genuinely enjoys it and so it felt wonderful to be able to do one small thing that makes her home life just a bit more enjoyable, her laundry routine just a bit more calm and relaxed.
You guys! Don't let this party be over! As part of their glamorous makeover, Ta'Shiba and Dave got a year's supply of laundry goods from Grove and Method. AND SO CAN YOU! It's all the good stuff you'll need to get your laundry done FOR A YEAR. No more being like "OH MAN I FORGOT TO GET LAUNDRY DETERGENT!" Enter to win here!
Sage Step Ladder, Method Laundry Detergent, Method Fabric Softener, Grove Wool Dryer Balls, Flushmount Light Fixture, Wall-Mount Drying Rack, Arabesque Wall Tile, Laundry Hamper, Tray, Method Detergent Packs, Storage Basket, Food Storage Cannisters, Oak Shelves, Shelf Brackets, Wall Color, Washable Rug, Wood-Look Linoleum Flooring.
This post was created in partnership with Grove Collaborative and Method Home. Thoughts expressed are genuine and my own.