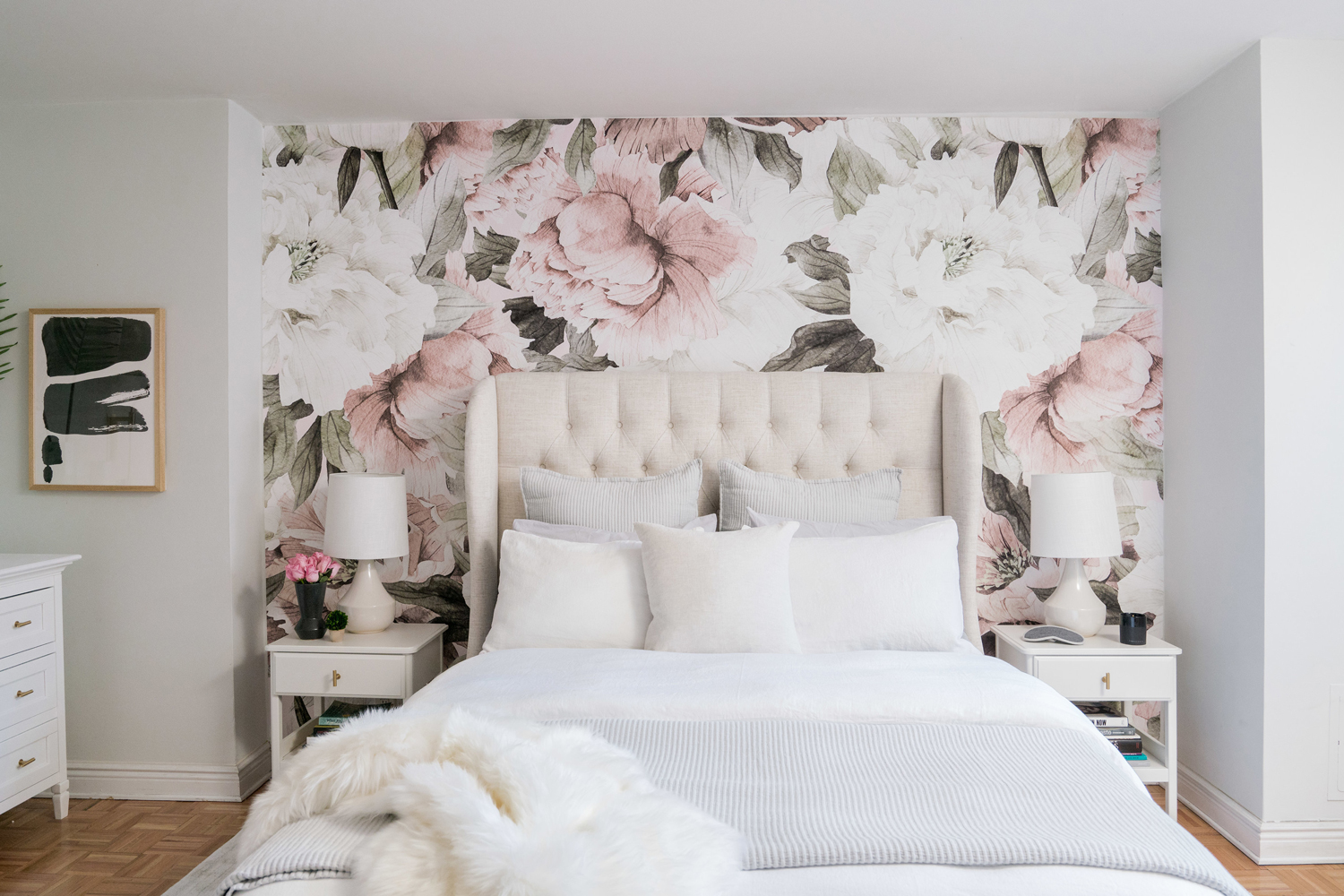 Photography by Carly Rudd courtesy Parachute
Dear Diary,
It's been a while since I lived in New York, but it's always fun to head back and waddle around to reconnect with the city I grew up dreaming of. So when Parachute told me they wanted to film the next installment of our makeover series in the City That Never Sleeps, my head exploded with glee. Our first two installments of the series were so much fun to shoot and the third video was basically like taking those first few experiences and mixing them with the iconic film, New York Minute (which I saw twice in the theater as a fully grown adult man).
Shooting in New York was fun, mostly because it provided a fresh backdrop and an opportunity to catch up with friends there. However, it provided a set of challenges that were difficult to anticipate. As a designer, it can be hard to be away from your home city because none of your resources (painters, builders, furniture sources, etc) are available. It's not like we were in the middle of nowhere, there were resources abound. But I've never lived in New York as a designer, so I don't have a strong network of go-to people for different tasks.
I'm going to be fully transparent. This shoot was VERY stressful. Mainly because the contractor we found to do everything (build a vanity, paint, install wallpaper, build furniture) ended up being a total dud. He quoted us a few hours to get the work done, which honestly is what it should have taken, but ended up taking days to do everything. Which meant that the day we shot the reveal, his builder was still working trying to get everything done until around 3 PM. If you know New York in winter, the sun sets at like 4, so we were losing what little light we had very quickly.
I'm not fully sure what happened. I think maybe the contractor wasn't as skilled as he said he was. I figured this out when he and his builder were putting the bed together. My parents recently put a similar bed (from the same company) together in about 45 minutes. It took him and his builder about four hours. Almost every task took an equally preposterous amount of time and so by the time they were out of there and the room was clear to shoot we have VERY little time to get the whole thing done. And I was completely frazzled and crazy because it was part of my job to keep things moving along.
I'm telling you this not to defame the contractor, but more to just explain that there is always more than meets the eye with sponsored content like this. I love the team at Parachute and we always have fun shooting, but this particular shoot had a whole set of undercurrents that made it extra challenging.
One thing that was not challenging was working with Gabby Prescod, a senior editor at Bustle and the ultimate fashion girl. We did all the planning for the room remotely, so I didn't get to meet her in person until I showed up for the shoot. We were immediately comfortable with each other and it was so much fun getting to know her and learning more about her glamorous New York fashion life. Gabby is a Westchester girl, which means that she comes from Westchester County (a fancy suburban area right outside the city). I'm well-versed in Westchester because I was educated at Westchester-heavy universities, so she reminded me of a lot of people I went to college with.
From the multiple conversations I had with Gabby, I gathered that she wanted a light and airy bedroom that was equally a reflection of her fashion interests and her preppy Westchester background. Her fashion is edgy and young, but she's definitely got a preppy undercurrent in there as well. She loves ivory and neutrals, so the initial design plans (below) were very paired down color-wise. Initially, we proposed this beautiful removable wallpaper (by Genevieve Gorder for Land of Nod, sadly no longer available). But she didn't respond to it, so we set out to find a removable wallpaper that she would love.
I'm not always a fan of accent walls, but the structure in Gabby's bedroom really made sense for one. So we decided to do one right above her bed.
One thing that really impressed me about Gabby was how organized her clothing was. As a fashion editor, she gets tons of clothing sent to her constantly. But she's pretty good at getting rid of the things she doesn't need/want (she told me she's constantly donating things). Still, I wanted to make sure storage was maximized. I also wanted to give her a great place to get ready since she constantly has events to attend. So I wanted to make sure we gave her a vanity with adequate lighting. The solution was to buy ready-made dressers and have a custom tabletop created for them the allowed for a counter height stool.
Part of the point of this makeover series is to showcase the beautiful Parachute bedding in a variety of different homes. I was obsessed with beautiful it looked in this bright bedroom. We used the Venice Linen Sheet Set in white, the Matelasse Coverlet in pebble grey, and the Matelasse Euro Sham in pebble grey. We also threw in a fluffy sheepskin from Article, which definitely upped the cozy factor.
I was so relieved that Gabby LOVED her bedroom makeover. She didn't get to see the final product until the moment we shot this so it really was a true reveal. And she genuinely loved it.
Clearly, the showstopper is the beautiful floral wallpaper we found on Etsy. This wallpaper is truly gorgeous and now I want to use it somewhere in my own place. It gives the room a great focal point without putting anything perilous over the bed.
The vanity turned out beautifully and it provides a ton of drawer storage for clothing. I have been wanting to use the beautiful brass sconces from Lamps Plus for years, so was excited to finally get to place them in a deserving space. As can be expected with a shoot like this (lots of moving pieces), the giant mirror I sourced for above the vanity didn't show up in time and I had to run all over the city looking for readily available large-scale mirrors on a super limited timeframe. We ended up finding this beautiful circle mirror at west elm that did the trick.
The nightstands were a very simple Ikea hack. We chose this simple white Ikea nightstand and made a super quick alteration. All we did is swap out the hardware they came with with this simple brass pull from MyKnobs.com (that name always makes me laugh btw, KEEP YOUR HANDS OFF MYKNOBSDOTCOM!).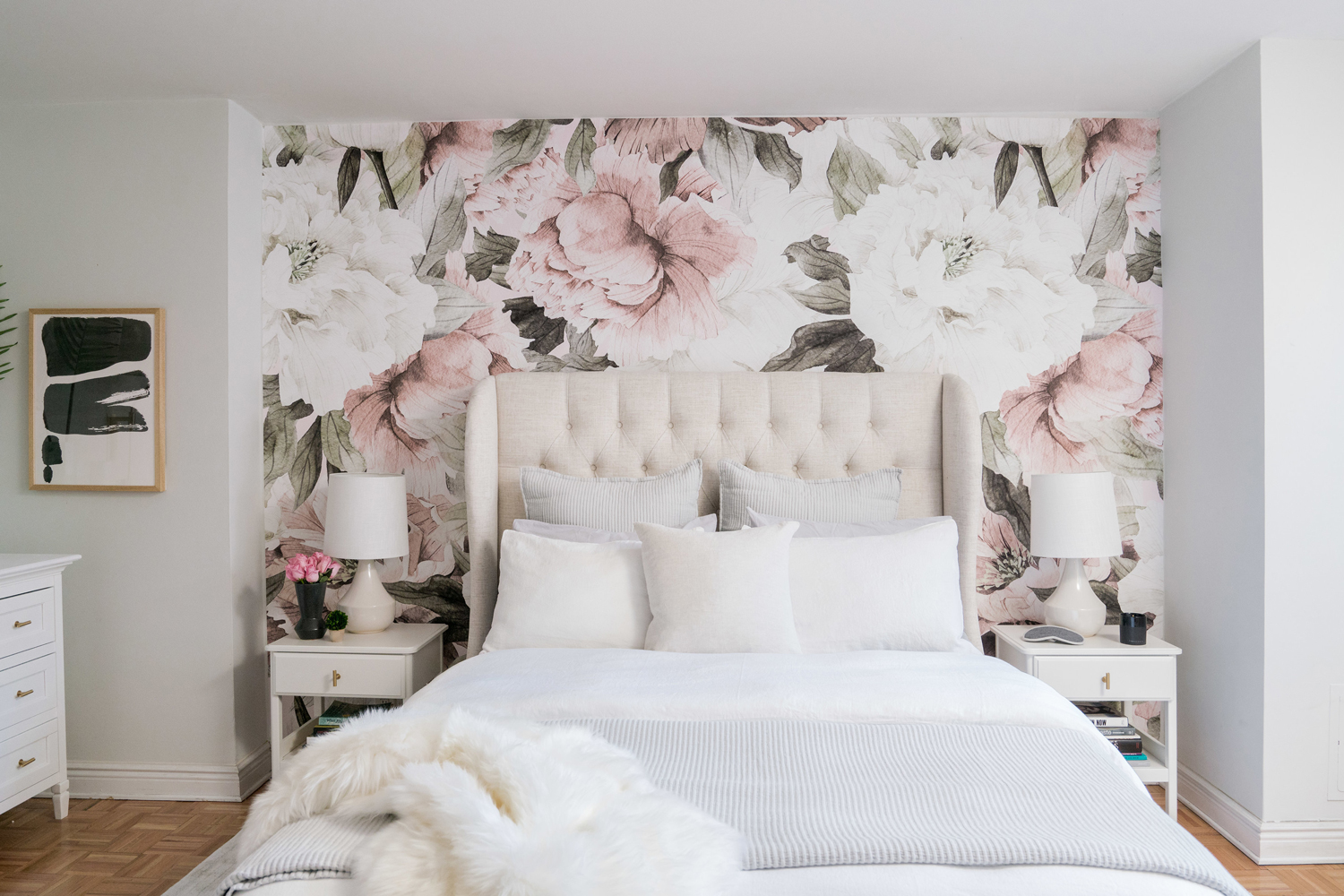 The cushy upholstered bed was a great find. It's super affordable and luscious and gives the room a beautiful tailored look.
I'm not normally a fan of fake greenery, but I wanted to leave Gabby's room styled in a way that she could easily maintain. These faux palm branches from west elm were perfect for adding some graphic height and color to her vanity.
I'm so happy with how Gabby's bedroom turned out and I think she genuinely LOVES it. It's a great blend of her preppy background and her high-fashion life. I spent a lot of time quizzing her about fashion while we were shooting, because I'm always looking for fashion tips. Speaking of tips, HERE'S A TIP! Check out the fun video documenting the makeover below! It's filled with drama, design, and most importantly, TOGETHERNESS.
Okay bye.
Love,
Orlando
Resources: 1. Bed 2. Coverlet 3. Sheet Set 4. Graphic Art 5. Floral Wallpaper 6. Cashmere Throw 7. Rug 8. Stool 9. Figurative Art 10. Dresser (used for vanity) 11. Lamp
This post was created in collaboration with Parachute Home, who compensated me to appear in the above video. Ideas expressed in this post are genuine and my own.
SaveSave
SaveSave
SaveSave
SaveSaveSaveSave
SaveSaveSaveSave
SaveSave
SaveSave