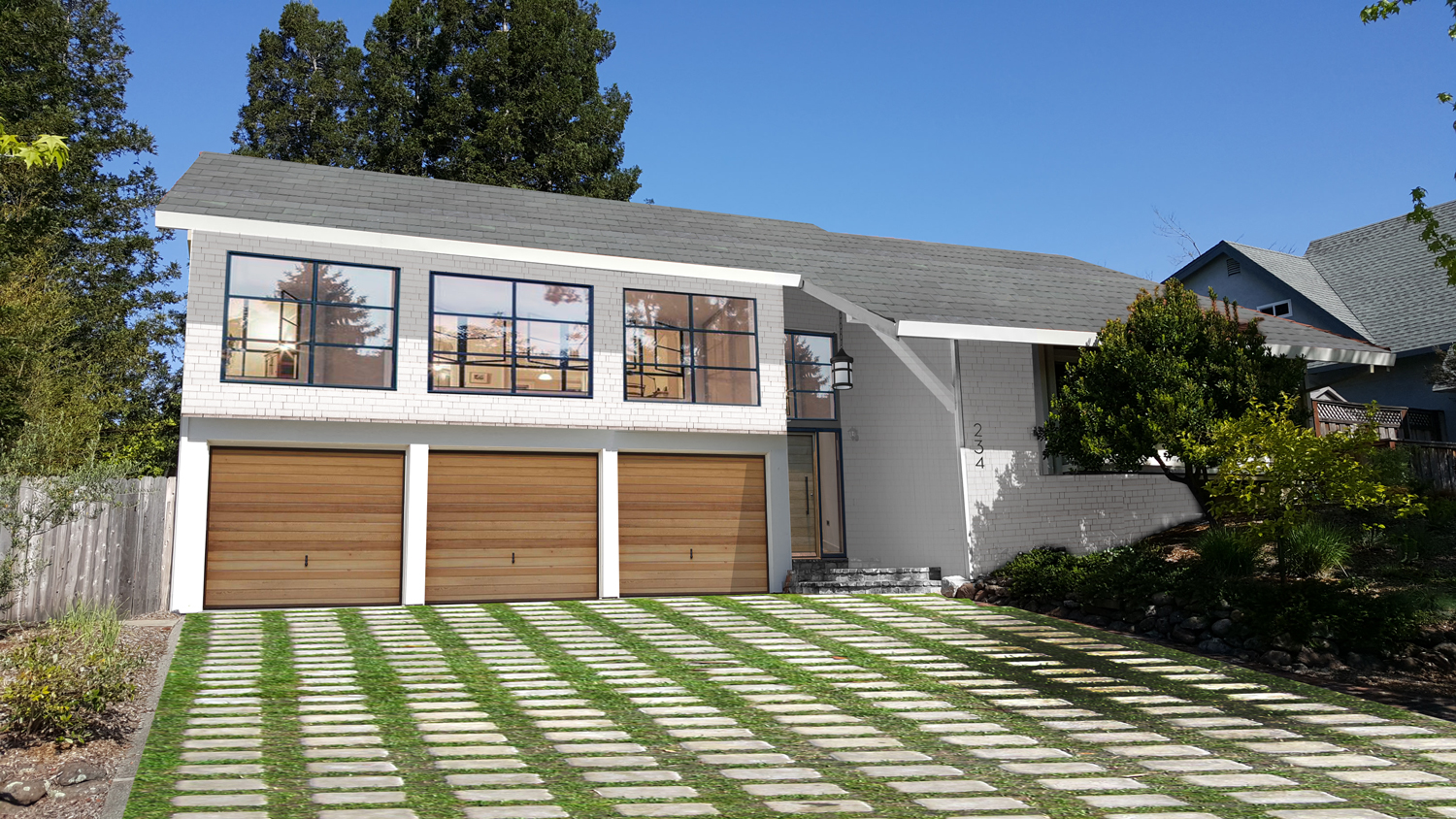 Photography Courtesy James Hardie®
Dear Renovation Diary,
As you know, I'm currently in the process of renovating my parents' kitchen and doing a house full of makeover projects for them. Their house is currently a big construction zone and will be so for a few more months. This isn't the house I grew up in, my parents moved to this area five years ago after retiring and leaving my childhood home in Yosemite. One of the first things I noticed about the area they moved to is that there is a ton of weird siding on houses up there. On houses from the low-end to the high-end, there's lots of dated plywood house siding. It doesn't sound like a bid deal, but the inclusion of dated, badly worn siding can completely change the look of an entire community. My parents' neighborhood is no exception.
The area my parents moved to in Sonoma County sits up on a hill on streets lined with big old trees and well-kept gardens. It's a nice neighborhood. The houses were built by a developer in the 1970s and the whole neighborhood reminds me of the neighborhood from E.T., big houses with weird 70s details. I mean this in the most loving way possible, the neighborhood feels really nice and I love my parents' house. The outside (as you can see below) is its worst feature, as the house has absolutely zero curb appeal.
When James Hardie®, the purveyor of durable fiber cement siding in a beautiful variety of colors and finishes, approached me about collaborating I immediately thought of my parents' house and how it could be transformed with a new exterior surface. Something I've noticed from working on their kitchen and expanding onto the back of the house is that all types of exterior surfacing come with their own challenges and benefits. There are many benefits to using James Hardie® siding. One that is at the front of my mind now is that it's more fire resistant than wood or vinyl siding. As you may know, the area where my parents lived almost burnt down a few months ago. I happened to be up there checking in on the kitchen project when this happened, and it was very scary. We were evacuated five times, there was no electricity for a week, and the fires came within a few blocks. Thankfully their house survived, but 7,500 buildings burnt down. Everyone up there knows dozens of people who lost their homes. So anything that can be done to make a house a bit more fire safe is a great thing.
Here's the outside of my parents' house. I know, it's not amazing. But don't be too mean. For some reason I'm weirdly defensive about it even though I myself have told them I think it's ugly a million times. The house really does feel amazing from the inside (check back soon for some great posts on makeover projects I'm doing in their sitting room, family room, guest bedroom, dining room, and kitchen). But the house lacks curb appeal for sure. For some reason all the houses in this neighborhood have three car garages. I think maybe this was a status thing in the late 70s? They're big houses, maybe around the time developers decided to start making things huge for no reason.  Luckily, this neighborhood has aged really well. Neighbors have updated their houses and everything looks beautiful (except the exterior of my parents' house). It doesn't help that there is a giant concrete driveway in front of the house instead of anything green.
This is the current siding situation. It's the type of siding you see all over Sonoma County and I don't understand it. I think it could have something to do with the time the area started getting really developed in the 60s and 70s, but it's outlived its welcome and its time for something new. A cleaner, more sturdy alternative is HardieShingle®, which achieves the handcrafted look of cedar with lower maintenance than cedar or wood-based shingles. It's also very versatile, with applications on both traditional and contemporary homes.
Another issue with my parents' house (and many hastily-built tract houses from the time) is that there is inconsistency with siding. The whole house is stucco, except the front which is covered in siding. It ends up making the home look haphazard. Elegance demands cohesion, so combining James Hardie® siding with their great options for trim and soffits gives a home a more considered, polished finish.
In all honesty, before collaborating with James Hardie®, I'd never really given siding much thought. My renovations tend to be interior, so I don't often deal with the exteriors of homes. But I was impressed with how beautiful their siding looks on so many different types of homes. Here are a few facts I've learned about James Hardie's® offerings:
It stands up to moisture and harsh weather.
It is water resistant to protect against swelling, warping and cracking; also resists damage from mold.
It won't be eaten by animals or insects.
As I mentioned above, it's more fire resistant than wood or vinyl siding.
The color finish (ColorPlus®) provides consistent, long-lasting beauty.
It offers less maintenance than wood or wood-based siding.
I'm obsessed with wooden shingles so I was excited to see that James Hardie® offers HardieShingle®. Sidenote: I love that James Hardie® inserts its name into all of its products like I do with orMOMdo and orlandDAD, etc. Not only do they have HardieShingle®, they also have products like HardiePlank®, HardieTrim®, HardieSoffit®, HardieWrap®, HardiePanel®, HardieBacker®…AND MORE.
Northern California provides a lot of challenges for siding. It's hot there in the summer and cold/wet during the winter. Also, small earthquakes happen with mild frequency and can contribute to cracking in exterior finishes. Luckily, James Hardie's® unique formulations resist the effects of humidity and moisture, damage from mold and provide superior dimensional stability to resist shrinking, swelling and cracking.
I don't know if it's appropriate for Casa Soria, but I love a blue house. I also love how the above home combined James Hardie® surfaces to help give the home some structural definition.
An added benefit to using James Hardie® siding is the warranty. James Hardie® stands behind its siding 100% for 30 years and behind its trim 100% for 15 years. 30 years is a long time. I'm literally going to be a 65 year old man in 30 years. That's a long time to not have to worry about your siding failing.
Okay, so now to the task at hand. My parents' house. Before we get too far into this, I have to say I don't know if this is ever going to happen. My parents might be swayed if I can get the whole thing sponsored, but they've just sunk so much money into their kitchen I think it will be a while before they want to spend any more money on their house. However, I thought it would be fun to do some renderings as an exercise to show dramatically siding can change the look and character of a home. It's a surface that can make a house into something completely different. I created the following renderings using Photoshop and layering beautiful James Hardie® products over the house's exterior. I also reconfigured the windows and added some green in the driveway to make the transformations even more dramatic. Check them out, choose a favorite, and tell me how you'd use James Hardie® in the comments!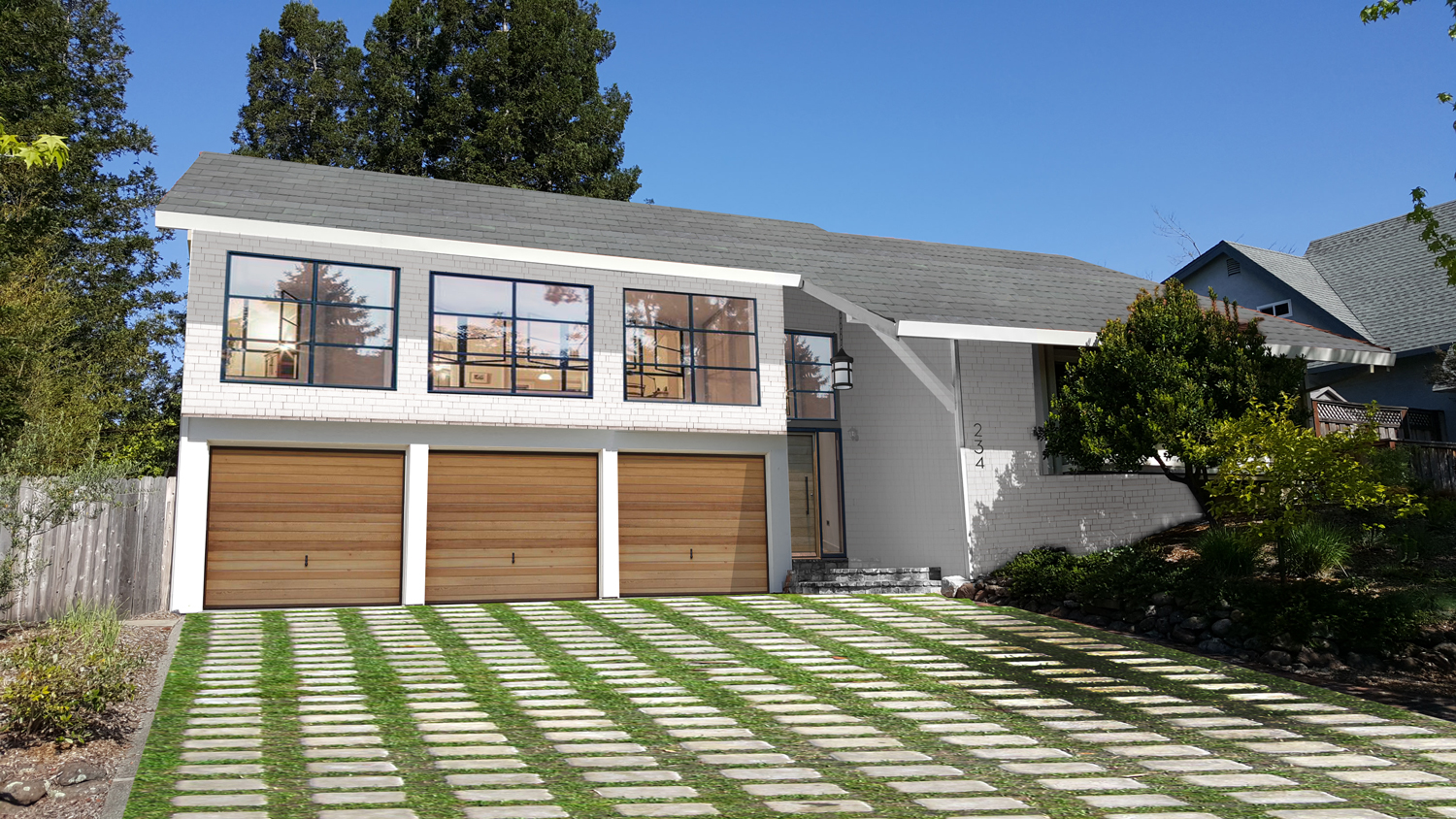 Modern Minimal Shingle
I love the work of architect/builders Ike Kligerman Barkley, who often use shingles (normally relegated to more traditional homes) on homes with modern lines. I love the warmth and hand-touched element that HardieShingle® brings. For this rendering, I chose HardieShingle® in Arctic White. Shingles aren't only for Cape Cod style homes anymore. You can use them on modern homes and they look GORGEOUS.
Cape Cod Contemporary
One of the main issues my parents have with the design of their home is that orMOMdo loves contemporary while orlanDAD loves traditional. The home I was raised in was a historic 1920s Craftsman bungalow, filled with character and dripping with authenticity. Unfortunately (well maybe fortunately for my mom) the home they bought was a 1970s modern house. The lines of it want to be contemporary. For this render, I used HardiePlank® Lap Siding (in INSANELY BEAUTIFUL Evening Blue). The color is absolutely gorgeous and it completely changes the home, making it a lot more Cap Cod traditional than I thought possible.
The final option I chose was HardiePlank® Lap Siding in Light Mist (which is a really beautiful faint grey). For this option, I went as modern and minimal as possible. Also, I didn't add another window on this render because I wanted to do an option that didn't involve adding one (it's a huge expense and it's nice to have some interior space to hang art, though I believe structurally we can add a window there if we want).
So, there we have it. That's what you can do with siding! People often underestimate how fully changing a surface can change the look of a home. But it completely transforms the identity of a house. If you're looking to get inspired about how you can transform your own home's exterior with James Hardie® siding, check this link to download an inspiration guide. Also, if you'd like to order samples (I ordered Lap Siding in Light Mist, Arctic White, and Evening Blue), you can order free samples on the James Hardie® website.
Love,
Orlando
PS: Vote for your favorite style and tell me how you'd transform your house with James Hardie® siding!
This post was created in collaborated with James Hardie®, who compensated me for writing it. Ideas and opinions expressed are genuine and my own. Sponsored content helps keep this site running.
SaveSave
SaveSave
SaveSaveSaveSaveSaveSave
SaveSave
SaveSave
SaveSave
SaveSave
SaveSave
SaveSave
SaveSave
SaveSave