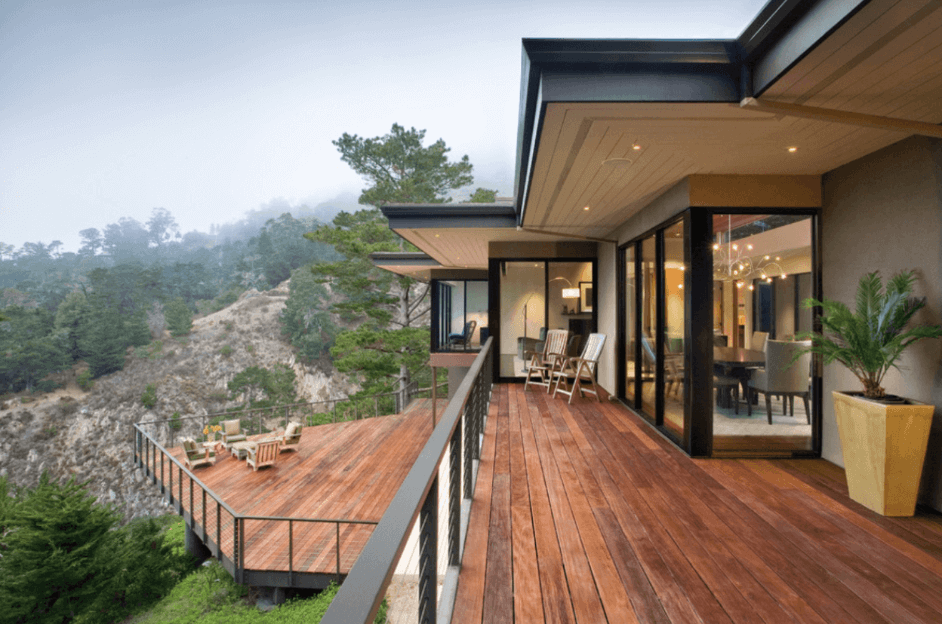 Dear Construction Diary,
It's become increasingly clear that my parents' kitchen renovation project has ballooned and is now basically an entire home makeover. One element that I've been itching to change on their house since they moved in is the deck the sits outside the kitchen. An interesting thing about their house is that it's very vertical. There are three levels because it's on a hillside and the kitchen is on the top level. In order to make sure there's easily accessible outdoor space, a deck off the kitchen is essential. We're expanding the new kitchen out onto an area that was previously an outdoor deck (a process which has taken a lot more engineering and money than anyone expected, but ultimately makes way more sense for the house).
When construction began on the kitchen, it quickly became apparent that the posts that were supporting the existing deck would need to be replaced as they were rotting and ready to collapse if there were too many people out there wiggling around. So when Humboldt Redwood Company approached me and wanted to work together on building a new deck and shade structure, I jumped at the chance. I knew I wanted a natural wood deck system, but I didn't know much about redwood and I also had a lot of misperceptions about the timber industry in general. I'm trying to make this kitchen renovation project a chance to learn about the things going into my parents' house (we toured the Fireclay Tile factory months ago to see the tiles for the kitchen being made). In general, I love seeing how things are made, so this has made the whole project so much more fun. I used to love those TV shows where they'd show you how crayons, etc. were made (was that on Mr Rogers?) so this is basically the adult version of that.
One of my major preconceptions about redwood (and wood in general) was that it is the result of timber companies clear-cutting forests and destroying animal habitats. I was pleasantly surprised to find this isn't the case (at least with Humboldt Redwood Company). Humboldt Redwood Company actually plants more trees than it harvests, so they are creating a surplus of forest instead of cutting them down and leaving bare soil. Another thing I learned from visiting is that the stewards of these beautiful forests have a pretty strong understanding of what's going on with these trees. Like they know if there's an owl living in a tree so they avoid cutting that one down until he moves to another one. I never really thought about timber harvesting as an environmentally conscious activity, but for certain companies it is.
The forests that Humboldt Redwood Company manages are FSC certified, meaning they meet the standards of an international board that oversees lumber production and harvesting. The Forest Stewardship Council is based in Germany and basically makes sure wood is being harvested in a way that is environmentally friendly, respectful of indigenous lands/people, and conscious of wildlife habitats. Obviously, all of this stuff is important to me as someone who grew up in a national park.
I toured the Humboldt Redwood Company's forests with representatives for the company and of course found time to climb inside a tree and pop out again. I don't know why popping out from behind corners brings me so much joy, it just does. I'm basically a peek-a-boo baby that won't grow up. DEAL WITH IT. A huge trends I am not into these days is to use synthetic planking instead of natural wood. I guess people think this is going to be more durable than wood. Which is maybe true, but I don't love the way it ages and the downside of it being durable is that it's still going to be sitting solid in a landfill in a thousand years. Wood obviously requires care and upkeep, but what I'm learning from this Casa Soria renovation is that pretty much everything worth putting in/on your house does.
Okay, now that I've yelled at you about why we're going with redwood for the deck and shade structure, let's take a little tour down memory lane. The main element I hated about the previous deck (which I think was added after the house was built in 1977) was the trailer-themed corrugated metal roof that was on it. It's crazy how much one material can ruin a whole space. The metal roof provided shade and kept the space safe from falling rain, but it made the whole house look like a double-wide.
In an attempt to improve the deck, I did a makeover out there a few years ago. I brightened it up by painting the previously-brown garbagemetal white and changed out the furniture. I also painted the little alcove (which is now going to be the kitchen) white, so the whole space felt more clean and bright. We're hoping to paint the whole outside of the house white depending on the quote we get from the painter this week. I'm honestly considering just painting it myself if it's too expensive, because this beige color makes me want to scream (sidenote: literally everything in the house was beige when my parents moved in, from the carpet, to the tile, to the countertop, to the wall color in EVERY ROOM).
This is what the back of the house looked like before construction began (yes, those are appliance boxes under the deck). The deck juts out over the yard, creating a dark space underneath. My plan for the new deck is to create a dining space underneath complete with a hanging pendant, a table, and eight chairs. It's an awkward space so I want it to just look purposeful and elegant.
The new deck is going to be a lot more masculine and structural than the previous one. I love that we're going to have a beautiful redwood structure on the back of the house to bring some warmth and color to the mix. It also helps that the view out the back of the house is beautiful, giant redwood trees. They take up a lot of the real estate in the backyard but make it feel a lot more private and green.
The backyard has a lovely vibe and is a great place for an outdoor party. orMOMdo is a Master Gardener and loves keeping up her garden, so there's a good foundation out there. But it lacks a bit of cohesion. The style is a bit schizophrenic. The house's style in general is challenging. It was a 1970s modern tract house that was flipped in 2012 by an investor who chose the cheapest finishes possible and didn't pay any attention to the style of the house. The makeover they gave the home left it a Frankenstein hybrid of crazy 70s and late nineties suburban traditional. So with the deck plan I'm trying to create something that is simple and elegant, not too modern, but also not overtly traditional.
The plan for the new deck is that it's going to have the same footprint as the old one but will have a much more rectangular, simple style. The shade structure on the upper portion will be a lot higher than the previous metal roof, making that space feel not only more spacious but also allowing much more light to come into the new window and door that we're adding to that corner of the home in order to build the kitchen. An added benefit of working with Humboldt Redwood Company is that we have access to huge timber we might not be able to access otherwise, so the posts (and most of the structural components) are going to be large-scale 8×8 pieces that will give the structure a very sturdy, dramatic look.
The back of the house is currently torn up, so it's looking pretty crazy. My hope is that we can make the whole house look more cohesive by painting it white. The previous owners put an addition onto an old deck (that's the portion to the left) that looks a bit disjointed from the rest of the house. Painting it all white so the numerous moldings on that portion disappear will clean it all up.
I guess I shouldn't have been so surprised that redwood was the right solution for Casa Soria. I've always loved the vibe of redwood for decking. It makes me think of Big Sur in the 1970s and it provides a pretty, durable surface and is available with a very clear grain (meaning there's not a lot of knots in it which make it look really busy and chaotic). It helps create a consistent, serene surface and has the added benefit of not getting as warm as other materials which can burn your toes off on hot days.
Someday, I hope to live in a house in the hills with this type of view. Until then, I'll have to sit on my parents' new redwood deck staring at their redwood trees, dreaming about the future.
This shade structure is a little more traditional than the one I designed for my parents. We won't be using tapered lumber or so many layers. But the above looks perfect for the house it's paired with.
The Casa Soria deck and shade structure will be a lot more simple and rectangular. The image above right was the main source of inspiration from the beginning. I found out while researching this post that the yard from that image belonged to Kelly Ripa and it's actually a deck on a Manhattan apartment. A far cry from the hilly, suburban lands of Casa Soria, but gorgeous and classic nonetheless.
The upper deck, which sits directly outside the kitchen, is going to be significantly smaller than it was before. Basically, we stole about seven feet from the deck in order to expand the previously-microscopic kitchen into a full-size kitchen. This involved squaring off that corner of the house  (not sure why it was indented before). There was a lot of wasted space on the deck before, so I don't think we'll miss it. orMOMdo loves sitting out there to read and also loves having a grill handy right outside the kitchen door, so we'll be incorporating as much loungy seating as possible as well as a small-scale grill up there for easy use.
Sources: Starburst Pendant, Outdoor Sectional, Outdoor Coffee Table, Sconce, Concrete Planters, Pendant Light, Dining Table, Dining Chairs, Tabletop Planters, Grill, Drum Stool. 
The outdoor furnishings will have the same vibe as the redwood shade structure itself. A bit simple, a bit contemporary, a bit traditional. For the downstairs dining nook, I've already sourced this dining table from Article. For the upper deck, I haven't chosen anything yet but I'm looking at sectionals like this one from west elm. I like that it has large-scale arms you can put a drink on since there might not be room for side tables. I'm adding in a bit of a nod to traditional by including these lantern sconces from Rejuvenation.
And finally, a little tidbit I learned about when I went up north to tour the Humboldt Redwood Company's forests. Timothy McTimber is their mascot, a talking piece of wood with an intense need for validation who stars in some of the funniest ads I've ever seen. They're so weird and insane I feel like they'd be right at home on At Home With Amy Sedaris (have  you been watching? It's amazing). Watch them, you won't regret it! And for more info on Humboldt Redwood Company, head over to GetRedwood.com.
Get Redwood Commercials:
Love,
Orlando
This post was created in collaboration with Humboldt Redwood Company. The ideas and opinions expressed are genuine and my own. Sponsored content on Hommemaker keeps this site up and running.
SaveSave
SaveSave
SaveSave
SaveSave
SaveSaveSaveSave
SaveSaveSaveSave
SaveSave
SaveSave
SaveSave
SaveSave
SaveSave
SaveSave
SaveSave
SaveSaveSaveSave
SaveSave
SaveSave
SaveSave
SaveSave