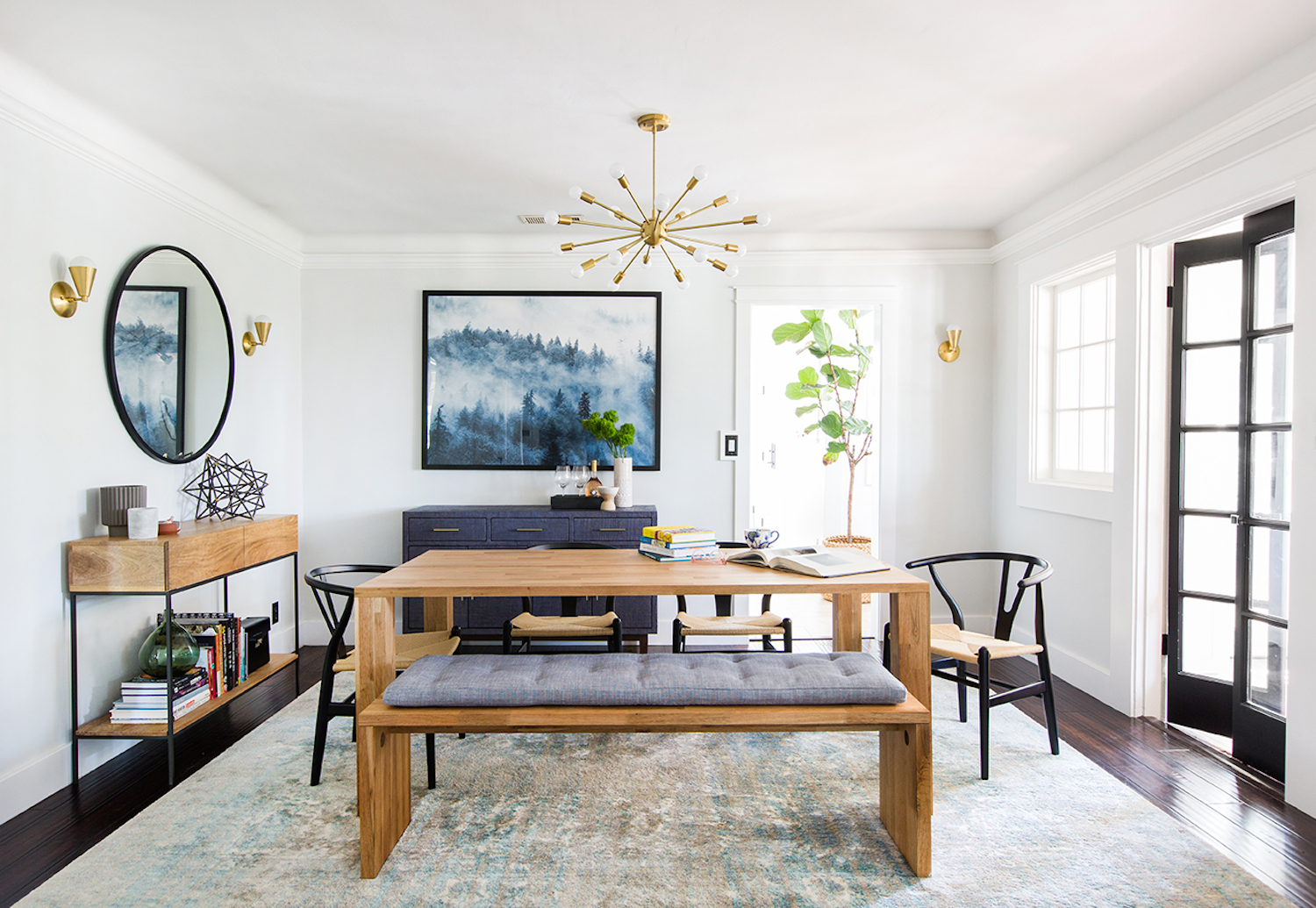 Photography by Tessa Neustadt Courtesy Homepolish
Dear Design Diary,
After you've lived in LA for a while you start to dread meeting actors, especially ones on popular TV shows who are famous. Normally, they are crazy high-maintenance, attention-hungry, and completely insane (like not in a fun way, in a way that makes them irritating and unrelatable). These are vast generalizations, but I've made friends with enough COMPLETELY BONKERS actors to know that you should approach them the way you'd approach a mountain lion in the wild, with caution, fear, and a thoroughly-planned escape route. You can imagine my surprise when Homepolish set me up with Amanda Crew and she turned out to be a hilarious, warm, and intelligent woman. I expected her to be a crazy actress who would yell about carbs and Moon Juice the whole time (in case you don't know Moon Juice is a dumb juice shop here in LA run by a modern day dilittante/witch who puts fake tinctures into her products then charges $20 for an 8 ounce glass of nothingness).
But Amanda and I immediately loved each other. I guess this shouldn't have been such a surprise, as Amanda is from Canada and I always get along with Canadians. Just look back to 2013 to when I met Kelly Oxford during a Homepolish collaboration. She became one of my best friends and now we spend most days texting each other about our feelings.
Amanda is best known for her role on Silicon Valley, but she's been a working actor for years. She is incredibly multi-faceted, a writer, and is an insanely talented photographer. She purchased a home in Silver Lake not far from Orcondo, where I was living when the makeover started. The house was adorable, a cute Craftsman with tons of character and detail. The house had all the right parts, but needed some edits to remove some awkward decisions the previous owners made (mostly in buttery wall color and crazy light fixtures).
Amanda found me on Snapchat, back when I used to do that before Insta Stories were invented and I decided there was no way in hell I was going to try and keep up with both those apps. It pretty much felt like we'd known each other forever when we first met, and while the project took a lot longer than either one of us expected or wanted, I love the way it turned out. Why'd it take so long? Well, two reasons really. Firstly, Amanda is an in-demand actress who can disappear for weeks on end (these shooting schedules and press tours are no joke people, actors on major shows WORK for their money). Second, I got dumped and laid off a short while into it, so I was slightly distracted for a few months trying to find a place to live, mend my destroyed soul, and, um, FIGURE OUT HOW TO NOT BE HOMELESS WITH NO REGULAR INCOME (thank God last year is over tbh).
Oh, and in case some of you are confused, I still do celebrity projects for Homepolish and we are friendly collaborators. In addition to Amanda, I'm currently working on a project with Aubrey Plaza (who is just as awesome, funny, and sardonic as you'd expect) and another one with Olivia Culpo (who is totally hilarious and fun and cracks me up at every meeting).
I love the Craftsman bones of Amanda's house but also wanted to honor her contemporary taste with the furnishings I selected. Her dining table from LAX Series is one of my favorite finds. It's a sturdy, solid English walnut table that can fit a decent party. I contrasted it with a classic brass sputnik and a beautiful buffet wrapped in grasscloth.
Amanda's not a huge drinker, but this corner in the dining room was just begging for a bar cart. People often ask me how to best style bar carts and here's my advice. Firstly, buy a lot of booze, that's your main accessory. Second, get some cute decanters. Third, invest in some cute glassware. Fourth, add in some sculptural elements and/or books. And voila! You have a stylish bar cart!
Amanda had this console in her old place, so I found the perfect spot to incorporate it into the dining room and styled it out with a collection of vintage accessories. I'm always a sucker for a round mirror and this one was a bargain from Urban Outfitters.
We partnered with Minted Art for art for the entire home and we found a ton of gorgeous large-scale pieces to scatter around the house. I love this big forest photograph, which provides a serene focal point for the dining space.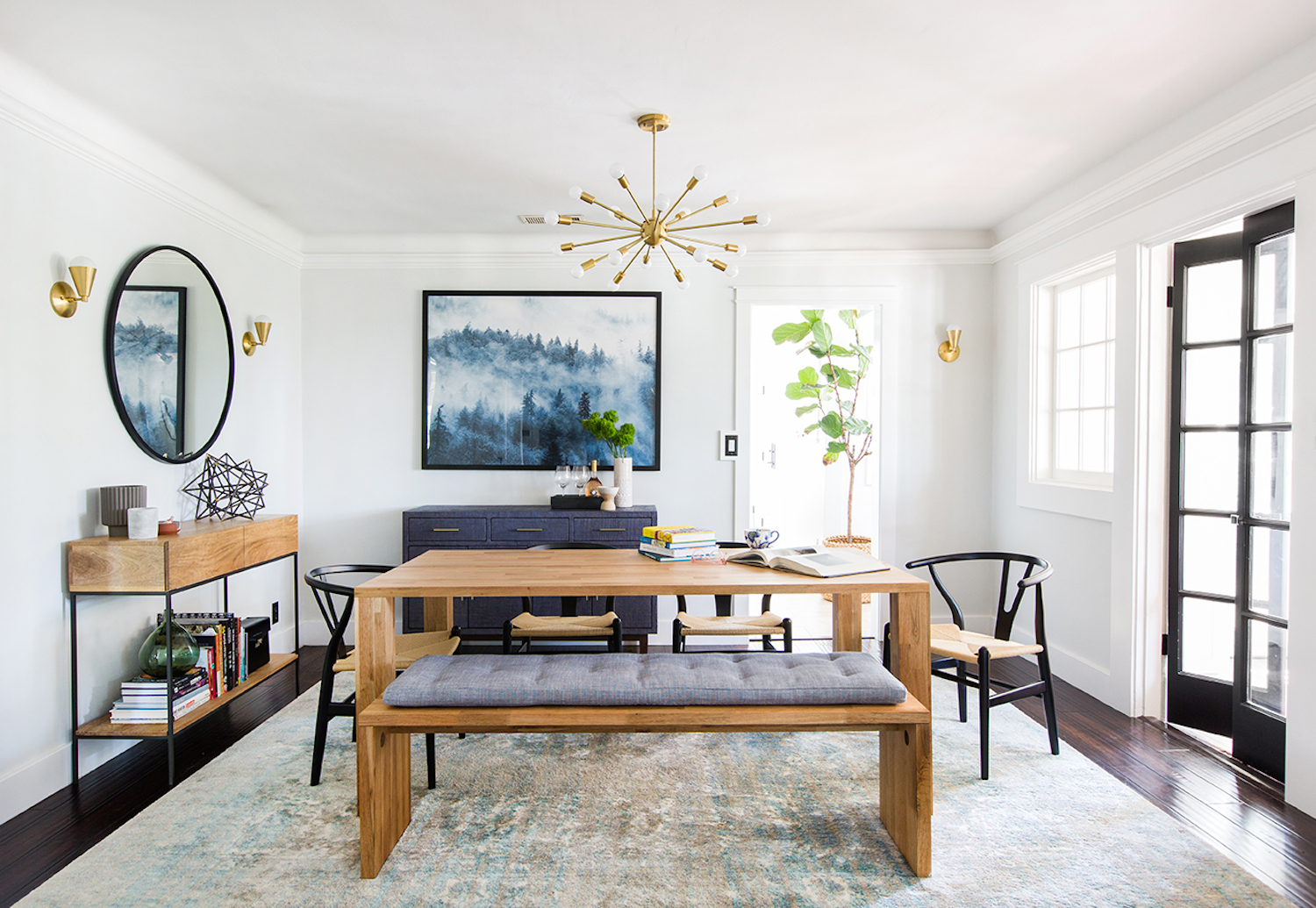 I love contrasting a modern table with more traditional chairs, so I added these classic wishbone chairs to the mix. The lovely and lush rug from Loloi helped bring in some much-needed color while keeping the mood soothing.
Shop The Look: Dining Table, Bench, Wishbone Chairs, Forest Print, Brass Sputnik Chandelier, Brass Wall Sconce, Grasscloth Sideboard, Round Mirror, Rug, Industrial Console, Bar Cart, Figure Drawing Print, White Vase.
Amanda's kitchen was already pretty great, but the cabinet color made us both wanna barf. So I brought in my painter to paint everything simple white. Eventually Amanda wants to completely redo the kitchen, but this update will last for years and let her enjoy her kitchen without having to look at that crazy cabinet color. The pulls were all a rare, custom size so instead of replacing them we chose to paint them gold (Amanda did this herself, I was very impressed). Luckily, the home came with a gorgeous Bertazzoni range (you know I'm a fan) so no change was needed there.
Shop The Look: Bertazzoni Professional Range (Similar to Shown), Bertazzoni Hood (Not Entirely Similar to Shown), Le Creuset Dutch Oven, Knife Set, Aqua Vase.
Amanda's cozy bedroom begged to go dark, so we painted the walls a saturated navy and went with a preppy stripe for the bedding. The bed itself is a simple, classic bed from Hedge House (see below) which is perfect for this small space because it provides the structure of a bed without taking up too much floor space.
Shop The Look: Hedge House Bed, Lumbar Pillow, Bedding (Similar to Shown), Roman Shade, Bedside Table (Similar to Shown), Sconces, Mountain Fog Print. 
Amanda's guest bedroom doubles as an office, so we incorporated the sofa bed she already had to keep the floor space open and usable.
We wanted multi-functional side tables that could also be bedside tables when the sofa was used as a bed. Storage was also key, as Amanda wanted space to store her office supplies. In addition to acting all the time Amanda writes screenplays so she wanted a space she could concentrate on her work.
Hi. I'm Amanda and I'm a boss. Also, please follow me on Insta so you can peep my dog, who is coincidentally America's next president. DEAL WITH IT.
Shop The Look: Sleeper Sofa, Black and White Throw, Indigo Pillow, Patterned Indigo Pillow, Table Lamp, Nightstand, Roman Shade (Similar to Shown), Watercolor Print, Pink Rug (Similar to Shown). 
Both Amanda and I had been obsessed with this beautiful leather chair from Anthropologie for years, so I was elated when it finally showed up (sidenote: deliveries from this company can take a while, I think we waited about four months for this guy).
My assistant Jess is about to go out on her own in order to concentrate on her ceramic work. She made this candle holder and a lot of the beautiful ceramic pieces in this shoot. Please support her and buy everything she makes from now on, okay?
A funny thing happened when we painted the walls in this room. Amanda really wanted to get rid of the butter white color that was all over the house. So we went with a light, desaturated grey. However we'd hoped to leave the trim and ceiling the same color it was before (to save labor cost). Even though we'd swatched the paint on the wall next to the trim and it looked fine, when we painted the whole room grey, it looked baby blue. This was because it was contrasting with the yellow-toned white that was previously there. Freaked out, Amanda called me and asked me how the walls had turned out blue. Had the wrong color been painted accidentally? I assured her it was merely the contrast between the yellowish trim paint and the grey color that was making it look blue (blue and yellow are opposites on the color wheel – buy my book this issue is covered within). So we painted the ceiling and trim bright white and all was back to better. Let this be a lesson to all of us that how a color reads is entirely dependent on what colors you've put it next to.
The non-functioning fireplace creates a wonderful focal point in the room, but unfortunately it was dark and filled with ugly red tile (Sidenote: I tend to hate red. Don't know why. It just never does it for me and I want it gone, forever). Eventually Amanda wants to add some sort of gas fireplace insert, so we didn't want to spend too much money re-tiling it. The solution was having the tiles painted. Yes, you can paint tile. It requires a special kind of paint that resists chipping but it works amazingly well. I wouldn't try it myself but the right painter can do a flawless job.
The custom sofa is from Clad Home here in LA, who can basically make anything you want and have a ton of great fabric options. The alcoves on either side of the fireplace left us an interesting design challenge, as they were too small for a decent bookcase and too large to leave empty. The solution were these great bedside tables from Crate & Barrel. I love using bedroom furniture outside the bedroom and I love the clean lines of these.
Shop The Look: Custom Sofa, Rug (Similar to Shown), Indigo Blanket, Coffee Table, Black and White Graphic Art, Roman Shade (Similar to Shown), Nightstand/Console,  Concrete Table Lamp, Leather Chair, Ivory Fringe Pillow (Similar to Shown), Black Mudcloth Pillow, Mountainscape Print, Wool Throw (on Leather Chair), Select Pottery by Jessica Diab. 
I ran into Amanda at my friend Jeffery's wedding a few weeks ago and it was a true delight. We are both amazing dancers and had so much fun wiggling around together on the dance floor. She spent the whole time talking about how beautiful her home is now and complementing me on my design work. Just kidding, no she didn't. But she should have. Because it looks GOOD.
This project was so satisfying and fun. Not only because I made a fun new friend, but also because it's so satisfying to see what a difference paint can make in a space. The home was completely transformed, without any real construction. So if you hate your house, take a look at those wall color and see if changing them might, perhaps, CHANGE YOUR ENTIRE LIFE.
Okay bye.
Love,
Orlando
PS: WAIT THERE'S MORE! Read more on this fun makeover at Homepolish AND (!!!) People Magazine (it was in the print edition with Queen Elizabeth on the cover!).
SaveSave
SaveSave
SaveSave
SaveSaveSaveSaveSaveSaveSaveSave
SaveSave
SaveSave
SaveSave
SaveSave
SaveSave
SaveSave
SaveSave
SaveSave
SaveSave
SaveSave
SaveSave
SaveSave
SaveSave
SaveSave
SaveSaveSaveSaveSaveSave
SaveSaveSaveSaveSaveSaveSaveSave
SaveSaveSaveSaveSaveSaveSaveSave
SaveSaveSaveSave
SaveSave
SaveSaveSaveSave
SaveSave
SaveSave
SaveSaveSaveSaveSaveSave
SaveSave
SaveSaveSaveSave
SaveSave
SaveSave
SaveSave
SaveSave