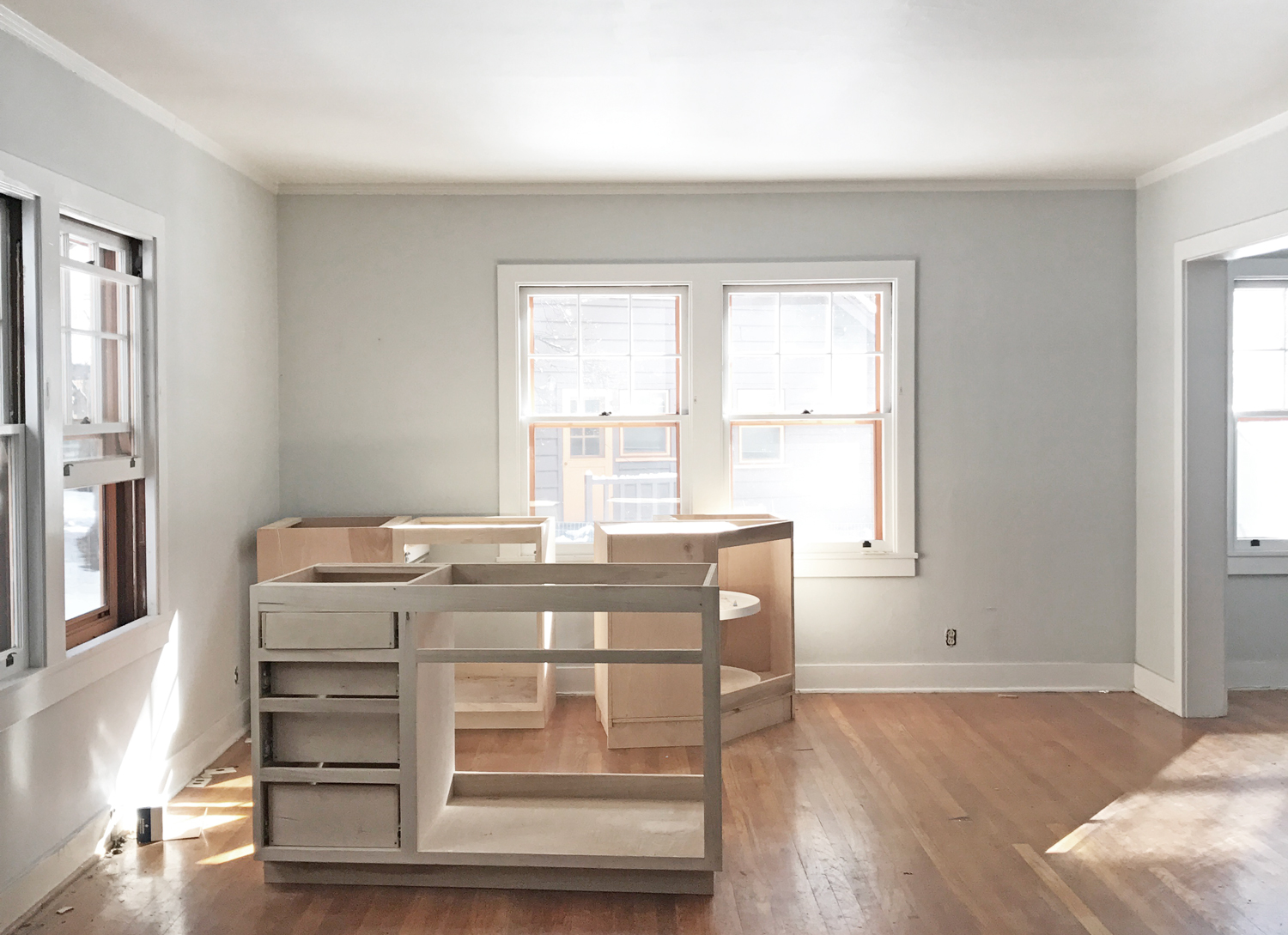 Dear Renovation Diary,
Yesterday I was at Emily's house shooting some promo stills for Get it Together! when I got news from my mom that the contractor I hired to renovate their kitchen told her it was going to be another two months until it was finished. I was furious. This project started nearly a year ago has taken months longer than expected, cost twice as much as expected, and been filled with compromises I didn't care to make. I called the contractor to check in on what was going on and completely lost my cool. I tend to be pretty level-headed and easy to work for/with. I believe in being respectful and giving people the time and space they need to do their jobs. I hate micromanaging and I normally just trust people to do their jobs. But I couldn't hide my frustration with the contractor, because he's changed the completion date every single month since we signed the contract with him in April 2017. My parents have been out of their kitchen for almost six months. The price tag for labor ballooned from under $100k to much higher (I think it's around $140k right now, which does not include the approximately $80k of free fixtures/furnishings I've procured for them via sponsorships). My point here isn't to drag the contractor (who is a very kind man who we all like a lot) but more to explain why I was screaming on the phone yesterday at someone I genuinely like. If you mess with my parents you're gonna get screamed at.
Design can get emotional and uncomfortable. Designing and renovating is fraught with emotional undercurrent that can make a process that seems like it should be all fun and laughs into one that is stressful and overwhelming. My experience designing my parents' kitchen has been a lesson in patience, diplomacy, and management. I've never had a construction project go off the rails like the kitchen renovation I'm doing for my parents, my most important clients ever. I plan on writing more extensively about the harrowing process of this renovation, but today I'm here to chat about the connection between design and emotion.
My parents moved to their house in 2012, away from the house I grew up in. The living room from the Yosemite house I grew up in is pictured above, a shot I grabbed years after they'd left by sneaking in the back door. It's still under renovation for the next tenant (apparently it was filled with asbestos and all the Sorias will be dead soon). When my parents moved into their Rincon Valley house, I immediately wanted to help them figure out how to plan it and make it as nice as possible. I don't really know where this urge came from, but that's what I'm here to explore today.
Obviously, one of the reasons I wanted to design my parents' house was that I am naturally drawn to creating beautiful spaces. That is why I became a designer. But I think a more germane reason has to do with how I was raised, the type of expectations my parents had about their home, and a response to going to my own grandparents houses growing up (keep in mind my parents moved to Sonoma County to be close to my niece and nephew, who live about 25 minutes away).
The house I grew up in was lovely and cozy, naturally collected over time. I don't think my parents ever sat down and thought about how to lay the whole thing out. They never came up with a design plan, mood boards, or contemplated how different furnishings worked together. Instead, they designed their house the way most people would. If they had an old sofa that was too worn to use, they'd go out and find one. And then they'd keep it forever. My parents are a combination of frugal and environmental, which means they hate replacing things not only because of the cost, but also because they hate waste. They were born in the 50s but sometimes it feels more like they were raised in the Depression Era, they have always had a strong fear of scarcity, despite the fact that I never wanted for anything (aside from designer clothes, which I had to buy with my own money) growing up, and it colors the way they consume.
My parents spent most of their adult lives planning and saving for retirement. I remember hearing about their retirement plans from a pretty early age. They were way more on top of it than I have been (though I do have a retirement plan set up finally, GO ME!). I think one of the reasons I want their house to be perfect is that they've worked so hard for it. They have saved and scrimped their whole adult lives. They both come from humble means and didn't get a hefty inheritance or help from their parents. Instead, they did the thing you used to be able to do in America. They worked hard, went to excellent schools, and saved their money until they elevated themselves into a more comfortable financial place.
One of my dad's go to phrases is "we're poor." I think he says this because he wants to make sure my mom doesn't spend too much money, but it definitely seeped into my brain growing up. It wasn't until I arrived at a fancy east coast college that I realized the privilege with which I'd been raised. While we didn't grow up with a lot of material spoiling, we did get to go on trips, to see plays, dance performances, museums, ski trips, etc. My siblings and I all got jobs when we turned 14, but my parents made sure we were exposed to great cultural experiences. So part of the desire to make their house great is a bit of a thank you for making sure we grew up to be worldly, interested people despite the fact that they were also trying to be super frugal with money so they'd be set up for retirement.
Another reason I'm so keen to make sure my parents' house is perfect has to do with my grandparents' homes. There was a stark contrast between my mother's mom's house (Grandma English) and my father's parents' house (Grandma and Grampa Soria), even though they were less than a mile away from each other. Grandma English's house was bright and open, with lots of windows and natural light and the lights turned on when they needed to be. Grandma and Grandpa Soria's house was dark, with wood paneled walls and lights that were never on. I never really wanted to go there as a kid because it felt scary and dark. And it wasn't because my grandparents weren't amazing. Grandpa Soria LOVED his grandkids and was always genuinely so excited to see us. And Grandma Soria (who was bedridden due to horribly debilitating arthritis), was always down to goss about celebs and world events. She laid in her bed and I'd sit on a chair next to it, listening to her stories, which were plentiful and filled with exuberance. She was an incredibly spirited woman and it still breaks my heart to think about how cruelly her body betrayed her. I could tell she just wanted to get up and dance but was barely able to sit up by the end of her life.
I have a lot of residual guilt about not wanting to spend more time at Grandma and Grandpa Soria's house. And when I look back on it I think it had a lot to do with how uncomfortable, dark, and forbidding it was. So part of me wants to make sure my parents' house is as bright, airy, and comfortable as possible because I want my niece and nephews to want to hang out there. I want to make sure my parents get lots of visitors, that their house is a destination and that they never feel lonely. I'm making them sound pathetic, they are actually busier than me and are often hard to schedule with because they always seem to have something on their calendar. orMOMdo and orlanDAD are very popular, especially with their kids and grandkids. Nevertheless, I just want to make sure they get as much love and attention as possible.
I have a reputation in my family for being controlling. I think this comes from the fact that I'm the youngest and I never really felt like anyone was listening to me. So when it comes to home-related topics, I always make my case in a more aggressive, pushy way than my siblings do. I'm also much more of a perfectionist and more crazy type A than my siblings. My way of showing love is butting into other people's business. I think my family wishes I'd butt in less and I wish my family would butt in more. But part of getting older is accepting your family as they are and just trying to have the best relationship possible based on that.
Now back to my parents' kitchen, which is the first of a number of makeovers I'm doing at Casa Soria. The reason that I am so easily enraged by a contractor who is mismanaging the project, allowing it to go months over our timeline and tens of thousands of dollars over budget, is that there's this whole emotional backstory behind it. A whole set of hopes and desires the renovation represents. Not only for me, for my parents as well, who I'm sure have a completely different set of baggage in how they're approaching this project. One of the largest stressors for them is probably the money, as I've already established how frugal they are and how freaked out they are by spending money.
When I work with clients I try to be sensitive to all the emotional backstory they bring to the table. A house is the most personal possession you have. It is a representation of what you think your life is, what you think your life will be in the future, and what you think your life was in the past. Knowing that past experiences color current perspective on your home and any makeovers/renovations you might be doing helps you keep everything in perspective.
From the outside, other people's renovations just look like fun makeover design shows. But everyone brings something different to the table. That's why people you talk to about renovation usually have some kind of crazy, stressful stories to account. There's are few things more personal than your home and there are few tasks more personal than designing it.
Love,
Orlando
SaveSave
SaveSave
SaveSave
SaveSave
SaveSave
SaveSave
SaveSaveSaveSaveSaveSave
SaveSave
SaveSave
SaveSave