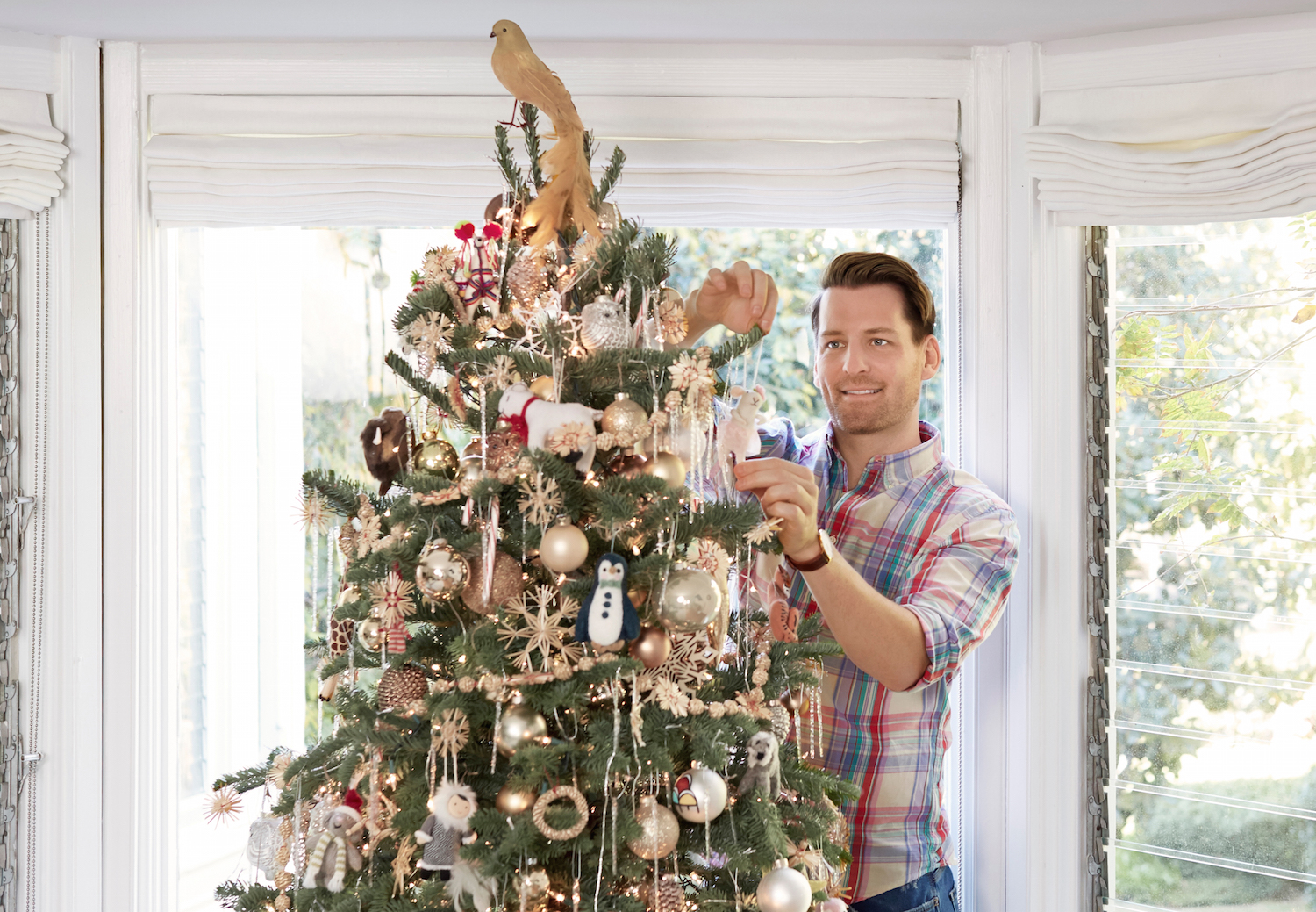 Photography by Zeke Ruelas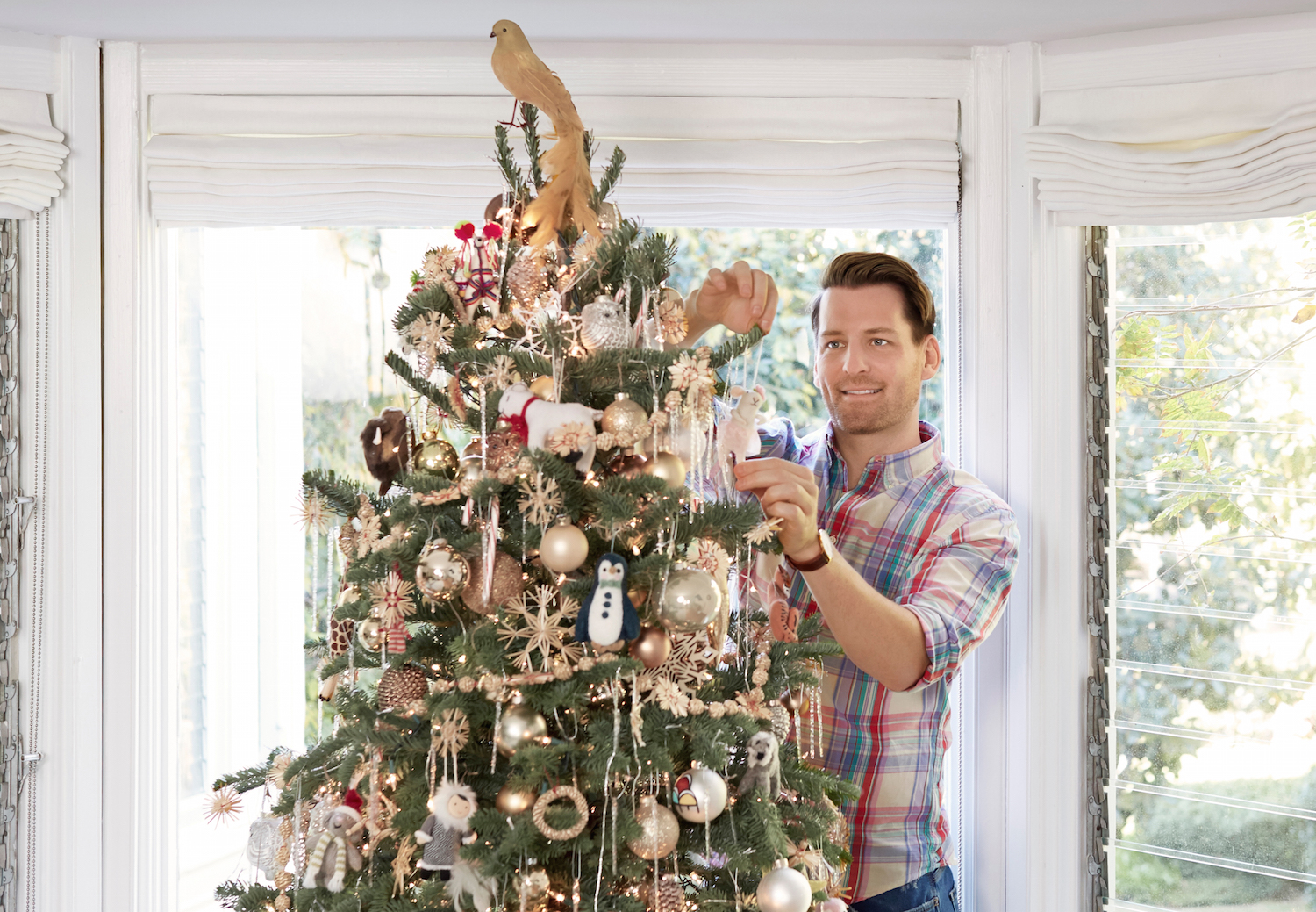 Dear People Unsure About Whether to Decorate for the Holidays,
If you've been reading my blog for a while, it's not major news that I like decorating for Christmas (read posts from last year, 2015, and 2014 for evidence). I'm not sure why, but I've maintained the enthusiasm orMOMdo instilled in me for holiday decorating well into my adult life. Growing up, we went totally crazy decorating the cabin/house I grew up in in Yosemite. To this day, I see winter as a fun time of the year when you get to re-imagine your home and see it in (literally) a new light.
One of the things I like most about Christmas decor is how it adds light and shimmer to a time of year that can be dull and dark. Los Angeles isn't particularly cold and snowy, but it does get dark and depressing here. The addition of a Christmas tree, with all it's glowing lights, adds a warmth and cheer to the home that is a much-needed antidote to the winter darkness that normally makes me want to stab myself in the eye. Don't get me wrong, I love winter. I love being able to wear sweaters (and pants!) and not sweating when I walk up the hill to the grocery store (yes, sometimes I walk in LA. GASP).
Last year was a little bit of a turning point for me with holiday decorating. I spent weeks planning a very elaborate Christmas décor plan, including an enormous 15′ Christmas tree with thousands of handmade and store-bought ornaments (it took me about 24 hours to decorate, on a 12′ ladder, screaming to myself about how I could die at any moment). I had some help from my assistant Jess, but a lot of this decorating was done alone and it was A LOT.
Then a few days after I decorated the whole apartment, my boyfriend dumped me and I had to stay there for the next two months while I looked for a new place to live (I wrote about this a bit in an Instagram post, but didn't really ever chat about it after). The holiday decorations went from being hopeful and cozy to depressing, some sort of sad reminder of offerings I made that were rejected. With the sad memories of last year's holiday, I had mixed feelings about what to do this  year.
To be fully transparent, this has pretty much been a terrible year. I've struggled a lot with loneliness and depression. And yet strangely my career has skyrocketed and I'm getting more opportunities and am constantly busy (often more busy than I'd like to be). It's been a year of figuring things out and mostly feeling like I don't know what I'm doing. But it's also been a year of finding out that I'm actually capable of doing quite a bit on my own and that there are actually quite a few things I like about myself (who knew?).
ANNNNNYYYYYWAYYYYYYYY, I kinda looked around this year and thought, what am I doing and why? Who are these decorations for? I decorated the apartment right after Thanksgiving, immediately left for New York, and will probably spend most of the rest of December in Miami (headed there this weekend for Art Basel) and Sonoma County. I don't have kids (except my friend Ryan who is three weeks younger than me who is staying with me and who I refer to as my Son on Instagram). I don't have a boyfriend. WHO ARE THESE DECORATIONS FOR???
Obviously, I'm a blogger and I need content, so there's a huge motive there to share my ideas for holiday decorating. (Thank you, by the way, for providing me a reason to do something I love. It helps more than you know). But I think I'd probably still decorate my place if I didn't have to blog about it. It's a fun annual ritual and also a great motive for inviting people over to hang.
Oh my god. I'm making my life sound so depressing. I have lots of friends, I promise. They just don't always text me at the exact moment I want them to and then I feel lonely and sullen and aloof. I get filled with ennui that only a Christmas tree can heal. AND THAT'S WHY I HAD FUN DECORATING FOR CHRISTMAS THIS YEAR, K?
Wow, that was a long and distressing intro. I'm sorry. MERRY CHRISTMAS YOU GUYS!
---
Resources: Mercury Glass Christmas Tree, Frosty Pinecone Wreath, Ombre Bottle Brush Trees, Retro Mini Bottle Brush Trees, Alpine Bottle Brush Tress, Bright Bottle Brush Trees, Gold Mercury Glass Acorn Lights, Light Up Christmas Globe, Llama Decorative Pillow, Bell Garland, Frost Blue Knit Throw Blanket, Glass Hurricane (Similar to Shown), White Pillar Candle, Cedar and Fir Garland (Similar to Shown).
---
Before even moving into my apartment, I knew exactly where I wanted the Christmas tree to go. There is a wonderful bay window that overlooks my building's very lovely courtyard (it has a koi pond with fish that are so large/plump it terrifies and disgusts me). The bay window provides the perfect nook for the tree and has the added benefit of being visible to all my neighbors. This is important to me because I want them to know how much better I am than they are at holiday decorating.
I collaborated with World Market on this year's holiday decor scheme, so all the items I'm linking here are from their beautiful line of holiday décor. orMOMdo used to take my siblings and I to World Market to snag stocking stuffers and ornaments. Because we lived in Yosemite, we had to drive hours to stores to shop for the holidays. I don't know how she did it, but she'd always figure out how to buy our gifts (and stocking stuffers from Santa) without us seeing them. World Market has a lot of great mercury glass pieces this year, including these glowing trees.
I don't know what's going on, but there's a major Llama moment happening right now and I'm here for it. I swapped out pillows and added this Llama pillow that's so cute it makes me want to squeeze my own face until it explodes. I kept the decor scheme pretty neutral, using lots of gold and silver, with accents of blue and aqua. I added in a minty knit throw to chat to the aqua component of the color scheme.
Did you know I am obsessed with acorns? Well I am. Now you know. So I needed these acorn lights, K? Our house in Yosemite was right underneath a lot of enormous oak trees that dropped acorns from a hundred feet in the air that would basically kill you if they hit you. Our crazy neighbor used to rake her lawn in a bicycle helmet because she was scared of being murdered by a falling acorn. We laughed at her, but maybe she was being smart. LET THIS BE A LESSON TO ALL OF US THIS HOLIDAY SEASON NOT TO JUDGE OTHER PEOPLE FOR WEARING HELMETS TO PROTECT THEMSELVES FROM ACORN MURDERERS.
I've been collecting bottle brush trees for the past few years (like a psychotic cat lady) so not all of these are available online (though you can find the Ombre Bottle Brush Trees, Retro Mini Bottle Brush Trees, Alpine Bottle Brush Tress, and the Bright Bottle Brush Trees on the World Market website). I wanted them to create their own little forest so I got rid of the accent lamps that are normally there and replaced them with some hurricanes similar to the ones above. Each night, I light the candles and enjoy the glow with my 35-year-old son Ryan who is my same age.
---
Resources: Llama Stocking, Brass Lantern, Birch Candle, Winter Garland with Pinecones, Woodland Nutcracker, Light Up Houses, Light Up Winter Scene, Swedish Horses, Mini LED Lights, Cedar and Fir Garland (Similar to Shown), Santa Statuette (in Dining Room).
---
My fireplace isn't functional so it's essentially useless and that fills me with rage on a daily basis. But it does provide a wonderful focal point for the room so I guess I don't totally hate it. In order to emulate the feel of a wintertime fire, I added a beautiful brass lantern and some birch candles (which my adult son also enjoys). I stole the wooden skis from my parent's (we found them in our garage when we moved into our Yosemite house in 1987). They're obviously about as appropriate for Los Angeles as my Sorel boots are but I love looking at them.
My niece Raquel used to be terrified of nutcrackers which is one of my favorite things about her (she is otherwise fearless). Two years ago, orMOMdo was forced to hide our vintage nutcracker every time Raquel came over so she wouldn't have a baby panic attack. Thankfully, Raquel got over her phobia so now we are free to celebrate our love of nutcrackers out in the open, the way God intended. This woodland nutcracker was so chill I decided he deserved a sidekick, so I bought him a Swedish Horse. The insanely adorable llama stockings got their fill of stocking stuffers (turns out World Market is still the best place in town for stocking stuffers).
Never underestimate the power of wood to warm up a holiday décor scheme. I added this light up winter scene to the rest of the wooden goodies on my mantle.
Sometimes (like when my friends aren't texting me EXACTLY WHEN I WANT TO BE TEXTED) I chat with these llama stockings and tell them how much they mean to me. They really are the best stockings I've ever seen. Except the one my grandma made me, which is the greatest stocking in the history of time. DEAL WITH IT.
The mantle got some frosty fashion with this beautiful pinecone garland. Did you know the only thing I like more than acorns is pinecones?
The warmth of the mercury glass trees pairs nicely with these light up wooden houses, which I may use as inspo for the house I want to buy in the countryside outside LA (I'm not gonna tell you where because I'll be furious if you buy the house I want before I do).
I used real greenery for this shoot (aside from the pinecone garland on the mantle) but World Market has a few great options, including a fir garland that are a lot less hassle than the real thing. I relocated my vintage Japanese screen into the dining room and I love how it interacts with the wall color in there.
I'm not sure what exactly is supposed to be happening in this photo, but I loved this Santa so much I thought he needed his own vignette. I left the table styled like this after the shoot and it makes me happy every morning.
I don't have a fireplace but I play one on TV. I wish my fireplace worked (I have no idea if it ever functioned or if it was build as a decoration). You can stream fire onto your TV and it's almost like the real thing. Except with none of the actual warmth, sensuality, or wonderful smokey scent.
These deer def look like they're up to no good. Deer are one of the only animals in Yosemite I'm kind of scared of. Did you know that if you feed them they could turn on you and kick you to death? It's no joke. Also, NEVER FEED ANIMALS IN NATIONAL PARKS, K? Unless you want die. Deer are cute though and are a VERY important staple of holiday décor.
More wood, more warmth. This little globe lights up and plays "Silent Night." The house inside rotates, much to the surprise and delight of my 35-year-old son who's my same age. Speaking of children, when I was little my sister and I used to fight over who got to have a little light up Christmas cabin in their room every year. We would have FREAKED for one of these little light up wooden houses. Or yelled at each other until one of us gave up and let the other have the house.
There are obviously too many ornaments to chat about here, but some of my favorites are linked below. Many of the ornaments on my tree can be found at World Market, others were gifts, found at vintage stores, or passed down from family.
---
Ornaments: Llama, Lady Mouse, Pinecone, Swedish Horse, Wood Snowflakes, Natural Straw Stars, Candy Canes, Woodland Animals.
---
Last but not least, THE CHRISTMAS TREE! I can't believe you made it all the way down here. It's been a long journey, unnecessarily introspective, but ultimately we've gotten to a beautiful ending and I'm not mad at it. I love the way the tree turned out and when I'm home I actually wait for to get dark so I can turn it on and feel less depressed that winter has engulfed us in darkness.
This is the first year in a while I've had a real tree. You might wonder why you see so many artificial trees in blog posts about trees. My theory is that most of us bloggers shoot our Christmas content way early, before real trees are available. Since I shot relatively late this year, I was able to source a real Christmas tree and it's a welcome change.
One of the most common problems I see in the trees my friends post on Facebook and Instagram is that most people don't have enough ornaments. Most massively underestimate how many ornaments they need to cover a tree. So if you're just getting started and don't know how many ornaments to buy, here's my rule. Think of how many ornaments you expect you'll need and multiply that by ten. That way you'll likely have almost enough ornaments to not make your tree look naked and depressing.
My friends Jeffery, Augustus, and Jim came over to help me decorate the tree and we had so much fun that my crazy neighbor from downstairs came up to yell at us about how loud we were being. I could literally tiptoe through my apartment and he'd think I was being loud so I didn't feel too guilty about it. 'Tis the season for creating outrage and resentment with your downstairs neighbor!
That was long. Thank you for following me on this IMPORTANT journey from depression to DECORATION. Now go deck your halls and get out of my face!
Love,
Orlando
This post was created in collaboration with World Market who provided the decorations and accessories. The opinions expressed are genuine and my own. 
SaveSave
SaveSave
SaveSave
SaveSave
SaveSave
SaveSave
SaveSave
SaveSave
SaveSave
SaveSave
SaveSave
SaveSave
SaveSaveSaveSave
SaveSaveSaveSave
SaveSave
SaveSave