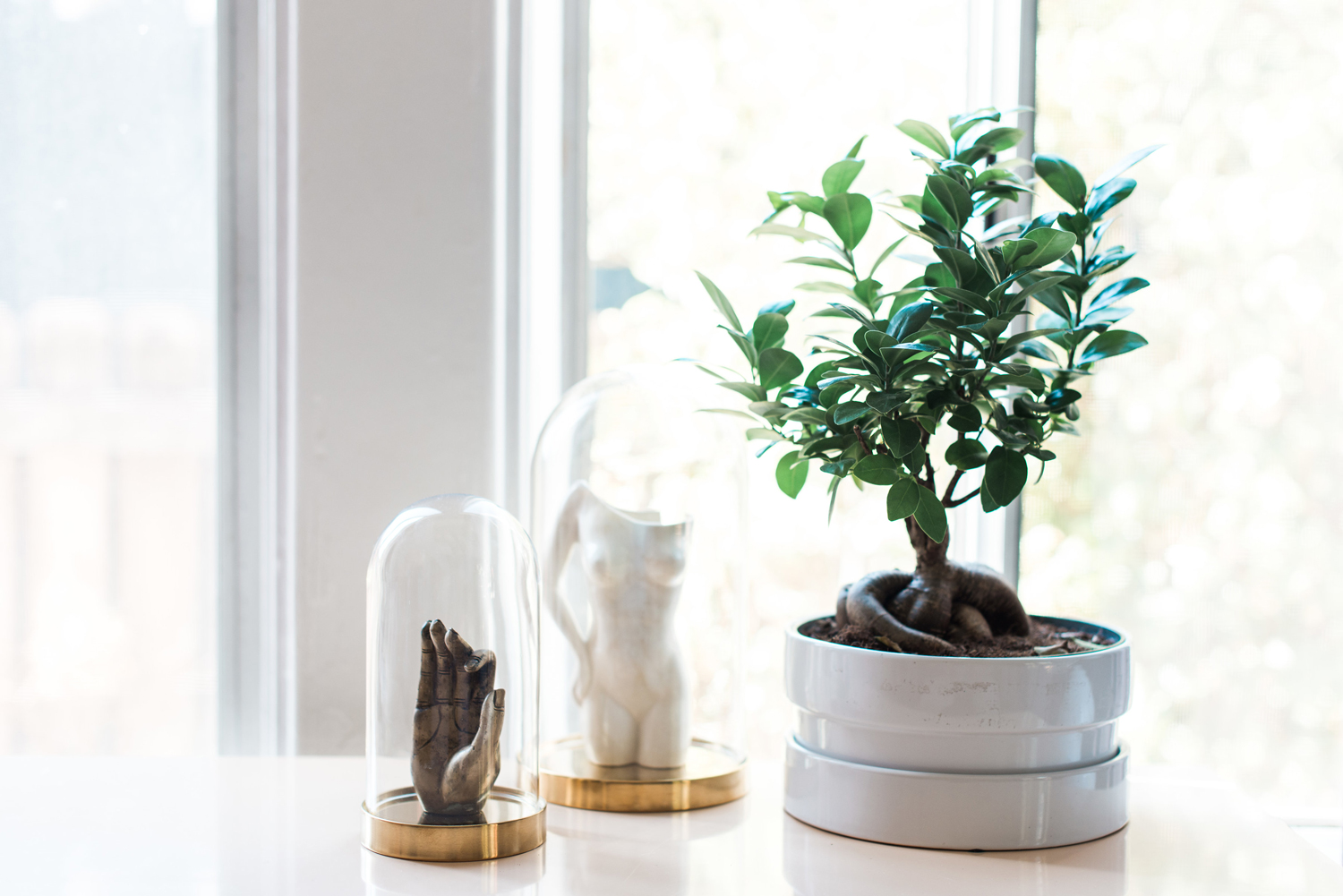 Dear Diary,
One of my favorite current projects is the web series I'm working on with Parachute. The videos are a chance to do a fun makeover and play while we shoot the video. I had so much fun on the first one, where I designed a nursery for Foujan. When I got the chance to work with Jen Gotch (founder of Bando) I was stoked because she is A) a friend of mine B) one of my favorite people to follow on Insta and C) my actual friend from real life. It helps that Jen also has great style and is super creative, so I knew the makeover would be ridiculously fun.
Check out the video of the makeover below, followed  by info on what we did to transform her space.
The video was directed by Brian Henderson, who runs Propeller Media. Anyone who's done on-camera work before will tell you that the director can make or break video content. Brian, Jen, and I have all known each other for years so we were very comfortable with each other. Which made the video so much funnier and way more stupid than it would have been if a rando had directed it.
I couldn't resist these outtakes of Jen because they really get at what her personality is. I'm not sure she knows how much joy she brings to the hearts of her fans and followers. She is constantly playful and silly, but also willing to be vulnerable and real on her social media. We both went through terrible breakups this past year and she's been pretty transparent about sharing the depression and uncertainty that followed. It would seem that talking about that type of thing would make people feel depressed, but I think it has the opposite effect. It makes people feel less alone. I am not sure Jen knows the amount of comfort and joy she brings to people and I love that these images show how innately joyful she is as a person.
As casual and funny as the final video is, the behind-the-scenes was pretty crazy. We shot so much footage that was funny but could only include a bit of it (I wasn't allowed to see the original cut because apparently it was WAY too long and filled with funny stuff we had to cut out). Maybe we'll release a full-length editor's cut someday soon.
One of the most personal things in the room is this painting I made for Jen. I've been working on a series of multi-canvas graphic paintings and I thought they matched Jen's modern vibe. Luckily, she seemed to love it so it was a major success.
Resources: Linen Sheet Set (Blush), Essential Quilt (Fog), Percale Sheet Set (Light Grey), Shag Rug, Wrap Bed, Wrapping Bench, Modular Art (Peachy Pink), Bedside Tables, Brass Table Lamp, Abstract Art Piece, Custom Lucite and Brass Drapery Rods, Velvet Drapes (Blush).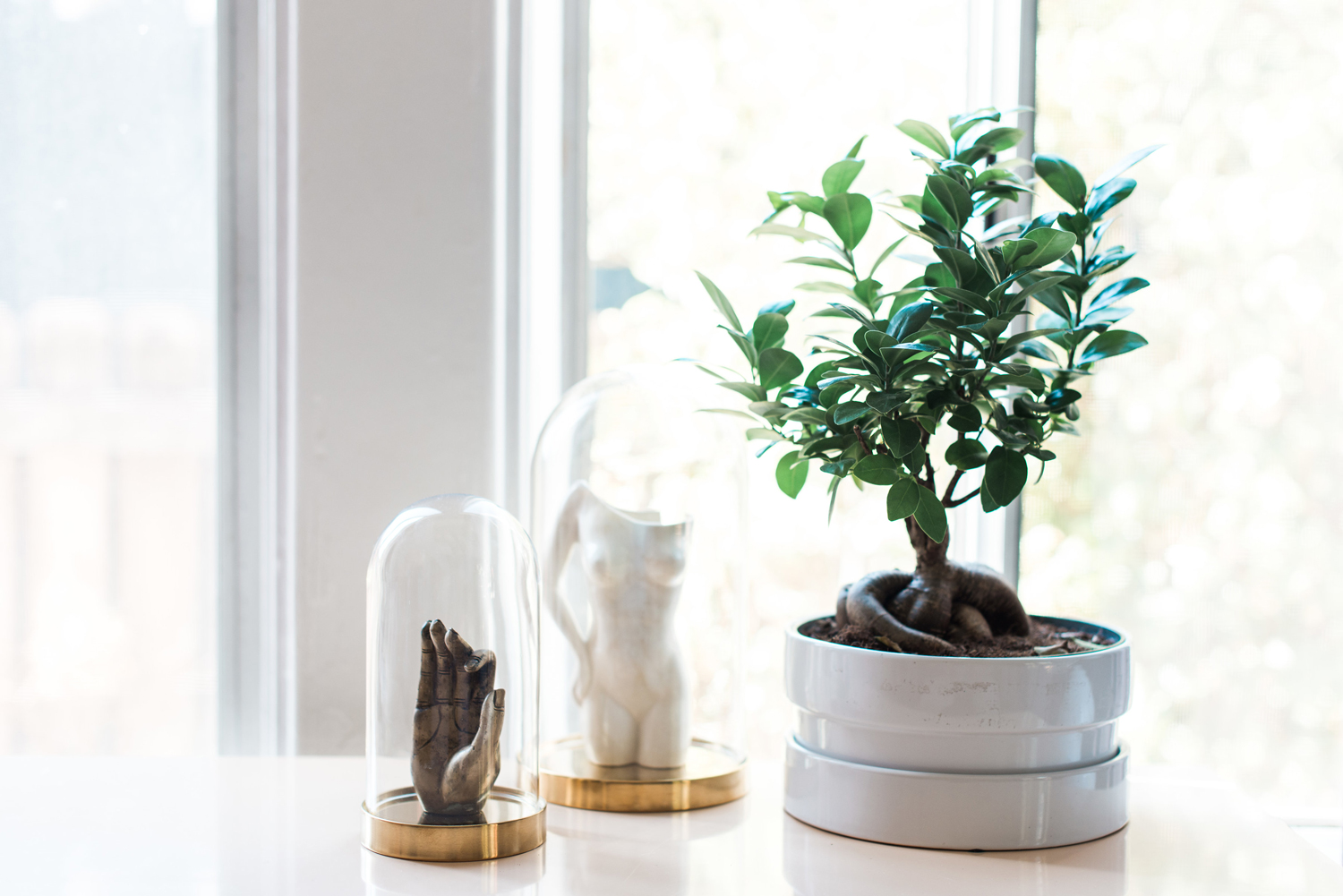 The luckiest part of this makeover for me was that Jen's house is a treasure trove of accessories, so I didn't need to bother doing too much accessories shopping. I did snag these cute brass cloches at Ikea, along with this bonzai-style ficus plant (neither of which are available online unfortunately).
My original idea was to paint the walls a fun, saturated nude/blush color but Jen wasn't ready to commit to anything that permanent. So instead I brought in colorful drapes, bold large-scale art, and pretty blush bedding from Parachute.
I loved the washed out beachy look of the bedside tables, which we got from Nica Home, a local furniture maker that specializes in using unique wood finishes. Jen is from Florida, which makes me think of beaches and light woods. I used this preconceived notion of who she is as inspiration for her bedroom makeover.
Jen's brother is a vintage furniture dealer and he's sourced a lot of the amazing pieces that fill her house. I loved the peachy pink dresser she already had in the room so we kept that and added in some fresh pieces like this lamp from AllModern and this chair from Bend. The painting is from Saatchi Art and is by Alyson Kahn.
Resources: Painting by Orlando Soria, Wall Hanging Vintage, Dresser Vintage, White Lacquer Round Tray, Brass Cloches, Ficus Plant, Velvet Drapes (Blush), Custom Lucite and Brass Drapery Rods, Art by Alyson Kahn, Cashmere Throw. 
The makeover was the most fun I've had in a VERY long time and I think you can see in the video how much Jen and I really enjoyed ourselves. The next episode is taking our team to New York to pair up with a fashion editor so I'm super excited for that makeover, which is going to be a totally different style and much more East Coast Chic than this California paradise. Get excited and keep watching!
Love,
Orlando
This post was created in collaboration with Parachute Home. 
SaveSave
SaveSaveSaveSave
SaveSaveSaveSave
SaveSaveSaveSaveSaveSaveSaveSave
SaveSaveSaveSaveSaveSaveSaveSaveSaveSave
SaveSaveSaveSave
SaveSave
SaveSave