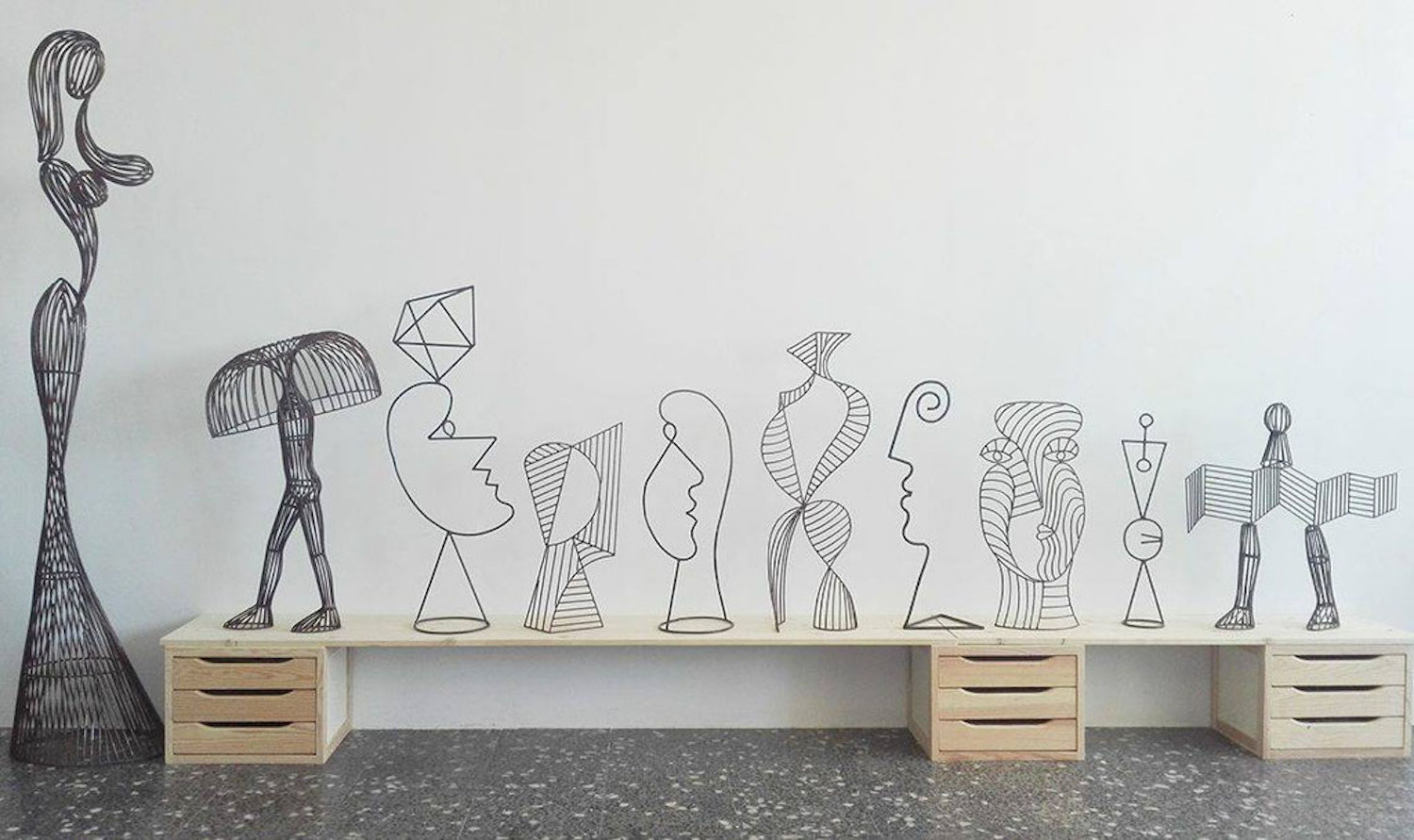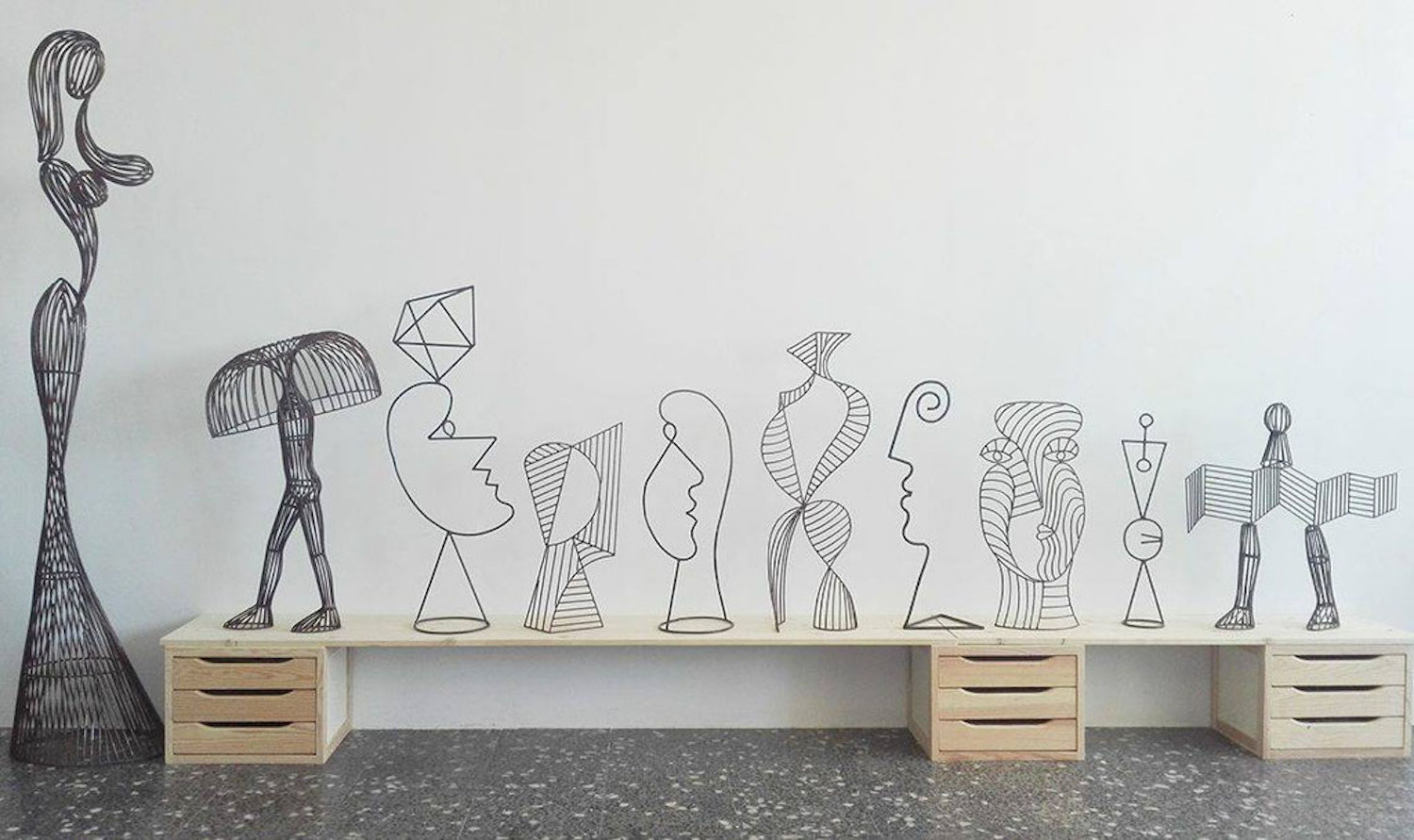 Dear Art Diary,
My assistant Jess made me aware of the incredible sculpture work of Diego Cabezas a few months ago and I was immediately furious that I'd not heard of him sooner. His work is right up my alley, somehow both simple and beautifully intricate at once. I love that these sculptures look like line drawings come to life. As if little doodles made on the page were magically made three-dimensional.
Diego lives and works in Barcelona, which I have been obsessed with since I visited last year. There's so much great work happening there. You can still feel the influence of Pablo Picasso (who called this city home for much of his life) in the work of many artists in the city, which is maybe why I'm so obsessed with it. These works aren't derivative, they are their own thing. But there is a continuation of the exploration of line and abstraction perfected by Picasso. I love hearing about how artists work and why they do what they do, so below are a few questions I asked Diego.
Based on my online stalking, I believe you live in Barcelona. I've been finding a lot of really amazing, inspiring artists/makers in Barcelona (two that I love are HeySosi and Goula/Figuera). How do you find the art community there and why do you think so much amazing work is coming out of that city?
Barcelona is a very inspiring place for a number of reasons. Historically is been home of numerous painters, writers, architects and intellectuals. The people here are more open-minded and curious about new places and experiences. You'll notice this curious spirit when you walk around the city or look at who is in restaurants, hear what they are talking about, or taking note of the great museums that we have here. I have been living here for three years now and the people made me feel integrated since I arrived. In Barcelona it's easy to find new artists, designers etcetera because this place is always evolving and that inspires creative people, attracts them to come here.
Where are you from and how did you get started making sculptures, paintings, and other artworks? 
I am from A Coruña, a small city in the north of Spain, surrounded by the atlantic sea. I got into sculpture as a child just playing with papers and plastics but nothing serious I simply loved to do things with my hands. It was later when I was 19 that I started to study sculpture in Pablo Picasso art school, there I learnt a lot about materials and anatomy, after that I couldn't stop my curiosity for making and experimenting, it is an endless game. There is always something new to try.
Your sculptural work has changed dramatically over the years, going from very intricate and voluminous in your older work (the 2004 pieces on your site) to more simple and minimal in your new pieces. What brought on this change?
Yes with the years my work is going throw a more delicate aesthetic, lighter to the eye, more feminine. I love to reduce the form to the essence. But also I still like do two or three bigger, more complicated sculptures every year.
If you weren't an artist, what job do you think you'd have and why?
That is a very difficult question haha! I can't imagine doing anything else!
Your sculptures are beautiful, buoyant, and look effortless. However, you're working with a very hard, sturdy material that is very difficult to manipulate. Can you describe the process of how you make your work? Was it difficult in the beginning to get these pieces to look so smooth and flawless?
Thank you! I'm constantly drawing, thinking about new pieces and how I will do them. I just choose what drawing I want base my sculpture on and try to follow it but with an mind open that it might change during the process. At the beginning yes, it was very difficult to learn how to work, it took me years to get the work to be smooth and "flawless." Like everything in this life it is just a matter of time and a lot of discipline to feel comfortable working with a material as challenging as metal.
Are there other artists you look to for inspiration? Or film makers, designers, etc?
Of course I love art, going to museums etc but I don't search other artists for inspiration.
How can people see your work in person or buy it?
In the U.S. I'm represented by Work in Progress Gallery, anyone can contact them via instagram (@work.in.progress.gallery). In the rest of the world people can contact on my instagram @diegocabezas00 or online www.diegocabezas.com.
See more of Diego's work on his Instagram and if you can afford it, BUY SOMETHING! Supporting artists means supporting the creation of more art which means MORE BEAUTY FOR EVERYONE!
Love,
Orlando
Images Courtesy Diego Cabezas, Portrait by Daniel Sul via Metal Magazine
SaveSave
SaveSave
SaveSaveSaveSave
SaveSave