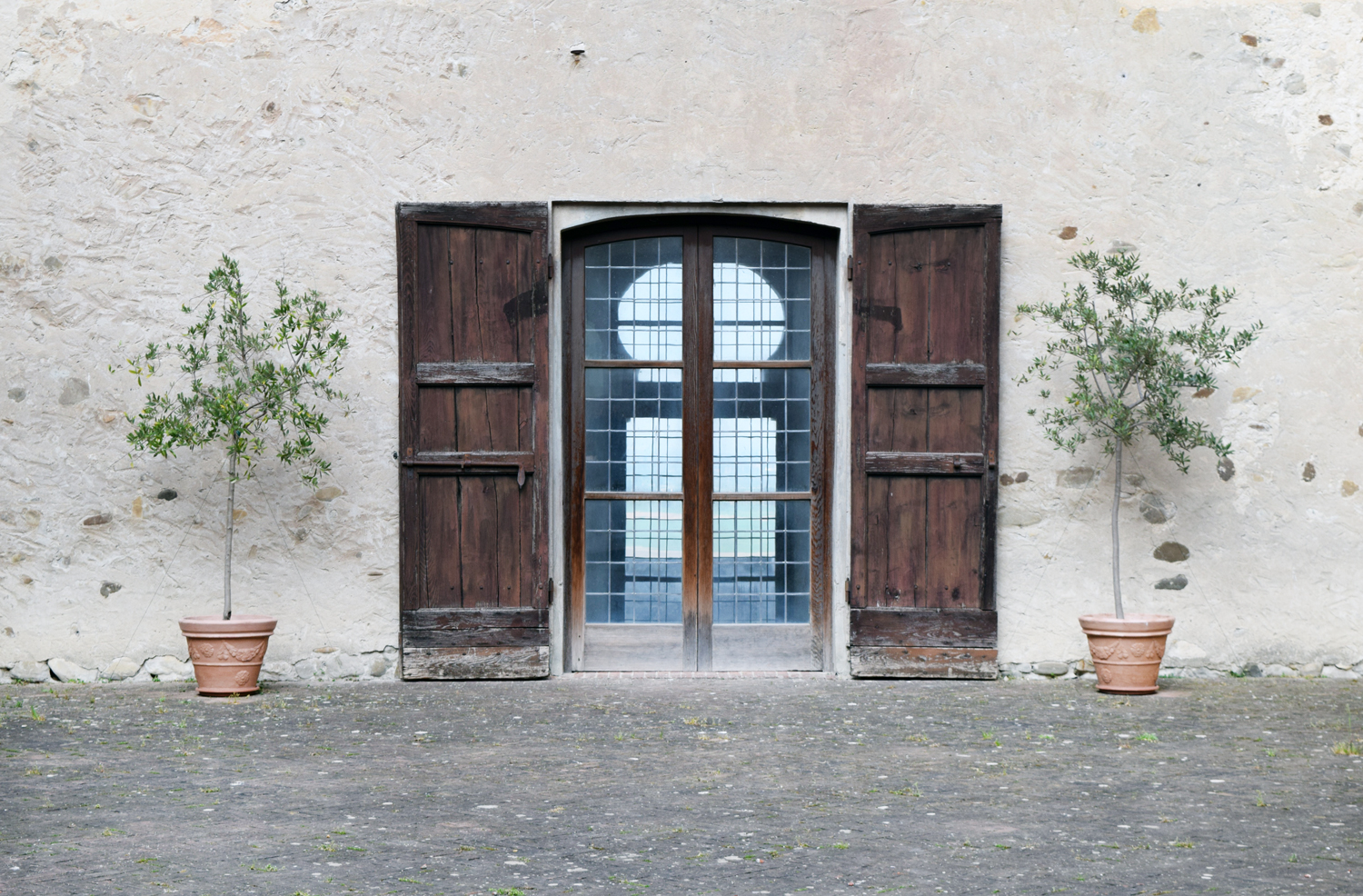 Dear Travel Diary,
Spring 2017 was a crazy combination of insanely stressful and overwhelmingly depressing. I was in the depths of a post-break up, post-lay off slump. I dealt with these issues with some old go-to's: wine and wallowing. I've since bypassed that part of the mourning process. I'm not out of the woods, but I'm slightly less of a mess  than I was a few months ago. The sadness still lingers, that feeling of hopelessness about the future combined with a realization, upon turning thirty-five a few weeks ago, that life didn't end up being anything like I thought it would be. Mourning childhood dreams, saying goodbye to previous expectations, and trying to be as adult about the whole thing as possible. It's been a dark spring.
There was, however, one brief and delirious interlude that I'll always remember as a little bright spot that fell in the middle of a dark spell. I had the great fortune to go on a press trip with the Italian appliance company Bertazzoni, and it ended up being a few of the most magical days ever. It was only four days long and it was in Italy, so it was a lot of travel and delirium for the amount of time spent on the ground in Italy, but I'm not going to complain about a free trip to Europe (okay sorry I kind of just did but I promise I was insanely thankful).
The purpose of the trip was to get the journalists and bloggers who attended excited about Bertazzoni by introducing them to the Bertazzoni family and showing us the Bertazzoni factory and the incredible countryside around it. The headquarters are in Guastalla, which is about an hour away from Parma (home of parmesan cheese). I'd been to France and other parts of Europe, but never before to Italy and the trip was nothing short of magical. It's an incredible place with welcoming people and so much pride about food, where it comes from, and how it's made. It didn't hurt that the whole trip was planned by the Bertazzoni team and that we had a tour guide to take us everywhere and do all the talking for us. I'd never been on a trip before with a tour guide. I thought only cheesy, lame tourists did that. But I'm totally sold on it now. It's the best way to see things you might not otherwise see and also a great way of not having to scream "DO YOU SPEAK ENGLISH???" at everyone you meet.
At the Bertazzoni headquarters in Guastalla, there is a museum and showroom detailing the company's history and some of the ranges through the ages. Their first factory opened in 1909 and the company has been under family ownership since then.
I loved seeing how the ranges changed over time. You can still see some of the same flourishes in the new appliances. The original ones were meant to work with burning wood and eventually Bertazzoni became one of the first companies to mainstream the use of gas in mainstream ovens.
Seeing the factory was one of the most fascinating and exciting parts of the trip. First of all, I love seeing how things are made and being able to watch everything happen in this factory was so satisfying. It starts with the metal pieces being molded into shape by huge presses, and ends with them being assembled entirely by hand. Before going on this trip I had no idea that these appliances were made in Italy by a team of hipster workers in a factory. I tend to assume that things are made by robots in third world countries. So knowing these things were made responsibly made me feel even more excited about the fact that I'm about to be filling up my parents' kitchen with these appliances.
A few people have reached out to me asking about these ovens because they have a higher price point than the typical appliance you might find at a typical big box store. What are you paying for when you buy one of these more expensive ranges? You're paying the wages of the people working in this factory, the attention to detail that comes with the company being family-owned for over a hundred years, and the peace of mind that you're not supporting slave labor somewhere. These ranges are expensive, but if you can afford one I can say I definitely think they're worth it for the fact that they support factory jobs and a descent working environment that seemed very pleasant, well-lit, with reasonable hours and working conditions (we stayed after the factory closed so I saw all the workers leave promptly at 5 PM). Oh, that and they're stunning and have the most innovative design for appliances in their price range.
At Bertazzoni we had a fun cooking class with Chef Tomaso, who ensured we didn't mess up dinner by doing all the hard stuff for us. One of my favorite fellow travelers was Brynn Olson, an interior design powerhouse from Chicago who gave me all sorts of business tips and tricks. Brynn and I were equally obsessed with another of the trip's attendants, Shelly Karabell, a super-chic American journalist based in Paris who has done everything from broadcast journalism to her current gig at Forbes. She had such incredible insight about writing and media and how it's evolved, it was truly a treat to get to talk to her about it.
Bertazzoni Master Series Refrigerator & Bertazzoni Master Series Dishwasher
Above are the appliances I chose for my parents' kitchen after visiting the Bertazzoni factory and learning about the history of the brand (to see the full plan for the kitchen click here). The Heritage range is quite a lot to look at and a bit more intricate and ornate than any range I've ever used for a project. But I loved how it relates to the company's history and and also love that it provides a focal point for the kitchen, a moment of drama. The rest of the kitchen is going to be pretty calming and pulled back, so there needed to be a little kick to make sure the whole thing doesn't get too boring.
For the dishwasher and the refrigerator, I ended up going with another style, the Master series, which has a bit more conventional handle. The reason for this was that I really wanted the range to be an accent. Also, I thought the ornate handles of the Heritage series were too traditional for the kitchen, which is going to be pretty transitional since the house itself is a combination of modern and traditional styles.
We stayed in the city of Parma (at The Grand Hotel de la Ville, which is not the building above FYI), about an hour from the Bertazzoni property in Guastalla. Parma was insanely charming and filled with gorgeous historic buildings, insanely good food, and great museums. It's not the first place you think of when you think of Italy, and many of my snotty well-traveled friends made snide comments about it when I mentioned it, but I really think it's worth a visit. The countryside around it is absolutely amazing and the city itself is quite beautiful. Also, everyone drinks Aperol Spritz all the time and that's pretty much the best, most refreshing drink on the whole planet.
The stunning Teatro Ennio Magliani was magical to explore. The interior is insane and made out of wood. Apparently the whole thing used to be painted to look like stone, which sounds so ugly but the current unpainted wood is a wonder to marvel at. Every site we visited was more beautiful than the last. The history, architecture, and art of this city are enthralling.
Palazzo Dalla Rosa Prati Piazza Duomo Parma
You know me. I love a pink building. So I was immediately obsessed with this hotel (I wanna stay there next time I go to Parma).
The streets of Parma look like a Disney cartoon. Like what you'd expect an old city in Europe to look like. Naturally, I took a moment to pose with my eyeballz sweater.
Guided tour of Parmesan Factory
The region where we stayed is known for Parma ham and parmesan cheese. So we had the luck of taking a tour of a parmesan cheese factory. Like the tour of the Bertazzoni factory, it was completely fascinating. We literally saw every step from the beginning where they shape the cheese into it's final shape to the end where they let it age in giant climate controlled rooms.
If you go to Italy, I totally recommend doing one of these tours. I love seeing how things are made. And these processes are pretty much the same as they have been for generations. Many hands come together to make just one giant cheese wheel. And each cheese wheel is worth a huge amount of money (think about how much you pay for a tiny slice of parmesan). You can check out the council of local dairy farmers to find a tour.
We had some pretty insane experiences but one of the most special was a tour of the Venturini Baldini Winery. The winery has beautiful grounds and a lovely tasting room that overlooks the vineyard. Also, it has the above gorgeous space, where I plan on marrying my future husband.
Property Adjoining Taverno del Costello
One of the final things we did was travel to the Castello di Torrechiara and a beautiful restaurant next door. We started by touring the castle and literally walked through a vineyard (guided by the vitner) to get to the restaurant.
View from Castello di Torrechiara
Taverno del Costello, where we ate dinner, overlooks the castle. This photo looks almost fake but I assure you the castle looked even closer in real life. Completely ridiculous and beautiful.
Above is the winery we tromped through to get from the castle to the restaurant.
The castle itself was as magical as you'd expect a castle to be. Walls were covered in murals and everything smelled like old stone.
This room was my favorite design discovery of the whole trip. There's something so modern about it. Like it feels kinda Memphis style or something. I would definitely love a detail like this in my future home (that I live in with my future husband I'm going to marry at Venturini Baldini).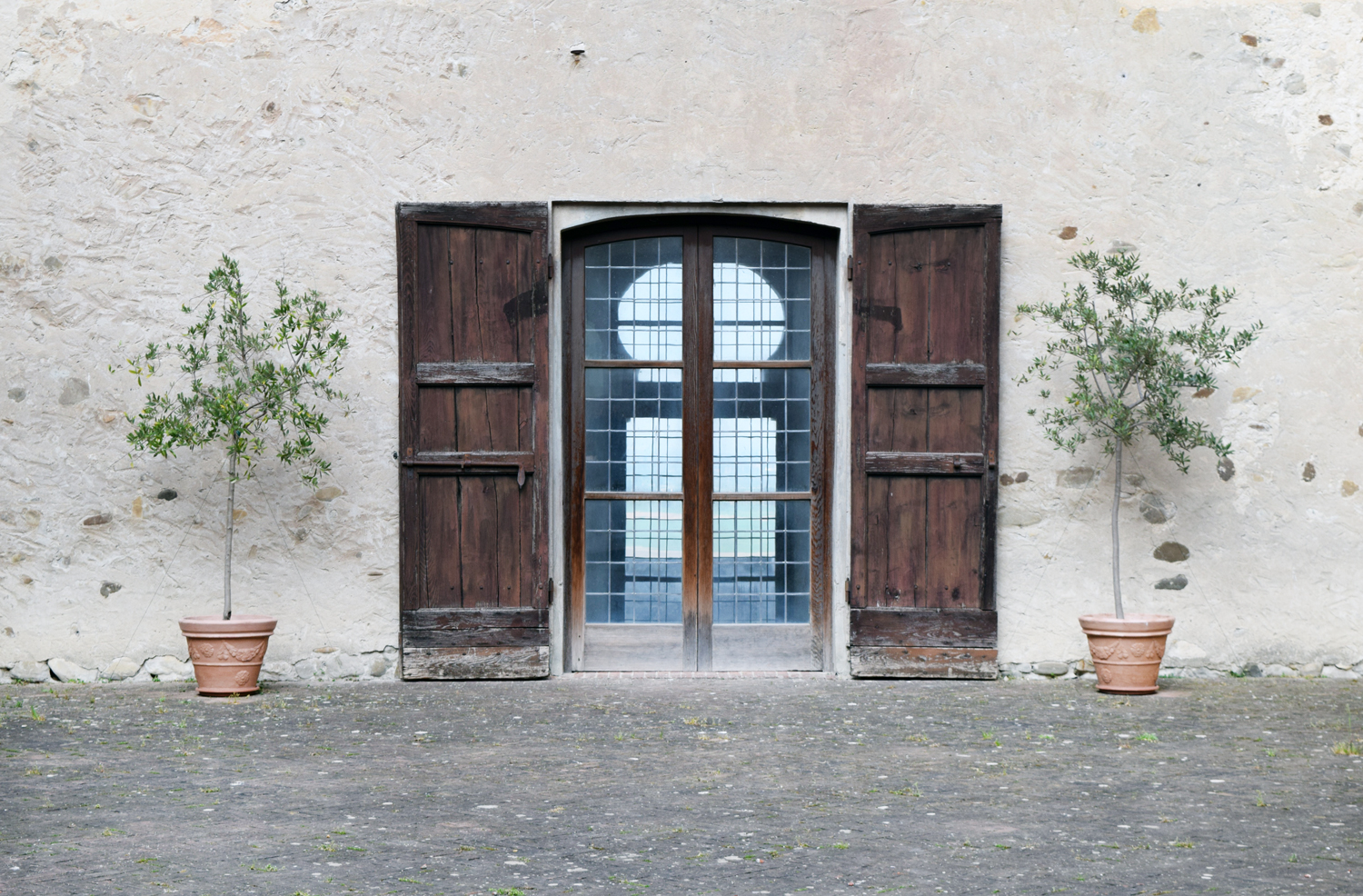 Also, these doors. You can't replicate the wear and age of things like this. Their history is what makes them so beautiful and alluring. COME TO ME, DOORS!
This castle dates back to the 15th century, so I was naturally fascinated with what the kitchen looked like. I'm not sure if the kitchen is original (like it could have been added at a later date) but since I was on this trip mainly to learn about Bertazzoni, I loved seeing how people cooked hundreds of years ago.
Everything we saw on this trip was more ridiculous than the last. The view from the castle pretty much sums up the beauty and magic of this region. I hate using the word magic because it sounds so cheesy, but there's really no other way to describe it. The beautiful historic buildings and the landscape were amazing to see in person. But the warm culture and the pride about local food and wine made the trip really special.
I'm fully aware that this trip was organized by a company to get me to be excited about their product, and I was skeptical from the outset because of that. However, I ended up leaving Italy feeling really thankful to have gotten to learn more about the history of the brand, but also the history of this amazing area. As a freshly-minuted business owner/entrepreneur, I'm fascinated by product design and seeing how people build and maintain their businesses. Meeting the Bertazzonis and chatting with them about their connection to their brand and their hopes for it gave me great insight into the inner workings of something I'd previously seen as another fancy appliance company whose ranges I was obsessed with.
My only complaint about this trip is that it was WAY too short. I was there for less than four days. I definitely need to go back and soak it all in. And chill with the Bertazzonis some more. And eat all the pasta and drink all the wine.
Love,
Orlando
SaveSave
SaveSave
SaveSaveSaveSave
SaveSave
SaveSave
SaveSave
SaveSave
SaveSaveSaveSave
SaveSave
SaveSaveSaveSave
SaveSaveSaveSaveSaveSaveSaveSave
SaveSave
SaveSaveSaveSave