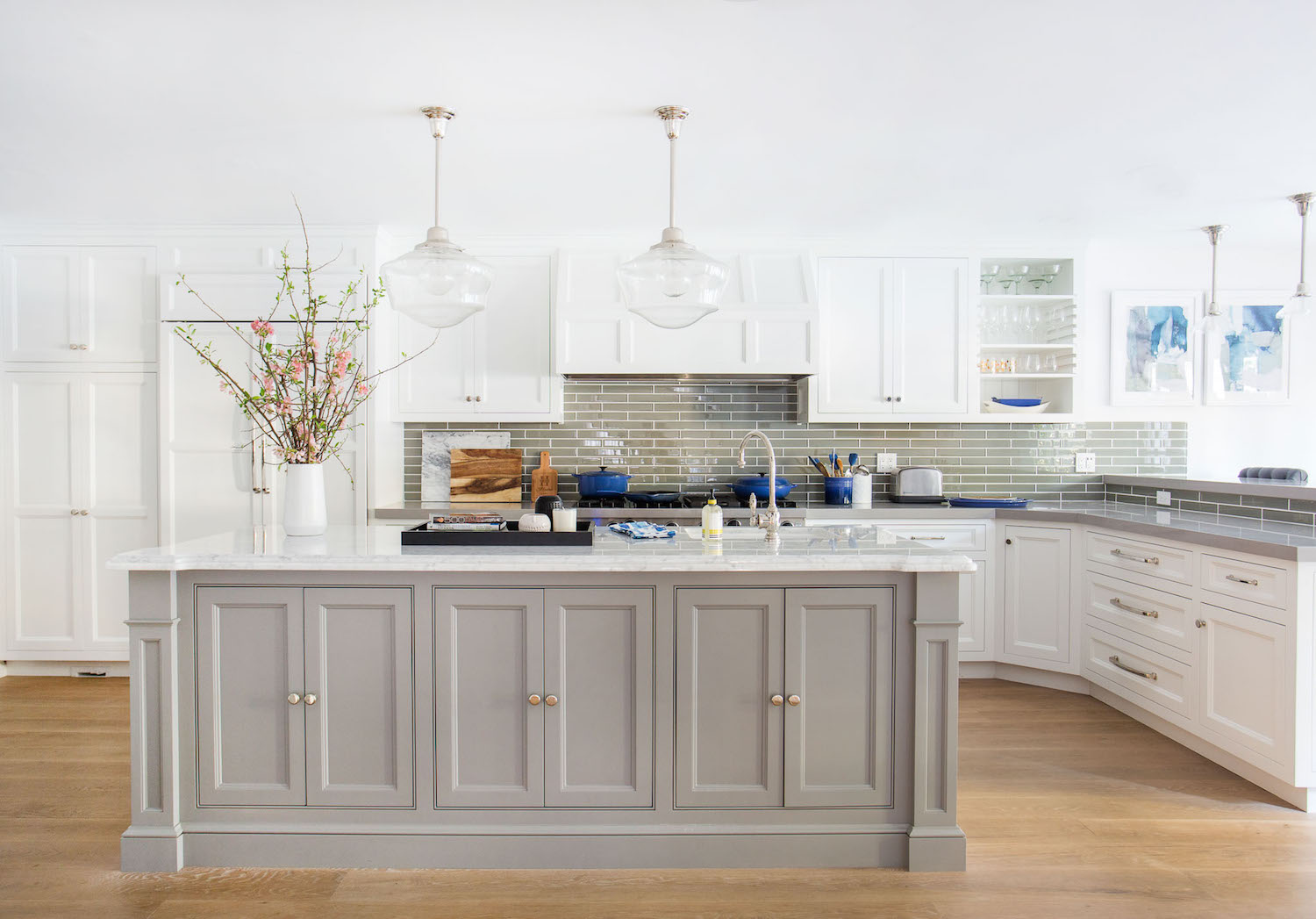 Dear Design Diary,
Literally the best thing ever is happening! Since my parents moved into their house I've been itching to redo their kitchen and now it's finally happening. A little backstory: my parents moved out of my childhood home in Yosemite about three years ago and relocated to an area on the outskirts of Santa Rosa in Sonoma County. They found a great house where we can all hang out. An added bonus: my brother, his wife, and their kids live in a neighboring wine town called Windsor. It's very cute up here and my parents love it. They hang out with my niece and nephew all the time and are somehow busier than they were when they worked (they're both retired).
The only glaring issue with their house was its tiny kitchen. In their extensive home shopping, my mother's one must-have was a kitchen bigger than the one in our Yosemite house (which was tiny. My mom and I literally spent all morning trying to find pictures of it but failed, maybe I'll share them in a future blog post if I can find them). After searching all over Sonoma County and finding nothing that met all their needs AND had a great kitchen, my parents ended up settling on a great house in a beautiful neighborhood in the hills. The one problem: the kitchen sucks you guys. It's tiny and there's no storage.
My parents are great, and one thing I appreciate about my upbringing is that we sat down and ate dinner every night together and my mom always figured out different things to make. She doesn't think of herself as the world's greatest chef but I've always been impressed with her skills. Also she has a hoarding complex for Williams-Sonoma kitchen gadgets. I'm not sure how she fit all that stuff into our tiny Yosemite kitchen because it sure as hell doesn't fit in their new kitchen. In fact, the storage issue is so bad that kitchen storage overflows not only into the family room, but also into the dining room (she has stuff hidden in cabinets and credenzas all over the house). My sister was here a few weeks ago while my mom was on a vacation to Mongolia and we had no idea how to unload the dishwasher because we couldn't figure out where to put anything. My mom's cabinets are as  precisely-organized as a Tetris game. If you put one thing in wrong nothing else is going to fit. It's a nightmare.
Enter Bertazzoni, an Italian appliance company operated since 1909 still operated by the Bertazzoni family. I used their range at Orcondo and Chatealando and they approached me about doing another collaboration, so I jumped at the chance to do my parents kitchen and finally give my mom a luxury kitchen she could be proud of. You might notice I keep referring to this as my mom's kitchen. This is because she's a lot more into cooking than my dad. DON'T BE MAD AT ME IT'S JUST HOW THEIR RELATIONSHIP WORKS, K?
Though, in his defense, my dad is really good at making tiny chicken drumsticks. Whenever my mom was out of town when we were little he'd make these for us and we called them "little chickens." They were super delicious.
I was lucky enough to visit the Bertazzoni showroom and factory in Guastalla, Italy a few months ago where I was able to hand-pick appliances for my parents DIRECTLY FROM THE SOURCE. It was the most glamorous thing that's ever happened in my whole life. I'm going to write more about that next week, so for today you're going to have to settle for this cheesy ass picture of me pretending to make ravioli.
The Bertazzoni Museum and Showroom is an incredible place filled with amazing design history. I'd never been to Italy before and I fell in love with the Bertazzonis and literally every Italian I met. Okay I'm going to shut up about Italy now even though that's basically all I want to talk about.
Just so you know who you're dealing with, these are my parents (and my siblings). My sister's wife (yes, there are two gay people in my family) was the one taking the picture. Trust me when I tell you that she is adorable. We're standing in the living room, which has super high vaulted 70s ceilings that I used to hate but now I'm into. Don't worry we took the tree down, this is from Christmas.
So back to the kitchen. Here's where it is in its current state. I'm not going to pretend that this is the worst thing on earth. It's not. I hate the ugly brown tile and the stupid granite countertops, but other than that it's not bad. Oh, and I also hate the giant gaping skylight thing, which seems like a good idea but just feels like a vortex when you're in the room. I think this kitchen would be fine if it were in a smaller house, but this is actually a pretty large house and the kitchen is way out of scale.
My parents have a bigger house than me or my siblings so we tend to do a lot of our holidays here. And also my sister and I are here all the time because we love the area so there are often more than just two people using this kitchen. As it is now, it's annoying to be in this kitchen while someone else is in there. The goal is to make it a big enough kitchen that a few people can be in there cooking at the same time and not want to stab each other. To do this, we're going to blow out a wall onto an outer deck and nearly double the kitchen's size.
Here is the layout of the second story of the house and the plan for the expansion of the kitchen:
As you can see from the photos, the kitchen isn't the worst thing on earth. We plan on donating the appliances because they're decent and still work beautifully.
One of the challenges with this project is that my parents don't exactly have congruent styles. My mom is open to contemporary design while my dad is more married to traditional/craftsman style. The house they bought is essentially a 1977 modern tract house that underwent a psychotic flip in 2012 and was remodeled to be Traditional/Mediterranean. To complicate matters, my parents chose a beautiful maple flooring that looks straight out of a minimalist loft apartment in Stockholm. There's basically every style on earth happening in here and it's kind of overwhelming. So choosing a design style for the kitchen has obviously been a bit of a challenge.
I've been looking for inspiration from one of my favorite architecture firms, Ike Kligerman Barkley, who seem to always do an amazing job blending traditional and contemporary styles together (which is obviously what needs to happen in a home like this with so many eras going on at once). It's hard to find images of their kitchens but if you look at the way they design houses there's always a melding of traditional conceits like wainscoting, shingles, or decorative moldings, done in a totally new and contemporary way.
I want the kitchen to feel classic and elevated. We are raising the ceiling by a foot (it's dropped now for an unknown reason) and adding a picture window to make it brighter and more inviting. We're also completely reconfiguring the layout so there is more space to move around and obviously a ton more storage.
We plan to keep the cabinet style pretty traditional, using shaker style cabinets, perhaps with a contrasting lower cabinet.
These plans show the general layout of the space after we've knocked down the wall and expanded onto the deck. We thought about keeping the island detached but because of the layout of the adjoining room it didn't really make sense. I like the idea of the island, but I like the idea of having more seating and way more storage a lot more. I'm actually going to be doing a bit of an update in the adjoining family room as well, so I'll be sharing those design plans over the next few weeks as well. There will be cabinets on both sides of the island, with those that face the family room being seamless and free of hardware (they'll open from indentations in the top).
This is a rough idea of what we're planning for the kitchen. You might notice the lighting and chairs are different than they are in the picture above. We're still debating on that as well as the design of the island/peninsula. Part of me wants all the lower cabinets on the main wall to be that accent color and part of me likes keeping them white.
In these plans, we've added another sink to the kitchen. This is not only for prep reasons so two people can be using a sink at the same time if needed, but also because I plan on installing one of those water filtration systems (I love being able to get delicious filtered water from the tap). The current kitchen has zero lighting. So we'll be adding under counter lighting where possible and spotlight/recessed lights everywhere else. This is going to be one of the major improvements. Nothing more annoying than a dim kitchen.
The color scheme is pretty simple and paired back. My mom loves blue so we chose the most beautiful pale blue color for the backsplash (it's from Fireclay, see below). The below rendering shows what the cabinets look like when they're painted the accent color. I love the splash of color there but also think it would be nice to leave them white and let that Fireclay tile have it's moment. I'm also experimenting with different chair and lighting options, which you can see over on Emily Henderson's blog today.
The Heritage Range from Bertazzoni was really the jumping off point for this whole design. I knew I wanted to use it the second I saw it so I devised a simple design plan that wouldn't distract from its design. It's a beautiful range, but it's very ornate so I didn't want to put it in a space that had too much going on.
I chose a refrigerator and dishwasher from Bertazzoni's Master Series, which has different handles that are a bit simpler than the ornate ones on the Heritage series. I did this because I wanted the range to really feel like an accent. It's such a complicated, beautiful appliance that I wanted it to be distinctive, sort of like an amazing sculpture in the middle of the kitchen.
Last but not least, I wanted to make sure to have a big ol' wine fridge. After all, this is wine country and we gotta have a place to put all the bottles we gather when we head out wine tasting. Sidenote: I'm on a cleanse right now and I haven't had wine in weeks and just looking at the bottoms of the wine bottles in the pic above is making me salivate. This fridge is by Summit available on Wayfair.
I'm super excited about the materials we're using in the kitchen. It's a perfect combo of warm, bright, and clean. As I said above, we're using Fireclay Tile for the backsplash. The pattern is called Hexite and the color is Crate Lake. The floor is going to be 6×12 rectangular cement tiles from Rustico Tile in Clam. The countertop is from Cambria, it's a quartz material and the color is called White Cliff.
So, there you have it! The general plan for the kitchen makeover that's going to change all of our (my) lives! Check out my post on Emily Henderson's blog today, which has even more renderings and some harrowing Ask The Audience questions.
Love,
Orlando
Inspiration Image Sources: Dan Mazzarini, Home Bunch, MyDomain, Emily Henderson, Marvin.
SaveSave
SaveSave
SaveSaveSaveSave
SaveSave
SaveSaveSaveSave
SaveSave
SaveSave
SaveSave
SaveSave
SaveSave
SaveSave
SaveSave
SaveSaveSaveSave
SaveSave
SaveSaveSaveSave
SaveSave
SaveSave
SaveSave
SaveSave
SaveSave
SaveSave
SaveSave
SaveSave
SaveSaveSaveSaveSaveSaveSaveSaveSaveSave