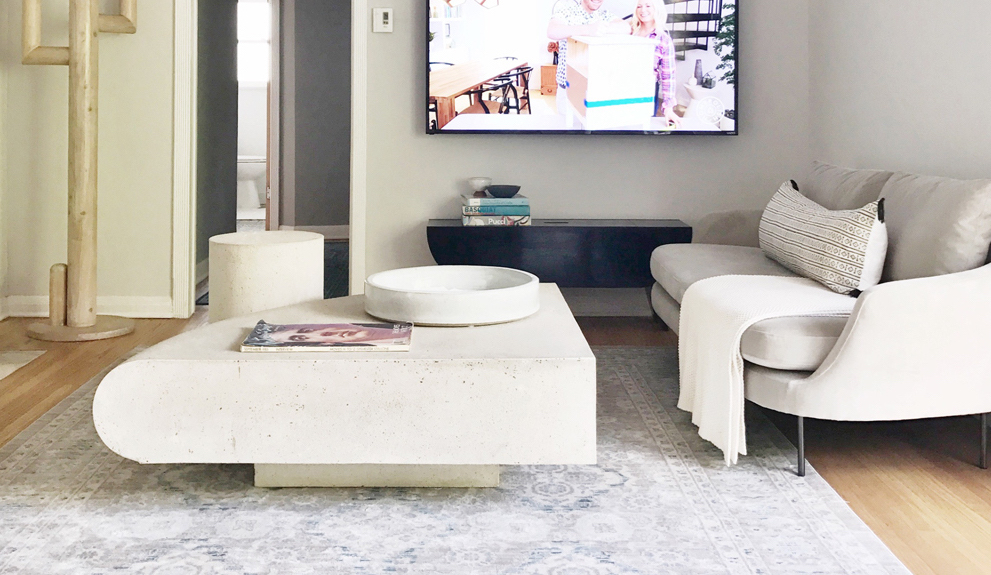 Dear Design Diary,
Looking for an apartment in LA these days is no simple task. When my ex broke up with me, the first thing I did (after staring into a mirror forever wondering why I'd gotten myself into the pattern of falling for people who would ultimately do nothing but disappoint and hurt me) was look for a new place. There were lots of good options and lots of terrible options and the good options kept getting snagged right before I could get to them. For every apartment there were multiple applications. And there were so many apartments in weird areas or had weird kitchens or bedrooms that overlooked sidewalks where peepers could just stare directly into the window.
So when I found Chateaulando, I immediately jumped on it. Sure, the bathroom was ripped up and the kitchen was a big ol' mess.  But I could tell it was going to be a great place to shoot my book. And to live. But mostly to shoot my book. It has a great deal of cute character and stylistically is very different than Orcondo. So choosing it felt kind of like saying, I DON'T NEED YOU ORCONDO, I'M MOVING ON.
The living room is what really sold me on Chateaulando. I loved that it has a [non-funcitioning] fireplace, crazy floral crown moulding, and sexy wooden floors. Everything needed a fresh coat of paint and there were many other things to update, but I knew I could make this place perfect, so I jumped on it the second I saw it (a full month before it was even ready for move-in). Below I discuss what I'm planning for the living room, which is currently midway through its transformation.
Resources: Rug from RugsUSA, Painting Concepts by Orlando Soria, Peacock Blue Deco Sofa from Wertz Brothers, Rounded Sideboard from Wertz Brothers, Memphis Style Cactus Sculpture from Wertz Brothers, Coffee Table from Craigslist, Esme Sofa from West Elm, Black and White Art Prints from West Elm, Indigo Throw from Ara Collective, Gold Cocktail Table from CB2, Celadon Vase from West Elm, Round Mirror from CB2. 
My initial inspiration for the space came from Kelly Wearstler. I've loved her work for a long time and saw this apartment as an opportunity to be a little more daring with my design decisions. I thought it was a great opportunity to go a little crazy and do things I might not do if I had a boyfriend whose needs/design aesthetic I had to keep in mind. I love that bold, sculptural furniture pieces are making a comeback and are more readily available at places like CB2 and West Elm so I definitely want to include pieces from those collections in my new place.
When I saw the place it was a disaster. They were redoing the bathroom and the whole place was covered in construction dust. But as a designer I see what can be and not what is, so I immediately fell in love with the character of the place. This ability can be kind of a curse sometimes, when I'll look at something and be like "OH MY GOD IT'S AMAZING" and the person next to me is like "That's literally a pile of garbage under a freeway overpass." If I have a gift, it's being able to see potential even when things look like a crazy mess. Like my apartment was when I moved in.
I am obsessed with the fireplace and it's maybe the reason I rented this place. The sconces were lovely and appropriate for the traditional vibe of the space, so I removed them and put them in storage. The aesthetic I want is old European apartment meets contemporary, deco, and Memphis design. So I wanted sconces that contrast more with the innate old European feel of the space. Local LA lighting designers Park Studio custom-designed some sconces for me and I can't wait to share them with you. They're gorgeous.
Horizon by Benjamin Moore has become one of my favorite go-to's for gorgeous greys. It's light and luminous and warm. It's a great color for bright rooms where you still want some neutral pigment on the wall.
The first thing I purchased for my new place was this sofa. I saw it at Wertz Brothers (left) for $499 and had to have it. The fabric to reupholster it was about $450 (from Home Fabrics in Downtown LA) and the upholstery job was $1200, so overall it was about $2150. Which isn't cheap for a sofa but is cheap for a custom sofa in exactly the color I wanted. People often think vintage furniture is going to be way cheaper than new, but sometimes it costs just as much. That being said, I love this sofa. It's so comfortable and I love how sculptural it is. The pink painting (by the amazing Anna Ullman) actually made the sofa look a bit toothpastey, so I used it for another project where it looks STUNNING.
While Wearstler was a huge inspiration, her spaces can be a little cold and foreboding. I wanted the living room to feel warm and inviting. So I incorporated warm-toned woods in desaturated stains to bring in a bit of a vintage/coastal vibe. All of these pieces are from Wertz Brothers, a vintage showroom in LA where I find many a treasure.
One of the things I love about Kelly Wearstler's work is how graphic and sculptural it is. I'm incorporating this not only in art, but also in the accessories and objects that I bring into the space. While I am bringing in some gold/brass accents, I am keeping most of the accessories earthy and inviting. The goal is to make the space feel warm and inviting while also feeling edgy and modern. That won't be easy butI think it's possible.
Resources: Ivory Pillow from CB2, Abstract Chevron Pillow from CB2, Marble Sculpture from West Elm, Staircase Sculpture from West Elm, Celadon Vase from West Elm, Sculpture from Ben Medansky, Table Lamp from CB2, Rings Sculpture from MQuan, Gold Planters from West Elm, Leather Pillow from CB2, Pink Painted Pillow from Consort. 
I've really been vibing on these rugs from Rugs USA. While the overall look of the space is contemporary, I wanted some nods to the old world as well. As you probably know, rugs can be CRAZY expensive, so the fact that this one was only $300 and looks like it could be a heirloom vintage rug makes me happy. As for throws, I wanted to choose colors that would help tie the two sofas together. So for the taupe/sand colored sofa I chose a vibrant indigo throw from Ara Collective. For the peacock blue deco sofa I chose a sandy/ivory colored throw. This helps relate the sofas to each other color wise and ties the room together.
I'm planning on making some of my own art for the living room, but I also love the work of Anna Ullman so I want to add some of her vibrant, abstract paintings. I also came across these cute/affordable prints from West Elm that totally go with the vibe of my place.
I ended up choosing this configuration for the paintings I'll make from the wall above the dresser. I love that they become one united piece even though they're so disjointed. And the color feels more at home with the sofa without being too matchy.
This shot was taken pretty shortly after I moved into the apartment. Needless to say, the room has been rearranged about 45 times since then. I'm slowly finishing up Chateaulando, room by room. And it's a relief whenever I finish one. The goal for the living room was to be a space where I could have friends over to watch TV and hang out, so while I'd normally love to keep the TV hidden in a separate, cozy family room, I opted to keep it in the living room of my new place.
The room is shaping up to be the type of cozy, loungy space I wanted. There's plenty of seating and places for guests to set their cocktails. Now all I need is to get it all finished so I won't be ashamed to have people over. Because nothing fills a designer with shame more than having people over to his house before it's magazine-ready.
Love,
Orlando
Inspiration Images via Kelly Wearstler.