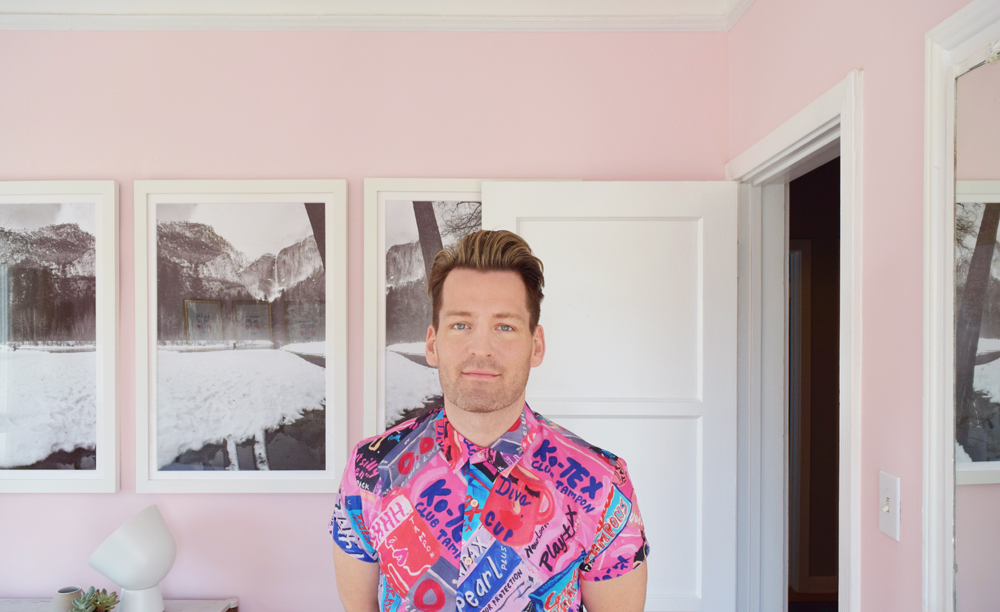 Dear Depressing Diary,
WHY U SO DEPRESSING, DIARY? JK I totally know. Read on…
I find myself fixating on one element of my previous life with my ex. He used to wake up earlier than me (I hate the morning) and get some international phone calling done (he's a producer who sometimes works on films in Europe). So every morning I'd wake up to him SCREAMING French into the phone (he's French). It wasn't that he was mad or yelling or anything, it was just that his voice is too loud. Like he doesn't have volume control. When we would go out to loud bars he'd try to talk into my ear and he would accidentally be screaming and I'd be like AHHH MY EARZZZZZ! But even though my ears were bleeding, I loved him and actually thought it was cute that he had no idea how booming his voice was.
I guess I've entered into a period of depression and loneliness. I wake up every morning in a silent apartment, it feels echoey and empty, it makes me wish my ex was here. And I can't help but think about the fact that a few months ago I could count on waking up to someone yelling into a phone, doing something I thought was pretty weird and endearing. That's not the only thing he did I liked, it's just the thing I think of first thing in the morning. I miss him.
I feel a bit like I've been living in hyper speed since the breakup. Like I had a month of masking-my-pain-in-alcohol-holidays (it happened right after Thanksgiving), then a month of trying to find an apartment, then a month of nightmare apartment renovation, fighting with my landlord, and trying to get settled. Then getting laid off. I've kind of been in GO GO GO/survive mode because there were so many things to figure out. I think I kind of broke last week when one more thing was added to the pile. My book is due in a little over a month and I've got a ton of photoshoots and writing to do, which I've gone full force on. It's obviously a huge honor and a very exciting accomplishment to be writing a book, but it's also a tremendous amount of work to do on top of trying to start my own business, manage design clients, run this blog, and figuring out the new and scary financial aspects of my new solo world.
Basically, my life has gone from one where I work in a collaborative work environment to one where it's my responsibility to tell everyone what to do all the time. Which is what I wanted and is great, but can be a bit overwhelming sometimes. It's almost like life is forcing me to be the boss I've always wanted to be but never had the confidence for. And I'm doing a pretty good job actually, the book is coming out amazingly (mostly thanks the incredibly talented photorapher I'm working with, Zeke Ruelas, who makes sure each image that is going into this book will be a unique work of art). And my design clients are also going great, thanks to the brilliant project management of my assistant, Jess. But I guess I miss having someone to support me, someone to come home to that can see everything I'm doing and know what goes into it. I probably need too much validation, and look for too much of it to come from outside myself.
While all this amazing/stressful/great career stuff has been going on, there has also been a considerable amount of rejection in my life. Both romantic and professional. I was asked to audition for a big TV opportunity recently, which ended in my not being chosen for the part. I'm not an actor but I often get asked to audition for gay designer type roles on reality shows. I'm not, like, dying to be on TV or anything but I never say no to an opportunity, so I always go on the auditions. LA is a weird place, where even non-actors get sucked into doing stuff in entertainment. I was hoping the person they chose would be a person of color (this is an ensemble reboot of an early 2000s gay show), but they chose someone pretty similar to me, so I was a little disappointed. I've been asked to audition for four shows since January, which is obviously an honor but also kind of annoying. It's having random people reach out to ask you to get excited about an opportunity you didn't even know about, go through the dog-and-pony-show of an audition where you're basically treated as an object, then experience the rejection of not being chosen even though a week ago you had no idea this show existed. "HI WE LOVE YOU PLEASE AUDITION FOR THIS JK WE HATE YOU/YOU'RE UGLY/TOO CRAZY/NOT CRAZY ENOUGH OK BYE." I could never be an actor. We all have career disappointments, but I think the timing, coming soon after a romantic rejection, paired with all the worries I'm having about my finances and my future right now, it just added to a pile on that's starting to feel crushing.
A few months ago my life was fine and now it's a goddamn mess. Like a good mess with a ton of opportunity and privileges, but a mess no less. Something that I'm continually reminding myself is how lucky I am to lead the life I live, to get to do what I want to do. My problems are insignificant in the scheme of things. But everyone experiences their lives in the context of their own experience, so it can be hard to be continually thankful for what  you have when you're also wondering if you'll have to move in with your parents to be able to afford to continue running your business. Success doesn't happen without sacrifice or hard work, but the sacrifice and hard work part is really sucky, especially if you're doing it alone, mourning someone you miss, the end of a relationship that was really important to you, the end of a family.
I'm not writing about this just to complain about how hard my life is. My life is a cake walk compared to many. I'm more just writing this to be like "Hey, this is what's happening behind the scenes." Internet-People are people, too. And our lives aren't sunny/brightened lattes with hearts in them and standing pigeon-toed in front of a sign that says "But First, Coffee!" (We get it, you like coffee, DUH). That being said, the next few weeks on my social media are probably going to be pretty unrelatable. First, I'll be headed up to glamorous Sonoma County to visit family and work on a very exciting project (I'll be announcing it here next week), then I'll be heading to Italy (what?) with an appliances brand to check out their headquarters. This will seem annoying and blogger-y, just know that while I'm doing this I'll also be feeling sad, missing my ex and wishing he was there, and wondering if life really is just this series of people disappointing and hurting you over and over again.
My second reason for writing about depression is to combat something I see myself doing and see a lot in other people's writing. We'll tend to be like "A happened and it was terrible but then I realized B and now I feel great because C." We tend to create fake happy endings so we don't seem like we're being negative. I think this is effective in making it seem like you don't have a bad attitude, but creates an unrealistic world in which no one is allowed to have problems, be sad, or experience depression without immediately coming to an epiphany and yanking ourselves out of it. I'm not a clinically depressed person. I am experiencing a low that I will recover from. But it seems irresponsible and creates unrealistic expectations to pretend it's not happening or that I got through it immediately. Other people out there are experiencing the same type of low, and that is totally fine (maybe even good?). Feeling low is a natural part of having an actual personality and heart, so I'm refusing to be ashamed of it.
That being said, it's not a great time for a new relationship. I'm obviously still in love with my ex and missing him a great deal. So moving on to anything serious would be a band-aid, a mistake. But if I have time (on top of trying to create my own ORLANDO INC empire) I might keep dating, just to remind myself that I am alive and a person, to meet new people. But obviously I don't want to be wasting anyone's time, so I'll make sure I'm seeking out dates with people who are equally casual in their approach.
In conclusion, I'm depressed and stressed and that's fine. I'll get through it. I get the sense that all the tumult of this year is leading me to a very productive and successful year next year. Creatively, all this stress and sorrow has actually been a huge inspiration. This is a laying the groundwork, nose to the grindstone, crap year. And I'm fine with that because I think it means next year (when my book comes out and I'm super famous) is going to be great. There I go creating that fake happy ending again. GODDAMNIT. Ok bye.
Love,
Orlando
Photograph by Orlando Soria, Shirt from Wacky Wacko.