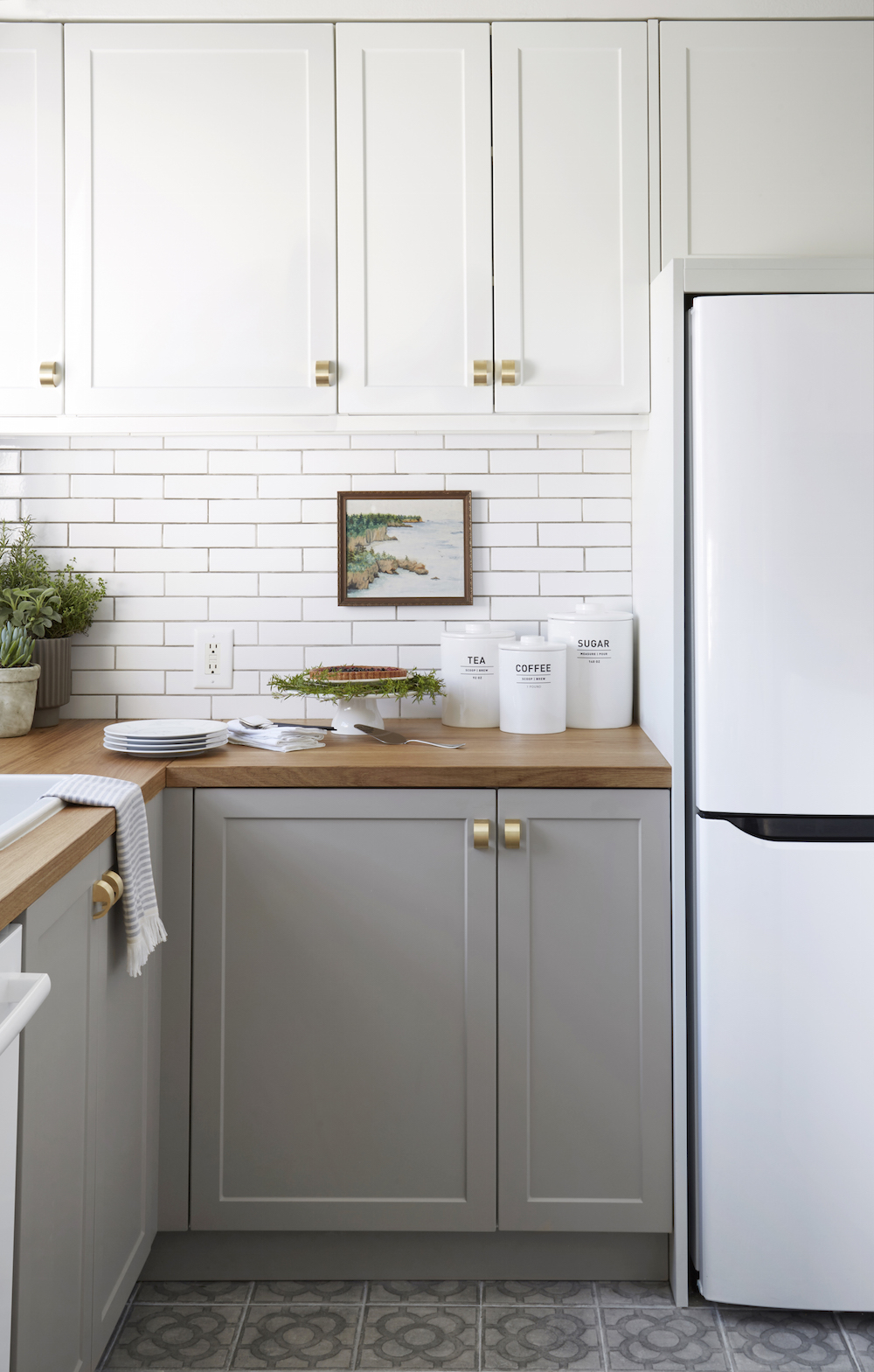 Photographs by Zeke Ruelas
Dear Diary,
The long, national nightmare that was my kitchen renovation has finally come to a close! If you've been reading about it here, you know it was a total comedy of errors. I made a ton of mistakes, wasted way too much money, and ended up feeling taken advantage of by my landlord. But now that it's done I'm just gonna do my best to move on. Sometimes when I'm stressing about something money-related I ask myself "Take money out of the equation, would you still be stressing about this?" If the answer is "no" I try to get over it. Worrying about money is a never-ending game you can't win. So whenever I realize that money is at the root of a stressor (as it definitely was in the case of this kitchen renovation) I try to move on and concentrate on what's next, rather than dwell on money I've already spent (wasted?). If you'd like to see how much money I spent and on what, head on over to my budget-oriented story on Style by Emily Henderson today. Also, if you need a refresher on what this kitchen used to look like, check out the previous post about it here.
The best part of my renovation was working with Semihandmade to completely reorganize the kitchen and create a functional space to cook and host friends. Semihandmade is a revolutionary company that updates Ikea kitchens with custom-made doors to give the kitchen an upscale, fully custom look. It's a great alternative to going full-custom, which can be very expensive since all the cabinet components are made by hand. My kitchen is tiny, so having an efficient, smart design with tons of storage was important. Working with Semihandmade was super easy. I just sent them measurements and a sketch of what I wanted and they figured out which Ikea components I needed to buy and created the custom doors for everything.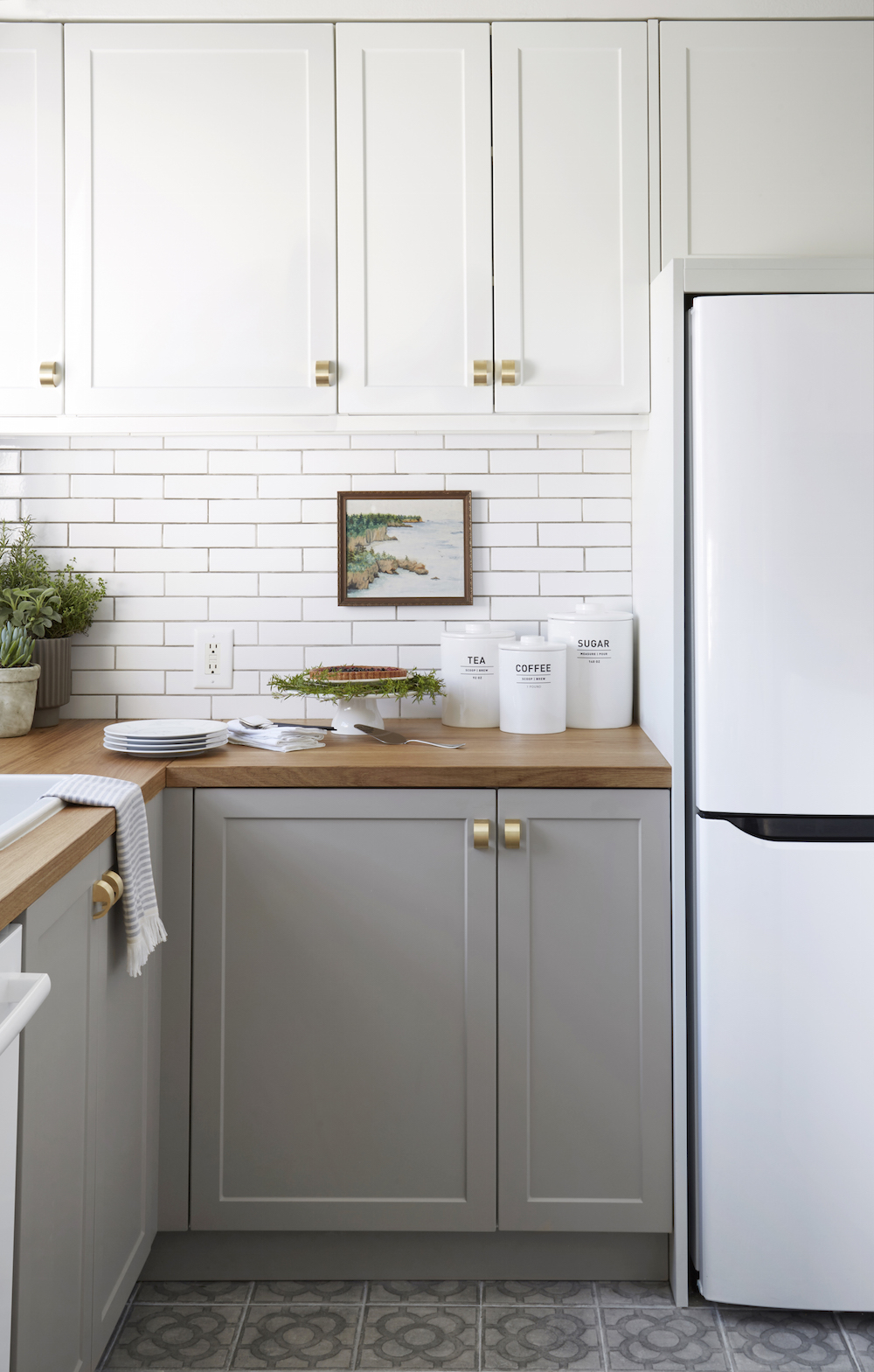 I was pretty conservative with this design because I wanted it to be something classic that would still look good when I moved out. My building was built in 1939 and has a very old European vibe, so I wanted the kitchen to feel pretty traditional. To save money, I went with wooden countertop from Ikea, which not only saves material cost but also saves on installation cost because it doesn't need a base material (you can just install it on top of the lower cabinets).
The beautiful striped Roman Shade from Loom Decor is the perfect little kick of blue. I love how simple and paired back the color is in this kitchen, but I wanted to add hints of my favorite color around the space (including in my cute little Mini KitchenAid Mixer).
It's hard to keep inside plants alive, but Trader Joe's sells these cute little spice gardens you can use and replace when they start to die. Seems kind of wasteful until you think about the fact that when you buy spices like rosemary you normally can't use the whole thing before it starts to go bad. And having a spice garden in your kitchen will make you feel like the world's fanciest chef.
To protect from water damage, I bought trays to store my dishwashing liquid and scrubber. So far I haven't had any issues with the wooden countertops, but I've been pretty diligent keeping them dry and oiled (I use Howard Butcher Block Conditioner). Wondering how long my intense OCD about this is going to last…
I'm not a fan of having too many decor accents in a kitchen, but I wanted there to be some personality so I accessorized a bit. I love this little Dude Cave sculpture from Chaparral Studio, so I figured I should have it next to the sink so I can see it first thing every morning.
The tall, skinny refrigerator feels a lot more integrated because of the Semihandmade panels that cover its sides. Wrapping a refrigerator not only covers the less-attractive sides but also makes it feel integrated with the style of the cabinetry.
Countertop 2. Semihandmade Cabinet Doors 3. Globe Pendant 4. Flushmount 5. Roman Shade 6. White Tile 7. Refrigerator 8. Bertazzoni Range 9. Dishwasher 10. Dryer 11. Washer
These Storage Canisters were the perfect countertop accessory because they have a vintage-yet-modern vibe that goes along with the style I was trying to create for the kitchen.
It might seem weird/impossible to hang art on subway tile, but I wanted to add a little pop of color/vintage warmth to the space. It's actually very easy to hang art on tile. I just used heavy duty foam tape. If the art is light enough it'll remain firmly in place.
There are circles and triangles all over my apartment, so I wanted to add a little graphic edge to the kitchen. This fun triangular wall shelf was exactly what the design doctor ordered. I went to Trader Joe's and bought basically every spice they had. I had planned on doing something cute/bloggery with their labels but I ran out of time before the shoot. That'll be a rainy day project sometime soon where I'll paint them all blue and hand-letter the name of each spice on the label.
The boldest accent in the room is the gorgeous hardware from Park Studio. They've been doing lighting for years but just released an amazing line of hardware. They're like beautiful sculptures for your cabinet doors. I tell people all the time that investing in pretty hardware is smart. It's the first place your eyes go, it's the thing you actually touch and focus on. It makes a huge difference to how a room feels and how you experience it.
The ventilation hood is integrated into the cabinets above the range. The Semihandmade people did a great job installing it, making it basically invisible. And the ventilator itself was pretty inexpensive ($399 from Ikea). I'm a fan of building the extractor into cabinets, especially in smaller kitchens. It maximizes storage while keeping the look light and open (freestanding vent hoods can be heavy in smaller spaces).
I tried to be pretty cheap with most of the items I chose for the room, but I did splurge on a Bertazzoni range. I love it and it's the centerpiece of the room, so even though it was pricier than I would have liked, it was worth it. Like hardware, a range is something you interact with and focus on when you enter a kitchen. So while I scrimped a bit on the fridge and dishwasher, I was okay spending a bit more on a range that made a statement.
1. White Dishes 2. Triangle Spice Rack 3. Marble Tray 4. Storage Canisters 5. Blue Pattern Vase 6. Sculpture 7. Soap Dispenser 8. Mini Mixer 9. Marble Bowl 10. Hand Towel 11. Pour Over Coffee Maker
While I wasn't super happy with how the financial elements of this kitchen makeover transpired, I am happy that it's done and satisfied that I created the best design for the space, given the limitations. If I'd had an unlimited budget I might have ripped down the wall and opened it up into the dining room, but I'm content that I made this small kitchen the best it could be. Semihandmade was wonderful to work with and their beautiful cabinets make the kitchen insanely functional and insanely gorgeous simultaneously. I don't know that I fully recommend remodeling in a rental, but I do know that I'll enjoy using this kitchen a lot more than I would have enjoyed the kitchen that was here before I moved in.
It's stressful to spend money on a renovation project, especially when you don't own the space. But the money is spent, the kitchen is amazing, and now I no longer have to wash my dishes in the bathtub. YAY!
Love,
Orlando
PS: See more about this project, including the breakdown of the budget on Style by Emily Henderson.
This post was created in collaboration with Semihandmade, who donated a portion of the cabinetry in exchange for a review on this blog. The opinions and ideas expressed are genuine and my own.