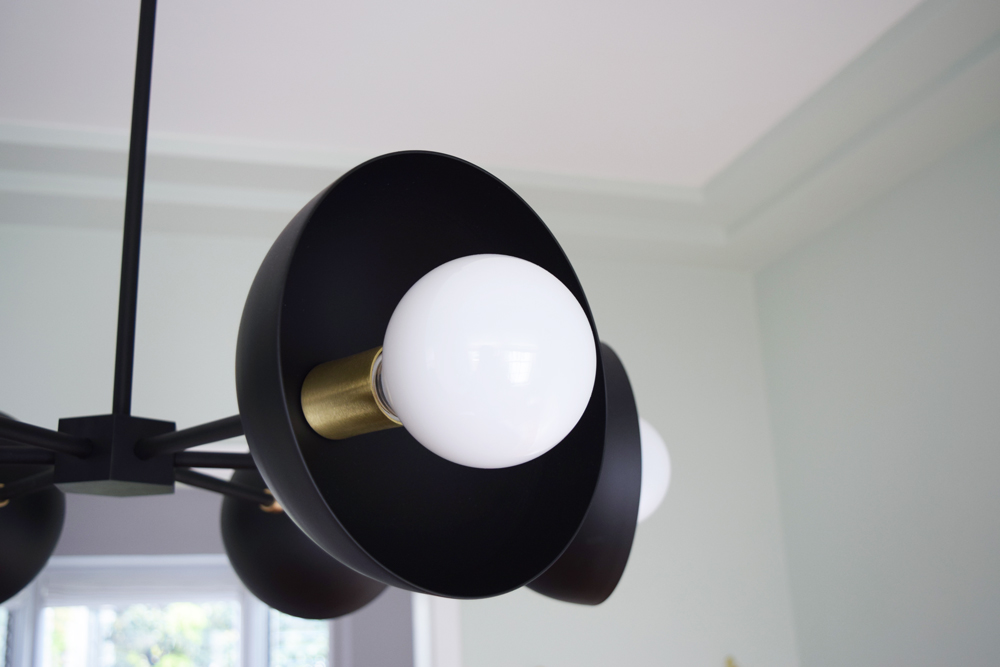 Dear Judith Light,
In your honor, I have named all the lighting in my home Judith. When I wake up, I turn on the Judith in the kitchen and brew myself a nice piping cup of Joe. When I go to bed I turn off the Judith that sits on my nightstand. Recently, a new Judith entered my life. I got a new chandelier from Park Studio for my dining room and it's rocking my entire world. I'll be chatting about the overall design of the dining room later, but I wanted to share this light fixture ASAP because she can't be kept a secret any longer. I worked with Park Studio to custom design her and she's amazing.
Park Studio is wonderful to work with and I can't state strongly enough how important it is to support businesses like this one. They're just a small mom and pop shop (literally, like I see their baby when I go over there, to their shop, that's behind their very cute house). As a designer I love working with them because I can be like "HAY I WANT A CHANDELIER THAT LOOKS LIKE THIS CAN YOU MAKE THAT." And they're like "Sure here's how!" This particular piece was a collaboration between us. I drew the initial sketches (see the above) and Park Studio founders Ben and Jolene figured out the logistics of how to make it. I'm extremely pleased with the result.
I'm very interested in incorporating more geometry and simple, graphic, shapes into Chateaulando, so I knew I wanted to incorporate this semi-circle shape somehow. Luckily, Park Studio has started offering a ton more options for canopies, junction pieces, and shades so they had a lot of ideas for how to make my sketch a reality.
Ben had the idea to add these brass accents, which I was originally opposed to but totally love now that the piece is installed. The reason I was against them is that I tend to believe that the simplest solution to a design question is normally the best. So I wanted the whole fixture to be black, without any flourish complicating things. I think the all-black version would have been simple and chic, but the added interest of the brass accents definitely excites me and makes me happy every day.
They've recently started manufacturing hexagonal junction pieces and I'm obsessed with them. They give the chandelier just a bit more interest and also add some hard edge to an otherwise soft and sculptural piece. I love the contrast.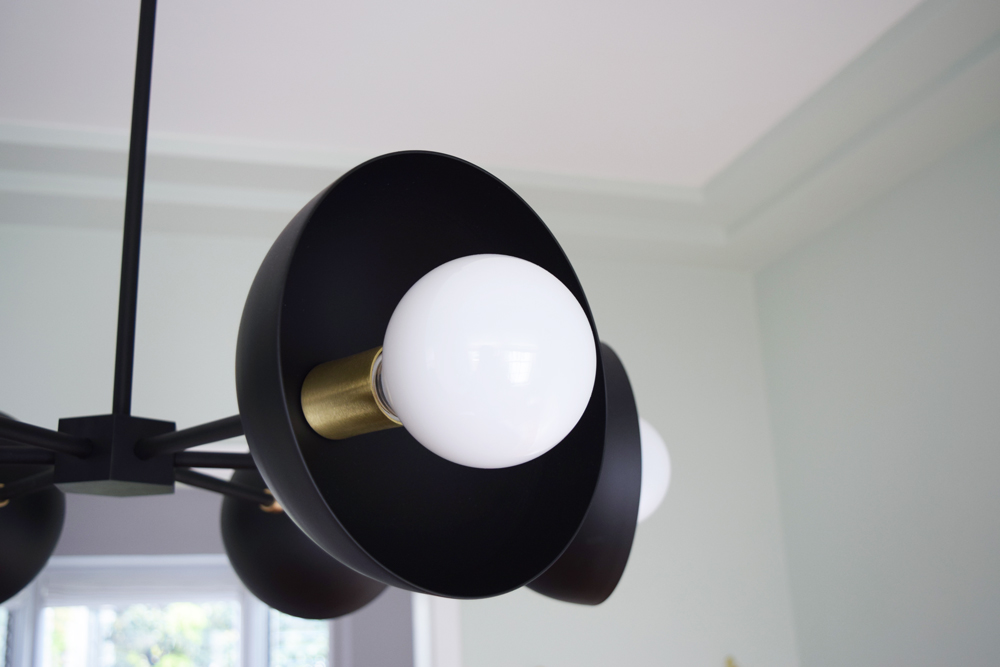 This chandelier is designed to fit G30 or G40 bulbs. Right now I have G30s in there but I might swap them out for a G40 (which is about an inch wider) for a more bubbly, rounder look.
I love the brass accent of the socket sleeve. It's just a little, semi-secret detail that shows nothing was left unconsidered.
There's even a small brass accent near the canopy. You barely notice it, but when you do it's a nice little touch.
The radial design provides soft even light around the room (frosted white bulbs help diffuse light better than the clear ones, btw, and are way easier on the eyes). I have this light on a dimmer for SUPER ROMANTIC dinner parties and the lighting makes everyone look 40 years younger (I'm negative 6!).
I'd already purchased and updated these vintage garbage-chairs when we were designing the chandelier, so I knew I wanted something that would go with their black, graphic lines. These chairs come from the FILTHIEST thrift store in LA and were DISGUSTING when I got them. I'm pretty happy with how they turned out but the DIY upholstery job I did on them leaves a lot to be desired. When I can afford it, I'm taking them to the upholsterer to have them professionally upholstered so they don't look so wrinkly/saggy/gross.
Check out them shades! So curvy and sensuous!
The dining room is coming together quickly. I need some art in there for sure, but I am already digging the vibe. The wall color (North Shore Green from Benjamin Moore) is an unexpected color for me, but I truly love it. If you can tell, it's a bit hard to capture what color it is. It's a soft green with equal amounts of blue and yellow, so it feels just warm enough and just cool enough, but not too minty and not too aqua.
Dining Room Resources: Chandelier by Park Studio, Dining Table from AllModern, Rug from RugsUSA, Roman Shade from Loom Decor, Ceramic Vase from Crate & Barrel. 
This post reflects my genuine thoughts and opinions. I received the above mentioned chandelier for free in exchange for coverage, but I totally would have bought and paid for it if I wasn't, like, totally poor right now.
Photography by Orlando Soria