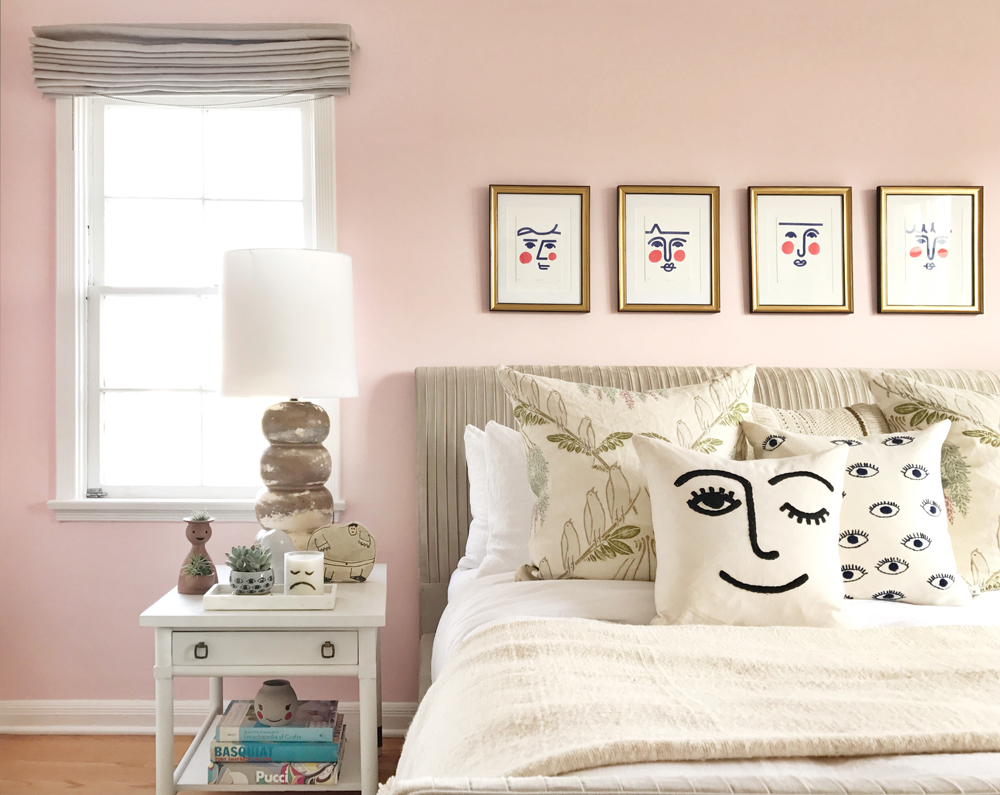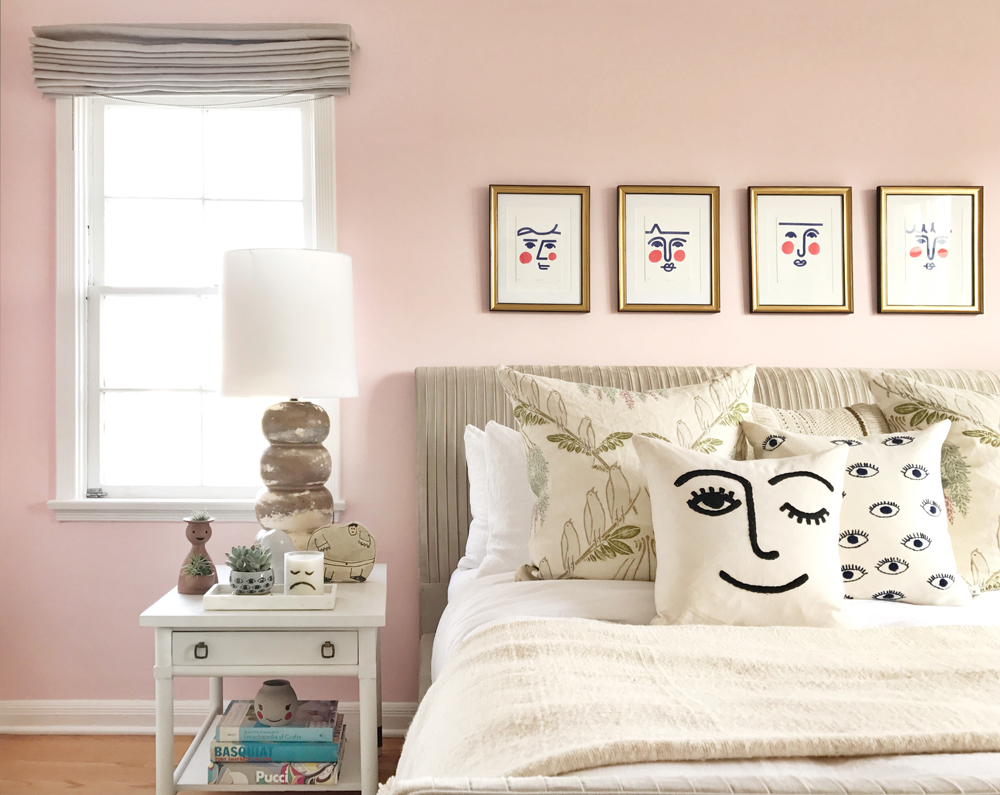 Dear Design Diary,
The description (from the Benjamin Moore website) for the wall color I chose for my new bedroom is "A romantic pink that's light and luminous, this soft, feminine shade adds a sweet finishing touch to a little girl's room or a powder room." Nowhere in there does it say "This butch, masculine color for dudes will make sure you find a new boyfriend in a matter of minutes. The second your suitor sees your bedroom he'll know you're the masc bro he wants to spend the rest of his life with." And I guess that's kind of why I painted my bedroom that color. It was kind of a FUCK IT moment.
But lately my whole entire life has been a FUCK IT moment, where I've realized I have little to lose so I can be a bit more adventurous with how I approach designing my space. I wanted the bedroom to be an expression of my autonomy. Almost like a way of telling myself, YOU ARE FINE, It's okay to be alone. I'm not fully feeling that right now, but I do think it was a good idea follow my instincts in designing the bedroom. I have no one to answer to so I can do what I want. And as much as I'm still in mourning, missing my ex, there is at least a bit of excitement in knowing I get to do whatever I want with my space.
Anyway, life is terrible. As a refresher, this is what the bedroom looked like before I moved in:
And here's what it looks like now that it's painted pink:
We finally took that ugly fan down last week. I was so satisfied and happy. I actually like ceiling fans for how efficient and effective they are but for a space like this I wanted something pretty to look at. I plan on using a stationary fan in the summer when it gets too hot. I hired a random Taskrabbit with questionable skills to do a lot of my lighting installation and it's quite possible I will die in an electrical fire because of that decision.
Sources: Bed from West Elm, Rug from RugsUSA, White Linen Bedding from Parachute, Pillows custom and from Loloi. 
The first thing I chose for the bedroom was this really awesome bed from West Elm, which is upholstered in a sandy colored velvet. It's beige. And I never thought I'd be into beige but beige and pale pink are a wonderful, unexpected pair. The bedding in there is the same bedding I had at Orcondo, simple white linen from Parachute. For the pillows, I wanted to keep it warm and light so I'm going with some ivory bird pillows my mom made and an ivory beaded pillow. Finally, the rug is also ivory and soft, with a sophisticated traditional pattern on it that counter-balances some of the more playful elements in the room.
To add a bit of masculinity to the room, I chose these flat roman shades (in "Fog") from Loom Decor. I love romans as a more masc alternative to drapery and these look really wonderful in the space. The trick to using grey is to find hues that are light enough. A lot of the greys I'm seeing out there are too dark, but I love how light and luminous this one is.
Sources: Paintings by Hey Sosi, Pillow from Urban Outfitters, Eyeball Planter from Curated Living, Coil Sculpture by Ben Medansky, Smiley Pot by Jen Kuroki, Cut Out Fat Guy from Art on Block. 
One thing I definitely wanted to make sure of is that I injected as much personality as possible into this space. Since it's a place that I will sleep in alone (forever, until I die), I want it to be the kind of place where people walk in and go "THIS IS SO ORLANDO." And what screams "Orlando" more than lots of creepy smiling faces staring at you?
I don't know when this happened, but I have somehow become obsessed with any accessory that has a face. I've always liked things that are playful and fun and I think we're finally living in a time when it's easier to find accents like that. Like all the sudden smiling objects are available everywhere. Maybe because everyone stares at their phones all the time they want to see a happy, smiling face when they look at their pottery.
Sources: Art and Pottery Lamp are Vintage, Spear & Stem Lamp Lamp from West Elm, Bamboo Pendant from Ikea, White Ceramic Lamp from West Elm. 
For lighting, I wanted to add materials that would up the warmth factor even more. I basically want this space to feel like a giant, cozy cocoon. So I chose a simple, inexpensive bamboo fixture for the ceiling fixture and ceramic bedside table lamps. The ceramic lamps are from a vintage store in North Hollywood and I've had them for years and always loved them (they were in the guest bedroom at Orcondo, where I rarely got to hang out with them).
I chose the inexpensive Ikea pendant mainly because I ran out of money while doing my NIGHTMARE KITCHEN PROJECT but I was surprised at how much I loved it in person. It's a pretty great piece for $60! My theory with stores like Ikea is that if you see something there that looks like high design you should buy it, because more often than not those pieces are the first to get discontinued.
The dresser I chose is pretty ridiculous/amazing. Full disclosure: I got it for free. There's no way I could have fit this in my budget with all the money I had to pour into the disaster kitchen and all the other furniture I had to buy for the apartment, starting mostly from scratch. But I'm completely obsessed with it. It was designed by Egg Collective for Design Within Reach and it's basically the most beautiful thing I've ever seen in my life. It has a marble top and weighs a million pounds. One thing I didn't anticipate about moving out on my own was that whenever you want to move a piece of furniture you have to call a friend. There's no boyfriend there to come and help you move the dresser two feet to the right. So my life for that past few months has basically just been me staring at furniture pieces wondering if I can move them without getting a hernia. More often than not, I err on the side of risking hernia.
Sources: Spear & Stem Lamp and White Ceramic Lamp
I'm still deciding on which lamps to put on the dresser. These are the two main contenders. I like how the stem and sphere one brings a bit of graphic edginess to the room but I also like how warm-yet-sculptural the ceramic one is. WHAT DO YOU THINK?
My bedroom design is pretty much complete, now I just have to implement everything. I fell into a depression this week, have just been overworked and overwhelmed with all the changes happening simultaneously. I have had a lot of work for my book, keeping up with design clients, habitually having all-encompassing money anxiety, and trying to get this blog back off the ground. And I haven't had time to workout, which was the one thing keeping my chemistry from dipping into depression (I was combatting the depression hormones with endorphins, which totally works). Generally, I'm just feeling pretty lonely and despondent, as depressed people often do. The emptiness of this new apartment, of living alone, waking up alone, upsets me. But the pink paint on the walls helps a bit. It doesn't completely cheer me up, just provides a little bit of a comfort. Kind of like when you're sobbing and a friend puts her hand on your back. Color can be surprisingly reassuring.
On that depressing note, BYE! (Sorry).
Love,
Orlando
Images Via: Coastal Style, Husomhelst, DecorAid, Complete Home, MyDomain.