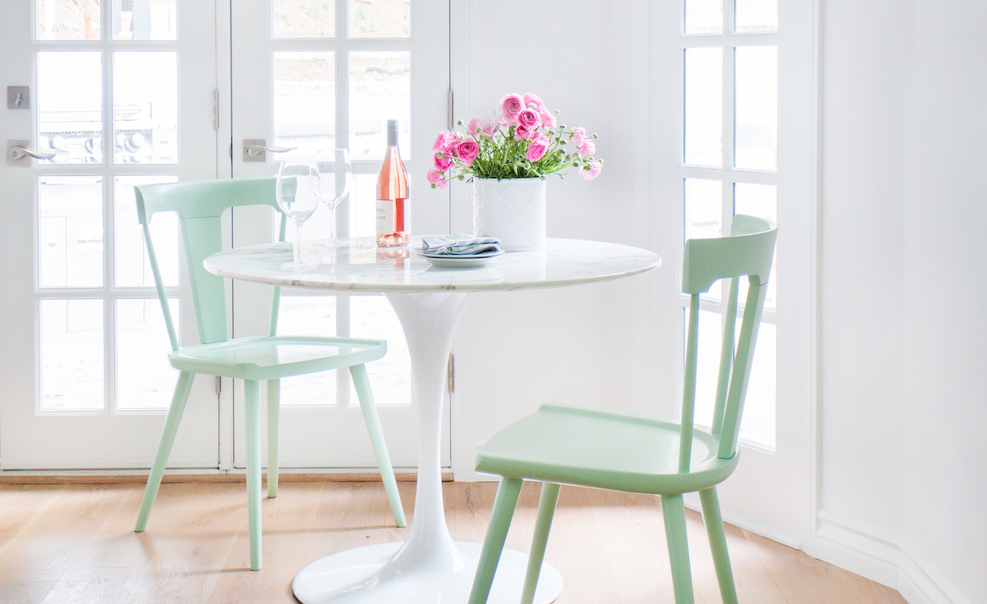 Sources: Delta Brass Faucet, White Tile from Cosmos, Ikea Wooden Countertop, Upper Cabinets (Color: White) and Lower Cabinets (Color: Clay) from Semihandmade, LG Refrigerator, Park Studio Cabinet Pulls, Drawer Pulls from MyKnobs, Bertazzoni Range, Bosch Dishwasher.
Dear Renter's Diary,
It's pretty impossible to find an apartment that is perfect in every way. Usually if the kitchen is great, the living room is too small. Or if the bathroom is spacious and sun-filled, the bedroom lacks a window or adequate closet space. So when I came across my new apartment (after being beat out for two similar apartments in the area) I jumped on it, despite how ugly and gross the kitchen was. The landlord told me she'd split the cost of renovating the kitchen with me and I had interest from a few product sponsors so I figured, why not? WHAT COULD POSSIBLY GO WRONG?
. . . E v e r y t h i n g .
My landlord basically flaked on paying for anything (aside from some demo work and tile) and the appliance sponsor I originally had on board got so complicated that I ended up forgoing the sponsorship altogether. So now I'm basically paying fully for a kitchen IN A RENTAL. To top it all off, I no longer have a full time job or a regular paycheck (can't really say more on that) so while trying to dust myself off from getting dumped a few months ago now I'm also freaking out daily about how I'm going to pay my bills WHILE WASTING THOUSANDS OF DOLLARS ON A KITCHEN I DON'T OWN. It's definitely a comedy of errors type situation. Like I never would have signed an expensive lease and gotten myself into an expensive kitchen renovation had I known I was going to not have a job in a month. It's actually kind of funny how many things have gone wrong, like I'm laughing at how stupid it is.
Okay, I'm not writing this post just to complain about how hard my life is. I realize I'm pretty lucky to be doing what I want to be doing on a daily basis. I also realize this is all my responsibility. I've made some poor decisions. On the bright side, because I now have more time, I'm concentrating on design clients and revitalizing this blog, which I didn't have time for when I was employed full-time. I'm working on my plan for Orlando INC, and I'm feeling pretty positive about how it will all turn out. ALSO I HAVE NEVER BEEN SO STRESSED ABOUT MONEY AND I COULD LITERALLY BE HOMELESS IN A MONTH.
A few people have reached out to me to ask how I negotiated renovating this place with my landlord. My landlord had planned to renovate the kitchen but was going to raise the rent if she did so and offered to split the cost with me. I agreed to that and we tore out the kitchen. Then once the costs started rolling in (installation of appliances, cabinetry, etc) she basically reversed her stance and decided not to pay for anything. I'm not a master negotiator or very aggressive with this type of thing, but I did my best to try and get her to pay her fair share. I failed. So now I'm basically gifting her a $20,000 kitchen. I'll enjoy it and I love to cook and have friends over, so I suppose it's an investment in great experiences to come, but I do feel a bit like I've been taken advantage of.
This is one of the worst parts of renting. It's an inherently oppositional relationship. Your landlord wants to charge you the most money for the shittiest product, and you want the nicest place for the least amount of money. I can only imagine how annoying it is to be a landlord in a building like this, which is older and needs a lot of maintenance. But at the same time, the landlord is making bank off owning a building. I have sympathy for how difficult it must be pay for all the repairs on a building like mine, but I'm also like, "You're rich, why am I buying you a goddamn kitchen?"
So I guess I don't have a ton of advice for anyone looking to renovate their rental kitchen. I'd say if you do so, be ready to spend a lot of money and don't expect too much from your landlord. Unless you have a special landlord with a heart of gold, most of them are just going to want to do the bare minimum to keep you in the apartment paying rent. But investing in a kitchen you plan on using for years is a worthy investment. Think about all the money you're spending on rent every month. Why spend all that money and live in a place you don't fully love? If I had to do this all over again, knowing what I know about the landlord and my employment situation, I wouldn't have moved into this apartment or agreed to this kitchen renovation. But I did both of those things so now I'm dealing with the consequences. The only thing to say about it is the same thing I've been saying since I got dumped in November. It is what it is. Moving on.
My shining savior in this has been Semihandmade, who are doing all the cabinetry. If you don't know Semihandmade, they are known for taking Ikea cabinetry and customizing it for your space. The result is the high-end look of custom cabinetry at a much more approachable price point. I'm going pretty traditional with the kitchen to stay in keeping with the style of the building, so I'm doing shaker style cabinets. The kitchen is tiny and currently has no storage for my ten thousand dishes, so we're adding a lot of built-in storage everywhere which I could not possibly be more excited about.
Before I moved in, the flooring was this gross tile. I think it probably looked good at some point but we took it out and replaced it with an absolutely lovely concrete-look tile I found at a local tile vendor. The appliances were huge and ugly so they're all being replaced with smaller, more appropriately-scaled ones.
I'm constantly perplexed by the design of apartments. This is what I call the laundry hole. It now has a washer/dryer in it. We are building cabinets around them for more storage. HOW FUCKING SCARY IS THAT WATER HEATER. Kinda surprised he hasn't walked into my bedroom and murdered me in my sleep already.
The previous fridge was 36″ wide and way too deep. The new one (which arrived last week) is 24″ wide and 24″ deep, so it won't jut so far into the middle of the room. Before I moved in, the landlord actually reached out to a restoration company to see how expensive it would be to repair all the cabinets (which I'm guessing were installed in the sixties). It was going to be about $7000 so it made more sense to just replace them with cabinets that are more in keeping with the style of the building.
There's a large window that overlooks the backyard garden. I'm installing a dishwasher to the left of the sink but keeping the rest of the layout pretty much the same.
Figuring out the layout for the kitchen was tough because it's so small. I'm moving the range (it was originally on the wall opposite the sink) to the wall opposite the fridge and adding cabinetry above it for more storage. I don't think there's anything that makes me as happy as storage. STORAGE WILL U MARRY ME?
I'm going pretty bright/airy in the kitchen. The upper cabinets are white and the lower cabinets are a very faint grey.
I hate dark kitchens, so I'm adding as much lighting as possible. Since I was pretty much tapped out by the time I got to light fixtures, I tried to find affordable ones. The main light sources are this simple, large-scale Globe Pendant Light and this Globe Flushmount. I'm also adding Ikea Undermount Lighting to make sure I don't chop off my fingers whilst cutting carrots.
The above look (another Semihandmade kitchen from Chris Loves Julia) is pretty much what I'm going for. Just simple, traditional, and elegant. I'm wavering between doing a parquet pattern on the backsplash for something more interesting and doing a simple subway pattern. I'm torn because I like the subway pattern and it's classic, but I'm also kinda sick of it. What do you think?
I found this gorgeous (and inexpensive) floor tile at Cosmos in LA and I love it. It looks like it's made of concrete but it's actually ceramic, which is why it's only $5 sq/ft I suppose. The walls are Benjamin Moore Super White and I'm doing a simple wood countertop from Ikea. I don't fully recommend wood as a countertop surface because it's not durable at all, but it's VERY affordable compared to what else is out there. I got a few quotes for Corian and other composite materials and they were all around $1700. The wood cost me about $350. If I find it's not working or it gets damaged I'll probably replace it with something more durable (also, when I've recovered a bit financially from all the other kitchen-related expenses).
The kitchen's color palette is pretty neutral but I'm adding a little pop with a Flat Roman Shade from Loom Decor. I'm SOOOOO excited about these! They arrived over a month ago and have just been sitting in a box, being the cutest thing I've ever seen. I love a preppy stripe, especially in a kitchen. And they add a needed splash of pigment.
Despite all the weirdness with my landlord and my terrifying financial situation, I'm really excited about my new kitchen. I'd literally not have a kitchen if it weren't for Semihandmade and I'm so stoked to see their pretty doors installed on all the NEW STORAGE I'm going to have. Installation starts this week and I'll be updating you ASAP when I have my "after" pics.
GET EXCITED! (And I'm sorry for so much whining).
Love,
Orlando
Photography Credits: Chris Loves Julia, Homepolish