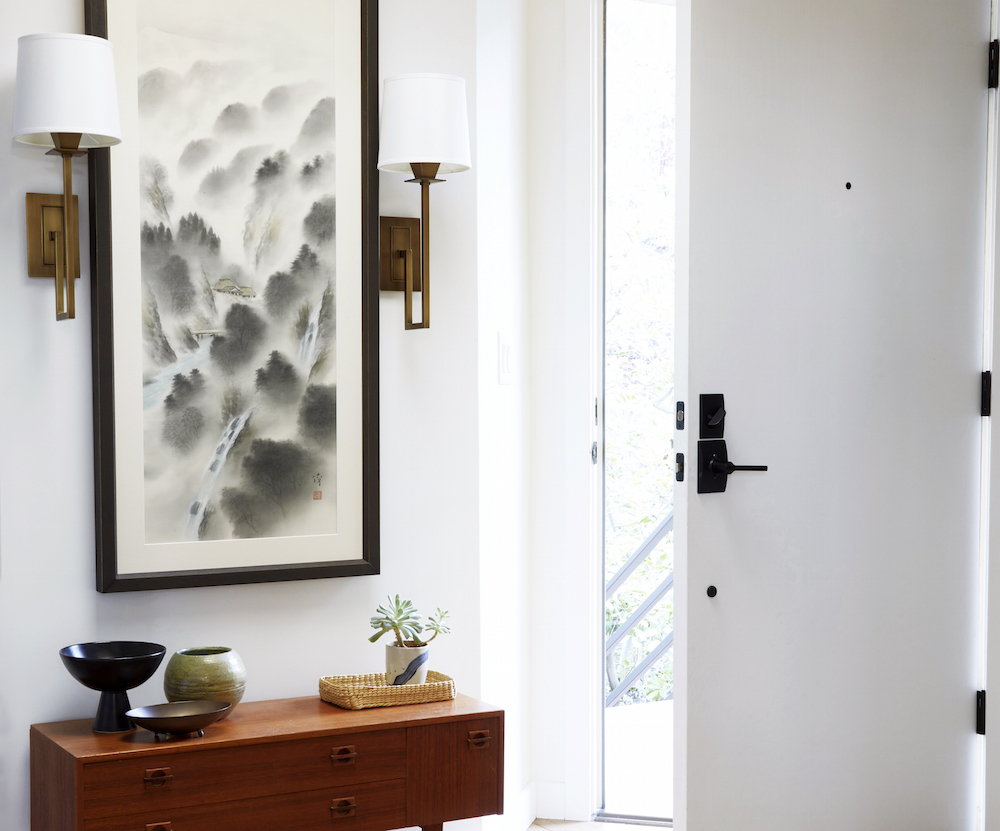 Home life and "nesting" have always been hugely important to me. From a young age, I  always decorated my space. Starting with my bedroom at age seven, which I painted myself and chose the window coverings and bedspreads (both had a Mickey Mouse pattern, my mother sewed the curtains herself). My childhood bedroom underwent more makeovers in my high school years than I did, and my college dorm, in an old brick "castle" in Upstate New York, was likely the most sophisticated, grown-up space on campus. Making my space beautiful has always been one of my closest-held hobbies, so it was no surprise to my family when, after years of struggling and not knowing what I wanted to do, I became an interior designer.
Three years ago, I met a handsome French guy and we fell in love. Or at least I think we did. You can never really be sure what's going on inside someone else's head. The more I date, the more I start to question that I know anything about what's going on inside my partner's brain and heart. We'll call this guy X (trying to do my best to be respectful, as you've probably guessed this story is about a breakup). Initially, I kept him at arm's distance. I'd just been through a horrible breakup, the first time I'd ever actually been in love with someone, and I was devastated. I lost parts of myself in that first break up that I'll never get back, vulnerable aspects of myself, trust.
I didn't really want to jump into a relationship with someone so handsome and fit as X. A fun fact about me is that I'm an FFK (former fat kid) and while I'm pretty confident in my talents and emotional intelligence, I'm incredibly unconfident in my physical appearance. Why I choose to fixate on this, I have no idea. I don't consider myself a superficial person, but am haunted by the most incredibly superficial bullshit. And it affects all aspects of my life, especially relationships. I'm bringing it up here because it explains a bit about how I went into this relationship, fearful of being hurt, worried I didn't measure up looks-wise, scared I'd be left behind once again.
Despite my attempts to guard myself from pain and vulnerability, love took its course. Or I think it was love, at least on my part. WHO REALLY KNOWS ANYTHING ANYMORE??. X and I started dating, almost immediately doing that thing where you sleep over every night. Half the time we'd be at my place in West Hollywood, half the time we'd be at his place in Silver Lake. If you know Los Angeles, you know that a West Hollywood – Silver Lake relationship is basically a long-distance relationship. Getting to his place at rush hour often took an hour. I'd show up, flustered, being like "WHY DO YOU LIVE SO FAR AWAY???" It's a miracle we even made it through that two year, long-distance trial period.
It got to the point that I didn't know where any of my clothes were because half were at his place and the other half were in mine. When you sleep in the same bed every night, splitting time between two apartments across the city from one another can become taxing. So, after approximately two years together, we decided to move in together. Before that could happen, there was the question of his dated 1984 condo. He'd purchased it five years previous just after he'd moved here from London, always with the intention of renovating it. Since I was renting and he owned his place, there was never a question of where we'd move. But before moving in he wanted to remodel so we could stay in my place and not have to live in the construction mess.
I didn't anticipate that this renovation would be the project of a lifetime. This was my first time designing a space, from the ground up, starting from scratch. I love designing for clients, but there's a certain push and pull, dealing with their budget, figuring out what they like and dislike, that doesn't exist when you're designing for yourself. I'm much quicker designing for myself than for other people. The process goes something like this: "I like that, I'm going to install it." I just choose stuff and move forward without the preciousness involved in working with clients, who need to be convinced at every single step that they're making the right choice (sidenote, to everyone: there a million correct choices for every design decision, stop thinking there's going to be ONE right answer). X let me do pretty much whatever I wanted, so this was a designer's dream come true.
Designing a place with a partner is one of the most joyous, optimistic activities I have ever undertaken. Every design decision feels like a little shot of confidence in your future together. Adding a wine fridge, imagining all the dinner parties you'll host, creating a cozy layout for the living room where you'll curl up in the winter next to a fire and read, building a TV lounge where we could snuggle up together to watch "Search Party" (Have you seen it? So amazing). All of these choices, from the cabinet hardware on up to the bedding you choose, are, in a certain sense, a way of fantasizing about the future. Imagining what  you'll do together in the space, the experiences you'll share, what your life will be.
The condo took about six months to renovate, and was relatively free of terrible, HGTV-style "THERE'S TOXIC MOLD ROTTING THE CEILING BEAMS!" kind of surprises. X and I would head over together a few times a week, schlepping to Silver Lake to check on the progress. I'd stand in the framed out shower, wondering what it would be like for me to be in there while X was in the adjacent bedroom. We'd tape out the size of the refrigerator, trying to feel out how much room we'd have to cook together in the kitchen (I need lots of room in the kitchen and get very claustrophobic when someone else is in there). We checked the color of the flooring in the space to make sure it was the perfect, ashy mid-tone color I wanted. We were, essentially, playing house. Before the house was even constructed.
In the years we dated, X got to know my family, we traveled up north to Sonoma County for holidays and long weekends. We went off to Europe, I got to see Paris and Barcelona for the first time, I met his sister but not his terrifyingly traditional French parents (red flag?). He's from Paris, so he showed me around and told me about how the city had changed over the years, showed me the playground park he frequented as a child. I'm not a huge traveler, mainly because I've never had the time and the money to do so simultaneously. More than anything, I like traveling to places where people I know are from. Whether they're in the United States or elsewhere. X took me all over Europe, to the most romantic places on earth (Saint-Tropez is a cliche but it is the most gorgeous place I've ever been). I'm a firm believer that traveling with someone intensifies your love for them.
I grew up in California and X has only been here a few years, so I took him all over the places I road tripped with my family growing up, from Santa Cruz and the Central Coast to San Francisco and Ojai. I grew in inside Yosemite National Park, in a house a half mile away from Yosemite Falls, which rumbled the windows of my childhood bedroom (which had a prime view of the falls). In order to live in Yosemite, you have to work there. And while X I were together, my parents retired and had to move out of my childhood home (hence the move to Sonoma County). We visited my childhood house a few weeks after my parents had moved out, it was an empty shell of the house I remembered. And as we drove away I burst into tears. I think most people feel this connection to home, to spaces they've lived. Saying goodbye to home is like saying goodbye to a trusted family member, someone who saw you grow up, who sheltered you. Saying goodbye is truly impossible, you don't really get over it. No one else was there for that moment, and the person I shared that small, personally-historic moment with is now out of my life, the only person who can affirm that memory, and thousands more, is now gone.
The condo's construction was supposed to take two months to complete. I always tell my clients, "take whatever number your contractor gives you and multiply it by two or three." I was pretty much right here, as it took about six months to complete everything. But we weren't bothered. We weren't living there, amongst the dust and construction. We were enjoying each other in our little West Hollywood spot. This is another tip for couples renovating a home: try not to live there, it'll drive you crazy and you'll just end up fighting a lot.
X was really pleased with all the changes I made to the condo. He loved the new bathtub in the guest bathroom (Euros love baths, it's an actual fact). He loved the smooth white walls (formerly orange peel textured), the cozy, large bed in our bedroom. He loved the bright white kitchen, with gorgeous handmade tile from Fireclay, a small company based in Northern California. He loved the modern crown moulding I'd added to the bedrooms. It felt like the place he'd wanted it to be when the realtor showed it to him years before.
As a designer, I'm constantly changing things out. So the next year was a rotating door of furniture, until summer, when I finally felt like everything was as it should be. We enjoyed having people over to our building's pool, constant dinner parties, and, more frequently, enjoying the space with each other. Reading, snuggling to watch TV. For how we used it, the space was perfectly designed. I guess I didn't really know that until I moved out.
As I said before, you can never really know what's going on in someone else's head. But from my perspective, the years X and I spent together were really great. We traveled together, we hiked the mountains on the outskirts of Los Angeles, we took road trips to Joshua Tree. He loves back massages, and I gave them willingly as we watched TV, until my hands were tired and sore. Our relationship was nice. I felt a lot of love and did my best to show it.
Which is why it was such a shock when one evening, X told me he didn't want to be together anymore, that it wasn't "working out." This was news to me. The explanation went something like "I'm not attracted to you anymore, I just don't love you, maybe I'm not built for this." That was kind of a surreal moment. Like what do you do at this point? My first response was "I'd like to work on this." But he didn't. So what do you do? Do you fight for the person you love? Is that just something people in movies do? Do you turn your heart off, get out as fast as possible? HOW THE FUCK CAN I TURN MY HEART OFF???
I had to respect X's wishes, there was no way around losing him, so I let him go. And with that, my heart was ripped out of my chest, put into a blender, mixed with battery acid, and then put back into my chest, leaving me a depressed maniac with glazed eyes, in a quiet funnel.
I remained in the condo we shared for almost a month. This happened during the holidays (awesome timing, the holidays are depressing anyway, even without having your heart broken), so I was visiting my family for a portion of this, while he went on a vacation with a group of perfect-bodied gay men (which wasn't threatening or disturbing to me at all, JUST KIDDING). I have to say, I don't recommend cohabitation with an ex. But I was kind of bound, the Los Angeles rental market skyrocketed since I moved in with X. I finally found a place that was available in January, so I made plans to move there as soon as I could. Unfortunately, they were resurfacing the exterior walkways at our condo so there were only a few specific days I was able to bring a moving crew in.
So I found myself, on a January morning, alone in the condo (X was still on his Mexico, probably hooking up with hotties), looking around at everything. Each little design element I noticed felt like a little piece of care I'd given to the space, a small offering of love that was now being rejected. I say to clients all the time that creating a beautiful, comfortable space is a way to show care for yourself and care for others. So on this lonely January morning, staring silently around the condo I was about to move out of, against my own wishes, I felt a cascade of rejected offerings shower over me. Will what I offer ever be enough? Will I ever be what I need to be to not lose the ones I love? Will I ever measure up? Will I ever have a body that deserves to be loved?
The worst part of a break up is losing the history you've made with someone, the investment you've made in creating a future together. I have this paranoia that I'm missing my shot at meeting someone who can help me tabulate my own history as I'm living it. Someone who will remember my parents as the with-it people they are, before they get too elderly to be real representations of their full, youthful selves. I worry that years will be lost, I won't be able to say to someone "Remember when we were 25 and ______ happened?!?" In every lost love, is the loss of a future filled with memories currently being created, someone to corroborate the story of your life. It goes without saying that love and companionship are also lost, but for some reason this time I'm concentrating on the history lost. How to create history with a new person, yet again? I can't. I have no desire to right now. After six years and two consecutive relationships where I knocked on emotional doors, only to have them ultimately slammed in my face, I'm done.
So what did I leave behind in the condo? I guess I left behind optimism. And hope. I left behind the confidence that someone who says he loves me truly means it. I left behind the belief that showing love and care for someone is enough. In some certain circumstances, nothing will be enough. You cannot know what anyone else is truly thinking, ever, or how they truly feel.
I also, of course, left some furniture. I'm only adding this because a lot of people ask about it. We basically split things up based on what made sense for him to keep and what made sense for me to take to my new place. He paid me for the stuff he kept. It was very transactional. It turned my act of care (designing the condo) into a business exchange. It cheapened everything.
I dove fully into the condo renovation, even giving the condo its own name, "Orcondo." I did this for a few reasons. Firstly, because I love puns. Second, because it made it easier to talk about on my various online outlets, a funny, flashy named shortcut for "my new apartment that I live in with my boyfriend." When a friend of mine found out I'd been dumped, he texted me "Ooops!" about my naming the condo, "Orcondo." He thought I'd jumped the gun.
I don't really feel like it was a mistake to jump in and go full force, naming the condo after myself. Would I do all of this again? Absolutely. Of course I'm in the depths of the shitty, post-break-up part right now, but it was worth it. Regardless of how pessimistic I'm feeling right now, I'm ultimately an optimist. You have to try things out and see if they work. At the beginning, I tried my best to guard myself from being hurt emotionally, holding X at arm's length and making him make all the first moves before I was convinced he actually liked me. I was worried I wasn't physically attractive enough for him. And guess what? Ultimately I wasn't and he told me that. My worst nightmare came true, even though I tried to avoid it. You cannot truly protect yourself from the painful aspects of life. Unless you want to close yourself off to love and relationships completely.
This is why you shouldn't be afraid to move in with someone. Sure, it could lead to a painful and inconvenient move in a few years. But you're also missing out on all the fun of domesticity. You're missing out on intimate moments you and your partner will share living together. You have to be a bit vulnerable to experience the full riches of life. And who knows? Maybe you wont have your heart smashed repeatedly like I have! Dreamz…
After weeks of searching, I found an old-Hollywood, French Provencal style building in West Hollywood and moved in in Mid-January. It's a mess. I had them rip out the kitchen and I moved in right after they'd gutted the bathroom. Everything is still under construction. All the ugly lighting has been ripped out of its sockets. Of course, the day I moved in the ceiling in part of the living room caved in because of rain, but that's on the mend now. Having this project has been the perfect distraction from the sadness of the breakup with X. I think about him every second and it's terrible, a little pin sticking into my heart, making me feel mentally ill, but being in a new space is somehow refreshing.
One of the most startling aspects of a breakup is how it can make you question reality. "I was in this relationship over here, in love and enjoying you. And you were in that relationship over there, not loving me and not enjoying me. WHAT WORLD ARE WE LIVING IN? MINE OR YOURS?" For this what-is-reality conundrum, moving helps. Distracting yourself with design helps. It allows you to proactively create your own new reality, regardless of what was going on with the old one.
So here I am, in my new space (which I've named "Chateaulando," sadly nothing will ever be as catchy as "Orcondo"), trying my best to move on and create a happy new life. The past few  incredible years I spent building a home with X are over. And now, before I can return to full life as an actual human, it's time to start building on my own.
To see before/after images of the space I'm talking about, click here.
EDITOR'S NOTE: I wrote this about a month ago and sat on it for a while because I had so many conflicted feelings about sharing it. I ended up deciding to share because it is my belief that through sharing our personal, vulnerable stories we can help other people get through their struggles. It's TMI and navel-gazing, but the point is to make sure I'm sharing a realistic portrait of my life, not just the good stuff. People only sharing the good stuff is what leads to other people somehow like their lives aren't as blessed as the ones they see online. 
Photography by Tessa Neustadt courtesy Homepolish