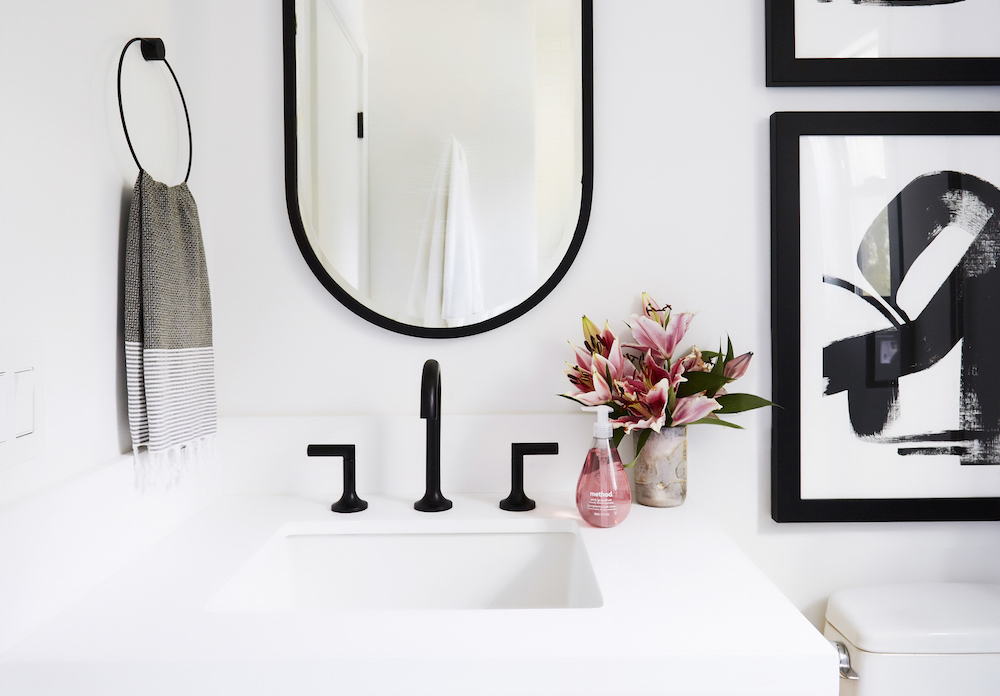 Photography by Zeke Ruelas
Dear Hollywood Diary,
I love my job at Homepolish but every once in a while I get the opportunity to do an exceptionally fun project. Our recent collaboration with method home is one such example. Here's how this went down: I had been wanting to do a Homepolish web series forever, so I came up with the concept of crafting with friends. Each week, I'd invite a friend over to Orcondo (RIP) and we'd make something together. This combines my two favorite things: making stuff and making friends. I had a great idea for a web series, but no idea how to make it happen. Enter Brian Henderson and Chandler Tuck of Propeller Digital Media. Brian is my friend Emily's husband and an amazing director/producer who helped me create a pilot version of the show to pitch to sponsors.
A year after we filmed our pilot we found the right sponsor, method home, known for their clean design and sweet smelling cleaning products (I love their Pink Grapefruit All Purpose Cleaner and Pink Grapefruit Gel Hand Wash), came on board to sponsor these episodes. The reason method was so perfect is that they have young, cool people working for them that were down with my idea to make the product placement a gag. The jokes surrounding the conspicuous product placement are some of the funniest parts of the videos, and I think it makes both Homepolish and method look cool. I personally love method products, and I love them even more knowing they're willing to joke about sponsorship and product placement. Sponsored content can be super weird, but I am proud of how we used it as a catalyst for jokes while still making the brand look good.
Each episode took a full day to shoot and involved weeks of planning. Every craft you see being made on camera existed in multiples in real life. This is because our talent (Emily Henderson, Jeffery Self, and Kelly Oxford) have tight schedules and we didn't have time to actually make the crafts on camera (waiting for paint and glue to dry really slows things up). For example, in Kelly's tray episode I made six trays at varying levels of completion and we just filmed us doing small portions of the craft on camera. For Emily's episode we had six side tables. My amazing assistant Jess put them together, though for the episode I actually put one together and came out looking like this:
Okay, now onto the episodes!
KELLY OXFORD & LACQUERED TRAY
For Kelly's episode, we created a handmade, lacquered tray out of pieces of lumber I had cut at a lumber yard (for full instructions, visit the Homepolish x method micro site). I still have this tray and I love it. Such a simple construction but still elegant. See full video below:
JEFFERY SELF & ABSTRACT ART BULLETIN BOARD
Jeffery is the funniest person I know, and I always laugh my head off at how ridiculous he is when I watch this episode. I made this DIY abstract art bulletin board for a client years ago after she told me she needed a bulletin board for story outlining (she's a Hollywood writer) but hated the way they looked. View the full episode below:
EMILY HENDERSON & BITONAL NIGHTSTAND
I'm no stranger to designing on the cheap, so I wanted to do a project that took something inexpensive (like this $40 nightstand) and transformed it into something more elevated. Luckily, I had my design bestie with me to transform this basic side table from garbage to gorgeous. See full episode below:
These episodes were a lot of fun and I'm dying to make more (hint hint to sponsors out there who want to be associated with a cool brand in some funny videos). My peeps at Homepolish, most notably Nicole and Lisa, did all the behind-the-scenes, boring logistical stuff so I could concentrate on outlining the episodes (they're all improvised with a light outline written by me) and get all the crafts ready. method's team was a complete dream to work with and gave us total creative control (one fun fact I learned about method marketing people: they hate showing their soap with bubbles in it so when you prop it for photos you have to move it VERY slowly as to not get it all sudsy).
You can see more about this partnership and get step-by-step instructions for each of the DIYs at the Homepolish x method site. And stay tuned for more!
Love,
Orlando