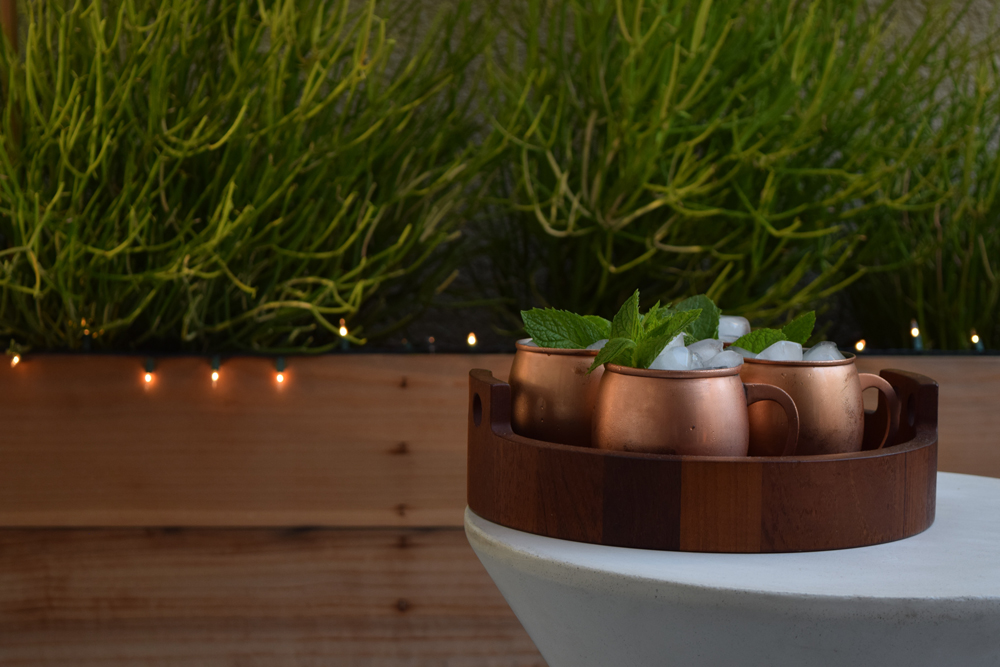 Dear Urban Apartment Dwellers,
Having people over for dinner is one of my favorite things on earth. I'm becoming a crochety old man you can't take anywhere. Every new restaurant I try out seems to be louder and more sceney than the last. Also, if I go to one more tapas or shared plate restaurant I'm going to scream. If I wanted to serve things myself or try to split one meatball seven ways I would just do that at home. Thank you.
As you may have seen on my Instagram, I've teamed up with American Express to share ideas on how you can take the normal stuff you do regularly and make it more fun and exciting, adding a bit more epic to your everyday. So for this post, I thought to myself, "How could I make a dinner party even more fun?"
Two ways. By taking it outside and adding a fun glamorous outdoor movie screening. I got the outdoor movie idea from a cute Buzzfeed video I saw:
Since I don't have a big ol' lawn, I decided to make my own super simple DIY outdoor movie screen. AND SO CAN YOU! It's very simple. Basically, all you'll need for this are two 1″ x 60″dowels, one 4′ x 5′ drop cloth, rope (I used leather but anything will work), scissors or an x-acto knife, and a measuring tape.
Here's what you do:
1. Mark off every 12″ on your drop cloth.
2. Using your rope, attach the drop cloth to the dowels, which you've already inserted into the ground 5′ feet apart.
BOOM. It's that easy. And when you're done you can just roll the whole thing up and throw it into the deepest corner of a dark closet, the same place you hide all your rage!
I don't own a projector, so I borrowed one from a friend. I used a vintage accent table to get it to the appropriate height.
Dinner was a super simple salad and barbecued chicken. During this part of the meal it was too bright outside to project anything successfully, so the the screen just served as an extremely exciting preview of things to come.
As you know, layering gives a dining table visual interest. So I started with a  simple table cloth, overlaid place mats, and finished it off with plates and napkins. All these soft fabric finishes help your outdoor dinner party feel warm and cozy.
I took inspo from another Buzzfeed video to scatter Christmas lights all over the deck so that when the sun set it would be ALL ROMANCE. Here's that cute video:
Once dinner is over, it's movie time. I opted for one of my favorite movies of all time, Orlando starring Tilda Swinton. It's my favorite movie for three reasons. One, because my name was partially inspired by the Virginia Woolf novel that inspired the film. Two, because Sally Potter, the film's director, is one of the greatest directors of all time. Three, because Tilda Swinton is my favorite actress and if I could be any beautiful alien creature who doesn't age, I'd be her.
Instead of dessert, I served delicious popcorn. Don't worry, some of it is caramel corn, smothered in sugar and calories.
To make movie viewing more fun, I rearranged the furniture so that no one would have to crane their heads backwards Exorcist-style to see what was going on on screen.
For added cushiness, I added pillows to the chairs. BECAUSE NO ONE WANTS TO SIT IN A SUPER UNCOMFORTABLE DINING CHAIR FOR TWO HOURS (unless they're eating).
So, there you have it. A simple way to take your dinner party from meh to 'MAZING with just a few quick tricks!
Resources: (1) Aero Flatware, (2) Grasscloth Placemat, (3) Radde Denim Pillow, (4) Indigo Pillow, (5) Polka Dot Pillow, (6) Ceramic Planter, (7) Water Glass, (8) Glass Pitcher, (9) Atelier Stella Vase, (10), Chambray Fringe Napkin, (11) Wooden Serving Boards, (12) Chambray Tablecloth, (13) Side Chair, (14) Wooden Planter
Love,
Orlando
* As you (hopefully) know, you must be 21+ to consume alcohol. Please drink responsibly.
This post was created in partnership with American Express. The opinions represented are my own.