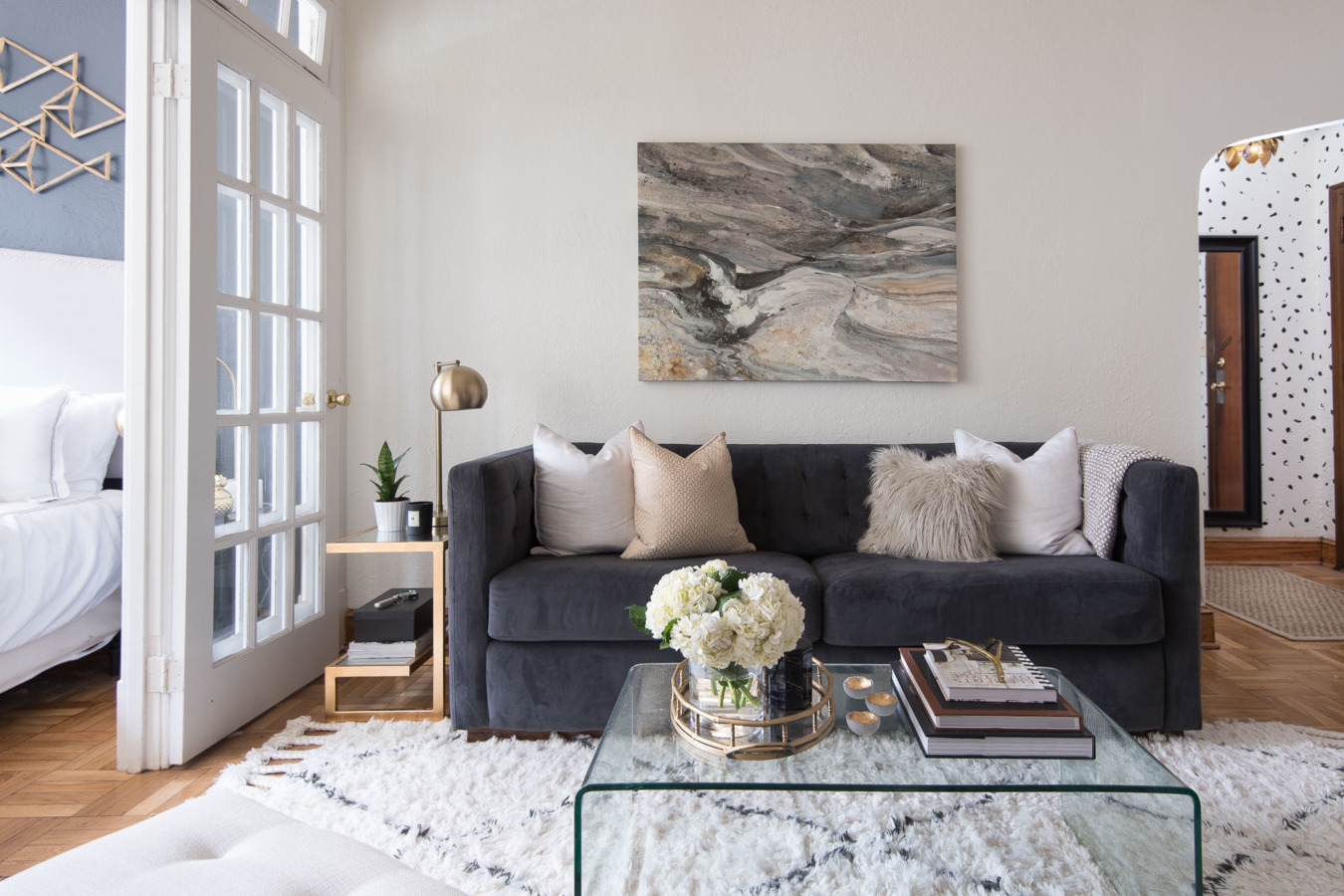 Photography Courtesy Homepolish
Dear Homepolishers,
Each week (for the most part, unless I'm traveling, which has been a lot lately I'M SORRY OK?) I sift through the amazing projects Homepolish completes in cities across the U.S. and highlight some of my favorites. This week's pics are filled with gems, from beautiful cozy Hollywood homes to exciting New York start up offices. So follow along with me as I show you what's up at Homepolish!
I just got back from Mexico City, where my favorite thing was all the gorgeous tile everywhere. This Brooklyn kitchen (and this whole amazing open plan loft) incorporates this tile into an otherwise modern space and brings in some industrial flare with the glass sliding doors. WORD TO THE WISE: If you have shelving like this, you better be good at curating your dishware. Because when it's on display EVERYONE WILL BE JUDGING IT (AND YOU).
Click here to see the full story!
This DC bachelorette pad caught my eye because it was bright, cozy, and inviting. But then I found out they did the whole thing for $5000 and my brain exploded. Anyone who has embarked on an interior design project knows how quickly furnishings add up, so it can be difficult to make a splash on a budget. Designer Shannon Smith did a crazy great job making this home look unique and inviting on a tight budget. YOU GO DESIGNER SHANNON SMITH.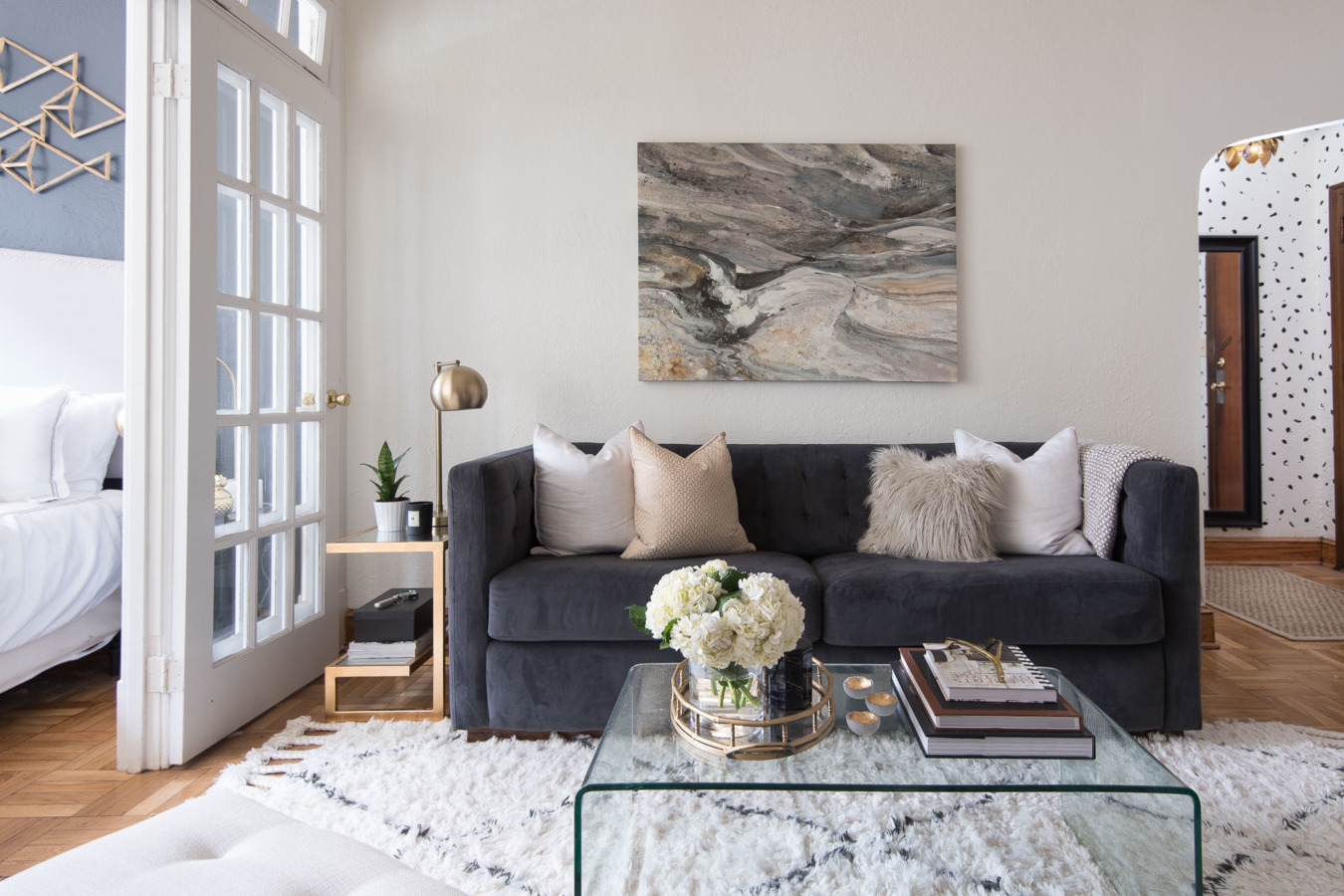 Click here to see the full story!
An interior design style I love is "New York Professor Chic." You might not find that style listed in any design books, but it's one I've always had a passion for. What does "New York Professor Chic" entail? Mostly good art, books, layering, vintage designer furniture, and an overall eclectic look. This look is all about character, creating a sense that someone real lives in the space. Homepolish's Alec Holland is clearly a master of this style because I'm obsessed with this Upper West Side home.
Click here to see the full story!
This dining room (and this whole home) will haunt my dreams for years to come. It's the perfect combo of warm and modern, minimal and collected, bright and rich.
I'd usually be wary about having a closet open to the bedroom. But with a closet this beautiful, you'd be insane to hide it with a door. That custom cabinetry is the stuff that dreams are made of.
Click here to see the full story!
I've yelled about this Stefani Stein project before and I'll keep yelling about it until my voice gives out. She did a full renovation of this house (location in my neighborhood, btw) and it's lovely. Taking it from dark and dated to bright and fresh WITHOUT COMPROMISING ITS HISTORICAL INTEGRITY.
In a sea of stainless steel appliances, it's refreshing to see white ones. Not sure why that went out of style but they look just perfect in this traditional kitchen.
If you live in California and are looking for something to hang above your bed, why not try baskets. They're gorgeous, decorative, and won't decapitate you in an earthquake!
IT'S THE SAME GORGEOUS HANDPRINTED STYLE OF TILE I SAW ALL OVER MEXICO. GIMME.
Click here to see the full story!
I love low slung sofas like this (pretty sure this one is from CB2).
You know what else is from CB2? This mirror. It works so well with that vintage bench. When you're using fresh, modern pieces adding in vintage can be a great way to give the space some age and character.
Click here to see the full story!
DID SOMEBODY SAY CIRCLE MIRROR? I'll never get over my excitement for these babies. I could literally have one in every room and I'd be soooooo happy.
This looks like the perfect place for a dream brunch with all your friends where you'd spend the whole time laughing about how rich you are and how much you love your glamorous richperson dining room.
Click here to see the full story!
Got a boring office? Why not add some pink! These offices show that just because it's a workspace doesn't mean it has to be boring and depressing.
Click here to see the full story!
That's it! My fave Homepolish projects of the moment. Try to remain calm.
Love,
Orlando