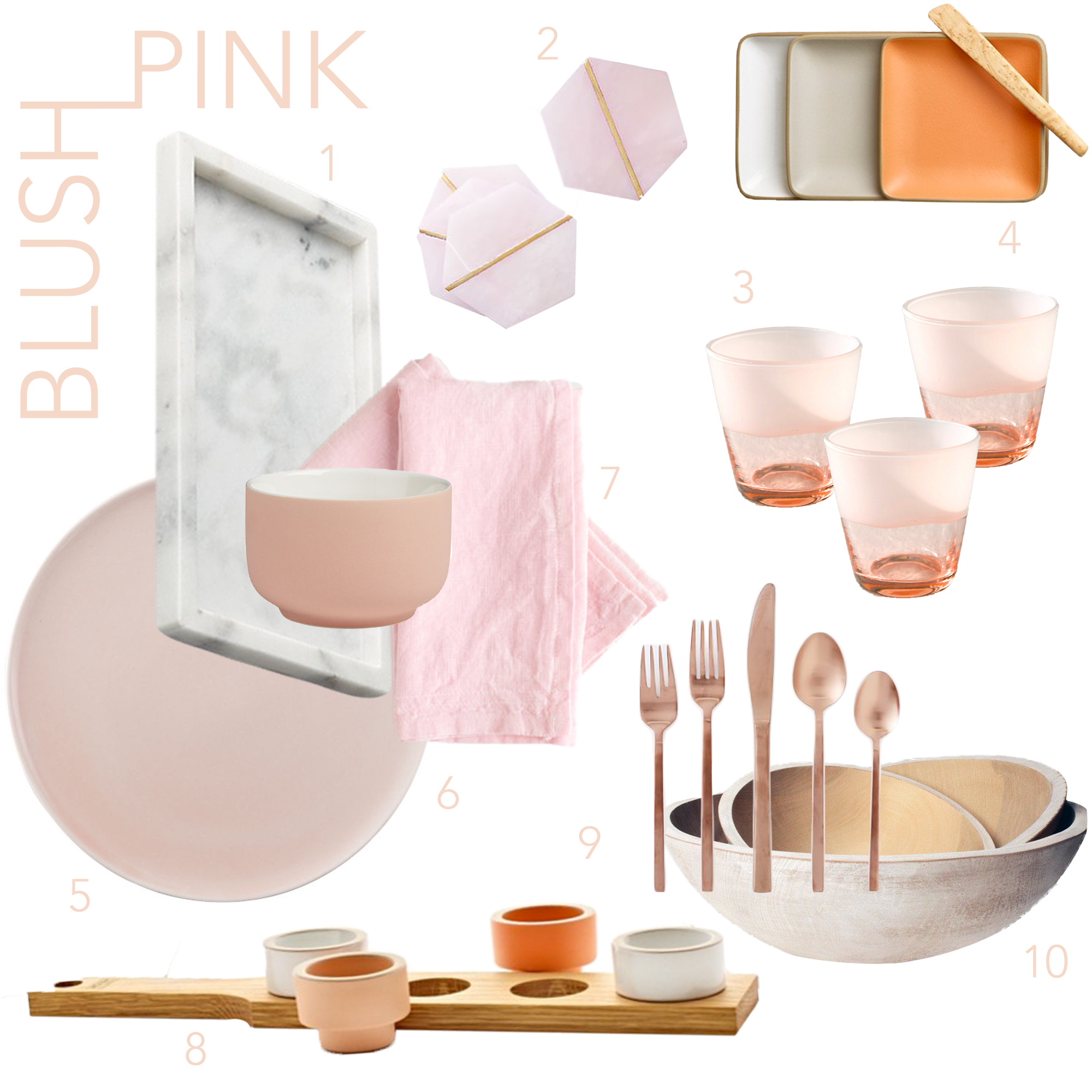 Source: Homepolish
Dear Summer,
I always kind of think of summer as June, July, and August, but over my years in LA I've come to understand that summer starts in May and ends in October. For this reason, I've realized there's still time to up my outdoor hosting game before the season ends. IT'S NOT TOO LATE YOU GUYS! So I've decided to share some of my favorite summer hosting items with you.
BUT WAIT THERE'S MORE.
Three of my favorite trends of the year are blush pink, metallic finishes, and indigo blue. I know what you're thinking, trends are stupid and lame and people who talk about trends are desperate and obnoxious, trying their hardest to cling to some sense that they have any understanding of what is going on in the world when really everything is just spinning out of control. HOWEVER, when scrolling through summer wares from my favorite retailers, it was impossible not to notice these three themes coming from every retailer. Metallics have been in forever, and they're not going away. For this reason I think it's not a bad idea to invest in that set of brass-finish cutlery you've been eyeing, or to install copper pulls in your kitchen. Indigo blue is big, partially because everyone finally woke up to the fact that shibori is awesome. And blush pink is hot, because why not? Pink is just an overall enthralling, warm color that should be splashed all over everything.
So come on in and let's chat about the hosting items I'm coveting this summer.

Source: HGTV
If you're too freaked out to include metallics in your foundational elements (like these delicious gold-legged lounge chairs), you must at least show yourself the courtesy of adding a metallic splash to your serving ware. In my experience, metallics seem to mix best with natural materials (light wood, marble, stone) and ceramics. This helps counterbalance the glam effect of metallics and keeps your outdoor dining set up from looking like a stripper's dressing room (i.e. tacky, shiny, overly glammed).
Resources: (1) Brass Inlay Cheese Board (2) Gold Faceted Glass, (3) French Press Coffeemaker, (4) Gold Rim Plate, (5) Metallic Stripes Napkin, (6) Gold Flatware, (7) Coasters, (8) Copper Serving Bowl, (9) Ceramic Serving Bowl, (10) Brass Salad Servers 
Above: Gold Flatware.
Above: French Press.
Above: Serving Bowl
Source: Homepolish
It's not hard to figure out that blue is my favorite color. I'm usually more attracted to warm, aqua blues. But I also have a strong passion for navy, indigo, and everything in between. Shibori fabrics, as I mentioned earlier, are finally having a massive moment. It's like everyone woke up one day and finally noticed how incredibly beautiful these fabrics are. I think the resurgence has helped everyone remember how much they love all shades of blue. And I'm here to jump on that bandwagon!
Resources: (1) Indigo Carafes, (2) Black Flatware, (3) Helen Levi Ceramic Mugs, (4), Indigo Serving Tray, (5)  Indigo Wood Bowls, (6) Dinnerware Set,  (7) Shibori Napkins, (8) Ceramic Coasters
Above: Helen Levi Ceramics
Above: Indigo Wood Bowls
Above: Ceramic Serving Bowl
Source: CB2
I'm writing this post from Europe, where I've been traveling all over the place salivating at how gorgeous everything is. Our first stop was Nice, France, where half the buildings are the MOST INSANELY GORGEOUS color of pink (check my Insta to see some pics). I'm constantly trying to con my clients into painting rooms pink (no one has ever said yes) and convincing people that pink isn't just for Barbie can be a hard sell. But pink is an overall amazing color FOR MEN AND WOMEN and it definitely has a place at your dinner table.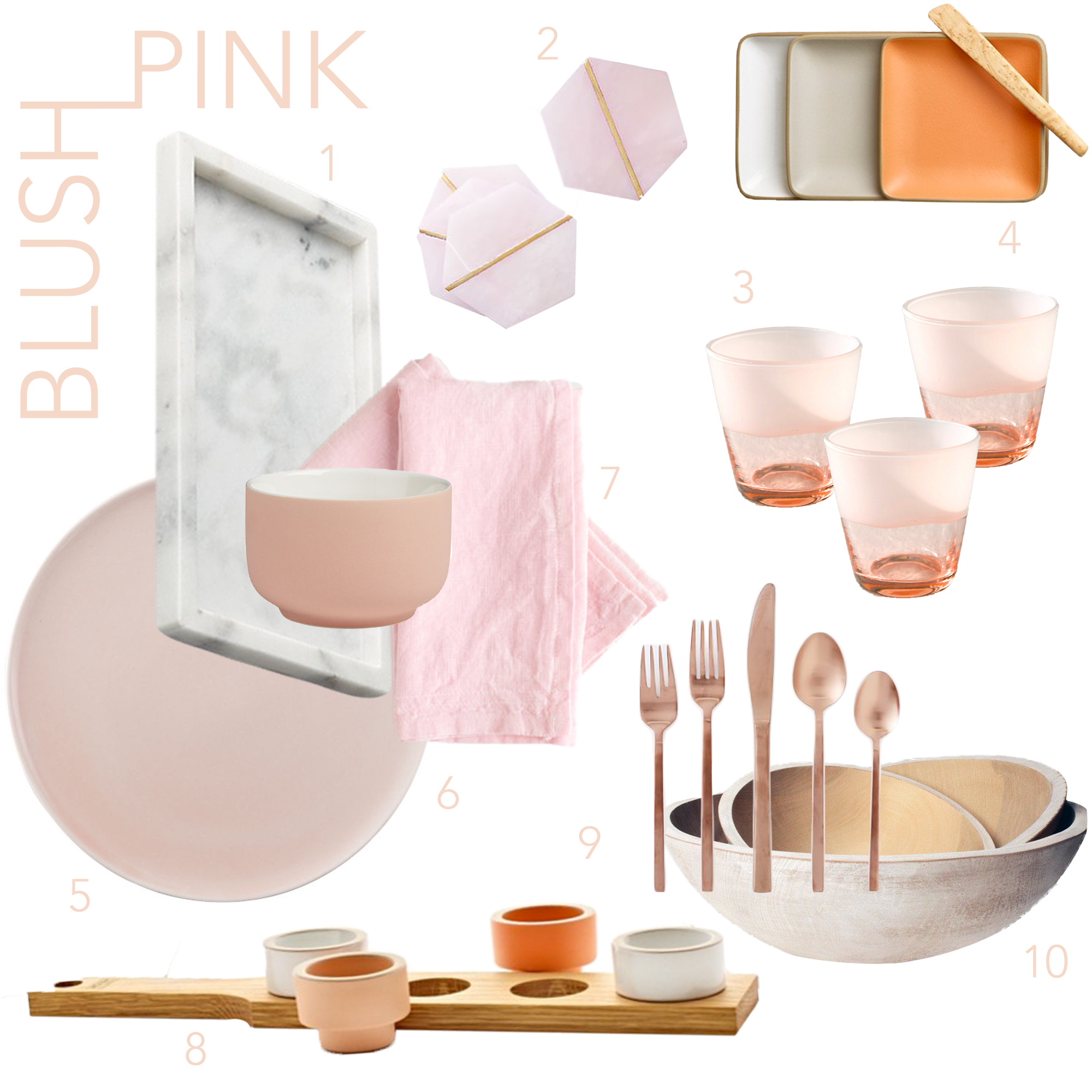 Resources: (1) Marble Serving Tray, (2) Pink Stone Coasters, (3) Frosted Blush Tumbler, (4) Heath Serving Trays, (5) Dinner Plate, (6) Pink Bowl, (7) Linen Napkins, (8) Heath Candle Holder, (9) Copper Flatware, (10) Beech Wood Bowl 
Above: Blush Tumbler
Above: Serving Trays
Above: Farmhouse Pottery Beech Bowl 
There you have it. Everything you need to make your outdoor summer dinners the most (visually) delicious ever.
Love,
Orlando