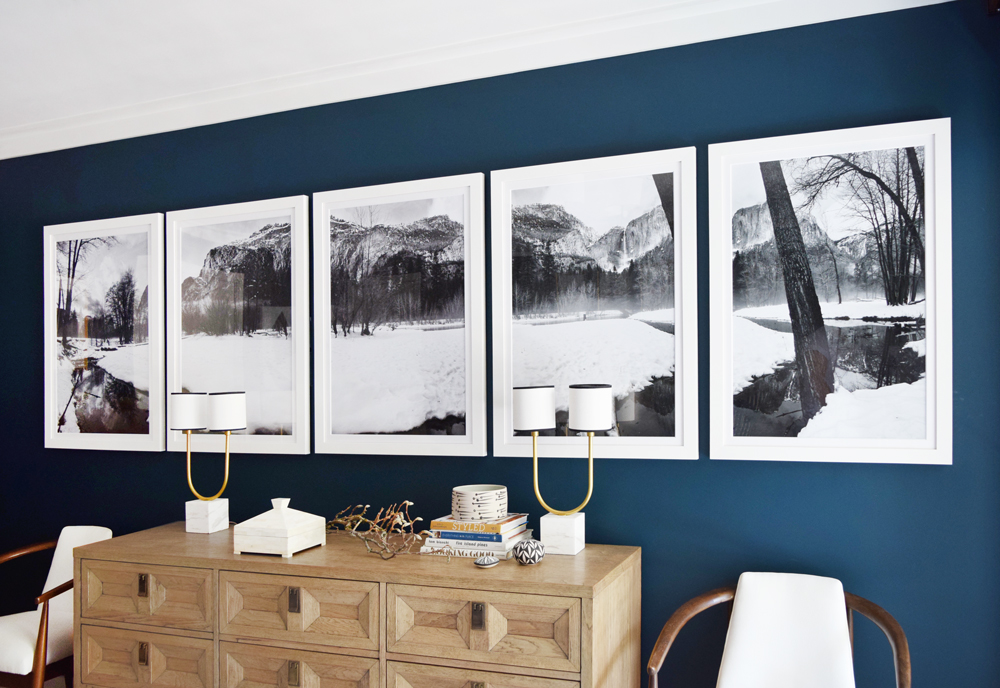 Photographs by Orlando Soria
Dear Diary,
For some reason last night, I started thinking about my first apartment in LA. So I did some self-googling and found an old picture of it on this blog:
I moved into that place in 2007. What I love about looking at this picture is how creative and thrifty everything is. At this point in my life I had literally zero dollars. Everything in in the photograph is either a hand-me-down, handmade, or from Ikea. But I took pride in that space and I think it was really cozy and happy and homey. One of my core beliefs as a designer is that even if you don't have a lot of money, creativity can get you a long way.
This was my next LA apartment, after a year where I moved to New York and then came back again, months being technically homeless and just staying with friends and family, and a few apartments that ended up being totally weird/unihabitable. That bedroom served me well, but after a breakup it felt weird that I was sleeping in the same bedroom I shared with my ex, so I gave it a little refresh in an attempt to it feel like a new place for me to start again:
I really loved that apartment, but when it came time to move in with Edouard, I jumped at the chance to redo his crazy 80s condo and turn it into the home of my dreams. The master bedroom is one of my favorite rooms in the condo because it is features the most saturated wall color (the rest of the condo is bright white). The bedroom obviously has a much more sophisticated flavor than my first place in LA, but I'd like to think the creativity that made my first grown up home so welcoming is still alive in my current bedroom.
The wall opposite the bed had a long, horizontal hole in it that was just begging for a panoramic piece of art. So I came up with the idea to create a large scale photograph of Yosemite (my hometown), so I could see it every morning when I woke up. I actually had to visit Yosemite a few times before the weather cooperated with me. The first time I went, Yosemite Falls was dry, my photo attempt was foiled, and everything was sad and depressing.
The biggest barrier was figuring out how I was going to print and frame this giant series. Luckily, I came across Livestock, which is an amazing online service the prints your large-scale (and small-scale) photographs, frames them, and then delivers them right to your door.
A strange-but-true fact about me is that I actually majored in photography in college. But I haven't used my skills since then, aside from figuring out how to compose Instagram photos. So I didn't have any local resources for printing large photos and I had no idea how the quality of these prints from Livestock would turn out. When the photos arrived, I was extremely pleased with the quality of the prints. No weird digital noise or fuzziness. They're art quality prints and they look great.
The five prints each got a one inch mat, a decision I kind of regretted when they arrived. Part of me thinks they look a but more formal with the mat, another part of me thinks it chops up the continuity of the series, too many vertical lines. Thoughts?
West Elm made and sold these lamps for a while, but they stopped selling them. I kind of love and hate when big retailers stop making items after I buy them. I love it because then it means that I have something kind of special not a lot of people have. But I hate it as a blogger because it makes it harder for readers to find the items I'm sharing. West Elm has subsequently come out with another version of this lamp which I also love (and am considering for the living room).
The pottery is from my family friend Susanne French, who I've known my whole life. The Acoma Pueblo pottery was purchased from the gift shop at the Ahwahnee Hotel in Yosemite (a corporate takeover renamed the historic hotel "The Majestic" recently, but I'll never call it that).
If you've been reading me a long time, you probably know I grew up in Yosemite National Park. If you're new, the above photo shows the approximate location of the house I grew up in. You can't actually see it in this picture, but it is nestled amongst those trees at the base of Yosemite Falls. People are often weirded out by this fact, because people living in National Parks is pretty rare, but it is a true fact about my past. I miss that place like crazy. My parents retired to Sonoma County (California's wine region) and so now going home is more about waterfalls of wine than actual waterfalls.
This is the whole series together. Editing these bad boys was actually pretty challenging because each of these files is huge and kept crashing Photoshop (I know I probably should have been using another program, but that's all I had on my computer). Luckily, Homepolish's photo director Claire helped me figure out how to balance them all so they matched and looked their best. This is what each photo looks like on their own:
My parents left Yosemite about two years ago, and the first time I went back it was January. It was seventy degrees and there was no snow in sight. That was the first time I attempted to take this photo, but it came out as sad and depressing as the visit itself (Yosemite in winter without snow feels post-apocalyptic). So you can imagine my joy when I went back and there was snow everywhere.
An added benefit of the winter photographs is that the snow helps brighten up my dark and moody master bedroom (the wall color is Ralph Lauren Iron Blue btw). The series is purposefully disjointed, you'll see certain elements repeat or be cut off. I wanted to add some rhythm to it by chopping up the image. I found that disjointedness a bit more exciting than just a straight up panoramic.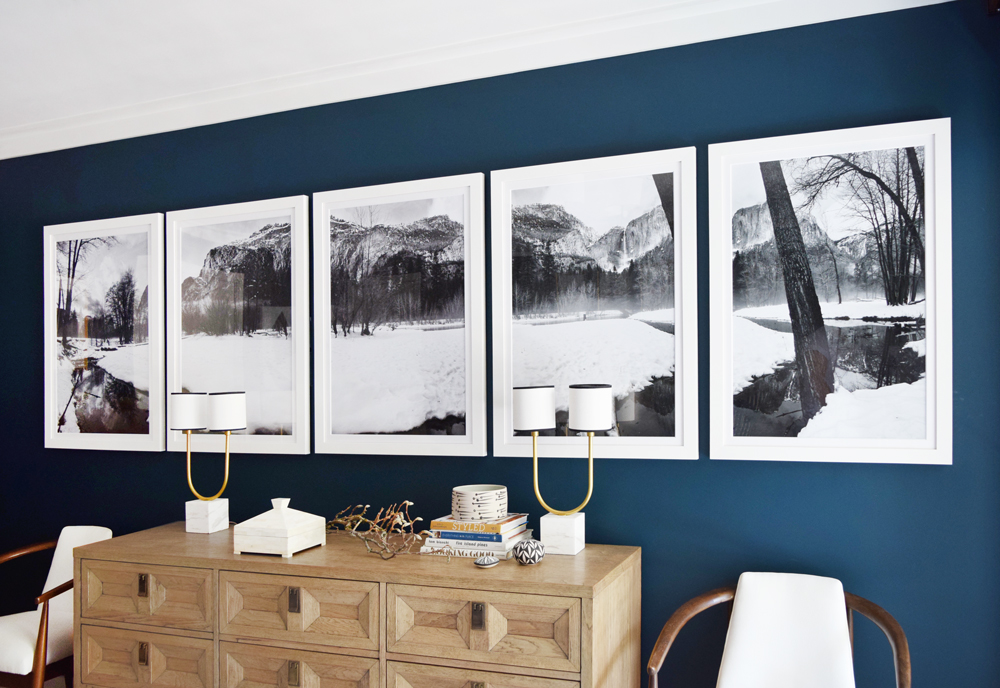 Having these photos in my room was a great way for me to bring a bit of my history into my home. I miss being able to go to Yosemite like I used to (it's just not the same going there and staying in a hotel), so it's nice to have a daily reminder that it's still there. And it gets back to lessons I learned with my first LA bedroom, that making things yourself can be a great way to make your space beautiful, personal, and interesting.
Love,
Orlando