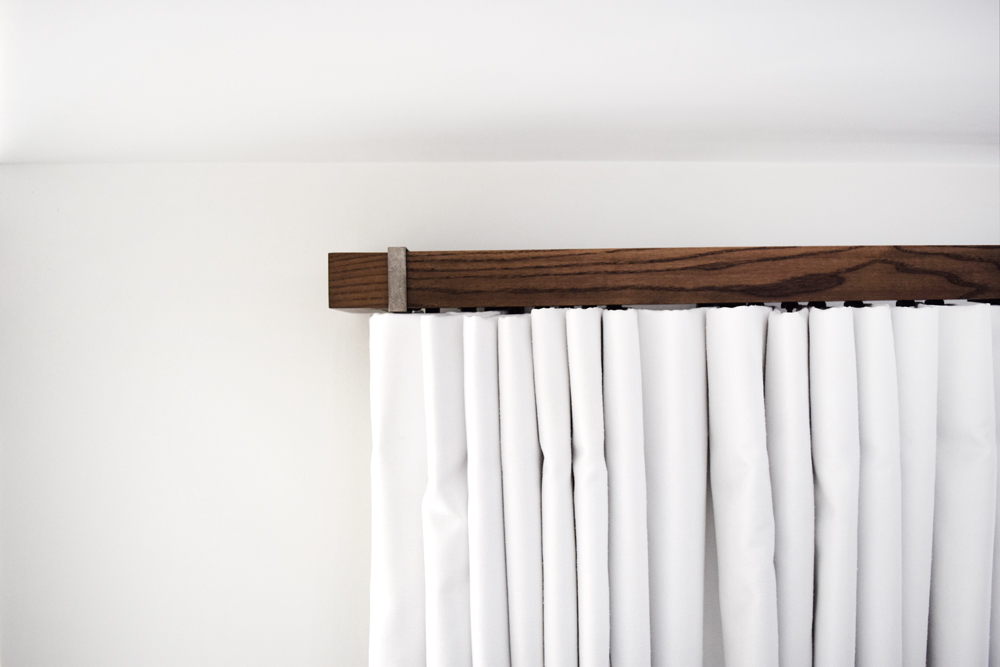 Photographs by Orlando Soria
Dear El Niño,
We here in California have had a thirsty few years. Everyone has been freaking out, ripping out their lawns, and waiting anxiously for El Niño rains to come save us from this misery. But then, NOTHING. We waited for months and we've had a few rainstorms, but nothing to write home about. What we've had in place of rain and actual winter is a 90 degree February in which all of us have looked up to the sky, cursing our lives, screaming about how hot it is. Something to note about me is that I'm not a hot weather person. I basically get a sunburn from turning the light on so I've always been more into cold weather months. And clouds. And rain.
While this non-winter has been pretty disappointing, one thing I've been very thankful for is my wonderful heat-blocking window treatments from Decorview. A lot of people underestimate the power and importance of window coverings. You might look at a window and go "That window's so pretty, I don't want to cover it." But 90% of the time a window looks better with some sort of window treatment. I think it's because it makes them look much more functional. You can look out the window and enjoy the view or you can close the drapes and feel nice and cozy.
The challenge at Orcondo was that the space is so modern and minimal I wasn't sure what type of window coverings to choose. I ended up going for a combination of very simple roller shades and simple pleat drapery, both in white. Generally, I think you can't go wrong with white drapery because it's classic and will withstand the harsh rays of the sun. At the condo, I wanted to make sure every choice I made wouldn't deter a buyer down the road if, during the impending apocalypse, we decide to move to the country to grow our own food on a high-security compound. Which is why I went all white almost everywhere.
Decorview, the amazing company I used, made the whole process very easy. They're basically Homepolish for windows. They send a designer out to your house to show you all the options available for your windows. A lot of designers, myself included, actually don't love dealing with window treatments so it was extremely fun to have another professional come in and help with them so I could concentrate on the stuff I wanted to concentrate on (like sofas and chairs and dining tables). The consult basically made me feel like the richest person in America, I spent the whole time drinking a dirty martini and throwing money in the air. As I sit typing this in my worn out sweatpants, unshowered and basically looking like a dirty hobo, I dearly wish I could go back to that moment.
I did my best to make the condo's design all about clean lines and simplicity, so I wanted window treatments that followed that aesthetic. The Designer Roller Shade in the living room each have their own valance which hides them when they're closed. But since they're the same color as the walls, they really disappear and feel like part of the architecture of the space.
Right? Like you can barely even see that Designer Roller Shade in the dining room! It's just living there, in secret, being totally respectful of my need for privacy.
FYI, the view from this window is actually pretty amazing. Some very rich people own this entire hill and have left it entirely undeveloped. Thus, the local coyote population has decided it's their party paradise. It's relatively terrifying because they howl/scream/yelp literally every night and it sounds like people being murdered. But I also love that it makes me feel a little like I live in nature so that kind of makes it worth it/less like living in a horror movie.
All the living and dining room windows are controlled by a system called PowerView Motorization, which basically means they are all controlled by a central panel in the kitchen. I love this thing because it's a cute little circle and I love anything circular:
I also have a PowerView App on my phone that can control the Designer Roller Shades remotely. I use it to scare Edouard when I'm not home by lowering and raising the shade to make it seem like demons have overtaken the condo in an attempt to steal his soul.
While the common spaces in the condo begged for simple roller shades, the bedrooms asked me for something different. They wanted drapery, but not weird, poufy, disgusting drapery. Something with texture and volume that wasn't overly detailed or traditional. The condo has these maybe-ugly sliding doors everywhere and they're kind of a challenge to figure out appropriate window treatments for. They're modern, but it would be weird to do a roller shade or a roman on them (which would be my typical mode of attack for a modern window). I ended up opting for these amazing wooden drapery track systems that add some warmth and masculinity to the white drapery in the master bedroom.
During our consult with our extremely sweet Decorview designer Christa, we had a lot of fun figuring out how the drapes in the bedroom should part. We ended up choosing custom drapery that gives us three totally different styling options:
Option 1: Traditional, Parted to the Sides
I love this option for nighttime because the white drapery reflects light back into the room and makes it look nice and cozy.
Option 2: Asymmetric Right Swoop.
This is how we have it most of the time so we get as much light as possible in the space. This also gives us a great view of our succulent collection outside.
Option 3: Secret Art Reveal!
I love anything secret, so this is probably my favorite even though we very rarely style the drapery this way. I just love that there's a secret piece of art hiding behind the drapery.
I did the same type of custom drapery system in the guest bedroom, which strangely gets way better light than the master (hence, the light, ethereal wall color). There's a long, skinny window over the bed that I used a simple Designer Roller Shade for.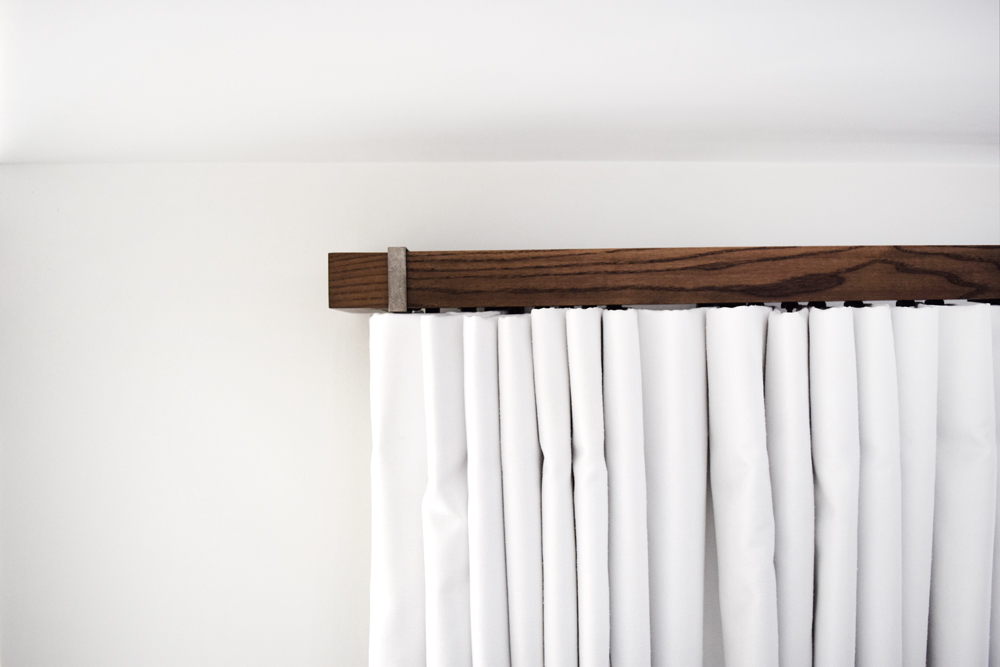 We also did this modern track system in our TV loft (which is located off the living room). The drapery is blackout so if we need to watch TV during the day like vampires we totally can. I'll be honest, these drapes are very rarely closed but the softness and texture they bring into the room is much needed.
So, there you go! We covered our naked windows and took our condo from nasty to rhinoplasty in about 6 weeks (from the initial consult with the Decorview designer to the actual installation). One of the things I love most about our window treatments is how easily I forget about it. It seems naturally integrated into the space, like it was here the whole time. And, an added bonus: I feel safe and sound with window treatments to protect me from the coyotes who would otherwise be able to peep at me at all hours of the day and night, slowly plotting how they're going to eat my face while I'm sleeping.
Love,
Orlando
PS: Which styling do you like best for the drapery in the bedroom?
This post was done in partnership with Decorview. The views expressed are genuine and my own.