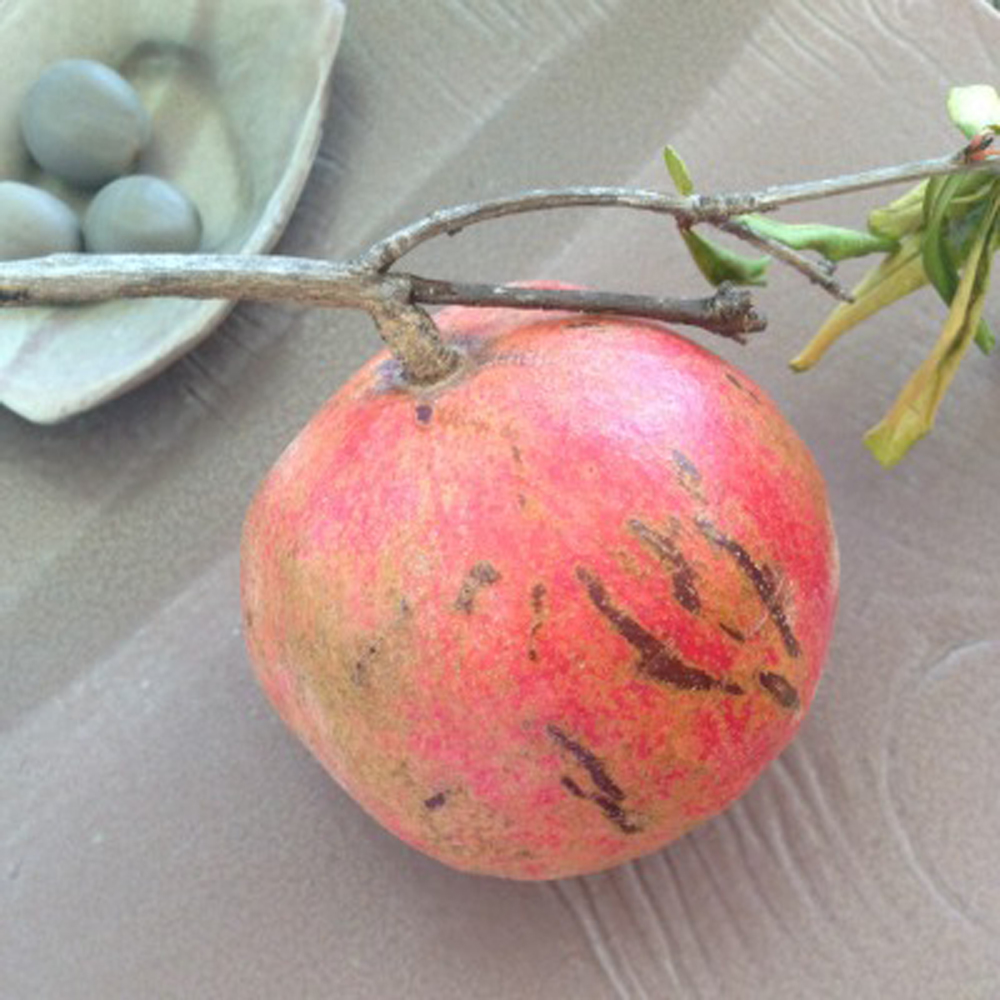 Photographs by P Lyn Middleton & Orlando Soria
Dear Travel Diary,
It's been a whirlwind year so far, which has left little time for writing (sorry!) but I had a magical discovery over the weekend that I just can't keep to myself. I went to Ojai with my boyfriend and some of his homies and one of the first shops we wandered into was the wonderful studio of P Lyn Middleton, a ceramicist who makes the most amazing avant pottery and runs P Space Pottery on Ojai Avenue.
Growing up, my best friend's mother was a potter who made (and makes) the most amazing, innovative pieces. She was German, educated at fancy German design school, and influenced by Japanese minimalism and modern sculpture. I loved going to her house because everything in it was considered; she has an excitement for objects and filled her home with beautiful art, pottery, and natural artifacts that other people might look past but she found beautiful. There was always something exciting about her house because I always knew there would be a discovery. "I never noticed how beautiful pinecones are!" or "How sculptural and amazing are persimmons?"
Susanne French, the ceramic artist I'm talking about, has a soul sister in Ojai. Walking into P Lyn Middleton's shop felt a little bit like walking into Susanne's house, where I spent a lot of time every summer. There were beautiful things eveywhere, pottery adorned with natural objects and textiles.
Stylists love pottery because it's original art and immediately gives a space a sense of uniqueness that cannot be replicated. Each piece P Lyn makes has a presence because its form cannot be replicated exactly. Additionally, the rough organic finish and the earthy hand-fired glazes give these pieces a warmth that can bring life into a room. Okay, I'll stop losing my mind over pottery. To make a long story short, I'm hugely into it, and I think it's often maligned as "craft" (what's wrong with that anyway?) or someone's charming hobby. It's not. It's beautiful and I think a great investment in something that is both practical and a piece of one-of-a-kind art that no one else has.
P Lyn's store is somehow both maximal and minimal at the same time. I loved the plywood display and how the pieces were stacked and merchandised all over.
I snagged three of these lovely white slab plates ($30 each). I can't wait to use them to serve appetizers at a dinner party and impress my guests so much that their eyeballs explode violently from their heads.
I also snagged this bowl for $60. Some of the people I was shopping with thought this was expensive, but if you've shopped for handmade pieces before you know this is about $300 below average for a piece like this.
I am obsessed with that organic white bowl with the rectangle in the middle but I couldn't afford it ($200). It's one of those things I'm going to have nightmares about because I wanted it so badly but perhaps someday I can find the person who ends up with it and murder them and steal it back from them. It reminds me of the incredible Calvin Klein Spring/Summer 2014 men's collection which featured these amazing organic vs. graphic cloud shirts/sweatershirts. I also couldn't afford those so I pretty much hate my whole life.
I bought this live-edge bowl for $100, I couldn't resist. The graphic glaze thrills and delights me.
Everyone should use dried weeds to decorate their houses. Forever. All the time.
You can see P Lyn's influences all over her shop. River rocks, twigs, tumbleweeds. All these natural elements provide the basis of her visual vocabulary. I hate myself that I just said "visual vocabulary," but you know what I mean. Right? Guys? Is anyone still reading? WHY AM I WRITING SO MUCH IT'S JUST POTTERY???
Girl, a pomegranate never looked so good!
I wanted this, but I didn't buy it because I would be bankrupt if I did. Another reason why my life is stupid and meaningless.
Literally even the crappy crumpled up used tissue paper in P Lyn's store looked awesome.
Love this rough edge white bowl, accessorized with airplants (which I'm really good at killing, btw).
If you'd like to visit P Lyn Middleton's wonderland, it's located at 928 East Ojai Avenue, Ojai, California 93023. The address is one the door's window, which reflects onto the floor depending what time of day you're there. So you should probably plan on staying there all day long, just so you don't miss anything. Also, when you're there please buy me that white rectangle Calvin Klein bowl.
Love,
Orlando