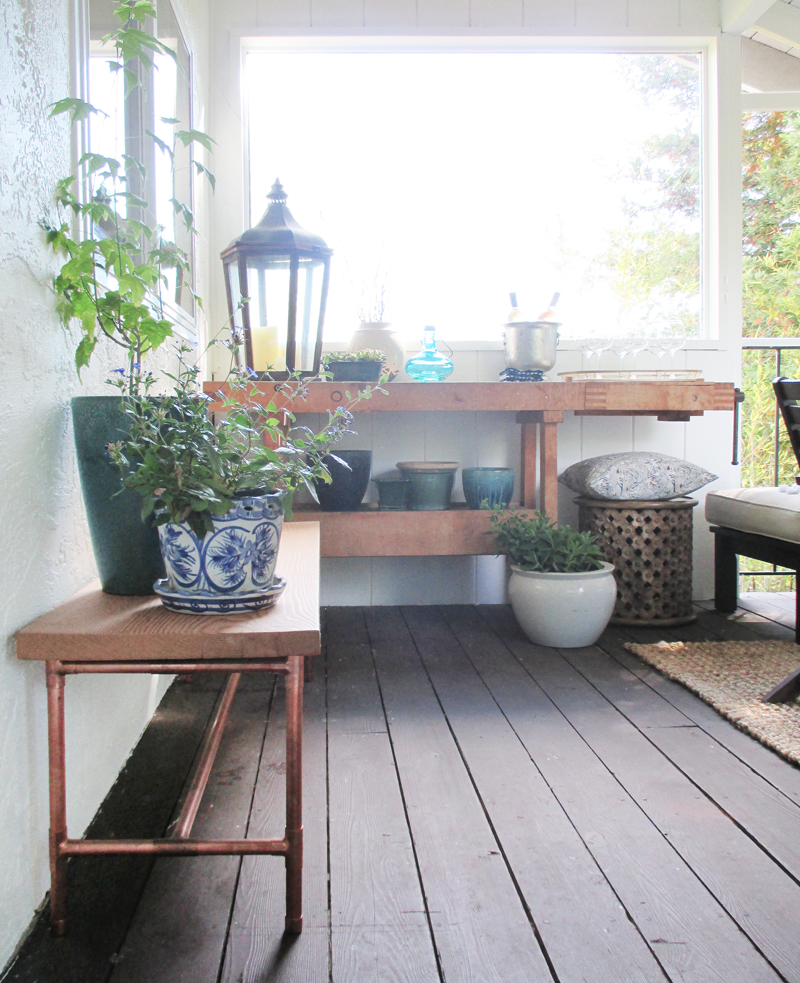 Dear The Cast of Melrose Place (the original one, not the Ashlee Simpson one, which I cannot stop watching now that it's on Netflix because the fashonz are so 90z and amazing),
As you may remember, I entered a design challenge recently and I'm thrilled to announce that I have won and that everyone else is a complete loser. Just kidding I don't know if anyone is actually winning. But if one were to win, I'm hoping it would be me. Or one of the other bloggers who entered the challenge. Or better yet a random person on the street who has never heard of Del Mar, ceiling fans, or Hommemaking. Anyway, let's all remind ourselves of how gross my parents' deck was before the makeover:
The brown paint was all "Hey, I'm depressing. Wanna come be depressed me with? I don't got no Zoloft." It made the space so dark and boring that it fills me anger that anyone ever thought it was a good idea to paint it that color. If time travel existed, I would go back in time and tell that person's mom not to get pregnant, just to avoid this design tragedy, which, in many ways, has ruined my whole life.
But don't worry, I have a long held philosophy when it comes to disaster color situations. Paint it white! I know that sounds boring and safe, but white is the perfect neutral backdrop. I love beautiful, bold uses of color, but sometimes the simplicity of white wins out. It reminds me of being in a glamorous art museum, ogling original Warhols, wanting to steal one and cherish it for the rest of time.
Painting this outdoor space took days and days. Well two actually. I forced my mom to help me do it and it was fun because we did it together and laughed about how terrible we are at not dripping paint all over the place. Aside from painting, the main thing I did to change the space was rearrange it to be a welcoming outdoor dining area. This space sits right outside the kitchen so it's a convenient place to host a dinner party or just to come sit outside and drink a glass of wine (it is Sonoma County after all, home of America's most beloved wines).
I also invested in a lot of cute table top stuff to add color to the space. My mom loves blue just as much as I do so it wasn't difficult figuring out which placemats and napkins to buy.
As you can see, painting that ugly brown corrugated metal roof white is completely life changing and totally solves world hunger and stuff. It really made the space look so much happier which allowed me to forgive the awful person who painted it brown and maybe take back the thing I said about going back in time to make sure he'd never be born. Just kidding I still stand by that. I hate that guy.
My fiddle leaf fig outgrew my living room (it's like 7′ tall now HAY) so I brought it up to use on the deck up here. It'll be much happier here, swinging in the breeze, staring at my parents as they sit on their deck talking about how #blessed they are to have such a dutiful son.
I also added some potted succulents. These are in a pot made by a family friend, the color matching perfectly with our succulent arrangement.
I've never been a huge fan person, but adding this fan (which, full disclosure, was sent by Del Mar Fans as part of this design challenge) really made the space feel breezy and vacationy.
I added as many pillows and throws as possible to make the space feel loungey and glamorous. You might recognize the waves pillow on the left. My mom made these and I have a few in my apartment. They are a hand-dyed Japanese fabric and I love them completely and with all my heart and sometimes I make out with them when my boyfriend is out of town and/or not looking.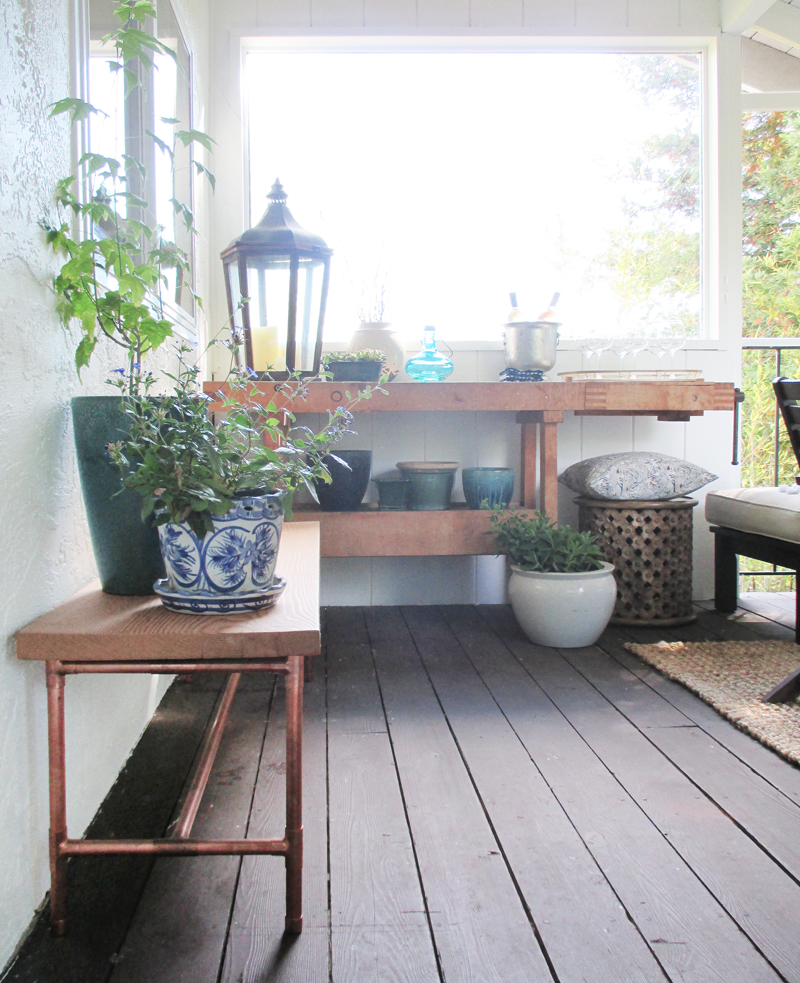 My mother made this workbench in a woodworking class like 30 years ago and it was just sitting in the garage feeling lonely and sad and neglected. She also made this awesome pipe bench. As you might imagine I get most of my craftymakingstuff skills from my mother, who is literally most talented builder/fabricator/sewer/maker I know.
So there we go. That's the makeover. I'm pretty happy with how it turned out and can't wait to go back up there to hang out (sometimes I wish LA were in Northern California so I could get up there more often). I'll sit out on that deck, fantasize about the future, and think about how happy I am that the deck is no longer the color of depressing mud.
Love,
Orlando
RESOURCES
Dining Table and Chairs from Pottery Barn (no longer available), Chesapeake Sectional Sofa from Pottery Barn, Jute Rug from World Market, Recycled Wood Hurricane from World Market, Blue Placemats and Napkins from World Market, Natural Fiber Table Runner from World Market, Tribal Carved Accent Stool from World Market, Chunky Throw from West Elm, Blue & White Floral Pillow from Pottery Barn, Rhodes Blue Diamond Pillow from Ninespace, Large-Scale Lantern from Pottery Barn, Blue Garden Stool from One Kings Lane, Kichler White Ceiling Fan from Del Mar Fans.
From my mother's vintage collection: Safari Napkin Rings, Pewter Water Pitcher, Japanese Appetizer Dishes, Planters.
Handmade by my mother: Martha Stewart DIY Pipe Bench, Work Table, Waves Pillow.
This post was done in collaboration with Del Mar Fans, who furnished the fan and subsidized a portion of the outdoor furnishings. I received no compensation for this post and the opinions expressed are my own and genuine.