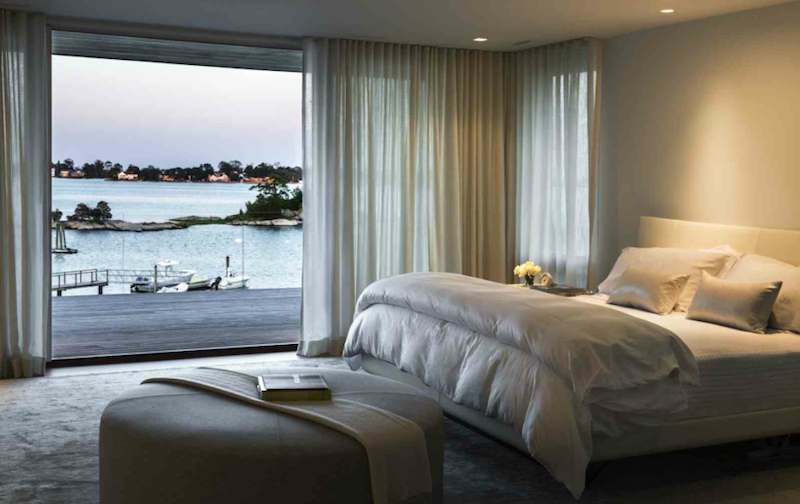 Photographs Courtesy Joeb Moore & Partners
Dear College Diary,
I took a class called Desire senior year in which one of my favorite professors taught us about the culture history of human desire. My friend Matt and I used to sit in the back and spend the whole class figuring out our post-collegiate lives. Like all the people I went to school with, we were planning on moving to New York ("The next trendy place to move is going to be Roosevelt Island!"). Our plans for our lives involved living in New York for 20 years, finding husbands, then moving to Connecticut and buying babies. For this reason, I've always had a soft spot in my heart for Connecticut. It's glamorous in such an old-school, unattainable, alienating way.
I recently discovered the work of architecture/interior design firm Joeb Moore & Partners and I'm totally enthralled with everything they do. My very favorite project they've completed is the Harbor Residence. It's on the coast of the Long Island Sound in Connecticut Cove. The home is modern and streamlined without feeling cold and terrifying. I messed up the New York part of my life plan, but perhaps there's still time for me to move to Connecticut if someone buys me this house (and some children)…
I love the Japanese-inspired wood cladding on parts of the house. I don't normally go for that but it's so streamlined and it lets in the perfect amount of light/beauty.
And I love the big heavy front door and the romantic little pathway that leads to it.
Inside, the house is white, gleaming, and art-filled. It looks kind of like an art museum. And it's pretty much my dream to live inside an art museum.
Those views of Long Island Sound are crazy, right? Like how happy would you be to wake up and ogle all that waterfront glamour?
I love those modern stools. And how everything is white. And that glamourous chandelier.
I also love that whoever styled this shoot put tropical fronds all over the place. Gives this Northeastern house a bit of tropical flavor.
If you can look at this photo without dying you're probably and alien. Like that is the prettiest bedroom I have ever seen in my life. Imagine all the contemplating you'd do whilst looking out that window, appreciating your beautiful life.
The crazy infinity pool isn't bad, either. I always feel weird about East Coast pools, since they are frozen ponds for 6 months out of the year, but this one certainly is huge and pretty. Gimme!
Love,
Orlando