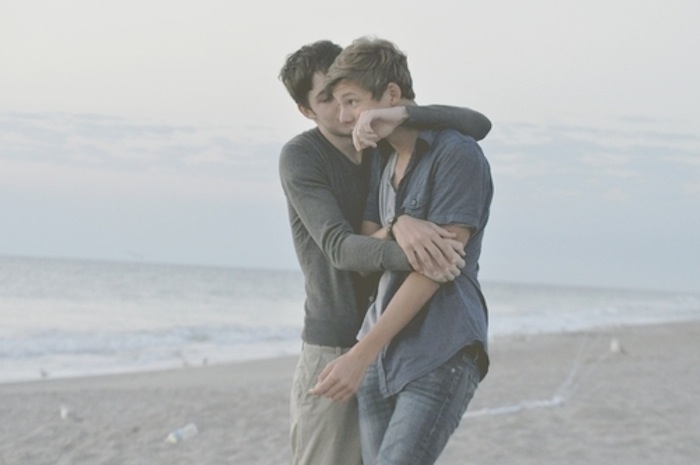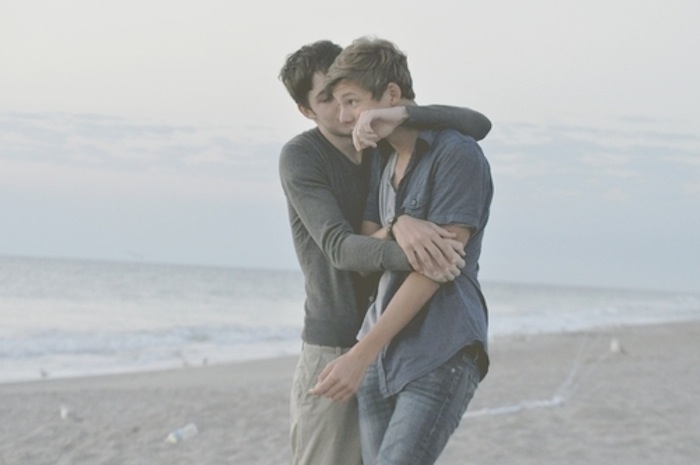 Dear Gays,
I've noticed a trend amongst my friends. Not necessarily a new trend, but one that is growing nonetheless. A lot of people are meeting new guys, new love interests, new hookups on hookup apps. It's not like the old days when you had to put on a decent outfit, go to a bar, and use your in-person social skills to make a connection. Now you can just go on Grindr, shop for a guy, and hookup with the best one you can get. It's a confusing world, because the more available everything becomes, the less satisfying every interaction becomes. I have no problem with people (safely) exploring their sexuality with strangers from the internet or mobile apps. What troubles me is the disconnect I see in the Gays I know – a strong desire for love and companionship combined with an emotional/sexual ADD. What is going on with us? Why did every single gay couple I know break up last year? Why does it seem like all the Gay guys I know are struggling to find romantic success when there are so many readily available, quality guys around? I have a few ideas…
The Grindrizing of, Like, Everything
About four years ago, a long time before I met my last boyfriend, I had Grindr installed on my phone. I met one dude on it, we hooked up, and then he never spoke to me again. He was super cute. Super smart. Had a sexy profession (architect). I really liked him. I wanted to date him. I contacted him a few times afterward, but never heard back and took the hint and moved on. Being the most overly sensitive homosexual in the world, was a little hurt by it. Not like crazy hurt, but hurt enough to be like "I'm never doing that again!" Clearly, I was on the wrong app. Like it's kind of ridiculous to expect someone you meet on Grindr to be looking for his husband, it's a sex app.
A few months ago, at the behest of my friends and family who were tired of my lovelorn post-breakup wallowing, I joined OKCupid. The site was described by one of my friends as "the only legit dating site." OKCupid supposedly attracts the type of Gay that wants a long-term relationship. So you'd imagine my shock and horror when the first person to message me on the site was THE SAME DUDE WHO STOOD ME UP FROM GRINDR. What?!? Right? What was even better is that he didn't even remember me, meaning that he had hooked up with so many dudes on Grindr that they all kind of blended together, creating one big bland boy soup.
I did what any self-respecting Gay would do. I told him that my name was Logan and that I was a street artist from Palos Verdes who came from a wealthy British family that owned the majority of stock in Virgin Galactic. We chatted for weeks without him remembering who I was. Until I met him at a party downtown and he asked for my number and "Orlando" came up when he entered it. It was my little way of passive aggressively messing with him for hurting my feelings three years ago. And it felt awesome. Yes, I am a crazy person.
For me, the most troublesome part of Grindr has always been its proximity to commerce. In the Grindr economy, your body is your currency. You use the app to shop the catalogue of headless, shirtless torsos, to find one that you can afford (meaning someone who is at a similar fitness level). For someone like me with notorious body issues, this clearly presents a problem. But there's also something kind of gross about it. Like emotionless and clinical. Totally the antithesis of romantic.
I realized from that experience that I was too sensitive to deal with apps like Grindr. I know that if I used them enough, I'd desensitize myself to the rejection. Which sounds like a good thing but I like sensitivity. It helps you feel life. I like not being the kind of callous jerk that would sleep with someone then never talk to him again. But there's something perhaps even worse than being desensitized to rejection is being desensitized to the excitement of sex. If sex is so easy to procure, has it lost some of its luster? Isn't the excitement of sex that it's kind of rare, that it's kind of a secret? Maybe I have a closet fetish or something…
Trading Pics
Another aspect of the selfie/me/me/me culture we live in is the readiness at which prospective dates send you, often unsolicited, totally explicit pictures of themselves. I have mixed feelings about this. I mean, who doesn't want hot naked pictures of guys sent to your phone that you can look at from the comfort of your own home, procured with with zero effort? But getting dick pics is, perhaps, the least romantic thing that can happen to you. Also, it leaves no excitement for when you, like, actually hookup. It's the opposite of mysterious. And mystery is sexy.
When I told one of my younger, more gay-app savvy friends that I was writing this post, he was like "Um, this is way old news." Which I suppose is true, but think about the fact that I've been off the market, in a relationship, for a few years. Two years ago people weren't really using Scruff. It was just Grindr, Adam4Adam, and Manhunt. Now it seems like there's a gay hookup app for every single Gay subculture.  The last few years have seen a huge uptick in the ubiquity of Gay-sex-right-now apps. They went from novelty to necessity in the past two years.
Gays, and people in general, have and always will hookup. Meet people at parties, go home with them, and do stuff. (Sidenote: Have you ever been to a straight party before? They're crazy. I once saw some Straights having sex outside, in the middle of the party. It was insane). But it seems now it is increasingly more convenient, because of the advent of systems like Grindr and Tinder to hook up with randos that you're never going to see again. Perhaps I have particularly slutty friends, but the number of them on these apps, the number of them using them regularly, puts me in the minority of uptight dorks who do not use them.
I haven't abstained from using them because I think they're morally wrong. I am all for people enjoying their bodies, expressing their sexuality, being free, having as much sex as is humanly possible. I abstain mostly because I don't want what they're selling. I have little interest in hooking up with strangers because that feels weird to me. Perhaps because I lack emotional security and am a late bloomer. And because I enjoy how awesome it feels to have sex with someone you actually love. It's an experience that can't be replicated through casual random sex, at least not for me. For those of you who have the intellectual detachment to do that, I salute you. I'm too much of a baby for all that.
I have more than a few qualms with gay hookup apps/sites. Mainly that they fill one void while neglecting another. While they satisfy sexual needs, they leave us blank on the emotional ones. And, I'd argue they actually make us a little more callous towards one another, more rapidly judgmental about each other's physical appearance. In real life, if someone approaches you and expresses interest, you have to use some tact to say no. Online, all you have to do is block them, or say something rude and dismissive. Or say something racist (anyone who has seen Grindr knows what I'm talking about). Men become totally disposable. If one doesn't work out you can just move onto the next one. It seems like a rather meaningless way of going about searching for intimacy.
Intimacy
Intimacy. That is kind of the crux of the conversation. There is something inherently intimate about sex. By definition, it's impossible to detach sex from intimacy. In fact, "intimacy" is listed as a synonym for "sex." This gets a little deep into semantics, but I think it's important. It makes sense that sex, because of physical proximity and the nature of the act itself, is an inherently intimate experience.
But "intimacy" is also strongly associated with "love." Of course sex can be intimate without connoting love, but how intimate? Are we missing out on some deeper form of connection by allowing ourselves to have less intimate, less love-oriented sex? Does having tons of sex make up for this loss of intimacy? This I'm asking as a genuine question. Is sex without love meaningless? And if not, why does it feel so empty to have sex with someone you don't love? Or am I a huge puritanical freak for thinking that it feels empty? Have I been so culturally brainwashed that I no longer distinguish what is natural human behavior?
I have refrained from downloading any of these apps, so all my anecdotes come from observing my friends and their approach to their sex lives as well as my limited past Grindr-ing. A rash of strangely-timed breakups last year left me and many of my committed friends single (Side note: If you live in the metropolitan Los Angeles or New York regions, are Gay, and have a boyfriend, lock him in a cage until further notice. You will thank me later). My concern is not that these apps are turning everyone into sluts. Sluts are great. My concern is for the emotional well-being of our community. I notice the same friends that use these apps feeling down and lonely, frustrated that they are not finding lasting relationships.
And yes I know how troublesome a statement that is. Describing promiscuous Gays as sad and alone has a long history of homophobia and heterosexism attached to it. For me it's not about how many guys these apps allow you to hook up with and the ease at which it happens. It's more about how flippant it is. How little our culture in general talks about love and intimacy. How often we talk about sex and hookups instead. And this isn't just a Gay thing. Watch any episode of New Girl and you'll see countless hookup references.
There's An App for Everything. Except, Like, Actual Romance.
Basically what I'm saying is that I think everyone should be thoughtful about how they approach using technology to find sex, love, romance, intimacy, or all of the above. My biggest pet peeve are guys who run around whining about how no one in the Gay community wants a long term relationship and yet those same whiners are on Grindr all the time, trading pics. Yes, I know you can meet guys to date on Grindr. In fact, two of my favorite readers, a couple that have been together for a few years, met that way. But I don't think that generally speaking, the app fosters a community of guys looking for true love and companionship. They're looking for sex. If you want to date, look elsewhere. Maybe even the old fashioned way, meeting someone at a party, like, in real life. Which is annoying because you have to leave your house and stuff, but that's good exercise anyway.
Finally, I recognize that I am totally hypocritical here. Some people reading this are going to think I am a Gay whore because I hooked up with a stranger from Grindr. Some people reading this are going to think I am totally puritanical and uptight and super boring. You have to keep to what you're comfortable with, and don't feel like you have to keep up with what everyone else is or is not doing. If you're seeking intimacy, go about it in a tactful way. Don't be like "here's a picture of my genitals, let's meet up!" It's been my experience that you kind of have to become the type of guy you're looking for in order to attract that guy. Meaning if you're looking for someone who is really interested in creating an actual romantic bond, you have to shut off your boy ADD and really be open to pursuing a relationship, regardless of the fact that there is an endless stream of hot guys out there to hook up with.
But have Gay hookup apps destroyed Gay romance? A lot of people I interviewed about this subject said they thought Gay romance never existed. That due to our history of being ostracized by the mainstream we've never really developed a sense of open, positive love affairs. Instead, we've sought out sex in bars or other areas we knew we could find men interested in men, and those spaces function much the same way that these apps function, allowing us to efficiently get off and avoid actual emotional connections.
This kind of means we are at a cultural crossroads. For the first time ever we are feeling enough acceptance to move on from just having the freedom to have sex to actually having the freedom to ask for emotional fulfillment. As men, this is far more difficult a matter to discuss. Talking about sex makes you sound virile and cool, talking about the need for love and emotional satisfaction has been something traditionally associated with women. Which is in and of itself problematic, considering all the sexism and gender stereotyping that arises when you say love and emotional fulfillment are for women only.
I think it is time that we acknowledge our own need for love. These apps (Grindr, Tinder, Scruff, etc) are not helping us move forward. They are allowing us to passively seek out sexual encounters, brush each other aside, and create an environment in which partners seems disposable, replaceable. I think it's time we asked for more of ourselves and of each other.
If you want to find love, if you truly want romance, like John Cusack holding up a boom box romance, don't go looking to a sex app to find it.
Love,
Orlando
PS: Since I began writing this post (which took me some time because it's a very confusing topic), I joined Tinder. I haven't met anyone from it but I have used it to kill time while stuck in traffic…
Images Via: Cute Gay Couples [Except the one from James Franco's Instagram]