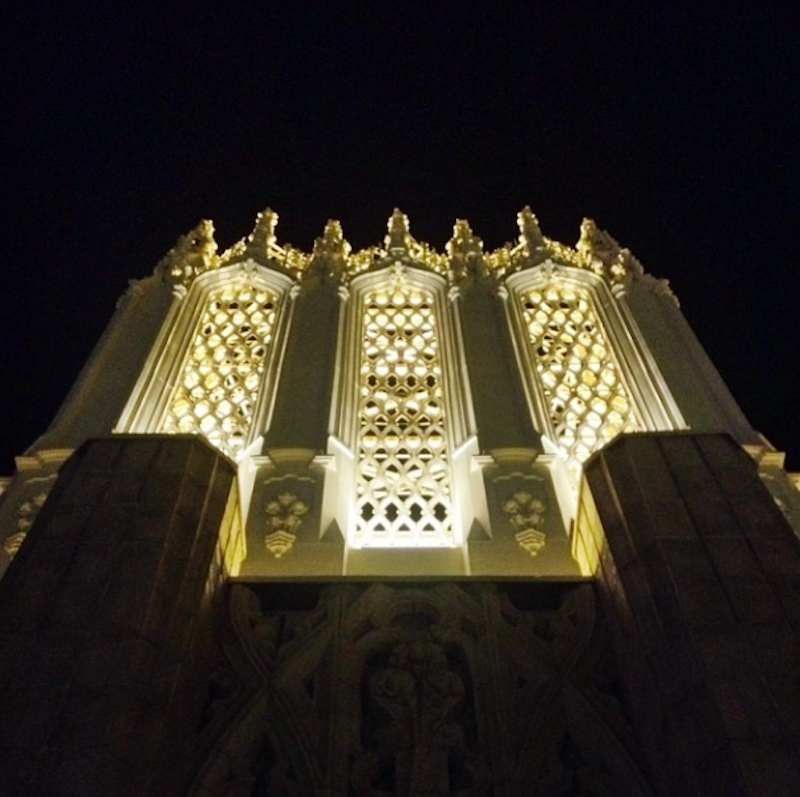 Dear Diary,
It's been a crazy few weeks. Well it's basically been nuts since I joined Homepolish in December. Like good crazy. Working seven days a week loving what I'm doing crazy. I hired an intern to help me do blog stuff, which is exciting. He's a totally awesome, insanely talented photographer named Sean who I'm really happy to have found (I'll be featuring his work next week, excited to share it with you). Everything in my life has been art and design lately, and that's really exciting.
I finished a giant painting based on a paint-by-numbers seascape and hung it over my bed. Even though I live in California, I have this fantasy about living in California. It's weird, I think it has something to do with living away for so long. So I love anything coastal.
This gold metallic Japanese screen had been hanging above my bed, but now that I moved the giant painting in there, the screen was homeless. So I brought it into my dining room to be friends with my Lindsay Adelman chandelier. So far they're getting along great.
Speaking of coastal, my beach house project in Venice is going extremely well. The style of the whole project is modern and minimal, which normally not my thing but I love it so much I want to totally redo my apartment to be modern and minimal now. I snagged this mid-century inspired side table from West Elm and kind of want to make out with it.
The view from the beach house. Revolting, right?
I went to a HelloLA party thrown by the editors of Hello Mr, a new publication for men who date men that is my new favorite magazine. It's nice to finally have a magazine for gay dudes that isn't cheesy and gross and full of steroid weirdos. The party was at the new Ace Hotel downtown, which is kind of like a cramped remix of the Palm Springs location, minus the large STD pool deck in they have in the desert.
A spread from Issue 2 of Hello Mr. It's such a beautifully done magazine.
I went to the LA Art Contemporary at the Hangar in Santa Monica, which was totally amazing and fun and inspiring. Just lots of great galleries from around the world in one space, showing the best contemporary art. I'll be doing a full write up on in it in the next few weeks.
This piece is by Jung Lee. I feel like it came out of my brain.
A David Shrigley piece The Thing Quarterly put out and had on sale at the LA Art Book Fair.
A stupid/amazing t-shirt LA Art Book Fair.  I hate my body, so I had to have it.
This zine I snatched at the LA Art Book Fair needs no further explanation.
I went to the most ridiculous Super Bowl party ever. Well since last year's ridiculous Super Bowl party. It was at the same glamourhouse that I wrote this iconic post about.
The hosts of the Super Bowl party, who, concidentally both look like He-Man, are super sweet. You'd be super sweet too if this was what you woke up to every day…
I was walking down the street near Commissary Coffee the other day when I noticed these disgustingly beautiful flowers. People always talk about how ugly this city is. And honestly they're probably right. If you're looking for the ugly you will definitely find it in our nasty strip malls and dead-tree sidewalks. But if you fixate on those things that are beautiful, you can have a pretty gorgeous experience of this city.
My week ended back at the beach house, where I spent a few days primping for my clients first night's stay. The only thing missing now are a few chandeliers and his art collection, which is totally crazy and amazing.
Um, speaking of incredible art, these Sandra Chervier collages (on the wall) are just lovely.
Finally, I had Sean take this awkward picture of me on the beach to tell everyone to go to the Hello Love party Hello Mr is throwing in New York. I'd totally be there if I was in town…
All in all, a crazy good week. Everything is happening at the exact same time, and I am thankful.
Love,
Orlando