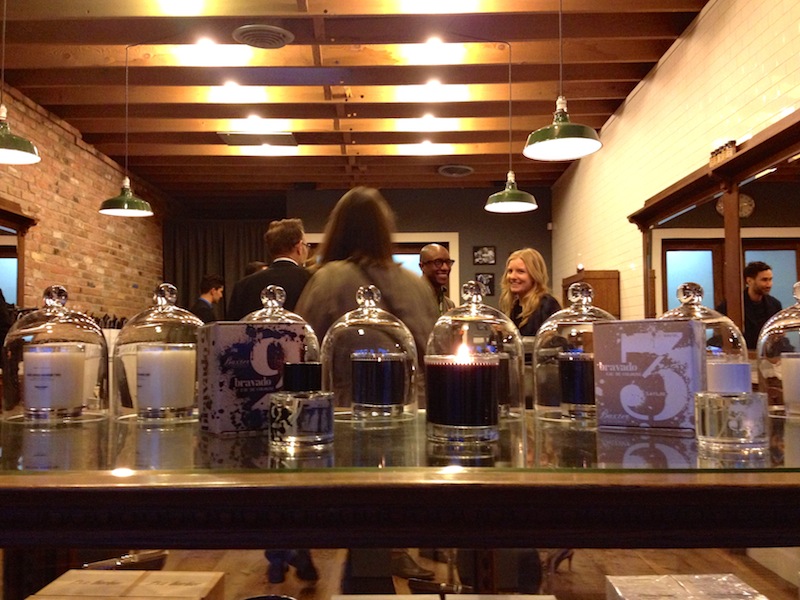 Dear Baxter of California,
I attended the Vanity Fair/Baxter of California Oscar party last night and had a great time acting like the weirdo from American Beauty who goes around taking video of everything. Do you ever go to a party where you don't know anyone, thinking to yourself that it's a great way to meet new people? And then you get there and you're the only one alone and it makes you realize you should have brought someone? So then you just awkwardly wander around taking pictures whilst eating (delicious) mini-hamburgers? Yeah, that's pretty much what I did.
I've been a fan of Baxter since I started going to their Barber shop a few years ago. I've always loved the aesthetic and design of the place, but I recently came across their genius style bible for men, 50 Style Thoughts. Basically it's a list of style rules every guy should live by. Read it, learn it, live it.
Baxter of California's flagship barber shop is on La Cienega and feels magically old-school and modern at the same time. Like the barber shop I currently frequent, Baxter feels old-timey without feeling hate-crimey. You know what I mean? Sometimes barber shops are super cute and old school but the barber starts talking and you get the feeling there's some weird white supremacy/homophobia thing going on there so you avoid them and go to the fancy salon instead, even though fancy salons don't specialize in mens' cuts like barber shops do. Baxter has that old school vibe while seeming modern, hip, and Gay-friendly, so no one feels excluded (except people with long hair, they don't cut longer hairstyles there).
The party was a smashing success, super crowded at all times despite the rain. Which if you've ever lived in Los Angeles you know is a miracle. Because rain is technically considered a natural disaster here, causing schools to shut and people to cower inside, tears streaming down their quivering cheeks.
No barber shop is complete without that spiral barber shop sign thing.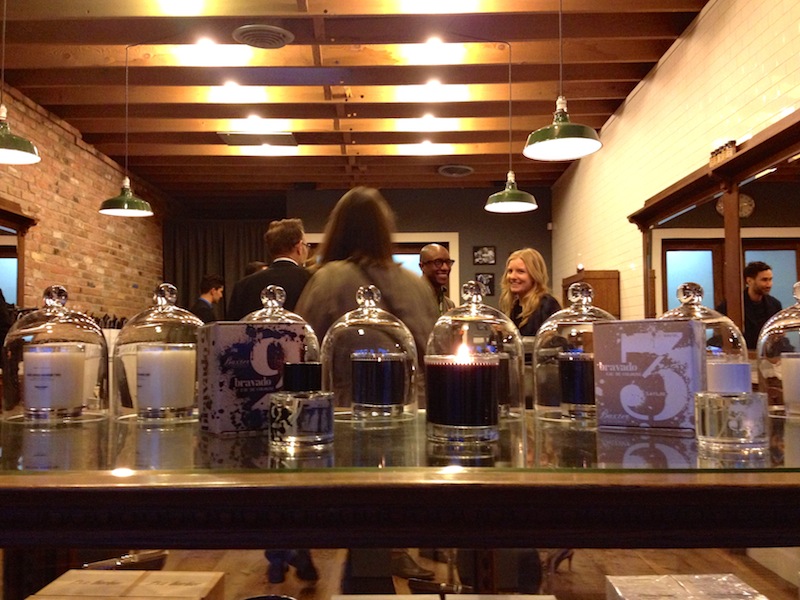 Baxter also has a line of candles, which feature masculine scents like "cedar wood" and "California citrus."
No great party is complete without a gift bag.
Baxter Finley Barber and Shop is a great place to pick up all the company's products, many of which I live for. The following are part of my daily regimen:
Daily Moisturizing Conditioner, $15
Daily Face Wash, $15
Because the whole line is designed specifically for men, Baxter allows you to have fun with bath products without feeling like you raided your sisters makeup bag to find her Oil of Olay (not that there's anything wrong with that, Olay is a classic).
I don't quite understand the point of using these brushes to put shaving cream on your face (do you have incompetent fingers?) but they sure are adorable.
I love these portraits hanging in the shop.
Their pen, reading "I stole this cheap pen from Baxter Finley Barber & Shop," is not bad either.
Every night, my boyfriend and I go back and forth about animal heads, taxidermy, and zebra rugs. He's always been fascinated by nature and animals and loves the idea of hanging a corpse head on the wall. I grew up in the middle of Yosemite National Park and used to be a vegan. My childhood best friend is now a wildlife biologist in Yosemite who spends her days saving bears and other wildlife, so my desired to have a bearskin rug is pretty low. I understand this taxidermy trend but I'm torn. So I'm resigned to letting my boyfriend get his animal head, but I will probably apologize to it on a daily basis.
My favorite Baxter product, described on this "realistic" fake newspaper, is their Clay Pomade. It's the only product that doesn't immediately turn into oil the second I put it on my head. Instead, it stays matte and holds my 90s anime hair in place. Thus, I keep it on me at all times.
Clay Pomade, $18
I don't understand how this cactus survives, it's nowhere near a window. It's kind of infuriating because my cactus is sitting directly in a window and it still screams "I'm thirsty!" at me every morning as I'm trying to run out the door to work.
Despite the fact that it caused me to act like a loner photographer weirdo (which I guess is no different than how I normally act), the Baxter/Vanity Fair party was a great time. It re-energized my enthusiasm for their delightful products while transporting me to a simpler time when barber shops threw star-studded Oscar parties sponsored by glamorous fashion magazines. That happened, right?
Love,
Orlando