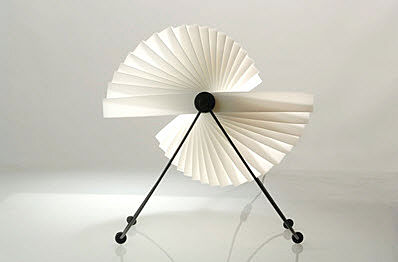 Dear Diary,
In about a month, I'll be moving into a (yet to be found) apartment and the one thing I'm most concerned with is light. I like my apartment to be super bright at all times. Having too many lights on makes me feel cozy and protected. And like I'm slowly killing the earth (sorrlz). For the sake of the environment, I use compact fluorescents whenever possible (Ikea has great ones, by the way. They have a warm tone unlike most of the depressing, pore-accentuating bluetone ones on the market). I like lamps that have something to say. Something like "Hello Orlando, welcome home! If you were responsible enough to have a dog, he would greet you at the door and love you unconditionally. But instead you have me, a lamp that you bought. And I love you because if you didn't exist no one would ever turn me on and I'd be useless." Here are a few examples of such lamps:
Eclipse Light by Maurício Klabin
I like this light because it was designed in 1982 and it's called the "Eclipse." I was born during a lunar eclipse in 1982. Even if you weren't born during a lunar eclipse in 1982, you can still appreciate the playfulness of this lamp, which has a shade that can be molded into a number of different fun configurations.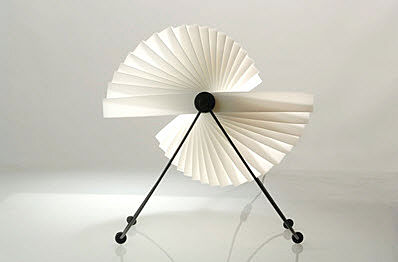 Diesel Fork Table Light from The Conran Shop
This lamp is ridiculously expensive ($747) but I like it anyway.
Crane Desk Lamp from CB2
I don't know when the public is going to start an uprising against this "Grellow" color from CB2 but it's kind of everywhere. I find the color really appealing and fun for now, but wonder if it's going to look barfy in a few years. It's a fun way to add a color pop to a room, and at the end of the day it's just a little lamp, not a giant sofa, so it's no biggie if you hate the color by 2014. All that being said, the shape of the lamp is utterly pleasing and classic.
Isamu Noguchi Table Lamp [Model 1N] from the Noguchi Museum Store
My mom went to the Noguchi Museum (in Queens) a few years ago and came back with all these crazy adorable Noguchi lamps. Because there are so many out there, paper lamps can look super cheezeballz, so it's nice to see them nicely designed and manufactured.
Alan Table Light by 7Gods
This lamp is kinda crazy and I'm not sure I'd ever have it in my own place, but it's very beautiful. I'm trying to envision where it would make sense, maybe some kind of 80s Regency, all white/glass/mirror house in the Hollywood Hills? Whatever I still like it. Sorry.
Okay, so go buy all these lamps now and illuminate your life.
Love,
Orlando