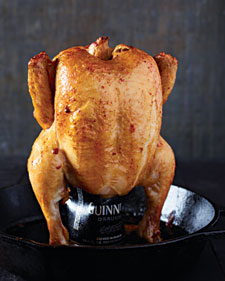 Dear Foodlez (like a Foodie, but a Food-Poodle instead because I don't like the word "Foodie"),
Did you know you can stick a can of beer inside a chicken and then bake it? I thought it was common knowledge but I found out recently that some people hadn't heard of it so I thought I'd bring it to your attention. Apparently roasting a chicken with a beer inserted in it makes for a tender, tangy meal. I've never actually done this before, but my handsome friend Matthew Lanphier did the other night and I must say it was totally delicious. You can get the recipe from Martha and make this delicious treat for the worthiest of your friends. The recipe Matthew chose had a delicious Fig-Jam Pan Sauce. We paired it with baked sweet potato fries and a simple salad and the meal was great.
Chicken
Beer-Can Roasted Chicken with Fig-Jam Pan Sauce Recipe
Baked Sweet Potato Fries
Baked sweet potatoes are actually relatively healthy, and totally delicious. I used more pepper than my fellow diners would have liked, but I am a total fiend for fresh ground pepper and I loved how spicey and fresh the fries tasted. The moral of the story is that you need to  know your audience, so don't over-pepper if you are feeding a bunch of weaklings. For the sweet potato fries, I use a simple recipe taught to me by my mother, Catherine Marian Soria, who happens to be the best mother in the whole universe. Here's the recipe:
1. Preheat oven to 400 degrees.
2. Peel and cut your sweet potatoes into fry-sized slices.
3. In a large bowl, drizzle potatoes with olive oil until they are evenly coated (you don't need too much, about two tablespoons per potato).
4. Season with fresh ground pepper and fresh ground sea salt. Rosemary may also be added for a special kick!
5. Bake until ends are brown and crispy, 15-30 minutes depending on thickness.
Simple Salad
This one is simple. Buy a salad mix from Trader Joe's or Whole Foods and toss lightly with:
Once you try this dressing you will never want to use anything else. It's the best salad dressing in the whole entire world. No joke.
Happy dinner partying!
Love,
Orlando