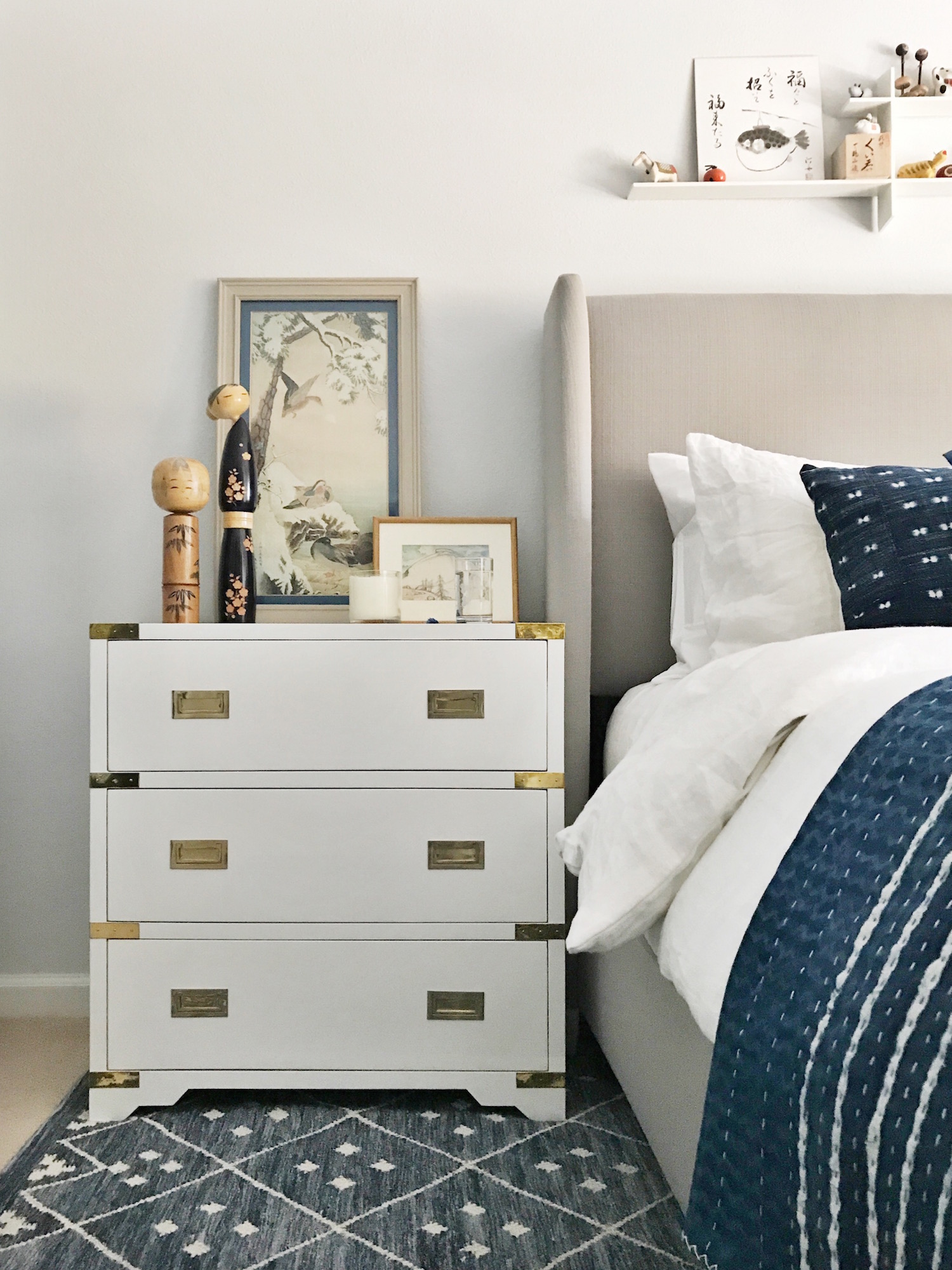 Photographs by Zeke Ruelas & Tessa Neustadt
Dear Makeover Diary,
Firstly, let's discuss the fact that I've named my parents' house Casa Soria. I did this for a few reasons. Firstly, I love naming things (Orcondo, Châteaulando, orMOMdo, orlanDAD, etc). Second, I'm working on a fair amount of projects there (kitchen, sitting room, family room, foyer, and so on) so I thought it would just be easier if it had a name. Casa Soria is where my family tends to get together. I'm making it nice because I think after working hard their whole lives and saving forever so they could send us to school and help us out, my parents deserve the most beautiful house on earth.
When my parents moved into Casa Soria five years ago, I looked at it and wondered what style it was. It was built in 1977 and is unquestionably contemporary. But it was flipped by people who filled it with traditional ornamentation (moulding, light fixtures, etc). We've been working to edit out some of the bad choices made by the flippers and also renovating the kitchen, so the house has seen a lot of action this year.
The home has four bedrooms, three of which are guest bedrooms. orlanDAD uses one as an office and my mom has pretty much decorated another one, so I decided to start my makeover journey with the one most frequently used by guests. We call this room "The Japanese Room" because it's filled with my mother's collection of Japanese antiques she collected while living there as a child and also has gathered over years of being a lover of Japanese art and culture. Not only did orMOMdo spend her childhood in Japan, she also spent years as an adult living there through a Fulbright program (orMOMdo is smart you guys).
My goal with the guest bedroom was to keep the vibe bright and cozy while making it the perfect backdrop for my mom's collection of pretty antique art and objects. orMOMdo had already done a little bit of decorating in there (I'll show you pics in a minute) but the overall vibe felt a little too thrown together and not quite polished enough. I also wanted to add some storage for guests, because there was nowhere to unpack and every time I stayed there my suitcase basically exploded all over the floor.
I took inspiration from past bedrooms I've designed, including the above beach house. The guest bedroom gets a fair amount of light, so the goal is to just let it be bright and happy.
I've been thinking back to my old apartment in Hollywood Hills West quite a bit. Like everywhere I lived that place was an experimentation lab that allowed me to try out design ideas. orMOMdo already painted the walls in the bedroom grey, so I knew I'd be creating a design that worked with that neutral palette.
Now onto what the space looked like before we got started. There was a lot of good elements in there but the layout felt a little cramped and it bothered me that there was no bed frame. The older I've gotten the more insistent I get about the fact that grown ups should have a bed (not just a mattress on a stand a full bed with a headboard). I lived for years with no headboard, but now a bedroom doesn't feel done to me unless there is a whole bed in there. I don't wanna rest my head on the wall.
One of the glaring issues with the room are these cheap white sliding closet doors that the flippers installed on the closet. There's no getting around the fact that these we the cheapest thing that could possibly have gone in there. Maybe one day my parents will feel like replacing these with a higher quality door (like perhaps after their million dollar kitchen project is long over) but the solution I came up with for beautifying them was to install removable wallpaper from Chasing Paper on them.
This is a progress photo. I installed a Chasing Paper pattern called Rapids which was beautiful but not quite right for the space. I wanted something calming and this pattern had a bit too much movement. So I've already replaced it with another pattern which proved to be much more soothing and appropriate for the space.
The bedrooms in the house are carpeted and I have to say I actually like it. The carpet is a relatively attractive berber carpet in a neutral tone so it just makes the bedrooms cozy and bright. One of the first things my parents did when they moved in was to remove the carpet from the rest of the house (literally the whole house was carpeted, a cheap contractor trick that doesn't wear well over time).
My mom's creaky old tansu is one of my favorite things in the room and most definitely will be staying. She got it from here mother and it sat outside my childhood bedroom in Yosemite, filled with art supplies, dolls, and treasures. It doesn't function super well but its made of unfinished teak which has a warm, matte finish and smells like an old library (in a good way). Sidenote: if you need a tansu (who doesn't?) I found a great place in Berkeley that makes them and ships them nationwide. Check out Eastern Classics for all your Japanese furnishings needs. They're not paying me to say that or anything I just love them because they're a small family-run business that makes great stuff.
I'm editing the layout so the tansu is no longer going at the foot of the bed. It crowds the bed and makes the room feel cramped. Also, total aside, we plan on replacing these hideous doorknobs eventually. I have no idea why someone thought they needed to be so twangy and curly. Just be a doorknob, dude. Why you gotta be a Starbucks light fixture from 1998?
My old apartment's bedroom saw lots of Japanese influence over the years, including two gorgeous screens hung over the bed. I don't have either of these screens anymore, but I'm looking for one to add to my parents' guest bedroom because I love the serenity they bring to a space.
Looking back over my portfolio, you can tell I'm a fan of grey bedrooms. Faint grey is such a perfect color for a bedroom. It's so relaxing and neutral and allows you to add in accent colors in art and accessories. Also, I'm still such a fan of the simulated crown moulding I did in my Hollywood Hills West apartment. It's such a nice way of adding some structure to a room without spending the time and money involved in installing actual crown moulding.
One thing I loved about Orcondo was the beautiful bed Empiric custom designed for us. I loved how cozy and inviting it was. And it was kind of a turning point for me on beige. I was previously very anti-beige but the organic warmth of this bed totally won me over.
orMOMdo has pretty modern/contemporary taste while orlanDAD has pretty traditional taste so I wanted the room (and all the other edits I'm making throughout the home) to reflect a combination of both their styles.
This is one of my favorite bedrooms to date. I tried to keep it as simple as possible while adding in a bit of visual interest with the bedding. This is a good tip for anyone taking on a design challenge: choose a few focal points and let everything else stay simple. You don't want a room full of furnishings all screaming, competing with each other for attention.
One of my favorite finds for the bedroom was the bed. It's a pretty great bargain ($720 from AllModern) and it makes the room feel much more formal and considered. Word to the wise: you have to put this thing together. My parents ignored my lazy advice to hire a handyman and put it together in about an hour. It totally took the room from flab to fab in sixty minutes. It's a substantial bed and makes the room feel cozy and tailored and definitely looks a lot more expensive than it is.
I struggled a bit with what to do about the lighting, but I knew from day one I wanted to get rid of the boob light (the house is FILLED with them and I'm slowly trying to knock them out one by one). It's not easy to find small scale chandeliers but this one from Serena & Lily caught my eye (Also: HELLO, BED PLEASE MARRY ME). orMOMdo installed the chandelier herself and it looks AMAZING. Adds so much warm light to the room and completely changes the feel of the space.
The campaign style bedside dressers I chose are truly a thing of beauty. I got these because while I was staying there last year there was nowhere to put any of my clothes so they were just all over the floor. As soon as my mom saw these she went "Oh great! I can store puzzles and books in there!" I was like NO THESE ARE FOR GUESTS TAKE THAT STUFF TO GOODWILL.
orMOMdo has a pretty extensive collection of Japanese art, but we have a spot (above the beautiful Hedgehouse bench) that needs something so I'm considering these beautiful prints from Williams Sonoma Home. I have had my eyes on these for months and have been looking for a project to put them in. I love their gorgeous large scale and beautiful, soothing color palette. Gimme.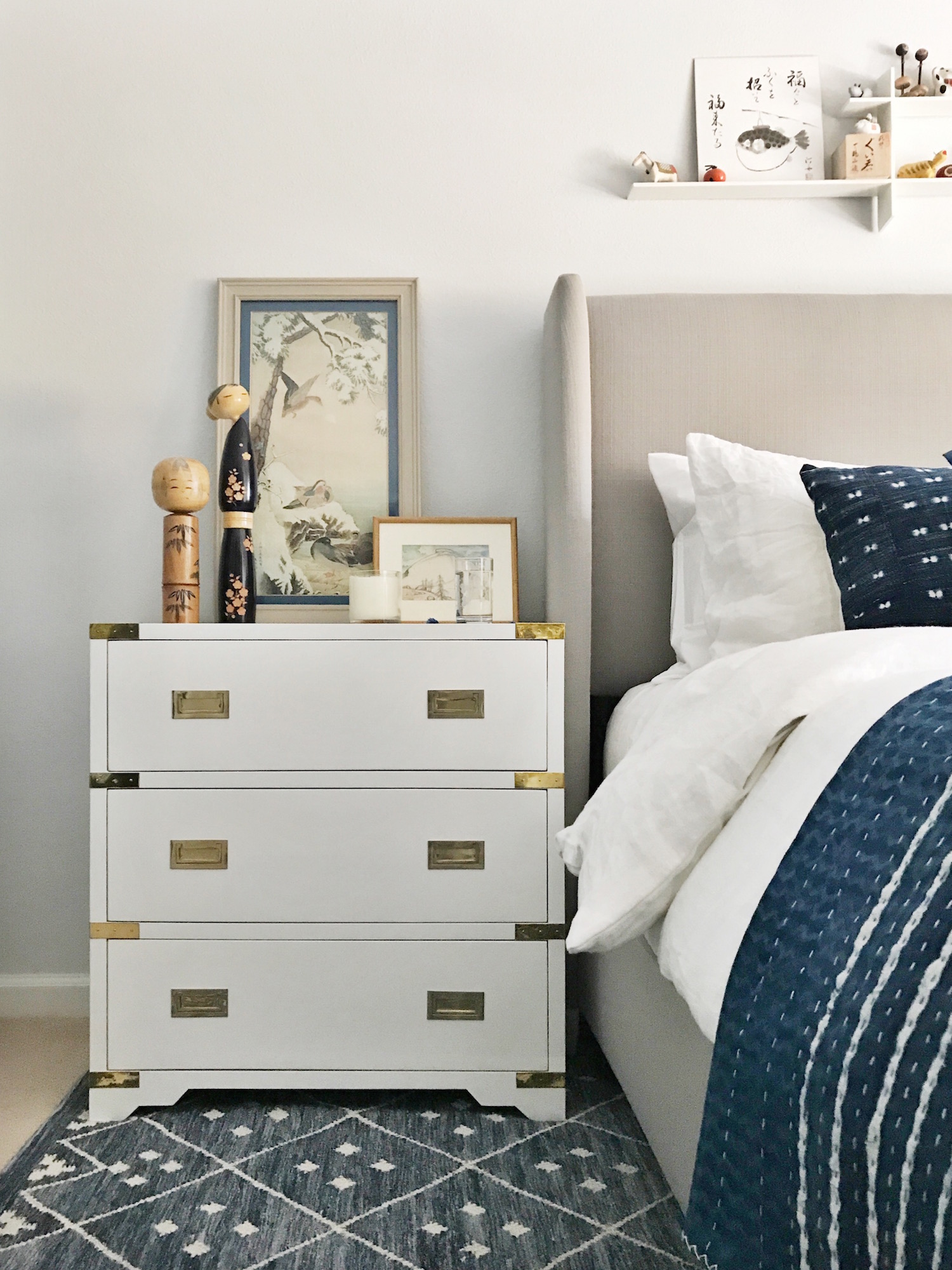 The above sneak peak will tell you the room is actually almost set up at this point. My parents have had multiple guests and they all love the transformation. It went from being kind of thrown together to being beautiful, considered, and comfortable. What started as a simple kitchen renovation project has slowly transformed into a bit of editing all over the house, so Casa Soria is on its way to being a lovely destination where we can all chill out and have TogetherTimez.
Love,
Orlando
1. Tansu (similar to our antique) 2. Japanese-Inspired Print 3. Custom Bench 4. Linen Roman Shade 5. Brass Chandelier 6. Removable Wallpaper 7. Indigo Bedding 8. Table Lamp 9. Bedside Dressers 10. Rug 11. Upholstered Bed
SaveSave
SaveSave
SaveSave
SaveSaveSaveSaveSaveSave
SaveSave
SaveSave
SaveSave
SaveSave
SaveSave
SaveSave
SaveSave
SaveSave
SaveSave
SaveSaveSaveSave
SaveSave
SaveSave
SaveSave
SaveSaveSaveSave
SaveSave
SaveSave