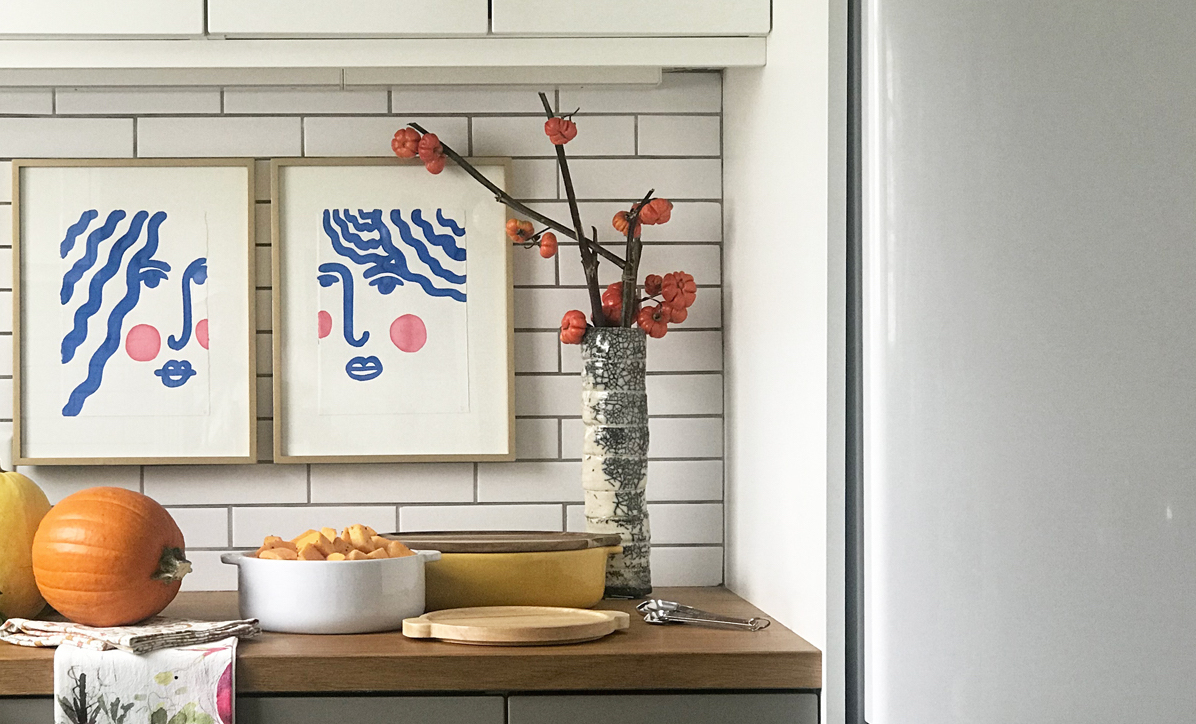 Dear Diary,
This year is the first year in quite a while (since college?) that I'm not doing Thanksgiving with my family. This is for a number of reasons, mainly that we have nowhere to host it. My parents kitchen is aeons away from being finished (due to a series of frustrating delays that have nothing to do with the fire that almost burned their house down), my sister and her wife just had a baby and don't want that many people in their house, and my brother and his wife always spend Thanksgiving with her family so they can do Christmas with us. I guess I could host, but I only have one guest bedroom so there's nowhere to house everyone, and everyone hates coming to LA because it's so stressful and annoying to get around (Also, I'm from Northern California where everyone hates LA).
So this year is going to be more of a Friendsgiving kind of year. I'll be doing Thanksgiving with a group of friends so I was excited to work with World Market to share some of my favorite of their harvest hosting pieces. I've always been a fan of World Market because of their inventory of affordable and unique items from around the world. And anyone who knows me knows I love good serving items. I have a whole closet filled with them. Below are my favorites from World Market's Thanksgiving hosting collection, many of which can be used every day.
Resources: White Casserole Baker, Yellow Casserole Baker, Measuring Spoon Set,  Radish Tea Towel, Hey Sosi Original Paintings, Raku Vase by Me.
The seascape I had in my kitchen recently got destroyed by a coffee maker gone rogue, so I replaced it with these handmade paintings from HeySosi. I love these simple Casserole Bakers, which come in many a fun color. Full disclosure: I tend to love keeping everything simple and white in the kitchen (easiest to see food that way), so all my dishes, mugs, etc are white. I'm more a fan of the simple white version, but I also love the happy yellow color.
These Casserole Bakers solve an issue that most bakeware can't: how to keep food hot while you're serving. Most of the time when I'm serving side dishes I'll put a dinner plate over the serving dish to keep the contents warm. This one you can just stick in the oven, and then take it out once the dish is ready and put the wood lid on. Why don't all serving dishes come with cute wooden lids like this?
Anyone who follows me on Instagram knows I am obsessed with the triple-friendship between Martha Stewart, her righthand man Kevin Sharkey, and their daddy photographer friend Douglas Friedman. I'm also obsessed with looking up recipes on Martha's site, which I did to figure out what to do with this pre-cut butternut squash. Check Martha's favorite recipes for butternut squash here.
Resources: Large Turkey Platter, Grey Stripe Tea Towel, Carving Set, Pumpkin Caserole Baker, Vase by Susanne French, Faucet from Delta Faucet. 
Ormomdo (if you don't know who this is troll through my Insta) told me she needed a big serving platter, big enough for a turkey, so I found this one I plan on sending up to her. I love how simple this one is. I find that often I go out looking for simple servingware and everything I see has unnecessary details all over it. I don't know why this is such a thing. I see it in furniture design as well. People tend to over-design things and add details until the whole thing is a complicated mess. My design mantra (that I scream at clients all the time) is that usually the simplest answer is the better answer. Don't complicate things with flourishes that do nothing but bewilder your eyeballs and stress you out!
Resources: Yellow Casserole Baker, Floral Tea Towel, Marble Paddle Cheese Board, Stainless Steel Roaster, Bertazzoni Range. 
I love Brussels sprouts but hate the way they smell. So when I serve them at my Friendsgiving I will most  definitely be using the wooden lid to keep in that gross smell.
Resources: Stainless Steel Roaster, Radish Tea Towel, Yellow Casserole Baker.
A roasting pan is essential for any host's kitchen, but I didn't have one so I was glad to find this simple stainless steel one. Now I just need to learn how to cook a turkey and I'll be set. I cooked one last year but I already forgot how to do it. I just remember smothering lots of melted butter all over it every two minutes. IS THAT WHAT YOU'RE SUPPOSED TO DO???
Resources: Marble Paddle Cheese Board, Salad Plates, Brass Salad Forks, Maple Leaf Napkins, Birch Candle, Red Wine Glass.
These live "pumpkin" tree branches got a lot of play in my Friendsgiving decor scheme. I knew the second I saw these at the grocery store that they weren't actual pumpkins, but it took a good deal of online sleuthing to verify this. These are actually a variety of eggplant grown to look like pumpkin. So basically your whole life has been a lie.
Resources: Pumpkin Caserole Baker, Olivewood Ladle, Grey Stripe Tea Towel, Glass Lanterns.
I love a harvest pumpkin shape, so I immediately ran over and hugged this pumpkin casserole baker when I saw it. I paired it with that wooden ladle, which reminded me of the type of ladle an old witch would use to try and serve you a poisonous potion (in a good way).
Resources: House Shaped Terrarium, Multicolor Stripe Placemat, Dinner Plate, Salad Plate, Bay Leaf Napkins, Gold Flatware Set, Parchment Leaves,  Red Wine Glass, Water Glass, Turkey Napkin Ring, Birch Candle, Turkey Crackers, Rug.
I went with a casual, eclectic vibe for the dining table. I loved these parchment leaves, so I used them as a base layer. Setting a round table can be a bit more challenging than a rectangular one so having some organic shapes to layer placemats over helps break up their rectangularity.
I decided to use these turkey napkin rings as a tie for bunches of greens I bought at the grocery store. For special occasions, I like to add a bit of decor to the place setting so that it looks amazing during the "sitting around drinking wine and eating cheese" part of the night.
I've been wanting brass silverware for years, so I was stoked to snag these Gold Flatware Sets. The crackers are a bit on the crazy side, but their googley eyes made me laugh so hard I couldn't resist.
My favorite part of the table setting is the House Shaped Terrarium, which I filled with gourds, persimmons, "pumpkin branches," and greenery. I love the minimalist, asymmetrical result.
These Wine Glasses are meant for red wine, but I loved their rounded shape so much I used them for rosé, which is now apparently acceptable to serve year round.
Another view of my amazing art installation Terrarium. I love it so much I'll probably keep it too long until the whole thing turns into toxic mold and I scream "WHAT'S THAT SMELL?!?" every time I walk into the room.
So there you go. An eclectic collection of harvesty housewares to make your Thanksgiving better than everyone else's. Now go out and buy all of this and have the best Thanksgiving ever. Or, if your family has abandoned you like mine has, have the best Friendsgiving ever!
Okay bye.
Orlando
This post was created in collaboration with World Market.
SaveSave
SaveSave
SaveSave
SaveSave
SaveSaveSaveSave
SaveSave
SaveSave
SaveSave
SaveSave
SaveSave
SaveSave
SaveSave
SaveSave
SaveSave
SaveSave
SaveSave
SaveSave
SaveSave
SaveSave