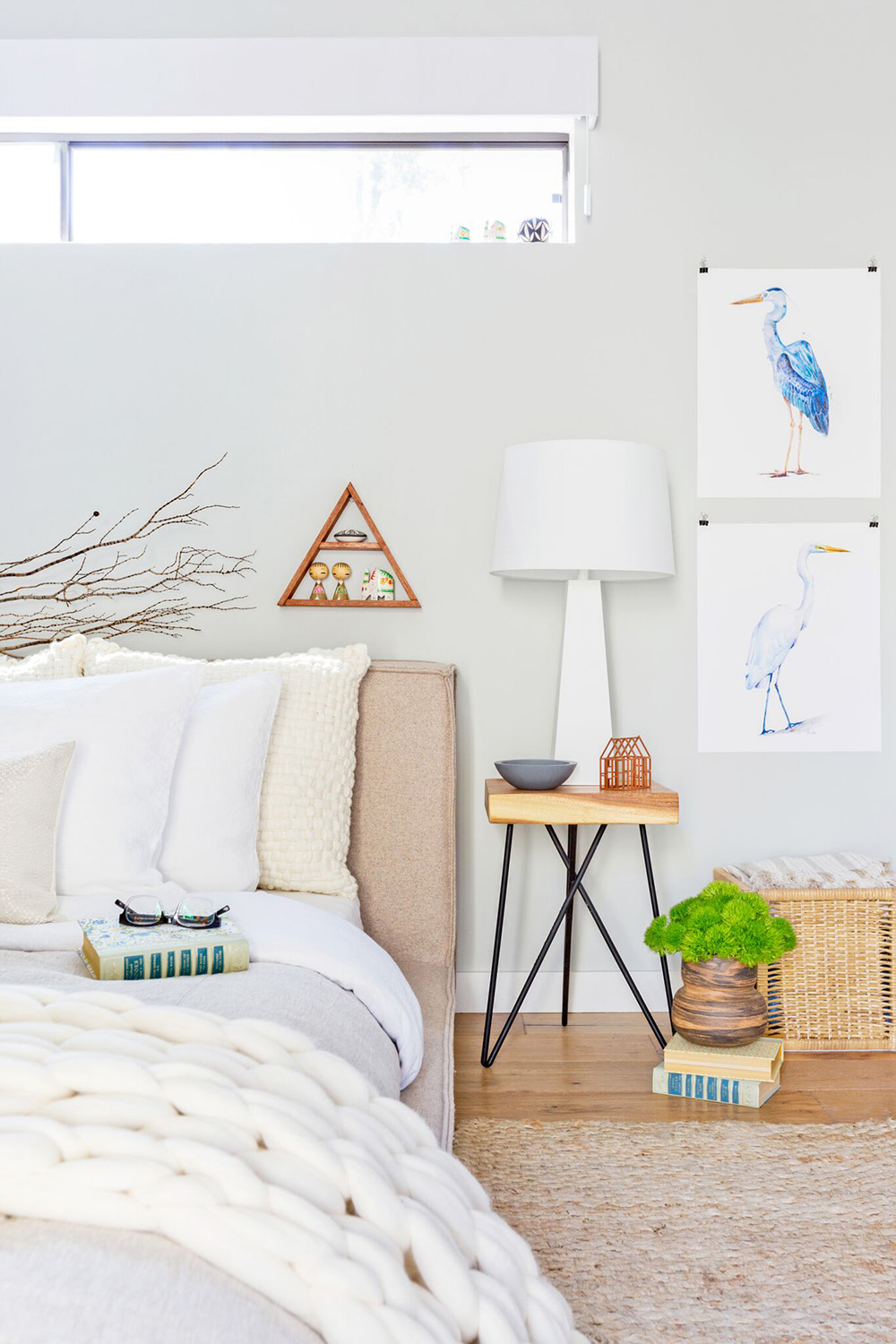 Photographs by Amy Bartlam Courtesy Homepolish x Etsy
Dear Decor Diary,
When I'm not holding pillows like a psychopath, I love rearranging furniture and swapping out accessories to transform Orcondo. Accessories can totally refresh a space. And even if something is perfectly styled, after a while I find it starts to look a little stale and/or disheveled. Maybe Boyfriend put a book somewhere it wasn't supposed to go. Or maybe Guest rearranged your shelves without asking. Regardless of what caused your styling to go awry, it's always a good idea to refresh it every once in a while. So when Etsy and Homepolish teamed up for a delightful makeover story about styling my guest bedroom over and over and over again, I jumped at the chance to play with all the amazing accessories available on Etsy .
My guest bedroom is one of my favorite rooms in my home. It's bright and welcoming, with a low platform bed I got from AllModern, simple white sheets from Parachute, and an amazing light fixture from Park Studio. The great thing about it is that it's kind of a blank canvas begging to be transformed, so it's pretty easy to change its look with bedding, side tables, and accessories. The wall color (Sleigh Bells by Benjamin Moore) is very neutral and goes with pretty much everything, so this room is VERY versatile.
Stop everything you're doing and follow along with me as I show you how I created three distinct looks from one sunny guest bedroom.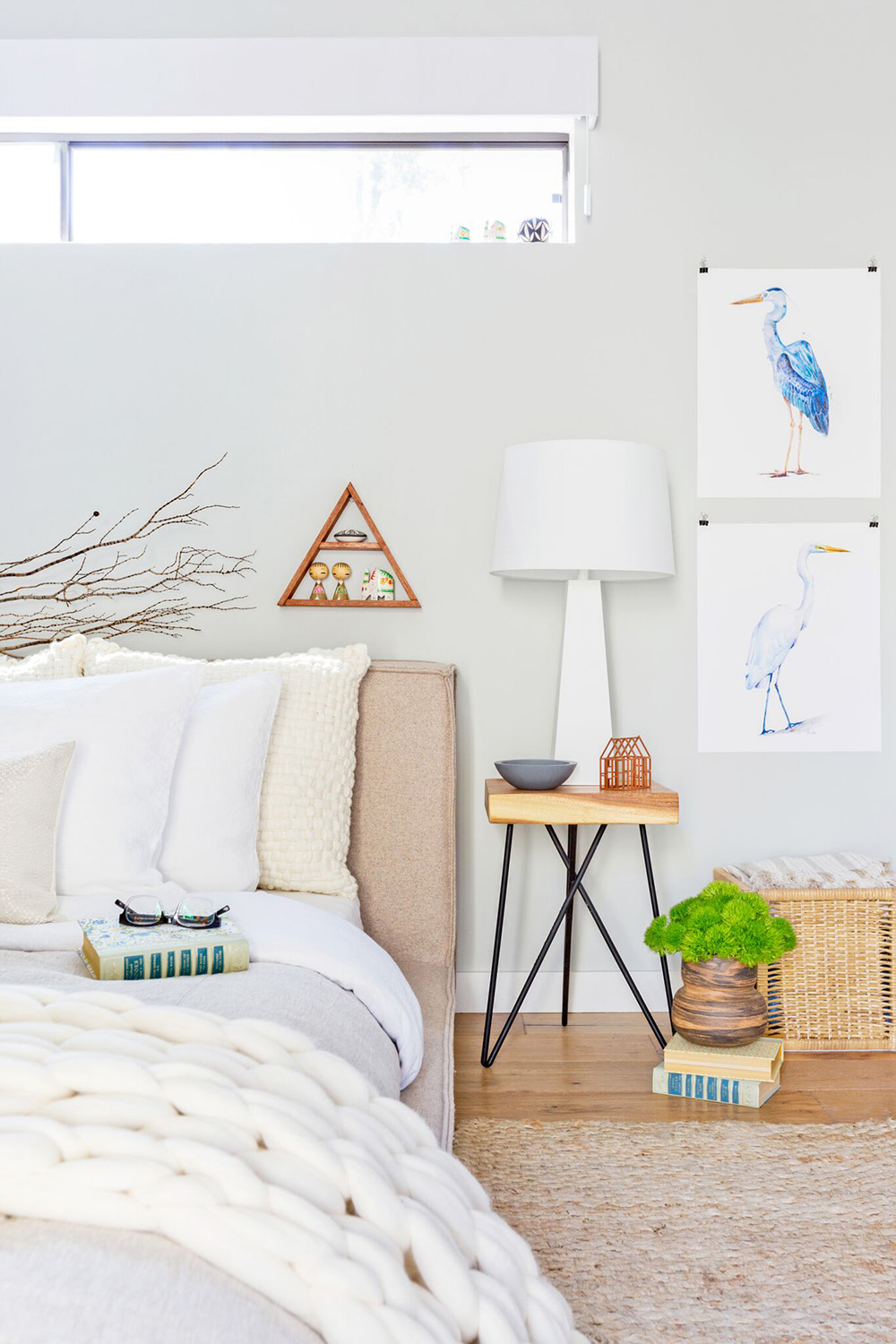 When I created the mood board for this look, I was pretty bored. I was kinda like "SNOOZE! Who's gonna like this stupid-ass look?" But when it was done it was so peaceful and relaxing that I wanted to curl up and read a book immediately while drinking a warm cup of tea and thinking about how much I appreciate all the people in my life.
Some people are scared to mix different hues of whites. I'm not. I love a crisp white against an ivory, contrasted with a wheat color. Yes, cream can look yellow next to crisp white, but what's wrong with yellow?
This cute little triangle shelf rocks my world and added a bit of edge to an otherwise pretty traditional space. It also provides the perfect perch for my prized Kokeshi dolls, who are the mosts adorable, beautiful people I have ever had the pleasure of meeting.
Etsy is a great resource for original art and reproductions like these. I love the look of using clips to hang art, and it's super economical.
Look 1 Resources: Linen Pillow Cases, Woven Pillow Cases, Watercolor Paintings, Natural Wooden Nightstand
It's no secret that I'm obsessed with shibori, so I was stoked to fill the room with the colorful fabric. Shibori pieces are all hand-dyed and are works of art, so adding them to a room immediately gives it a unique, hand-touched look.
Sometimes, people ask me "How many pillows is too many pillows?" And it takes every fiber of my being not to slap them across the face and scream, "HOW DARE YOU SUGGEST THERE COULD EVER BE TOO MANY PILLOWS???" Someday, I'll probably die of suffocation in a pile of pillows that fell off my bed onto my unsuspecting, wide open mouth. And I'm okay with that.
This simple YET AMAZING wall hanging is the perfect art accent.
Look 2 Resources: Shibori and Indigo patterned fabrics, rustic wood finishes, natural stone, and concrete objects.
If you're not familiar with the Memphis look that's having a resurgence right now, it's time for you to get on board. Memphis was born in the eighties and is all about color, pattern, and insane geometry. Basically Pee-wee's playhouse on crack. The style is too crazy for all my clients, so I decided to use it for the third of my bedroom styling makeovers.
Edouard and I bought these popsicle floaties for a pool party over the summer and they make me endlessly happy. If I could keep them inside all the time I'd be the happiest person alive. Sadly, I'm not a 12-year-old girl so I'd never get away with that.
I LOVE THAT PIÑATA SO MUCH I WANT TO SQUEEZE IT UNTIL CANDY EXPLODES OUT OF IT. And then apologize for killing it so young. And then have it rise from the dead and put itself together so I could squeeze it until it explodes again.
This pink woolen blanket with pom-poms really make me happy.
Hello? Is anyone there? It's me, Teenage Girl from 1960 Who Likes Chatting With Boys On The Phone!
Look 3 Resources: Mid-Century Scandinavian Nightstand, Pops of hot pink and bright yellow accents,  Graphic wall treatment.
There we have it! One bedroom, three ways! Which look is your favorite? TELL ME EVERYTHING.
Love,
Orlando
PS: Wanna see more? Check out the full resources and story on Homepolish Mag!