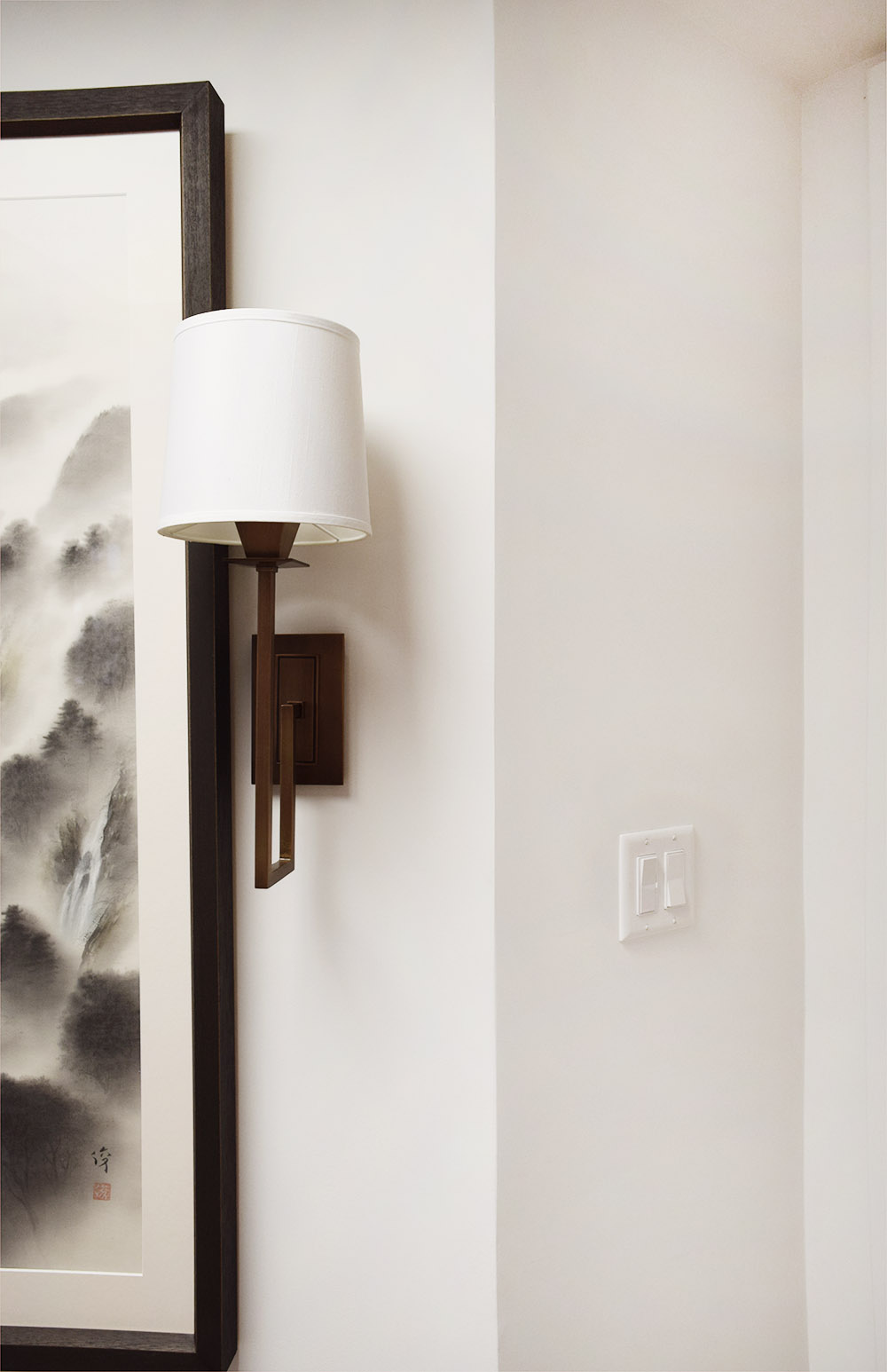 Dear Detail-Obsessed People,
If you asked me the most pressing issues I faced while designing Orcondo, light switches and outlets would likely not be among them. However, after moving in, I started thinking it might be a good idea to add light switches and outlets that jive more with the condo's modern vibe. So when I came across Legrand, a company that produces beautiful, modern switches and outlets, I was like "GET IN MY HOUSE."
What I've noticed over the years designing is that it's sometimes the smallest details that people notice. Most commonly, it's things they touch. Like faucets in the guest bathroom, the door handle on the front door, and light switches. The wall could be made out of rotting plastic, but if you have a distinctive piece of hardware (or in this case, a light switch), your guest's eyes will immediately divert to that. They'll be all "Cute light switch!" not noticing that your ceiling literally just caved in as they walked in the door. JUST KIDDING.
So I decided to swap out the existing contractor-grade light switches and outlets for more exciting options from Legrand's adorne collection. The change is subtle, but it's one I appreciate daily when I turn on the lights or plug something in. The Whisper Switches I chose are smooth and silent, so if you're trying to sneak up on your boyfriend in the dark of night and turn on the light to terrify him, the switch won't ruin your prank.
One of the things I like best about these new switches is they don't have visible screws. I'm not sure why all switches don't have hidden screws at this point, but I love how simple and elegant these are.
The sharp lines and rectangular geometry of the new switches match well with my gleaming Fireclay Tiles. I chose to keep the switches white, but these come in a ton of colors to match whatever mood you're in. If I chose today, I'd choose black, because I've been in a goth mood all week. I can't tell if I'm sick or if I'm just really tired, but I just want to go in a room and cry while writing poems about how nobody understands me.
The structure of the outlets is much more rectangular than the classic light switch. I also love the asymmetry of the individual outlets facing each other diagonally.
I bought these bowls at the flea market. They're French dough bowls (like for kneading dough) and they add a little warmth to the all white kitchen.
When I was coming up with the color scheme of the condo, I decided on an all white kitchen because the previous kitchen was SO hideous. Everything was brown and formica and awful. I'd like the design of this place to last for a while, so I went pretty simple, expressing myself with small decisions like the wonderful tile and the Legrand outlets.
For the wall plate covers, I chose the Powder White color from the Beyond Beige Collection. The color works perfectly with the backsplash tiles and the canisters I store my coffee, sugar, and oatmeal in (they're old Ikea, I don't think they sell them anymore).
The kitchen is now bright and happy and I love cooking in there, listening to Terry Gross on NPR, drinking wine, fantasizing about running away with my new outlets to a small private island.
The switches have been swapped out in the guest bathroom and now when people come over they're like "CAN I LIVE IN HERE I LOVE THESE FANCY SWITCHES?"
I found this watercolor painting at a thrift shop up near my parents in Northern California and had it framed by Framebridge. And now it has a new bestie, Lightswitch.
I got new lamps yesterday and I'm so happy because the living room was very dark and scary at night. Thanks to these new lamps, we can be in here at night without feeling like we're being haunted. And I can plug them into these Legrand outlets, which are as glamorous as they are.
I'm pleased with the mini-transformation Orcondo underwent in getting new light switches and outlets. Every time I use the new switches it feels a little luxe. A small detail that makes me feel good. If you're doing a renovation or are just looking to spice up your outlet/switch game, I'd recommend checking out Legrands adorne Collection. It's the small things, you guys!
Love,
Orlando
Mood Board Resources (clockwise): Fireclay Tile, Legrand Switch, Benjamin Moore Super White Paint, AllModern Side Table, St Frank Tray,  Crate & Barrel Vase, Snowe Home Serving Bowl.
This post was created in collaboration with Legrand. All opinions expressed are genuine and my own.