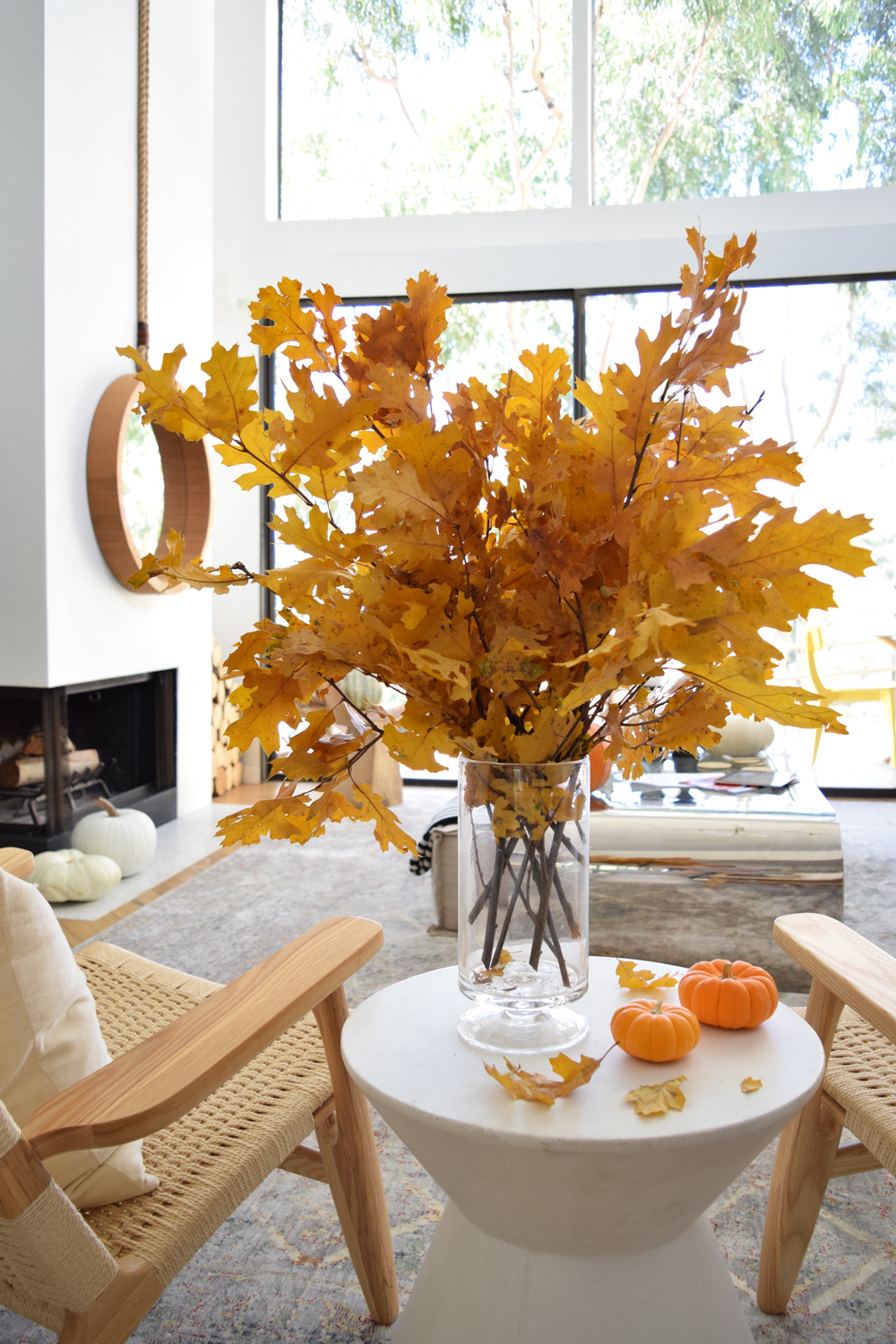 Dear Guys and Ghouls,
I grew up in an area where Halloween was a pretty big deal. In the small community of Yosemite Village where I was raised, trick-or-treating was acceptable until you were well into your teenage years, locals built terrifying haunted houses and covered their yards in spooky corpses, witches, and spider webs. Every year, months before Halloween started, my sister and I would start figuring out what we wanted our costumes to be and start pestering my mother about making them (my older brother was less high-maintenance and always did some variation on the "scary-mask-with-regular-clothes" costume). We weren't allowed to have the plastic costumes all our friends had, our mom made our costumes on her sewing machine, at night after work. If I were my own mom, I would have told myself to shut up. But luckily she was kind of into it, so weren't punished for harassing her about making our costumes.
Yosemite was the ideal place for Halloween, with fall leaves blanketing the ground and that damp, leafy autumn scent everywhere you went. Being that I've never really been a summer person (I sunburn too easily and am really just not made to be in the sun, like, ever), fall was always a welcome and refreshing time of the year. You can see some images of my old neighborhood in fall in this old blog post. I think my love for Halloween stems from how incredibly magical that time of year was growing up. It was a time of year that meant being indoors, making things, and preparing for one night of fun and candy-hoarding.
I trick-or-treated until I was seventeen. And while I've finally given that up now, my desire to celebrate the season hasn't ended. These days, I'm a big fan of the pumpkin carving party as a means for having an adult-friendly Halloween celebration. And I also like changing the decor around the house to reflect the changing season (Side note: it's still like 90 degrees in LA, I wish the season were changing faster). It's not always easy to find ways to decorate for Halloween that are sophisticated, so this year I teamed up with Architectural Digest to come up with some tips on decorating for the season (click here to see my piece on their site).
TIP ONE: GO MONOCHROMATIC
One way to elevate your Halloween decor is to go monochromatic. Obviously, black is a great option for this. I repurposed a wreath from last year's Christmas by spray painting it matte black and putting it on the front door. A word to the wise: if you're spay painting something black, always go matte for an ultra chic look.
TIP TWO: PUT A LEAF ON IT!
If, like me, you live in a big city and you miss seeing fall leaves all over the ground outside, bringing some colorful dried foliage inside will make you ceaselessly happy. I picked these up from the Downtown Los Angeles flower market. They're soaked in glycerine so they'll last forever and you can also find them at craft stores like Michael's. The best part is they don't lose that autumn leaf scent, so you'll feel that fall atmosphere even if there's not a deciduous tree in sight.
TIP THREE: USE AN UNEXPECTED COLOR SCHEME
Blonde woods and white might not be the first thing you think of when you think of Halloween, but when it's wooden skulls and white pumpkins, the seasonal mood reveals itself. I kept my living room color palette pretty much the same as it always is, adding in pumpkins in green and white as well as a spooky manzanita branch and some matte black candlesticks.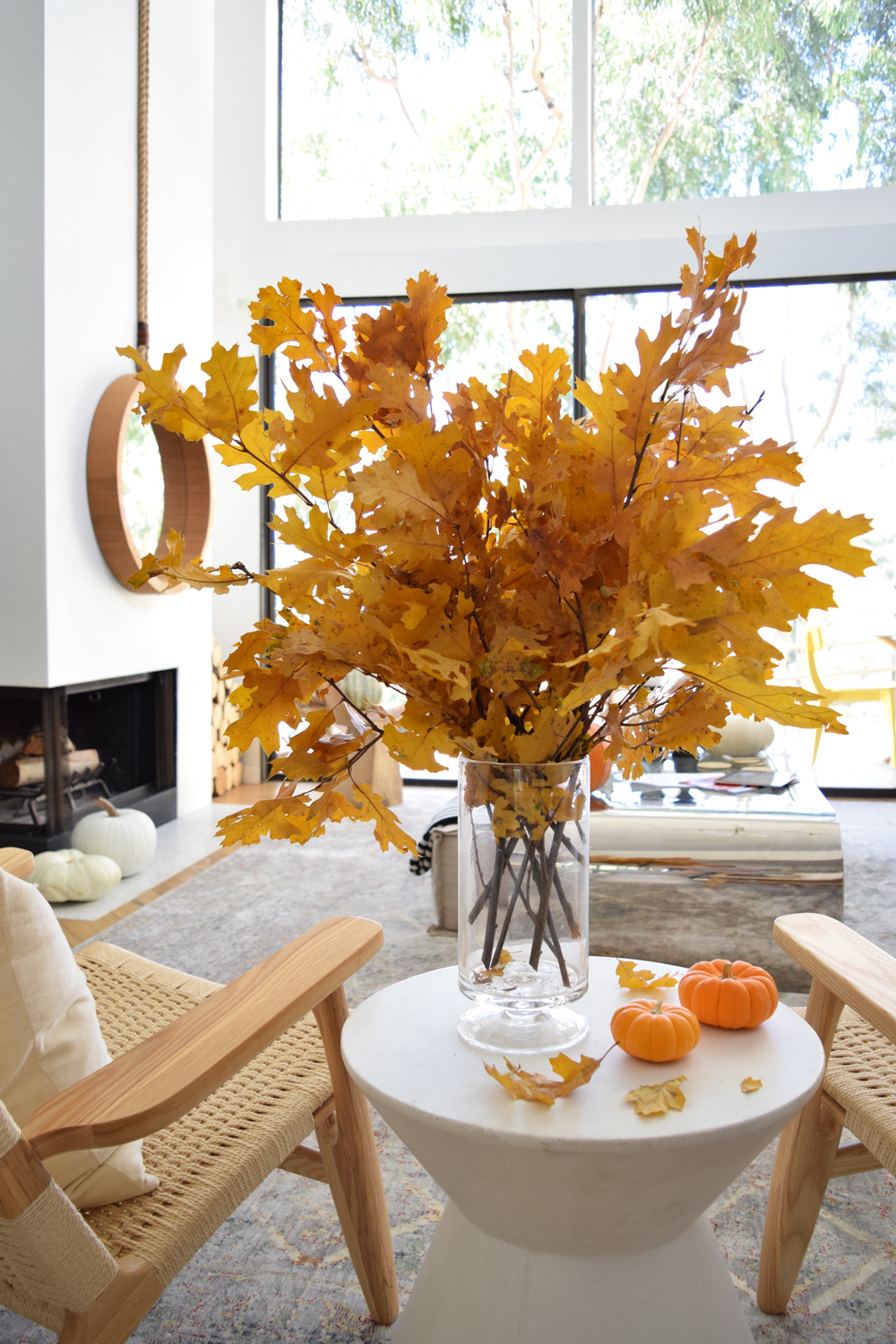 TIP FOUR: PUMPKINS FOR EVERYONE!
Teeny, tiny, adorable pumpkins are available everywhere this time of year. I bought all the pumpkins featured here at Trader Joe's. They're  great mini-accessory to scatter throughout the house to remind everyone, "Hey, you over there. It's Halloween. GET IT TOGETHER."
TIP FIVE: GO VINTAGE
Most of the Halloween decor you'll find at big box stores is plastic and looks like garbage. But back in ye olden days, they used to make lovely decor out of non-plastic. I found this cute terra cotta Jack-O-Lantern at the filthiest garbage store in the Valley. Naturally, I painted it matte black and took it from nasty to rhinoplasty in just fifteen minutes!
These gilded skulls, which are out all year, take on an especially ominous tone during the Halloween season. Woooooooooooo!
TIP SIX: BRANCHES EVERYWHERE
Branches are the easiest accent to add to your home because they never go bad and don't need water, unlike flowers that constantly need to be tended to. I bought these bundles for about $10 each and they'll last until Christmas.
TIP SEVEN: TAKE INSPO FROM DAY OF THE DEAD
Day of the Dead, the gorgeous Mexican holiday honoring the dead, has gotten more and more popular in the U.S. recently. Thus, you can find beautiful Day of the Dead decor much more easily than you could twenty years ago. And it tends to be much more sophisticated and intricate than the Halloween decor you'll find, so adding a bit to your decor will make your home look WAY more chic.
TIP EIGHT: PLAY AROUND
Halloween is supposed to be fun, so don't get so caught up in creating a sophisticated home that you forget to keep it fun. My mother sent me this spooky ghost last year (DIY instructions upcoming) and he haunts anyone who sits in that Le Corbusier lounger.
TIP NINE: KEEP IT WARM
My favorite color is blue, so during the summer months all my throws and accent pillows are various shades of blue. However, in fall I like to switch it up and bring in some warmer colors. This fall, I added in gold, ivory, and black accent pillows and an ivory throw. It's a way to completely transform the space without swapping out any furniture. It's also a way to indicate the change of season and make everything feel warm and cozy.
There you have it! Tips to make your house festive, spooky, and sophisticated for the Halloween season! May your celebration be chic and scary!
Love,
Orlando
 PS: A GHOST HAS BEEN STANDING RIGHT BEHIND YOU THE WHOLE TIME YOU'VE BEEN READING THIS POST!