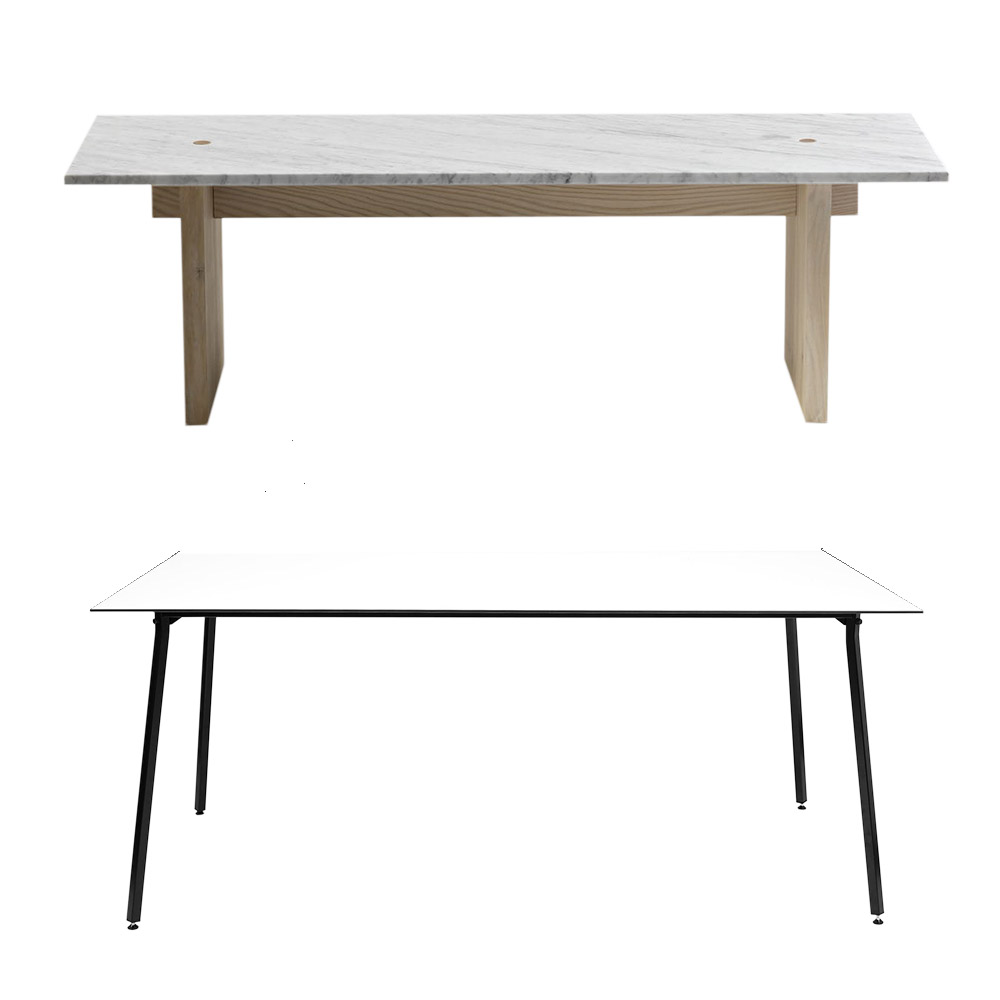 Dear The End of Summer,
Even though it hasn't rained in LA since 2007, it's been cloudy and romantic here all week. Most people would find this depressing. For me, it's the greatest blessing I could ever hope for. Since I live in a land that hasn't had weather in years, where it feels like we've been living on the edge of apocalypse as long as I can remember, I love anything even remotely resembling atmospheric drama. What's so great about cold, rainy weather, you ask? Well mostly I like it because it forces you to stay indoors. And what's so great about staying inside? YOU GET TO STARE AT FURNITURE ALL DAY.
Speaking of staring at furniture, I've been having a moment with modern furnishings lately. AND BEFORE ANYONE STARTS YELLING AT ME THAT I'M CONFUSING 'MODERN' WITH 'CONTEMPORARY' LET ME EXPLAIN MYSELF. So yes, "modern" technically means furniture designed in the first half of the twentieth century. And "contemporary" means what is being designed right now. But when I think of contemporary it makes me want to barf. I think it probably has something to do with coming into consciousness in the 90s, when contemporary design was at its worst (think big fluffy chairs and beige walls). So sometimes when I am describing a contemporary piece I'll call it modern. You might consider this using language wrong. I consider this using language in a way that prevents me from creating a barf river that would end the California drought.
I can't believe we're STILL talking about this. The whole reason I brought all of you together today is to chat about a new site/resource/shopping situation I happened upon recently called Tictail. It's a super fun app/site that allows you to follow makers and designers and create your own profile (you can see mine here). They have clothes, accessories, art, and homewares (today is all about furniture). It's kind of like Pinterest, kind of a like a fun registry of things you can buy for yourself or guilt other people into buying for you. And they have a huge selection of modern (contemporary) furniture. The following are a selection of some pieces that made me want to claw my eyeballs out (in a good way).
Resources: Muuto Cover Chair ($424.00)
I've been looking for a new solution for my TV/media situation and this Mini Stacked Hyllsystem is very appealing. Also loving this sandy-colored flooring and the monochromatic shelf styling. I know they just this is just a photo Tictail took to sell stuff, but it has so much inspo for everyday styling. LOOK AT HOW HAPPY THAT APPLE IS RESTING ON THAT PILE OF PERFECTLY ECLECTIC THROWS!
Resources: (1) Chair #3 ($393.00), (2) Fiber Chair Muuto ($282.00), (3) Chair Mosquito Black ($388.00), (4) Gia Como Bar Chair ($1,490.00)
Resources: Hanging Egg Chair ($1,531.00)
It shouldn't surprise anyone that I'm constantly looking for tasteful hanging egg chairs. So when I came across this guy I gasped and dropped my breakfast vodka on the ground.
Resources: (1) Paris Chair ($1,225.00), (2) Sling Chair with Wool Sling ($2,900.00), (3) Rare Lounge Chair ($6,954.00), (4) Hoop Chair ($300.00)
One of the good things about Tictail is that they have a variety of price points, from the seven thousand dollar lounger (#3) to the glamorous-yet-affordable hoop chair (#4).
Resources: Souvenir Chair ($707.00)
I've been looking for a chair to replace the chair that's currently in my living room (which I stole from my friend as a joke but have been too lazy to give back). I love this kooky chair but I think I might paint it a fun color. Like cerulean blue or pale pink. I like the original wood color but I also think it would be fun in a bright color.
Resources:(1) Captain's Chair ($1,850.00), (2) Italian Velvet Armchairs ($2,593.00), (3) Easy Chairs ($1,414.00), (4) Folding Low Chair ($192.00)
I love a sculptural chair, so I'm obsessed with all of these. Can't you just see those wooden folding chairs sitting around a fire pit outside, the perfect place to lounge on an autumn evening as you sit and think about how thankful you are that summer is over?
Resources: NEB Rectangular Table ($4,833.00)
Resources: (1) Solid Table ($819.00), (2) Easy Table ($652.00)
I love a slab of marble, so the solid table makes me wish there were room for two dining tables in my dining room (I already have a dining table I love, but maybe there's room for one more somewhere else).
Resources: NEB Round Dining Table ($3,501.00)
Look how romantic this little dinner situation is. Can't you just see yourself sitting there gazing into the eyes of your beloved. I guess all they're eating here is tea and that thistle plant but the rainy window/lake situation makes up for the semi-depressing dinner spread.
Resources: Mini Stacked Hyllsystem ($1,320.00) 
This is what I want for my media storage. I think. Right now I have a super depressing vintage media console I bought at Rose Bowl and it smells like a moldy library (like in a bad way, I normally love that smell). Might be time for something fresh up in here.
Resources: (1) Series 45 Cabinet ($854.00), (2) Swedish 1960s Palisander Bar Cabinet ($1,414.00), (3) Bjørn Engø Cabinet ($3,300.00), (4) Alexander Kanygin Cabinet ($456.00)
You can never have enough storage! That's why I need all four of these, even though I have no place to put them.
Resources: Series 45 Stool ($197.00)
Resources: (1) Buurman ($392.00), (2) Pedestal Table White ($410.00), (3) Tap Side Table ($99.00), (4) LIPA Square Yellow ($240.50)
Never underestimate the necessity of a side table. You need them to catch all the important things you need as you sit in your sofa or chair: books, laptops, glasses of morning vodka.
So there we have it. A selection of modern (contemporary) items I'm lusting after right now. Make sure to follow me on Tictail to see what I'm liking!
Love,
Orlando
PS: The full list of my pics (from fashion to home accessories) can be found on my Tictail profile.