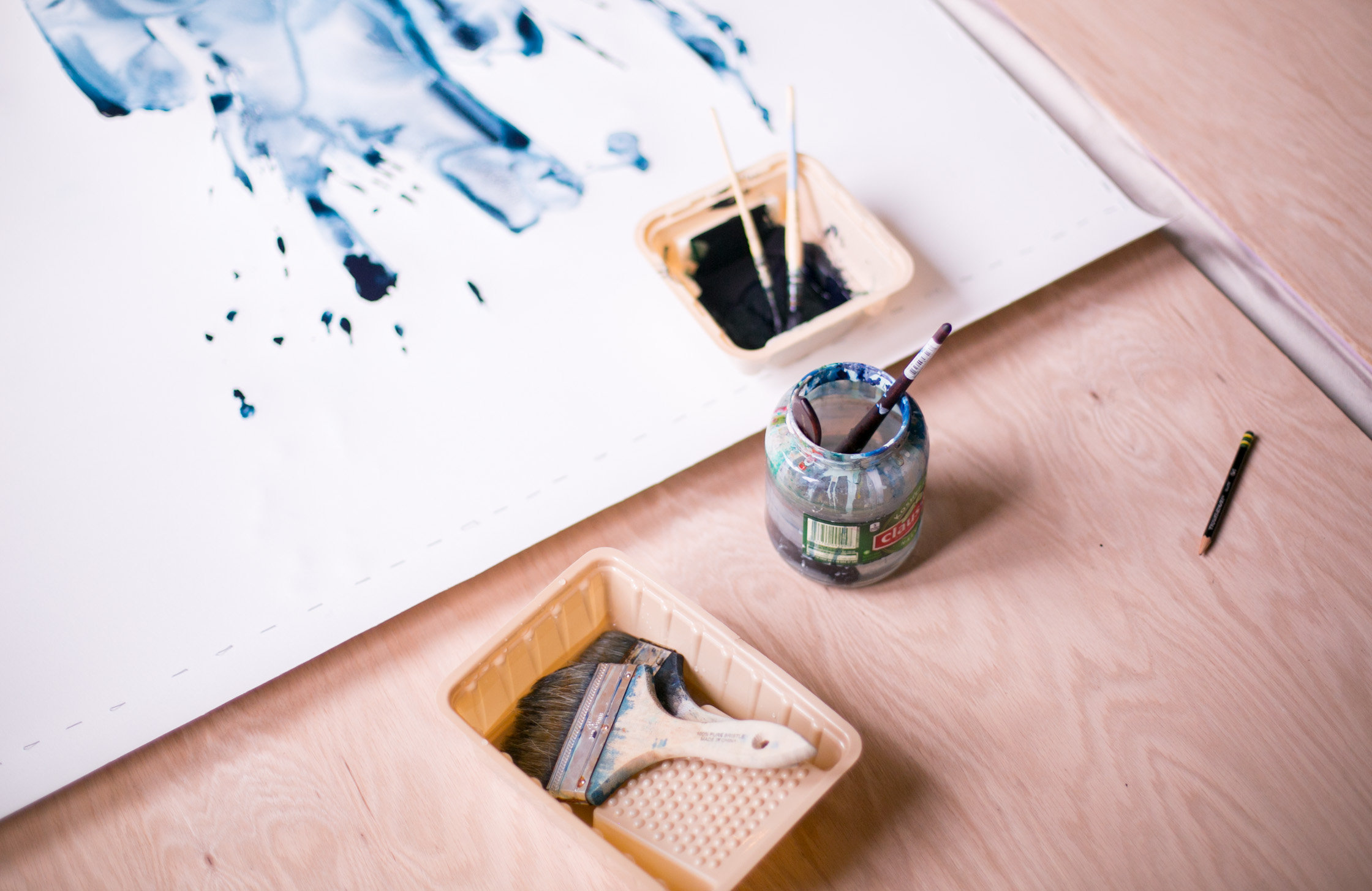 Dear People With Naked Walls,
I was wandering around a big box store yesterday, eyeing all the new stuff they have, really enjoying myself, when I came across something that irked me a little bit. Giant, gross photographic prints stretched onto canvases and sold as filler art. You see this type of filler art everywhere, sometimes it's good, sometimes it's bad. There are definitely great online resources for beautiful reproductions by real artists (Minted Art is one of my favorites). But there's also a lot of junk out there. So when I saw these nasty fake art reproductions yesterday all I could think to myself was "JUST GO OUT AND MEET AN ARTIST AND ASK THEM TO MAKE YOU SOMETHING INSTEAD OF BUYING THIS GARBAGEART."
But it's not always easy to meet artists. They're aloof, they're all off sitting somewhere wearing berets, smoking cigarettes, pondering their destinies. So I'm going to make a point to introduce you to as many artists as I can. Today, we're waddling around in the Memphis, Tennessee studio of Beth Winterburn, who creates beautiful atmospheric paintings that'll send you into a dream state. So put down that full-sized whole chicken you're eating and follow me as we ogle some artwork.
Beth's work is simple and complex at the same time. The monochromatic color scheme keeps it calm while the chaos of the natural movement of the paint keeps your eyeballs moving.
If you can't quite afford one of her originals (which are super well priced btw), she offers a selection of her pieces as reproductions. I love having original art in my home, but when I can't afford the sticker price of a painting, I love when artists make prints available. LITERALLY SOMETHING FOR EVERYONE!
These gold frames are sexier than Tom Hardy running on the beach in an American flag Speedo, holding an artisanal cocktail he made just for YOU.
I love spying at people in their studios. I have no idea what Beth is doing here but I can tell I'm gonna want whatever she's making when it's done. GIMME.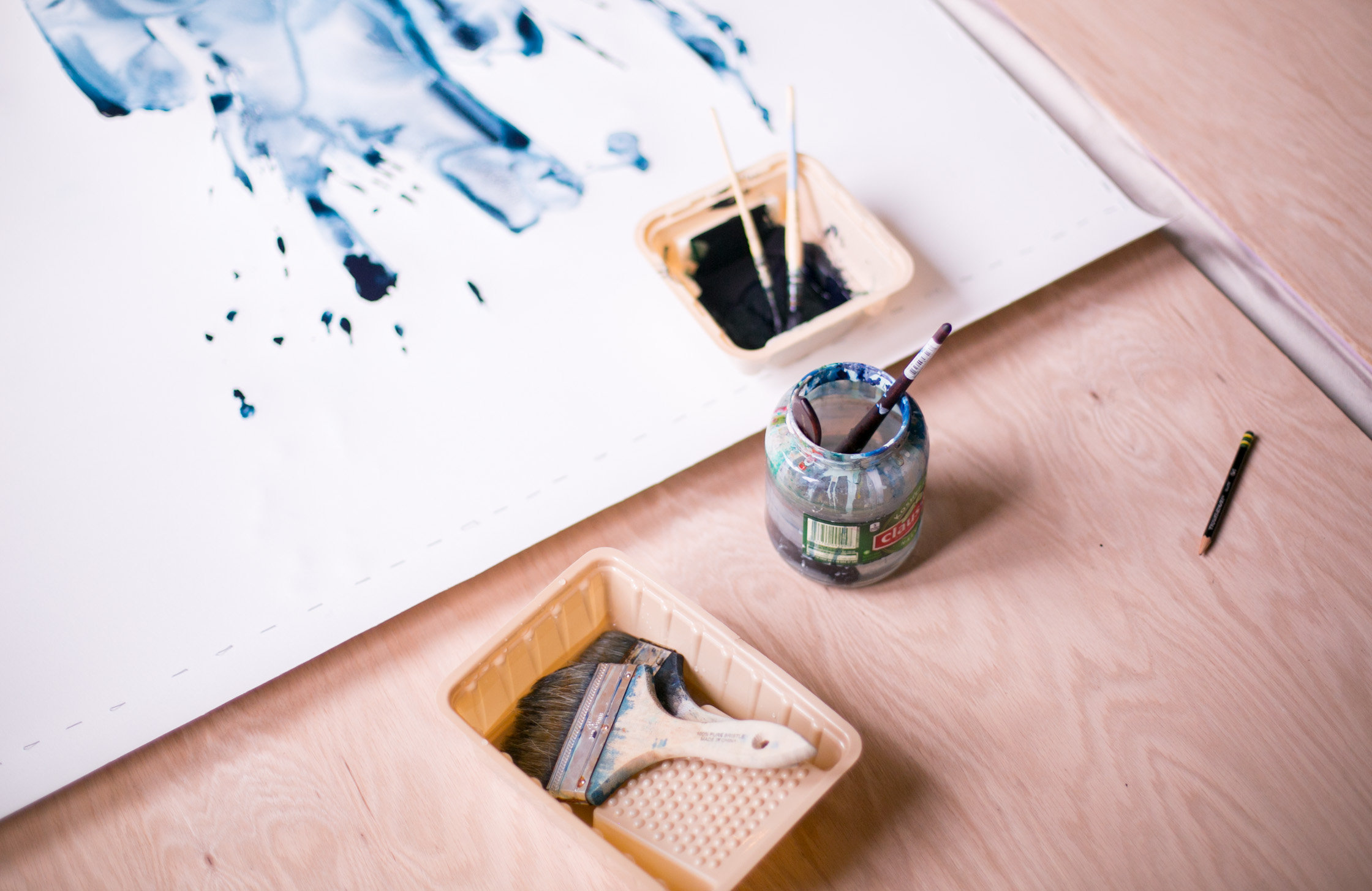 I have a painting background (like literally, I have an MFA in painting) and I love looking at messy paintbrushes and painty studios with splatters all over the place. But in person I could go either way. Sometimes I think it's fun to be covered in paint, others I'm like EW GROSS GET THIS PAINT OFF ME. Another weird thing I do because I spent so much time painting is that [in museums and galleries] I'll go straight up to a painting and stick my face in it (not touching, obviez) to see what the brush strokes look like. AND NOW WE CAN DO THAT TOGETHER WITH THE GLAMOROUS CLOSE UP'S OF BETH'S WORK:
If you're looking for a glamorous gold frame like the kind Beth used, check out these bad boys from West Elm. I've used them a few times and they're gorgeous in person.
To learn more about Beth Winterburn's work (and to buy tons of art and support an independent artist) check out her website and her Instagram.
Love,
Orlando