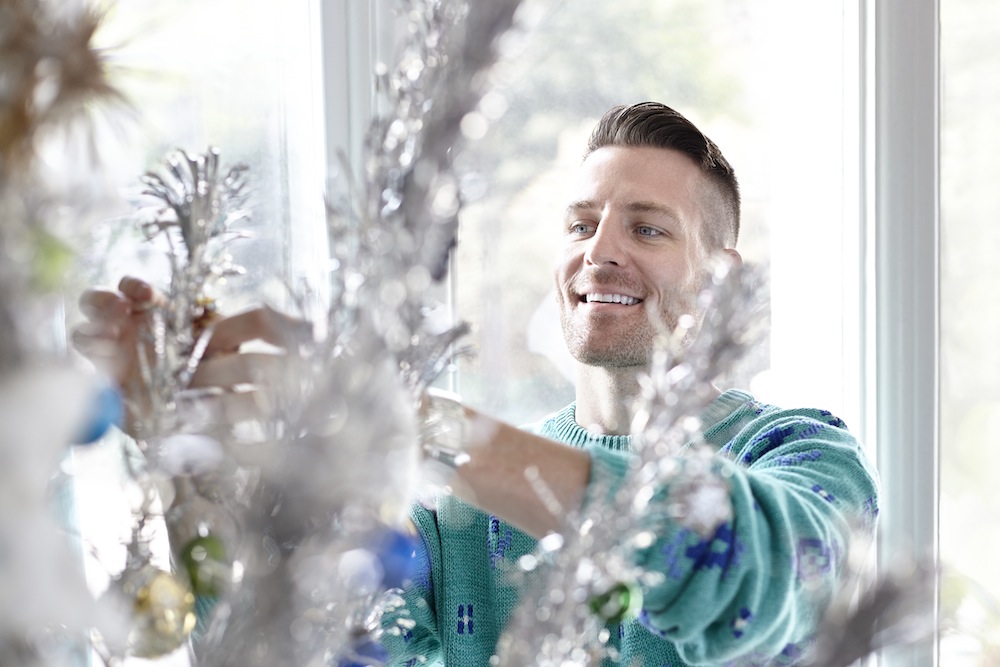 Photographs by Daniel Collopy
Dear Reader,
Christmas. It's always been a big deal for me. Maybe because I have always loved making things. Maybe because I grew up in a cabin that looked like a gingerbread house. Maybe because as a child I loved stories about weirdos who made their own Christmas decorations. My favorite was A Christmas Memory, the Truman Capote story about how his whole family hated him and how he and his best friend made Christmas tree decorations out of candy wrappers. Moral of the story: with a little creativity and imagination, you can make your Christmas celebration truly magical.
Now what does this have to do with Crate and Barrel and their line of awesome holiday decor? To me, the whole holiday decorating experience is a creative, curatorial process that is personal. In choosing the right pieces for your home, deciding which make sense together and which you're attracted to, you're making a beautiful composition that's all your own. I consider holiday decorating an artistic process. So whether you're making the decor yourself, picking it up at Crate and Barrel (AND NOWHERE ELSE DO YOU HEAR ME?), or mixing handmade with store-bought like I did, you're creating something that ultimately is an expression of your personality and your worth as a human being. No pressure.
For me, the best part of Christmas is going overboard a little bit, getting excited about the holidays and going for it. We have the rest of the year to be so aloof and obnoxiously cool that all we do is stand in the corner smoking a cigarette, judging everyone. Christmas is a time to be like "Hey, this is exciting. So I am going to lose my mind, turn on some Nat King Cole, and turn my home into a tasteful version of the childhood classic game Candyland. And if you judge me for it I'll never speak to you again."
So yeah, that's my motive for being totally crazy for Christmas. Now onto how I decorated my place this year for the holidays and what you can do to get a holiday look that's all your own. Firstly, here's a peep at my living room:
I live in a mid-century building that looks like it was sucked up in a terrifying Miami hurricane that dropped it haphazardly in the Hollywood Hills West region of Los Angeles. The outside of my building is a lovely mint green color. We have a beautiful aqua pool in our courtyard. Blues and greens predominate my surroundings. Thus, I decided to use them the building blocks of my holiday color palette. I accented those colors with silver and gold. Firstly because I wanted some wintry shimmer. But also because California winters, at least those outside the mountains where I grew up, are usually filled with silver skies and a landscape of dried grasses in a color I call "Steinbeck Gold" (those golden foothills he often wrote of).
In my living room: Silver Cut Candle Holder, Structure Rectangular Coffee Table, Ami Nesting Side Table, Confetti Wrapping Paper,  Marble Tic Tac Toe Set, Juniper Citrus Ornament Candle.
In high school, when I was in my gross grunge phase, I became obsessed with these 1950s vintage-style ornaments. So I was stoked to find that Crate and Barrel stocks these Flag Garland Blue Ball Ornaments. They're just like the originals except not made of lead paint that will kill you the moment you touch them.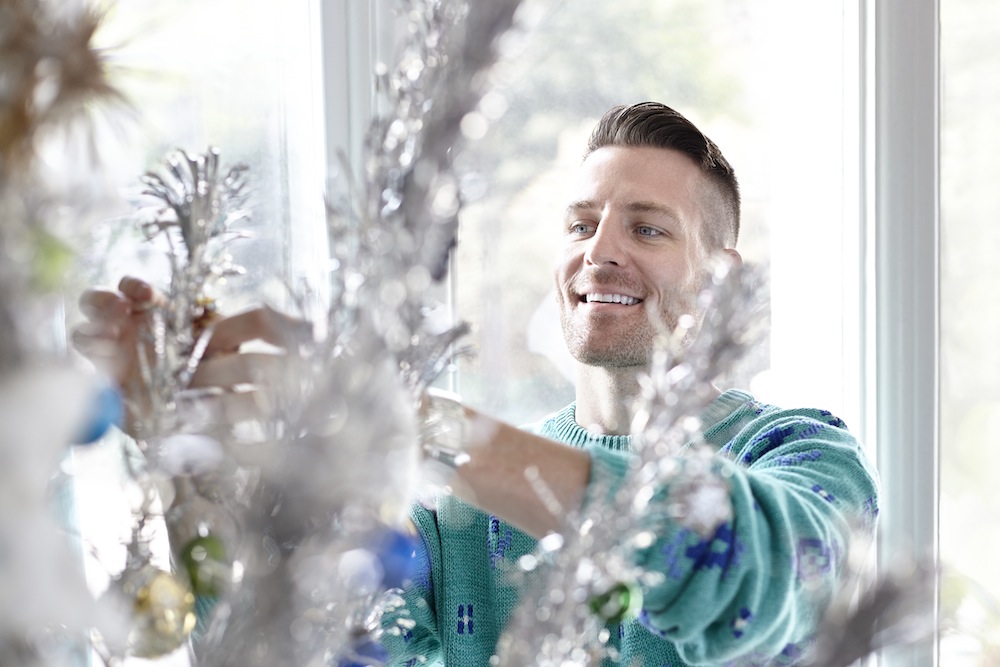 What do you think about when you're decorating your Christmas tree? I like to think about that one time right after I moved to New York when I was 21 and I saw Keri Russell at Whole Foods in Chelsea and I was like "OH MY GOD MY LIFE IS LITERALLY 'FELICITY' NOW!"
This Thread Bead Teal Ball Ornament kind of looks like something my grandma would have made. If my grandma were an awesome trendy teenage drug addict who lived in Bushwick Brooklyn.
I found this luxurious 1950s aluminum pom pom tree at the Rose Bowl Flea market. It's still in its original box, which is now tattered, falling apart, and gross. Like me on a typical Sunday morning.
On the aluminum tree: Gold Glitter 3D Ornament, Dreamcatcher Green Ball Ornament, Crochet Medium Snowflake Ornament, Bronze Glitter Glass Pinecone.
Nothing says winter cozy like a pinecone. In fact, if I could marry any cone, I'd marry a pinecone. So the Bronze Glitter Glass Pinecone pretty much rocks my world and makes me want to scream loud enough to deafen myself.
I made this penguin tree topper one winter a few years ago when I was living, penniless, in New York. I went to the dollar store and bought a bunch of cheap orb ornaments and some glitter and made all the ornaments for the tree by hand. Since I grew up loving depressing Christmas books about making your own Christmas ornaments, that New York was the most glamorous Christmas I ever had. Until this one, duh!
I like mixing holiday decorations with everyday decor, so I used the Zuma White Tray and Onslow Tray on the coffee table to give a bright, stylish base to the festive items I placed inside them. The Houndstooth Throw reminds me of a preppy sweater. Once the holidays are over, I'll keep these out they'll complement my collection of useless garbage I found at the Useless Garbage Store (thrift store).
My parents went to Berkeley in the late 60s so the concept of Peace was always alive at Christmas. Thus, I love these Cast Aluminum 'Peace' Letters. I spent hours trying to figure out what else they could spell. My favorite alternate: EEP!
You know what makes decorating way more fun? Friends to do it with you. You you what's better than friends? White wine. So I snagged some Wine Glasses, poured some healthy portions of festive white wine, and forced my friends artist Erika Gragg and funny writer Jeffery Self to help me decorate my Christmas tree.
You know what's better than wine? Watching friends open up gifts, their eyes aglow and their hearts warming when they discover what's inside. Just kidding wine is still totally better than that. But how cute is Jeffery? His boyfriend sent him a super surprise gift all the way from Australia (where he lives) so Jeffery was particularly pleased to open it. And that, my friends, is a Christmas miracle!
When I was little one of my aunties moved from California to Alaska. So we got this cute little snow globe that plays "Winter Wonderland" to honor her. I paired it with the Juniper Citrus Ornament Candle which smells like Christmas.
I love anything that looks like a watercolor painting. So this year, I decided to make my own wrapping paper. It was way messy but pretty easy. Like your mom. A tutorial is upcoming on Homepolish Magazine.
A pinecone ornament from my family's extensive collection of EXTREMELY BREAKABLE ornaments. Important tip to kids out there: if you break an ornament, just hide it. Your parents will never know. If they do find out, say something adorable and manipulative like "You're the only gift I want this Christmas!" [Turns to camera].
The Silver Cut Candle Holder can pretty much work anywhere, all year round, all day long and all night! I sprinkled them all over my apartment, including on this little library shelf I recently bought at the garbage store. Since my parents' garage is kind of like a Christmas store, I borrowed a lot of the little trees from them and put them in appropriate places all over the apartment.
My mom has a Santa collection. But not in a scary way like she's going to die in a pile of her own belongings screaming "I WANT MORE SANTAS" because she's such a lunatic hoarder. In a cool way where she has totally awesome Santas from around the world that I want for myself (which is why I borrowed so many of them this year for my holiday celebration).
I found these chairs a few years ago at an antique shop in Pasadena. But now that it's winter, they felt cold, alone, and deprived, much like The Little Match Girl. You know that story right? It's about a plucky little girl who sells matches on the street then runs out of matches and freezes to death. (WHAT IS UP WITH CRAZY DEPRESSING CHRISTMAS STORIES? It's A Wonderful Life, A Christmas Carol, THEY'RE ALL SO SAD! WHYYYYYYY!!!). To comfort my chairs, I snagged some Twinkle Ivory pillows. Problem solved!
The Large Christmas Tree Candle makes me wish I could shrink myself so that I could run around in a forest made entirely of these tree-shaped candles. Nevermind that would be terrifying.
This Matin Zad photograph in my bedroom is one of my only reasons for living, so I decided to decorated it for the holidays. I used a vintage tinsel tree I stole from my mom and Felt Deer Ornament with Gold Necklace. I kind of feel like all deer need gold necklaces now…
On my mid-century dresser: Felt Deer Ornament with Gold Necklace, Silver Cut Candle Holder.
Don't the two aloof boys flanking that totally skinny Christmas tree make you feel *so* hip and unapproachable?
As I said earlier, I believe it's important to go all out for Christmas. So naturally I put a Christmas tree in my bedroom. I chose a vintage, white, fluffy tree meant to mimic a feather tree. I outfitted it with a collection of vintage ornaments and a few new heirlooms I picked up from Crate and Barrel (which you can see listed below).
In the white tree: Inuit with White Fur Hood Ornament, Inuit with Brown Fur Hood Ornament, Alpaca Ms. Octopus Ornament, Buri Zebra Ornament, Felt Yellow Bird Ornament, Felt Deer Ornament with Gold Necklace, Felt White Flamingo Ornament, Burl Fox Ornament.
The side tables in my bedroom felt left out of the holiday merriment, so I outfitted them with the Tall Lit Tree, Short Lit Tree, and the Pinecone Branch. The pinecone branch is kind of a stylist's dream because they have wire inside them that allows you to manipulate them into the EXACT shape you want them to be.
I'm over the moon for this moon-shaped Santa I borrowed from my mom. Someone, please, punch me in the face.
The Tall Lit Tree and Short Lit Tree are two of my favorite additions to this year's holiday decor. They're great for an evening party because you can turn them on (like me, they glow from within) and they create a romantic, magical atmosphere. The enormous Japanese screen is from Pasadena City College Flea Market and was $60 and is probably the most important thing I've ever bought.
At the end of a long day of decorating, it's important to relax with friends. The friends I chose to relax with were this bottle of wine, this LED Birch Branch, the beautiful Candles Napkin, the sexy Tiempo Flatware, and like a pound of cheese that I ate alone in the dark once the sun set and all I had to illuminate the room were these glamorous branches.
Now hurry up and decorate your home before Santa comes over and is all "GIRL WHAT IS THIS MESS IN HERE!?!" Happy Holidays!
Love,
Orlando
This is a sponsored post, made possible by the generosity of Crate and Barrel.