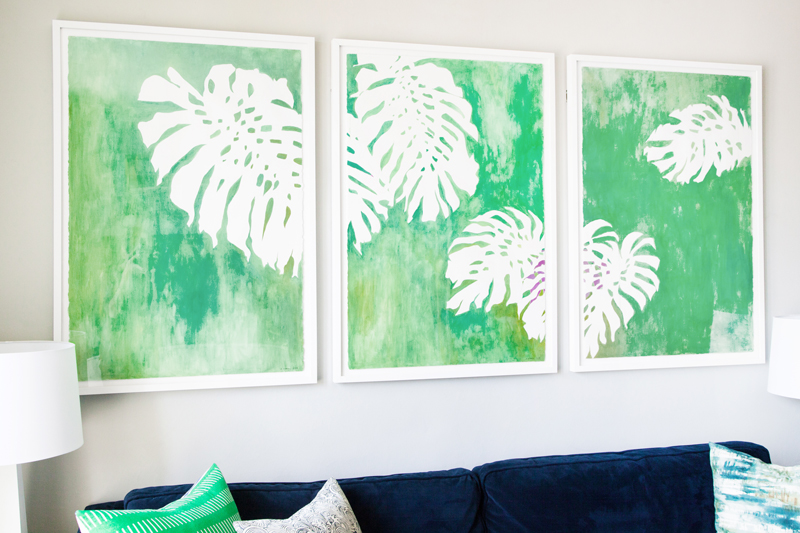 Photographs by Sean Gin Courtesy Homepolish
Dear Art Oglers,
One time, when Erika Gragg and I were freshman at Cornell, I called her a Barbie in painting class. She never forgave me. She brings it up a lot. We'll be just eating lunch somewhere random and she'll be like "REMEMBER WHEN YOU CALLED ME A BARBIE?" And then everyone in the restaurant will drop their forks and glare at me, knowing what a horrible person I am for calling people Barbies just because they have blond hair and laugh a lot. Since being traumatized by me in college, Erika has gone on to create beautiful drawings, paintings, and prints. I've been coveting them for years, so I finally commissioned her to make me some drawings, which I love and make out with every day.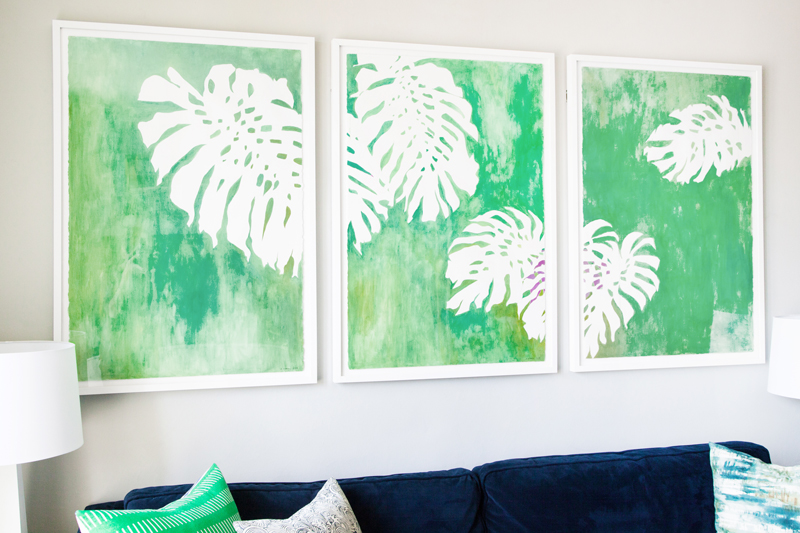 Erika chose to do a lovely hang-painted triptych on beautiful, thick watercolor paper with rough edges. I wanted to bring more green in to my living room, and the vibrant color she chose rocks my world. Erika is heavily influenced by her tropical childhood. She grew up in Miami and since I've known her has always been enthralled with palm trees, bright colors, and anything wild and graphic. My love for all things pastel can be traced to the first time she took me to visit her family in Miami and I fell in love with all that deco goodness, all those faded happy colors.
Because custom framing is expensive and schlepping art all over town is annoying, I opted to try out a service I've been curious about for a while. Simply Framed allows you to choose the style of your frame and mat, then they send you a tube or mailer, you stick your art in there and mail it to them and it comes back completely framed and ready to go. You literally don't have to go outside. You can sit inside, alone, sweating and eating frosting like Goldie Hawn in "Death Becomes Her" after her husband leaves. Simply Framed even sends hanging hardware, yet another way they help you to remain a lazy disgusting slob who is scared to go outside.
The side tables come from Crate & Barrel and I find the fact that they're nesting tables incredibly reassuring. It's like they're sitting there, holding my awesome lamp from Target, snuggling each other saying "I love you."
Simply Framed did an exquisite job framing Erika's work. My favorite part is how perfectly they floated each piece, accentuating the beautiful deckled edge of the paper.
I love staring at these pieces because they have the tropical, bright, bold aesthetic that I've long wanted to bring into my apartment. The added bonus is that they remind me of my friend Erika and spending time with her and her family in Miami. ALSO I'M SORRY I CALLED YOU A BARBIE ERIKA I WAS TOTALLY JOKING ARE YOU OVER IT YET?
Love,
Orlando
Disclosure: This is not a sponsored post but I did receive gifted items from Simply Framed. I sought out their services on my own volition and the opinions I've expressed about their products and services are genuine and my own. If you like this blog and want to support my ability to pay for the cost of running it, please support me by clicking on the Simply Framed link to show them I have engaged, intelligent readers who are superior to everyone else on earth.