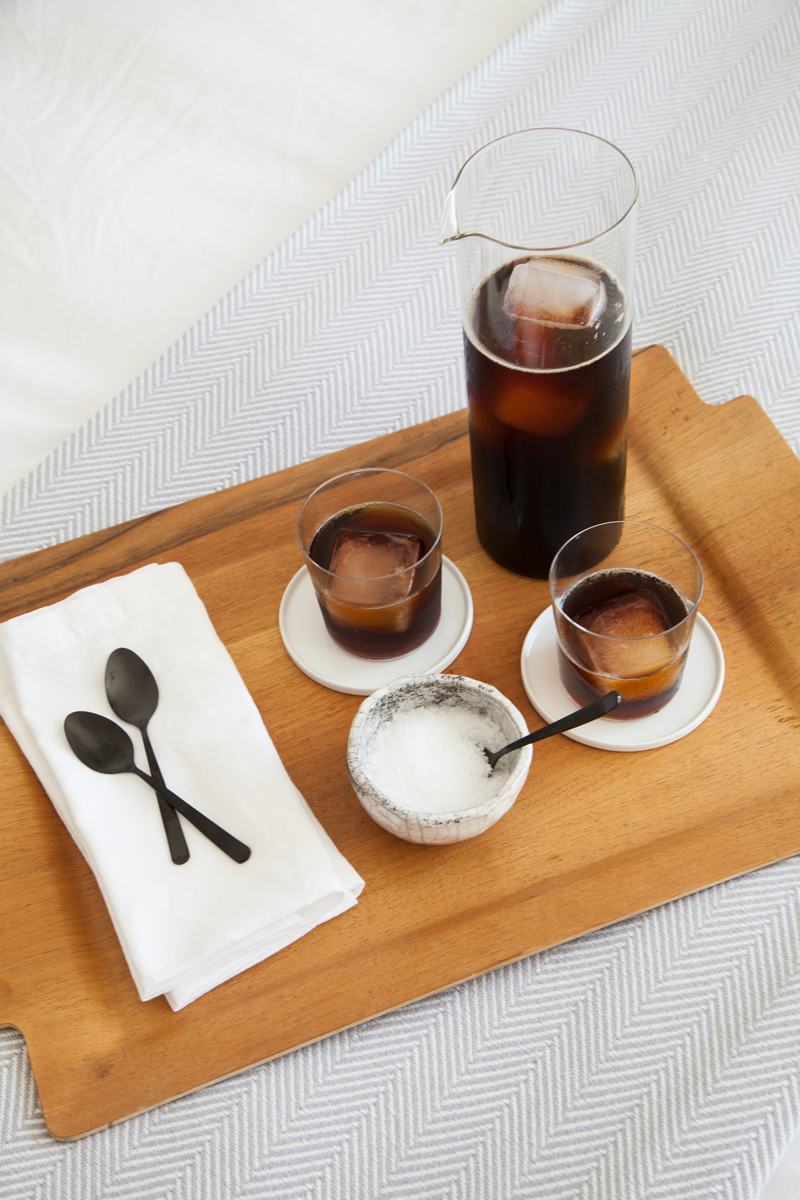 Dear Reader,
Whenever people ask me what my favorite project is I always say the most recent one, because it's the freshest in my mind and still the most exciting to me. I've designed for a huge variety of clients and they all have their own styles, but my beach house project stands out for me because it was the first time I worked with a client who had such modern,  minimal taste. My client is a young guy, super cool, who started a tech empire in his twenties and loves art. Since I come from an art background, I was obsessed with his art collection and also super happy that he was so enthusiastic about it.
My goal with the beach house was to make it minimal and spare, but welcoming. The whole point of the space is that you can look out the window and LOSE YOUR MIND that the ocean is right there, so the decor didn't need to be complicated or ornate. And, because the art was the real focal point of the space, I wanted to make sure I used a color palette that allowed it to shine and didn't distract too much from it.
The bedroom, featured here, is a quiet, bright space so I chose to outfit it in natural materials, light, etherial colors, and textures that evoked the outdoors. Because I was furnishing the whole house at once, I wanted to be careful about where I spent my client's money. So I scrimped on certain things (bedding, side tables), and spent where I knew it would make an impact (beautiful custom drapery). This balance is what gives the whole space a sophisticated feel. It's also what kept my client from murdering me for spending his entire fortune.
A fun fact about tech entrepreneurs is that they all sip iced coffee in bed and they never ever spill on their all-white bedding because they are perfect.
Those sconces from One Forty Three excited me in ways that are irrational and thrilling. I'd love to take them to Paris, dance with them in the moonlight, tell them every morning they are the only reason I have for  living.
I have the same white bedding on my bed. It comes from West Elm and while they're not making it anymore they do have some awesome options.
Those concrete bedside tables from CB2 make me happy. They're totally a steal and a great way to introduce a new material into a space.
I'm captivated by these works by Jurg Lenhi. They add a graphic playfulness that helps lighten the mood of the room.
The existing bathroom was dark and a bit cold, so I added some fluffy white towels and bath mat to make the space feel more inviting.
If you're reading this, please start a tech company then hire me to decorate your new beach house. This project was so fun I just want to do it over and over and over again.
Love,
Orlando
Bedroom Resources:
Copenhagen Bed from West Elm, Bedding West Elm, Herringbone Blanket Pottery Barn, Bedside Sconces One Forty Three, Bedside Tables CB2, Gray Accent Pillow Crate & Barrel, Mid-Century Bench CB2, Accent Vase West Elm, Tray Vintage, Glassware CB2, All Other Accessories Vintage, Midcentury Credenza Modcrib LA, Art by Juergen, Pin Leg Bench CB2, Striped Throw by Ninespace, All Plants by Mickey Hargitay Plants.
Bathroom Resources:
Turkish Towel Ninespace, White Towels Garnet Hill, Bathmat Ikea, Tray Organizer from CB2.
This project was completed as part of my work with Homepolish, a full service design company that is revolutionizing the interior design industry and making everything better for design-strarved clients nationwide. If you'd like to work with me or another Homepolish designer, please visit our website and sign up for a consultation.