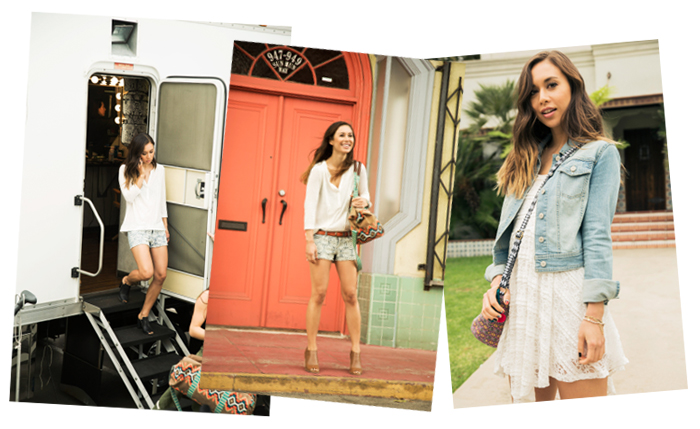 Photographs by Tessa Neustadt, Courtesy Homepolish
Dear Fashion Ladies,
Do you read Fashiontoast? It's the beautiful fashion diary of Rumi Neely. Do you know who Rumi Neely is? She's the cute girl that's so cute it will make you want to scream and tear out your eyeballs and cry blood until you die. Homepolish recently hooked me up with Rumi to redesign her living room and dining room to reflect her elegant, minimal style. Here's me excusing her beauty while we looked at magazines together:
DINING ROOM
For the dining room, we started with a large-scale French country-inspired table from AllModern (who sponsored the project). They also provided the lovely rug, chair, bench, and chandelier. Rumi likes to choose her colors wisely. She's really a minimalist in that sense. So instead of bringing in a ton of color I decided to bring in texture. One thing that surprised me about her is how into animal skins she was. I mean, the girl has fur all over the place. I imagine that she spends her weekends murdering animals just so she can luxuriate in their skin every day. As beautiful and demure as she is, I can tell she's secretly a warrior princess. The furs were great because it helped me bring in texture and natural color. To finish off the space I added my favorite go-to that's guaranteed to add life to a space: plants.
This gorgeous vintage textile, glamourously framed in a simple lucite frame was exactly Rumi's style. It's from St. Frank. They have a huge collection of amazing, one-of-a-kind textile pieces and I want all of them. Just a really beautiful way of bringing pattern and color into a room whilst also bringing in an object that has a tremendous amount of history.
Rumi already had those beautiful moss brass candlesticks. I love them with all of myself and would die for them if it came to that.
The plants and planters come from Mickey Hargitay Plants in West Hollywood, where I go once every 25 seconds. I spent $175 on that beautiful fiddle leaf fig and about $80 on the succulent arrangement.
Sources: Chairs, Rug, Chandelier.
BEDROOM
Here's another picture of Rumi being obnoxiously gorgeous. We bonded over the fact that we were both from Northern California and have hippie names. She's such a sweet girl and I had so much fun staring at her whilst breathing heavily, sweating. I mean working with her. Awkward silence.
We kept the color palette in the bedroom minimal, just like the rest of the house. I used one of my favorite go-to colors for the walls, Benjamin Moore's Half Moon Crest. It's a beautiful grey that is just warm enough but not so warm that it starts to look beige and gross. Sidenote: I might be starting to like beige. Is that weird? I have hated it for my whole life, but it's starting to grow on me when used correctly (like in some warm, Mediterranean adobe home). Anyway, it's kind of blasphemy that I don't hate it anymore but I'm dealing with it so please, no judgements.
Most of the bedroom was sponsored by AllModern, where we got the bed, bedding, and bedside lamps. The pillow comes from Ninespace (have you checked them out? I love them). And the side tables are from, GASP, Target.
Sources: Bedding, Lamps, Pillows.
The photograph in a simple white frame is by Matin Zad, who is an incredibly talented young photographer winning ALL THE ACCOLADES right now. The piece is available from Tappan Collective and I highly recommend you buy one. I have the same one hanging in my bedroom and looking at it every day makes me so happy. It went perfectly with the theme of the rest of Rumi's house. Clean, simple, minimal. I'm so relaxed I'm going to take a nap now. ZZZZZZZZZZZZZ!
Love,
Orlando
If you'd like a space as calming and lovely as Rumi's please contact Homepolish and set up a consult with me or one of our ridiculously talented designers. It's likely that we are in your city and we'd love to help you with your space. HURRY!
Special thanks to AllModern, St. Frank Textiles, and Tappan Collective for the beautiful things found in this home makeover.