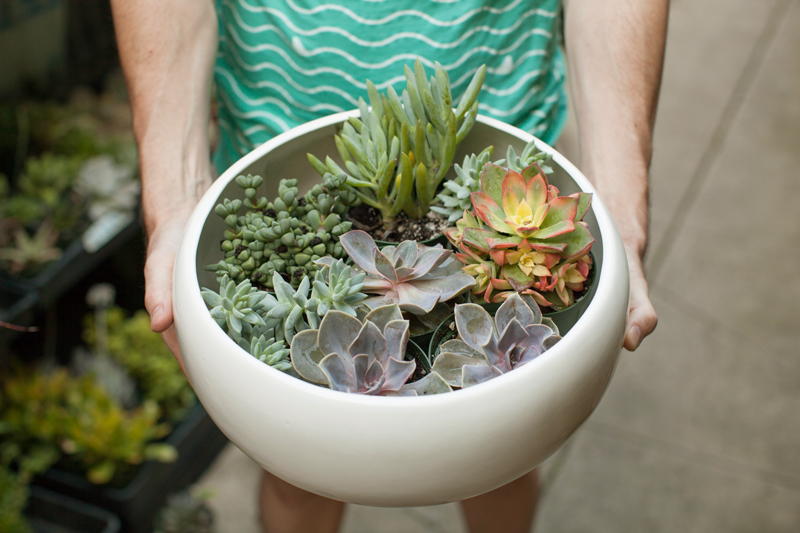 Photographs by Sean Gin
Dear Other People Who Live in Urban Apartments,
Do you ever feel sad about the fact you have no outdoor space? Like no yard with a hose to water your plants, a space to run around in? That you can't just go outside and dig your hands in the dirt and feel SO connected to nature just like you did in your forest upbringing? I do. As someone who was raised in a land where I could stick my hand in dirt whenever I felt like it, without the risk of getting a lethal strain of face-eating virus from the city-germs in the soil, I feel sad whenever I have to buy dirt at a nursery. Also, I don't understand how people who live in urban apartments pot their plants. I tried one time, and I totally clogged the sink and my landlord told me I'd have to buy a new sink if I ever did that again. So I've decided to share a few of my tips for living in a big city AND potting plants without getting kicked out of your apartment.
Plant nurseries are one of my favorite places to hang out. I find it so relaxing to be around all those plants growing, birds chirping, pesticides brimming from the potted succulents. One of my favorite nurseries in Los Angeles is Mickey Hartigay Plants, where I went this week to search for plants for Rumi Neely, a wonderful fashion blogger whose house I'm designing for Homepolish. The nursery is in the middle of Hollywood and feels kind of like it belongs in another time. I can be totally pissed off and crazy and high on caffeine and as soon as I step into this place I feel better. Perhaps it has something to do with the big-ass Buddha head:
So here we go…
Five Tips For Potting Plants If You Live In An Apartment
1. Force the dude who runs the nursery to pot your plants for you.
This is a trick I learned a few years ago. Normally I feel badly asking anyone to do anything for me. Like at a restaurant if the waiter brings me a meal I totally didn't order, I'll just pretend it's what I wanted so I don't cause a fuss. I wont ask him to exchange it for the right one because that makes me feel like a jerk. But I've noticed a lot of people who work at nurseries (I'm talking about mom 'n' pop nurseries not big box places) tend to be really friendly and willing to help. If they won't pot your plants for free they will normally charge you a small fee (usually around $5). Which is totally worth it not to make a big mess in your apartment. If you'd rather plant your own plants (like I did), you can ask them if it's okay for you to use their facilities. Most will be fine with this, especially if you are doing something interesting like potting a succulent collection. They might stand there and ogle you, but the attention will give you energy and make you feel important.
2. Choose your pot wisely. And make sure to look very concerned while you do so. 
Choose a pot that looks like it actually belongs indoors. If you choose a terra cotta pot or something that looks too rustic people will feel like they've stepped into a terrifying outdoor farmland when they enter your space and they will never want to talk to you again. Also, most plants need drainage so keep that in mind. Or be very careful with how frequently you water (I actually chose a pot with no drainage, but I've figured out how to  make sure the soil gets dry enough between waterings).
3. Use the variety of plants available to your advantage.
I like to compose my succulent arrangements while looking at all the options available. Thus, I tend to arrange them right in front of the succulents on display. As a genius plant artist, you need to be surrounded by all your most essential art supplies. I like to have a few statement plants, a few clusters, and a pop of color. It's good to vary the scale and texture to keep the eye moving around the arrangement. Really it's not rocket science. Just play with plants until they look pretty and then you've got your composition. Watch this video Emily made if you want more info on composition.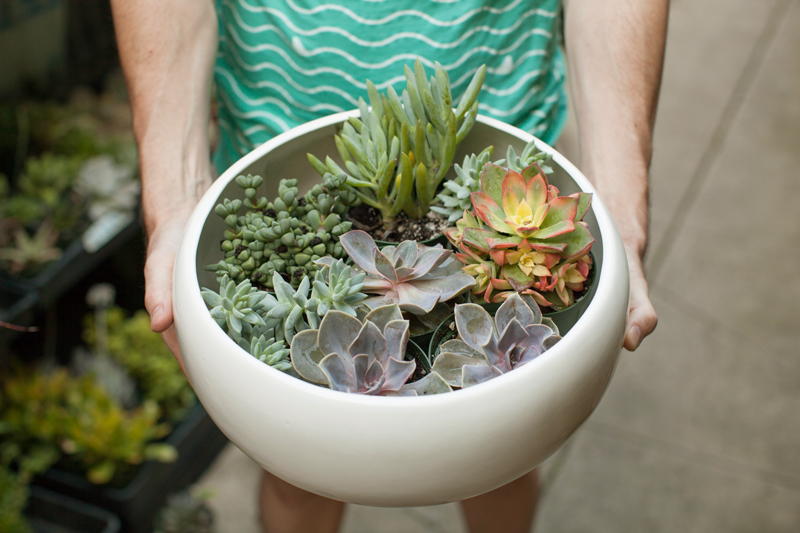 4. Ask boring and sciency plant questions.
Nurseries are a great place to ask a lot of questions about your plants that no one else would know how to answer. Keep in mind these people spend all day watering plants and trying to make sure they don't die, so if there's anyone who can tell you how not to kill your fiddle leaf fig, it's them. You can show them pictures of spaces in your apartment, describe lighting situations, and ask them what plants would survive there, ask them what type of plant food to feed your plants, how big the pot needs to be, etc. The kind man at Mickey Hartigay referred me to the correct soil for succulents, which hopefully means the plants I buy for Rumi will live forever. Like I plan to.
5. Make sure they wrap/box up your plants so dirt doesn't get all over your car/everyone on the subway/however you get home.
Nurseries are great at figuring out how to wrap plants so dirt doesn't go flying all over the place on your trip home. Usually this means they wrap them in newspaper and tape to hold in the dirt and keep the plants in place. Make sure they package your plants adequately so they don't get murdered on the way home. I've had one too many fast stops where the plant goes flying and my car turns into a succulent graveyard FILLED with dirt. Don't let that be you.
So there you go. Mainly the moral of the story is that if you live in an apartment with no yard and hose, you should never try to pot anything inside. It's just a recipe for disappointment and misery and fear. Kind of like eating a giant burrito right before going to a fancy gay pool party.
Love,
Orlando