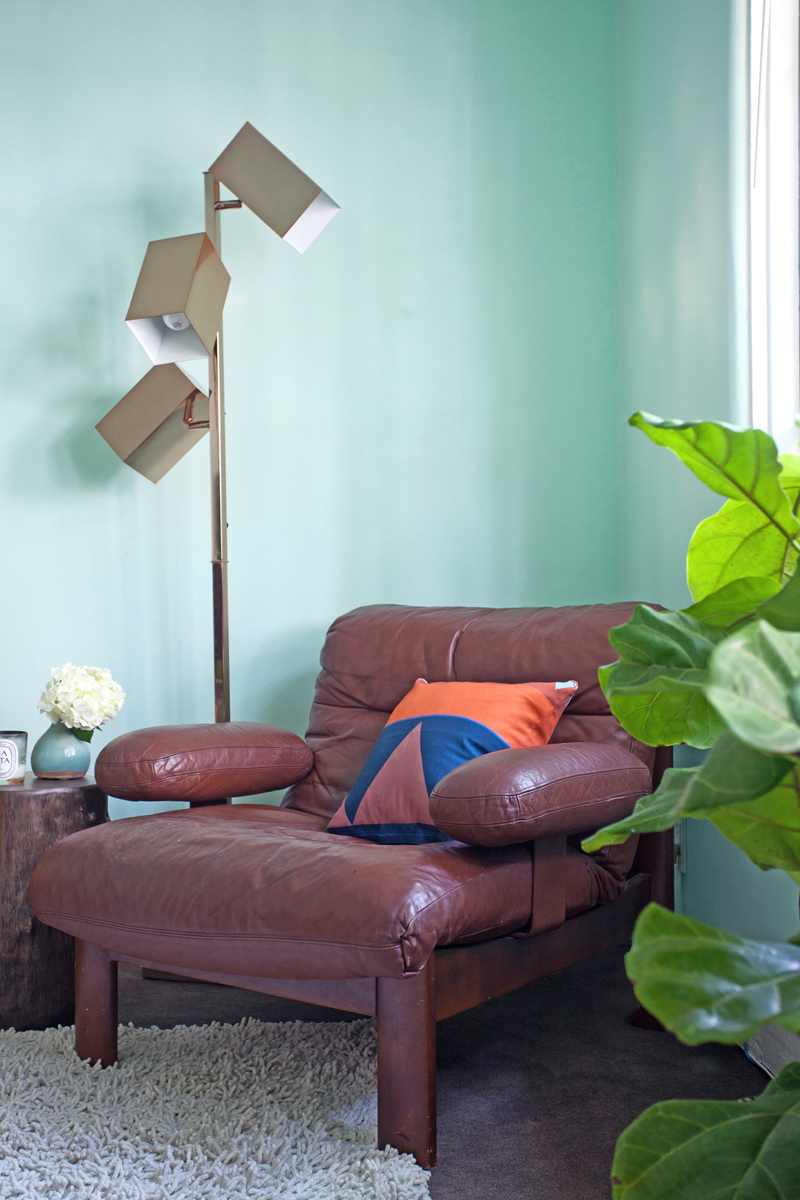 Dear Diary,
You know, we're a few weeks into 2014 and I must say it's just awesome. You know how sometimes your life just sucks? Like you get dumped and your job situation is lame and you're like freaked out about money and everything is just totally gross and annoying and stupid? Well that's pretty much how 2013 was, until about November, when I met Kelly Oxford and started working on her office. Coincidence? I think not. Working with Kelly made life way more fun. That and my new kick ass job with Homepolish, who commissioned me to decorate this office on a glamourous studio lot in Hollywood.
Before I say anything else, I have to point out that Kelly is wearing a t-shirt that says Indecent Proposal in the above picture.  Do you remember that movie? Like Robert Redford offers Woody Harrelson millions of dollars to sleep with Demi Moore? Which is ridiculous for so many reasons. Mainly because Demi Moore's veneerteeth look like Chicklets. But also because it's ROBERT REDFORD. Am I right? I would so cheat on dorky 90s Woody Harrelson with him.
Anyway, onto the office. First,  a few before pics:
And here's how it looks now:
AllModern hooked us up with a ton of awesome furnishings for the space, including all of the following items. Above: Jesper Desk $1149, Anji Mountain Rug $979, Eurostyle Desk Chair $310, Arteriors Desk Lamp $648, Blue Dot Media Unit $899, Arteriors Accent Lamp $288, Fornasetti Candle $165, Cat Print $68, all other art is vintage or from Kelly's collection, including that awesome Mary Poppins poster I had framed at Aaron Brothers.
These stools are one of my favorite things in the room. They're playful and warm and adorable. Like the boyfriend I'm going to buy when I'm a millionaire. $372 from AllModern.
You know how you think you like someone, and then they show you something they have that makes you like them even more? That's kind of what happened when Kelly showed me her Mary Poppins movie poster. Another thing that convinced me of her awesomeness: she also owns (and wears daily) a golden personalized necklace that says "Oprah." It's the most amazing necklace I've ever seen in my whole stupid life.
I found this accent table at St. Vincent de Paul Thrift Store for $20. I used it as a place for Kelly to put her record player. Kelly had the Wayne Thiebauld print, which I love. I wanted to give it it's own little romantic moment with the record player.
1970s Leather Lounger $550 from Shopclass, Ninespace Pillow $38, Arteriors Floor Lamp $936.
Sofa from Krrb $950, Kenroy Black Mirrors $150, Ninespace Mint Pillow $38, Ikea Black and White Pillow $10, Arteriors Accent Lamp $288, I had the palm frond pillow made, Kelly owned that vintage blanket, Mash Studio Bookcase $850, Arteriors Brass Lamp  $240, Regency Bench (used as sidetable) is vintage.
I took a lot of inspiration from the offices of some of Kelly's literary heroes in designing her office. All you need to do is check out her Pinterest to see that she loves collected, semi-messy, mid-century inspired offices. We kind of bonded over Joan Didion, because we both love her. But we also took inspiration from the offices of Roald Dahl and Agatha Christie.
The wall color is Antigua Aqua by Benjamin Moore. I totally recommend it. It's the perfect minty aqua, not too yellow, not too blue.
That accent lamp on the top of the bookcase. I kind of want to take it on a date. Then marry it. The Tivoli Radio is from AllModern $299. Flat art is by Carrie Marill (who was a weirdo grad student while I was a weirdo undergrad at Cornell). I found the splatterpaint pottery at the flea market for $10.
Now that Kelly's office is done I kind of want to go over there every day and stare at it. And her face. And her amazing Indecent Proposal shirt. And force her to tell me jokes. For the rest of time.
Love,
Orlando