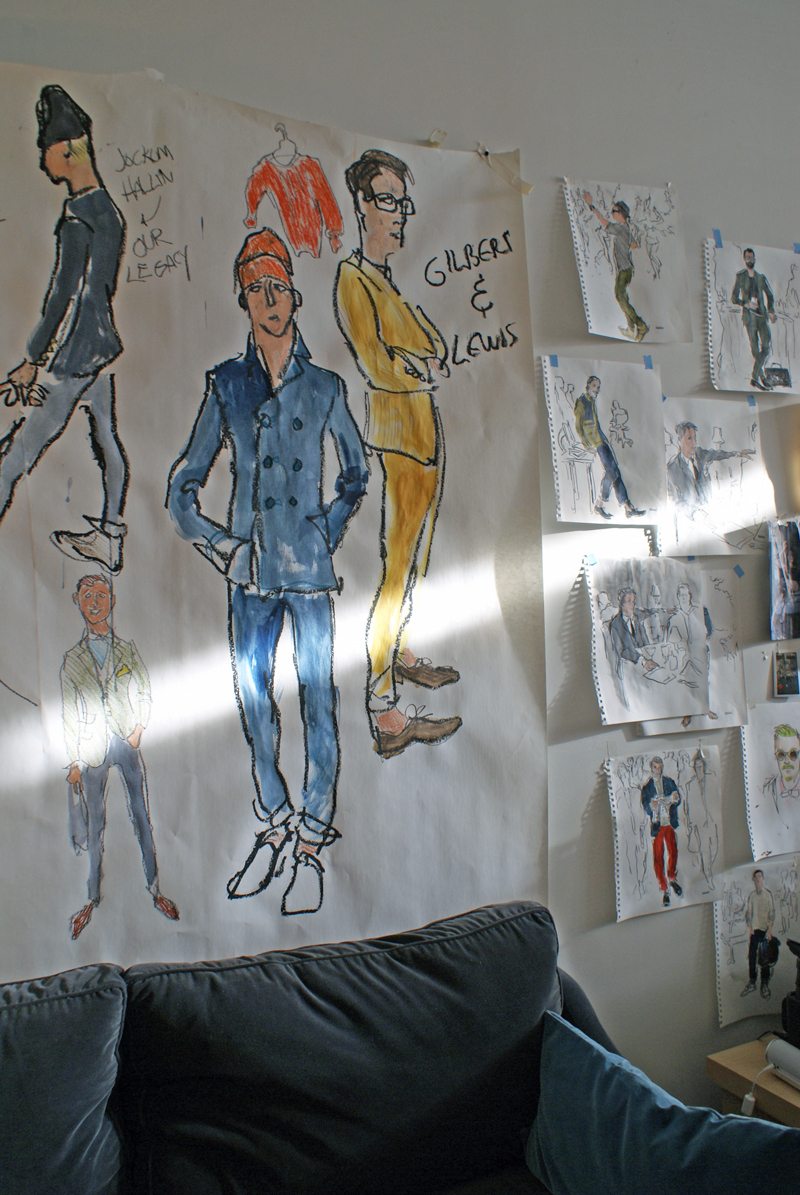 Dear Travel Diary,
I came to New York with one goal in mind. To meet people I find inspiring. And I really lucked out. One of my favorite artists is an illustrator named Richard Haines and he agreed to meet with me. I discovered his work a few years ago in the New York Times  style section. I quickly became obsessed with his fashion illustrations. The beauty of his work comes in its gesture, how a few simple lines create movement, weight. He's collaborated with all the biggest names in fashion from Prada to J.Crew and GQ. Richard shares his work regularly on his blog, What I Saw Today, which I look at whenever I feel like life is getting boring.
Richard began his career as a fashion designer working for Perry Ellis during the 80s when it was the "place to be." He continued to design for Calvin Klein, Bill Blass, and was the creative director of Nautica. Eventually, he moved on to illustration, a career he finds much more fulfilling. He's been at it for years, and his visibility and success have only grown as he's progressed in his career. He's currently blowing up, so I was stoked to get into his studio to discuss his work with him.
Richard works and lives in Bushwick, Brooklyn. Which is the new Williamsburg now that the old Williamsburg is now  Manhattan and Manhattan is now Fresno Fashion Fair Mall. I'm not sure if I've ever been to Bushwick before this meeting but I can honestly say that I am now obsessed with it. As I exited the M train at Myrtle Avenue, someone with a boom box was blasting To Be Real by Cheryl Lynn and I totally felt like I was in Paris Is Burning. [Sidenote: Can we talk about how Paris Is Burning has become totally ingrained in urban Gay culture? Like you go out and everyone is, like, voguing? I saw this film (about drag balls in 80s New York) in college and loved it. I must say that as far as cultural influencers go, this is a particularly good one].
Ok now that I've established that Bushwick is awesome and that Paris Is Burning has spawned an 80s drag underground obsessed generation of Gays, let's get to Richard's studio:
Richard's studio is full of eye candy for anyone who likes art. There are drawings everywhere, from floor to ceiling. And I wanted to steal them. All of them. But I didn't.
I kind of wish the boy in the blue drawing would come to life like in that Take On Me music video so that we could fall in love and he would drag me into his cartoon-illustration world and force me to live as a fashion illustration until I die.
I want that "Ourboro" shirt.
I covet this giant drawing. It's 4′ x 6′.
I had the pleasure of ogling on of Richard's rare Prada books. Look how crazed my eyes are!
I suppose the most exciting thing about Richard's studio is the possibility. Like the desk full of tools to make more beautiful drawings just like the ones all over the walls. There is something about the immediacy of Richard's work that just makes you want to see more of it. All of his drawings are "one-offs." Meaning he doesn't draw and redraw them over and over again. He draws them once, quickly, and moves on to the next drawing. I'd imagine this gives them their emphatic appeal, their casual sensuality.
I ended the conversation by asking Richard "ARE YOU GAY???" like a total weirdo. This is something I like to do if a conversation is too comfortable. I guess before I got there I assumed he was Gay because he draws all these cute boys. [Sidenote: He is gay. And that's none of your business but apparently all of mine]. Anyway, he had a lot of advice about love and life. So in addition to learning about his amazing art practice, I also got some insight into life from someone I greatly admire. You see? Meeting strangers can be fun! Try it today, maybe you'll learn something about art. Or guys. Or BOTH!
For me, there is nothing more exciting or inspirational than seeing creativity in action. Seeing a space where new ideas are sketched out, new art made. My afternoon with Richard was greatly appreciated, and exactly what I came to New York for.
Love,
Orlando