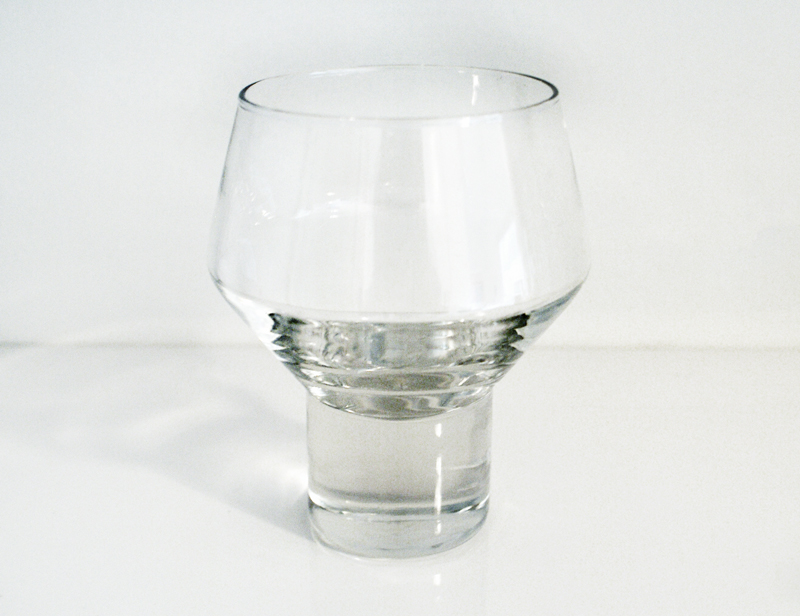 Dear Self,
I opened up the cupboard yesterday and noticed something. All my dishes are white. Or clear. Which surprised me. I love color. And I've never been one of those people who runs around yelling about how all dishes should be white. Until now. Looking at my collection made me realize having all white dishes is a really easy way for everything to always look good together. So that when you wake up in the morning you can gaze upon your beloved dishes and admire how well they all play together. In other news, I don't know when this happened but I have a major "Dish Thing." Like every time I am out vintage shopping I find myself salivating at antique wine glasses or unique espresso cups.
Upper Shelf: Simple White Ramekin, $1.99 from Bargain Fair Chef Supply. White Serving Platter, $24 from CB2 (no longer available). Simplicity Champagne Flutes, $3.50 from CB2. White Espresso Cups, $40/set of 4 from Rose Bowl Flea Market. Marta Double Old Fashioned Glass, $1.95 from CB2. Biggs Large Drinking Glass, $4.95 from Crate & Barrel.
Lower Shelf: Frank Dinner Plates, $5.95 each from CB2. White Plate, $3.99 each from Ikea. Footed Serving Bowl, $36 from Maison Midi. Large Organic Bowl, $3.95 from CB2 (no longer available). Crewcut Appetizer Plate, $1.50 from CB2. Small White 365 Bowl, $1.99 from Ikea. Vintage Italian Cider Mugs, $0.50 from American Way Thrift Store, Burbank. Simple White Mug, $2.95 from CB2 (No longer available).
I got those amazing seashell serving dishes from my mom over the weekend. I guess they're good for serving tartare or other small salads. And since this is Coastal California, I find it highly necessary to have the freedom to eat out of a seashell whenever I want. Because being from California means you are at least 20% mermaid.
Those white espresso cups are one of my favorite things in the world. According to the random dude I bought them from at the Rose Bowl, they're by a super famous designer (whose name I can't read on the bottom of each cup). I don't even drink espresso (though I do want to get one of those Nespresso things soon… Santa? You there? Buy me everything).
Bleached Seashell Tartare Serving Dish, $20/Set 4 from Nijiya Market in San Francisco.
Organic Bowl by Serax Maison d'être, $28 from ABC Home. Emily and snagged this bowl last year while we were in New York together working on the Lake House. It's one of my favorites and every time I look at it it reminds me of us together on the streets of New York, gazing into each other's eyes, loving each other.
Elephant Tea Pot, $20 from Jonathan Wright & Company. I guess they sell these everywhere now, including Target. I grabbed mine in 2007 when I was working at Jonathan Wright & Company.
Small Simple Porcelain Drinking Cups, $10 from Lawson-Fenning. I have to say that these tiny glasses are useless for someone like me who drinks a gallon water in one gulp but I still like looking at them. I never understood people who could take just one little sip of water and not be outraged and how un-quenched their thirst was. I drink like 75 glasses of water a day. I'm convinced there's something wrong with me. Also, this ruins road trips with me. I have to stop constantly to use the restroom (and then buy the biggest bottle of water ever). I don't know why If there's ever a water shortage in this country I'm definitely killing everyone just to steal their water.
Stemless Wine Glasses, Souvenir from Barnsdall Art Park Wine Tasting. Red Wine Glasses, $40/4 from Mikasa.
Vintage Port Glasses, $0.75 from  American Way Thrift Store, Burbank. I don't drink a lot of port, but now that I have these glasses I want to drink it all the time. I showed them to someone who told me they were for grappa but I refuse to believe that. I'll never drink grappa ever again after the great Soria San Francisco Grappa Hangover of 2005. Don't ask, it was a scary situation, terrifying for my whole family. We all together almost died. Because of grappa.
Rocks Tumblers, $2 from Beit T'Shuvah Thrift Store. These rad tumblers speak for themselves. Every time I drink out of them I feel like Calvin Klein in the 90z. Now all I need is a new plastic surgery face and a closeted straight boyfriend who's way too young for me.
Butter Dish, $24 from West Elm (no longer available).
Monogrammed Mug, $8 from Anthropologie.
Appetizer Plates, $2.99 each from Bargain Fair Chef Supply. You can never have too many small serving plates. They come in super handy for parties.
Japanese Sauce Dish, $36/Set 4 from Nijiya Market in San Francisco. In addition to my fetish for glassware, I also have a fetish for anything Japanese, especially dishes. I love these simple little dishes.
So that's what's in my cupboard. My favorite dishes. Perhaps in my next phase, my ironic neo-goth phase, I'll start collecting black dishes…
Love,
Orlando