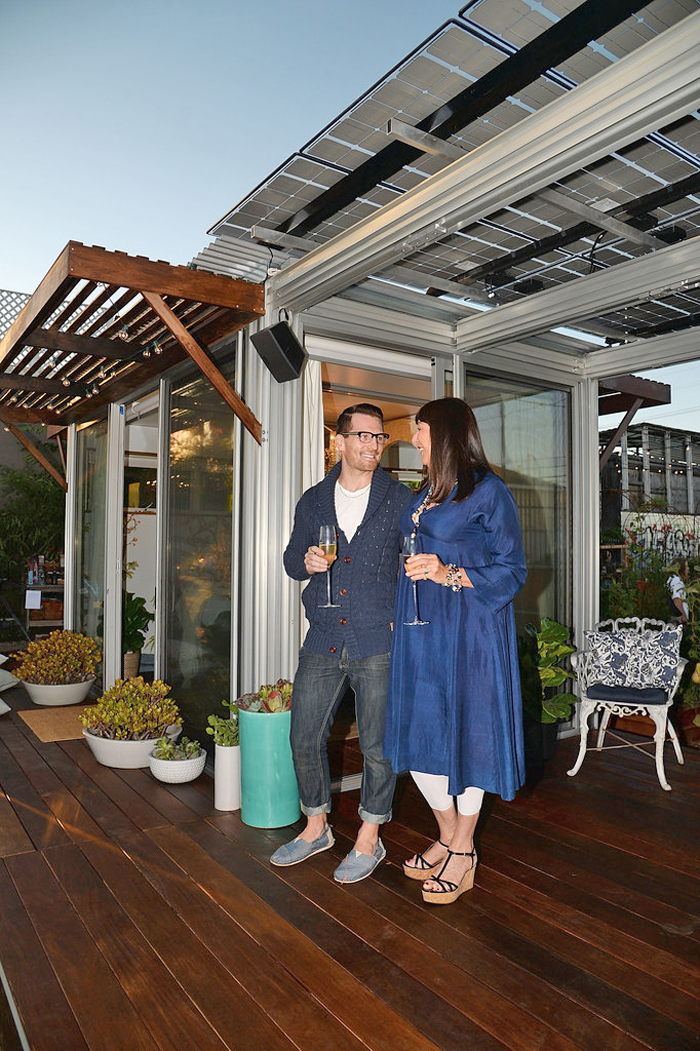 Dear Diary,
Last Friday I found myself standing on a deck in Venice with flashbulbs going off. How did I get here, you ask? Well, I was part of a glamourous marketing campaign organized by Airbnb. Five different designers paired up with five different celebrities to design pop-up Kithauses all over LA. I was lucky enough to be paired with Anjelica Huston. Which was clearly a dream come true. Everyone keeps asking me how it was to work with her and all I can say is that she was the most pleasant person ever and that her voice is so beautiful that everything she says sounds like a song.
The Kithaus Anjelica and I designed was in Venice at the Cook's Garden. You might be curious what the design process was. It basically went like this:
1. Anjelica outlined her tastes, aesthetic interests, favorite colors, designers, etcetera.
2. I created a design plan based on her tastes, collaborating with my friend and the lead designer Emily Henderson.
3. Anjelica and her team came back to us with edits and I redid the design plan until it was something we were all happy with.
4. I began sourcing furniture, providing options for Anjelica to choose between and she chose her favorites. Most of our furniture was vintage or came from Design Mix, which is an incredible resource for beautiful furnishings from around the world.
5. I loaded with a team on Thursday from 1 PM to Midnight. And then the next day all morning.
6. Anjelica came by to do a final run-through and some additional styling before our reveal.
This is what the Kithaus looked like in Venice:
Anjelica styled these pillows and this throw to make the deck look more inviting:
All furniture is vintage with the exception of the pillows (which were from Ikea). Fiddle leaf figs are from Mickey Hartigay Plants. Orb sculpture is by Suzanne French.
Wallpaper is custom from Aztek Wallcoverings.
Chandelier is from Casa Victoria.
The pillows are from Nine Space. $38. Tray is vintage. The candle was made by Anjelica's friend Carrie Lowell. The Robert Graham book is from her personal collection.
These glamorous lamps were rented ($1200).
This glamourous throw is from Land's End. $70. Daybed is from Design Mix Furniture.
The daybed is actually still available (we just rented it). $3995. It's kind of the most beautiful thing in the world. Well, except for this AMAZING one-of-a-kind hand colored photograph of Anjelica by Ara Gallant:
Below is the adorable bathroom in the Kithaus. The mirror is vintage. $80. The accessories are mostly from Shopclass.
The painting is a DIY piece I made by painting out a vintage painting I bought for $10 at Goodwill. The bench is vintage from Sunbeam Vintage. $100.
Oh, and don't mind her. That's just Anjelica Huston drinking a glass of champagne in the room we designed together. Hey.
Emily stopped by to hang out in the pod and it was delightful. Her baby bump is the real deal. So exciting!
Anjelica and I discussing the design of the room, seeing it with the lights on for the first time, the lamps glowing almost as bright as our hearts.
After our champagne toast we ate one of the most delicious meals of our lives. Made with vegetables from the Cook's Garden and cooked by Chef's from Joe's and Willie Jane, both of which are down the street from the garden. It was the greatest night of my life.
Love,
Orlando
PS: The house is on view until Saturday Oct 5th at 8 AM. FIrst Friday in Venice is on Friday. Stop by and say hello! 1033 Abbot Kinney Boulevard. Venice, California. 90291.