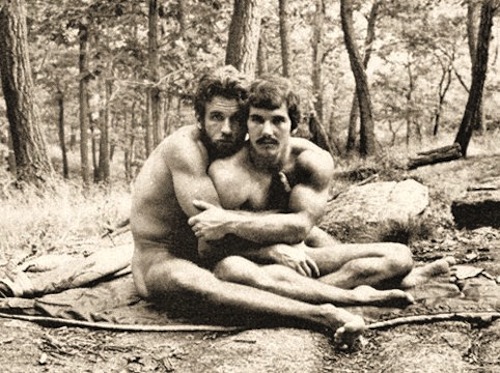 Dear Gays,
With Valentines Day upon us, many of us have couple-hatred on the mind. However, there is one type of couple it's impossible to hate. Vintage Gay couples. Not only is their style totally unique and exciting, the fact that they were forced to love each other in secret makes these photographs all the more titillating. Sure, there's no proof that any of these guys are actually couples, but what is the point of looking back on history if you can't mold it to fit your modern-day agenda? Thus, for the purpose of this post I will be assuming all these guys are Gay, and that they had great relationships and loved each other until they died, happy as clams.
Take these happy sailors for example. True love.
True love on the American Frontier. Haute.
And these guys. Doing a total WeHo Party Photo Booth pose. Sidekiss!
I don't know what is happening here but I think I like it. Or it makes me uncomfortable. Or I like it.
Vintage hotties. Hay boys.
I love these guys. On vacation. Together. Wearing matching swimsuits. Someday I will manipulate my boyfriend into doing this. Until then, my life will be incomplete.
Yes, the do look alike which is slightly creepy, but still a cute photo.
There is something inherently Gay about the sailor costume. I have no idea why. But gays have loved it since the beginning of time. Maybe it's the cute hat and the fitted pants, I have no idea.
This is your classic Daddy with the Pool Boy combo. Yes, it's terrifying. But also kind of sweet.
"They went to war for our country, but the true battle was for each other's hearts." That will be the tagline for the movie version I plan on making of this photo.
I bet they sent this out with their Christmas card. So adorable!
Gay and black at the turn-of-the-century. That must have been easy-breezy!
This couple looks like they had a cold, complicated relationship. But at least they had great clothes.
It's funny how these styles have totally been recycled. I could totally see someone wearing these fashions today, with the same haircut.
More sailors, of course!
I don't know what it is about these images that is reassuring. Maybe it's that they are a reminder that Gays actually existed before the 80s, when I was born (But in all honesty, did anything really "exist" before I was born? Did anything really exist before you were born? Probably not). Maybe it's that clothing was at one time more dignified and well-tailored than it is today. Either way I like to fantasize about living one of these antique love affairs. Even though in reality it would have meant the townfolk would have chased you with pitchforks while yelling insults at you through their toothless mouths (Coincidentally, that pretty much sums of my high school experience).
The moral of the story here is to look for love where you find it. Sure, lots of these dudes are probably just buds who had no idea that their bro-pics would someday end up on a Homosexual website. But wouldn't you rather think of them as lovers, who lived a classic fairytale romance whilst wearing super cool vintage fashions? I would.
Love,
Orlando