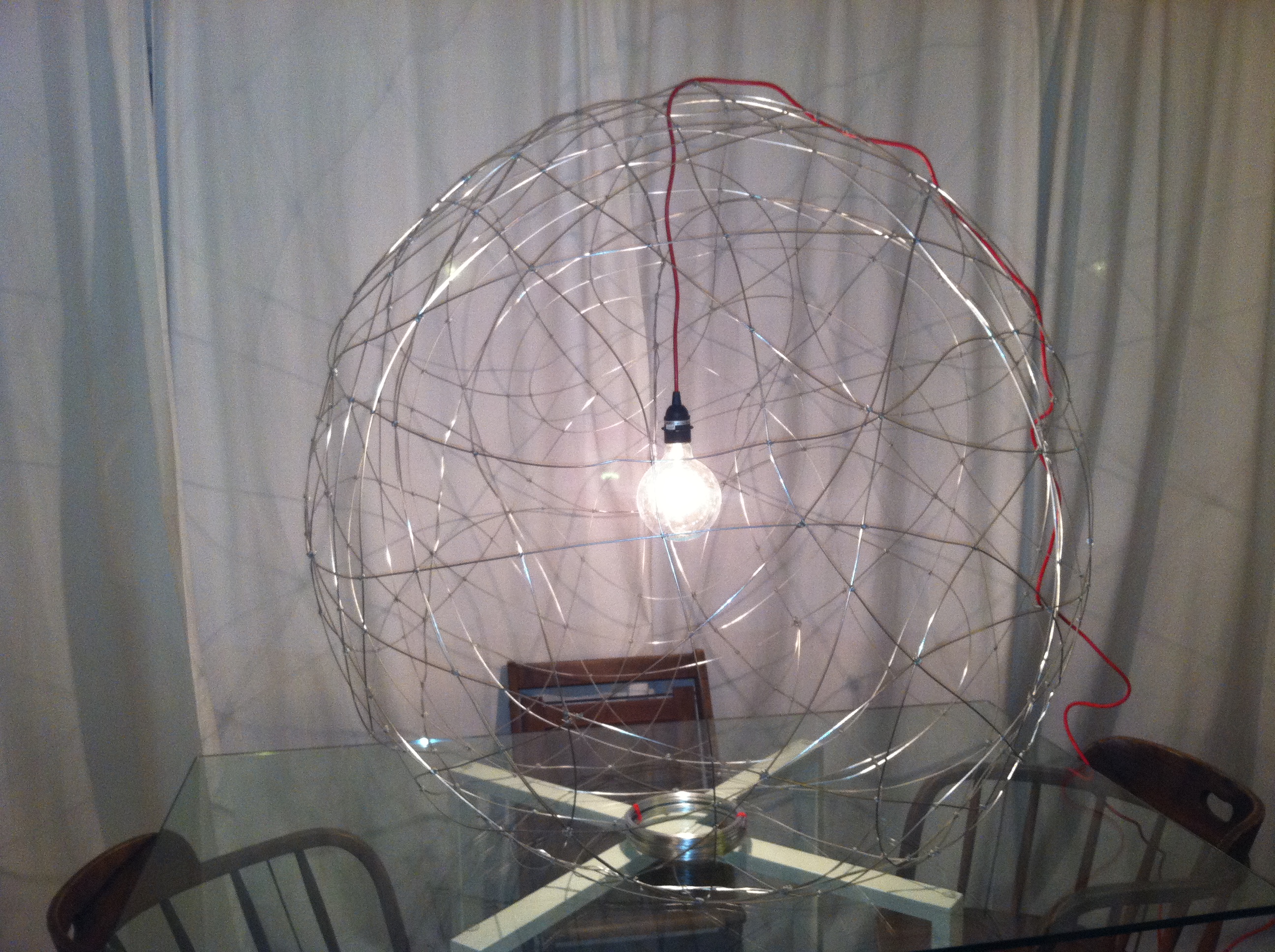 Dear World,
Do you want a chandelier that's uniquely you, but don't know where to start? Well, you're in luck, because a few months ago I made a delightful Orb chandy I'm calling Orb-lando. AND SO CAN YOU! Emily, my secret lover, and I used this chandelier for one of my favorite Secrets From A Stylist makeovers. It was a contemporary makeover, infused with Japanese influence and a kick azz modern art collection. Anywayz, onto the chandy.
Here is the initial drawing I made for inspiration:
And here is how the actual Orb-lando turned out:
So now that all that boring stuff is out of the way, here's how you make the thing.
Firstly, you'll need the following supplies:
1. 14 Gauge Galvanized Wire (I used about 300 feet to do my 3′ wide orb):
2. Narrow Gauge Galvanized Wire (sometimes called "Craft Wire" or "Floral Wire"):
3. Any kind of chain meant for chandy hanging. If you're smart, unlike myself, you'll choose it in a color that corresponds with the color you choose to paint your orb.
4. Needle Nose Pliers (get the kind that have the cutting mechanism so you don't have to keep picking up and putting down tools):

5. A G 40 Light Bulb. That's the biggest you can get without messing with normal wiring/electrical loads (Or something. The light bulb store dude sort of confused me because he talked for too long when I asked him if he had any bigger bulbs. He just went on and on and on about wiring requirements etc. Don't people realize that if you keep blathering about something that no one wants to keep listening to you because it gets totally boring and drawn out? Ooops, I just did the same thing):
6. We had an old light kit from CB2 on set so I used that, but you can use any light kit as long as the cord is long enough to reach the ceiling:
7. I painted my Orb-lando with this metallic "Dark Bronze" color. We also considered painting it a fun color like red but the bronze gave it a nice aged look. If you leave it raw eventually it turns roughly this color anyway, so we just sort of sped up the process (this is a trick we TV people love to do, because we work on a tight schedule and spend most of our time talking to models and the cast of "Glee."):

PROCESS
Ok, so now to how you actually put this dumb thing together. I took process pictures but they looked stupid so I've decided to draw cartoons to explain.
STEP 1
First, make three wire hoops (from the 14 gauge wire) the size you want your Orb-lando to be. For example, if you want a chandy that's 2′ wide, make a wire hoop that is 2′ wide. These hoops need to be sturdy enough to maintain their shape, and 14 gauge wire can be wobbly if your chandy is big, so it's probably best to make your hoop double-thick (made from two pieces of wire wrapped around one another, like lovers on a moonlit night on the beach).

STEP 2
Using your thinner gauge wire, attach the three hoops together so they look like this. To be honest, this is the hardest part because even when it's double-thick this wire wobbles all over the place (to understand how wobbly it is, imagine that you just told Santa a hilarious joke and now you have to make a chandelier out of his belly – which shakes when he laughs like a bowl full of jelly).
STEP 3
Add the chain. Come to think of it, you'd probably do this last but I accidentally drew it in and it kind of doesn't matter when you add it. To connect the chain, use your 14 gauge wire for strength and your thinner gauge wire for extra support. On second thought, you should probably do this step last because it would be kind of annoying to do the next steps with the chain attached. Go on to step 4 and I'll remind you to do this later. I love you and I'm sorry.
STEP 4
Remember Sigourney Weaver in Aliens? Well, for this part of the DIY pretend that your name is [Insert Your Name] Weaver and that your job is to weave and weave and weave 14 gauge wire together until your Orb looks like a giant scribble. The most important part of the weaving process is that whenever the 14 gauge wire intersects, you attach it together with a 3″ piece of the thinner wire (just wrap the thin wire around and point all the ends inward so they don't cut anyone). This sounds easy, but it gets SUPER tedious because there are so many intersections. If you don't bind your intersections the Orb wont be structurally sound, so it's the most important part of the process.
STEP 5
Keep weaving until your Orb-lando is a lacy and complicated as you want. Make sure to leave a hole near the top big enough for the G 40 bulb to fit through. To test if your Orb is strong enough, try bouncing it on the floor (or any scratch-proof surface, preferably outside). If it can maintain it's shape after a light bounce it's probably strong enough to hang (if it's too weak it will start to sag eventually, like my face).
STEP 6
Before you hang your Orb-lando, please choose a color to spray it (and your hardware) and do so in a protected outdoor area. You can leave your Orb raw, but know that it will probably not stay that bright silver color forever (it dulls a bit over time).
STEP 7
Add your light kit. Or have someone who isn't deathly afraid of electrocuting himself do it. I don't know how to wire stuff, so we had Contractor Chris (from "Secrets") do it. My suggestion is that if you're not comfortable you hire an electrician your wiring. I say that not only because I'm legally required to, but also because the only thing that scares me almost as much as me dying by electrocution is you dying by electrocution.
STEP 8
As a reminder, you can add your chain now and hang the thing.
STEP 9
Have a glamourous premiere party for your Orb-lando where you serve ridiculously expensive hors d'oeuvre and invite every celebrity you know. If you don't know any celebrities, make one up! ("Oh her, that's Auntie Flo, she invented the intercom and starred on 'I Love Lucy'!"). Please be advised that if you refer to this light as anything but an "Orb-lando," my legal team will be paying you a visit. Just kidding. Sort of.
Ok, well I hope you're excited to make your own chandy. There will be challenges and there will be triumphs, but ultimately it could end up being the most fulfilling thing you do in your whole entire life.
Love,
Orlando